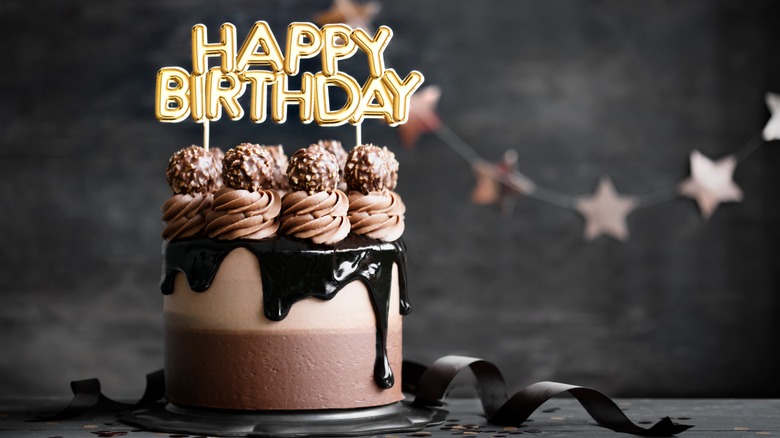 We may receive a commission on purchases made from links.
The culinary world has taken some very interesting twists and turns over the decades. Some fads and foods seem silly in retrospect, whereas others have genuinely lasted the test of time. From fondue to avocado toast and everything in between, there was something every year that people went totally bananas for. Although it's difficult for even seasoned foodies and experts to predict what the next big food trend will be, it's fun to look at the past and see how far we've come.
If you were born between 1970 and 2005, this article is for you. Learn about what people were piling onto their plates and into their mouths the year that you came into the world. Who knows? You might even discover a new favorite or stumble upon a food fad that you remember vividly from your childhood. So it's time to take a big, hearty bite of nostalgia as we go back in time.
1970: Quiche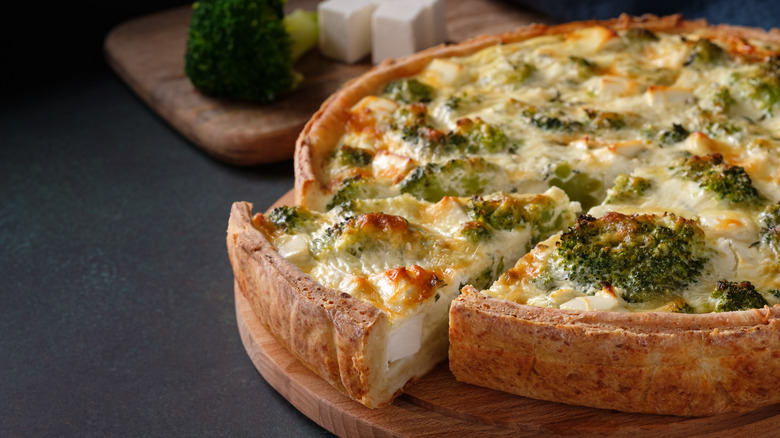 In 1970, the mighty quiche made a massive splash in the culinary world, dominating restaurant menus and thrilling home cooks with its sumptuous blend of vegetables, meats, and cheeses (via Fine Dining Lovers). As the ultimate savory pie, quiche is as versatile as it is delicious. At its core, it's a homemade or store-bought crust filled to the brim with a cream, egg, and spice mixture mixed with anything you have on hand. From standard faves like quiche Lorraine to inventive concoctions featuring leftovers and brilliant blends of different cheeses, making quiche is a great way to clear out your pantry and put a hot meal on the table in less than an hour.
You can also enjoy quiche hot or cold, and it's great any time of the day. With its simplicity, flexibility, and overall deliciousness, it's no surprise that quiche rocketed to stardom in the '70s and is still the darling of the brunch scene today.
1971: Beef Wellington
Gordon Ramsay might have revived beef Wellington on "Hell's Kitchen" (via Popsugar), but this flaky, mushroomy, beefy wonder has been wildly popular since the swinging '70s. 1971 was the year of beef Wellington, according to Bon Appétit. It's one of the most comforting foods on the planet: A perfectly cooked cut of beef covered in either mushroom or chicken liver pate and wrapped in a crunchy pastry sheet.
As much about presentation as it is about taste, the ideal Beef Wellington looks neat and uniform from the outside and can be decorated with various pastry designs for extra effect. Inside, you have medium-rare steak and a tasty outer layer of either mushrooms or chicken liver pâté (or both). Every bite is full of pastry crunch and meaty goodness, amplified by a generous drizzle of gravy. Accompanied by mashed potatoes, beef Wellington is a next-level superstar of a dish.
1972: Fondue
Back in the 1970s, no swanky dinner party was complete without a vast communal pot of molten cheese, tons of dippers, and long fondue forks to create the perfect meal. Fondue was a hugely popular food trend that paired the ultimate comfort foods — bread, and cheese — with the interactive fun of dipping and swirling your fork into the fondue. As time went on, fondue went from being a solely savory item to taking center stage as a dessert. These days, you'll often find towering chocolate fondue fountains surrounded by marshmallows, fruit, and graham crackers at weddings and other celebrations (via Confectionary News).
According to The Daily Meal, our fondness for traditional cheese fondue has fallen off somewhat, but there's no reason not to revive this retro dinner tradition. You can use any melty cheese as your base or even a mixture of cheese. Swiss cheese is best if you want to go true old-school and traditional.
1973: Preserves
Long before hipsters reinvigorated our love for all things pickled and preserved (via Yahoo), home cooks in the early 1970s were discovering the joys of pickling, preserving, and canning in their own kitchens. 1973 was the year of homemade preserves, and everything was popped into an airtight mason jar, including sweet, tangy, and super spicy mixtures of fruits and vegetables.
According to Epicurious, canning was a great way to make summertime last all year round. The economical trend led to home cooks creating inventive side dishes, condiments, and spreads. Preserving is an excellent way to show off your cooking chops, save a few bucks, and even package up some jewel-toned jars of goodness to share with family and friends (via Completely Delicious). While preserves are decidedly old-school in an era where it's easy to buy fresh produce year-round, the practice shows no signs of slowing down, at least not while people love customizing and creating their own food blends in the kitchen.
1974: Carrot cake
Some might question whether a humble vegetable can change cake as we know it forever. To those people, we offer Exhibit Carrot Cake. While carrot desserts have been cooked in America since the 1700s, according to the Naples Daily News, carrot cake became popular in American kitchens in the 1960s and became a true food fad in the 1970s. America's greater attention to diet and nutrition might have had something to do with carrot cake's rise, although we can't say that carrot cake is a good choice for getting your daily allotment of vegetables.
Carrot cake may have plenty of shredded vegetables in it, but it's still a cake, especially when you count the thick, dense layer of cream cheese on top. It's also a decadent treat with plenty of nuts and raisins popping up in every piece. This cake is also full of warm spices like ginger and cinnamon, making it ideal for fall-time snacking.
1975: Salad bars
Salad bars hit big right on the heels of carrot cake, bringing the health-conscious vibe of the 1970s into clear focus. According to the New York Times, salad bars started popping up in restaurants in the mid-'70s, giving consumers the twin allure of customizable salads and convenience. As the decade wore on, even chain restaurants like Wendy's opened up salad bars. After that, you could barely step into any eatery without seeing a cool, long display of different fruits, veggies, toppings, and dressings.
Salad bars not only gave consumers the ability to pick and choose their ingredients but also opened up diners to new vegetables that they might have been too shy to order or unaware of. You started seeing premium items like tiny baby corn, bamboo, and crunchy bean sprouts. Some salad bars offered more off-the-wall toppings like ginger alongside sliced cucumber, carrots, and tomatoes. Of course, there were also the vats of dressing to top your salad with, packing on the flavor.
1976: Chicken Kiev
Although chicken Kiev is considered a fun, retro throwback today, it was the height of sophistication in the 1970s. According to The Evening Standard, Chicken Kiev was once the pinnacle of fine dining until it was reinvented and downgraded by frozen food giants eager to bring it to dining room tables in five minutes or less. Chicken Kiev's tasty success is the result of classic ingredients, plenty of butter, and a crispy exterior. It's a stuffed chicken dish that you can customize or upgrade as much as you'd like.
Although different restaurants had various spins on this iconic dish, the methodology remained virtually the same: Thin chicken breast was wrapped around a core of garlic-and-herb butter, then battered and fried until the exterior was golden brown and crispy and the stuffing was melted. Served with a swirl of potato puree and a light vegetable medley, chicken Kiev was everything in the 1970s.
1977: Pasta primavera
Pasta primavera is another one of those dishes that we moderns might associate with the frozen food section, but back in the late 1970s, it was a fresh, bright, high-end dish that people ordered in droves. According to The New York Times Le Cirque's original spaghetti primavera was a bright, springtime pasta with carefully selected vegetables, but that restaurant's high-end original spawned many bad imitators. This controversial dish probably gets as much flack as it does because home cooks and restaurants use any leftover veggies and pasta they have on hand. However, pasta primavera can absolutely sing when done right, although it is a time-consuming dish to nail.
According to the same article, today's chefs make variations to the humble dish, adding in interesting produce like radishes in place of traditional mushrooms and even putting an Asian-fusion spin on it with miso paste. The result is something that tastes fresh and familiar but is still upgraded.
1978: Buffalo wings
While much of the 1970s was focused on health food, there were some fads that went in a slightly different direction. Buffalo wings, the brainchild of Anchor Bar restaurateur Teressa Bellissimo, branched out beyond the Rust Belt city of Buffalo, New York, and hit the mainstream during the decade (via Smithsonian Magazine). Classic Buffalo-style wings are deep-fried to perfection, tossed in butter and hot sauce, and served with carrot and celery sticks. Although different places around the United States put their own spin on wings, the most traditional way to serve and eat them is with a big cup of chunky, creamy blue cheese dressing.
Buffalo wings aren't the only thing that puts Buffalo, New York, on the list of great food cities. The city is also famous for its beef on weck sandwiches and massive selection of authentic Polish food. Today, you can find Buffalo wings in any corner of the country, although true fans should visit their hometown for the real deal.
1979: Croissants
Although France is generally credited with bringing the world flaky, tasty croissants, these decadent breakfast pastries are actually Austrian (via Madison Magazine). Their standard shape is a reference to Turkey's crescent flag and commemorates the Austrian effort to liberate Vienna from Ottoman invaders. This versatile revenge pastry can be sweet or savory and dressed up and down in many different fashions. With a flaky, buttery interior and an easy-to-eat size, it's no wonder that croissants caught on in the United States at the end of the 1970s. Once they arrived, they never left, and these days, you can find croissants reimagined as fast food breakfast sandwiches and donuts.
There's something very chic about croissants, and they're undeniably delicious to boot. They're also labor-intensive, making them an indulgent treat worthy of some homemade preserves (hello 1973). Although we have commercial croissants today, there's nothing quite like feasting on the real thing from your boutique local bakery. You can also make them at home if you have the patience and time.
1980: Chicken Francese
What chicken Kiev was to the mid-70s, chicken Francese was to 1980 (via Insider). Although the name would make you think it's French, this dish is actually an Italian American classic. According to The Food Timeline, the origins of this dish are rather murky. Breaded, fried cutlets are a staple of Italian cuisine, but the lemony sauce that turns a simple cutlet into chicken Francese appears to be a 20th-century American innovation.
If you want a taste of 1980 at home, you can cook our simple chicken Francese recipe. This dish nails it with a tried-and-true combo of citrus, butter, and perfectly cooked chicken. Add in a crispy crust and a light, aromatic white wine sauce, and you have a recipe fit for company that just takes a small amount of time to make. Per Insider, chicken Francese's popularity meant that it was recreated on buffet stations all across the country, and we can see why it was such a hit.
1981: Kiwi
1981 ushered in a previously unknown (in the U.S., anyway) fruit and catapulted it to breakfast stardom. Kiwi is a highly nutritious fruit with a tart and tropical taste. Although the standard methodology of kiwi eating included peeling the fruit and cutting it into small rounds, you could also slice it right in half and scoop out the pale emerald flesh with a spoon. According to Boston Magazine, kiwi was the hottest healthy fruit trend of 1981, with kiwi rounds gracing both savory and sweet dishes.
Unlike some other food trends and fads, kiwi stands the test of time. It's packed with tons of vitamin C and fiber, plus plenty of antioxidants (via WebMD). Since it's fairly ubiquitous, you can get your hands on fresh or frozen kiwi virtually any time of the year. Pick some up for a smoothie, or stir chunks of kiwi into your morning yogurt for a tart and tasty pick-me-up.
1982: Vienetta
If you were having a dinner party in the 1980s, you certainly broke out the Vienetta afterward. This "for company only" dessert that debuted in 1982 was the designer ice cream that graced every holiday table and family get-together during the first few years of the 1980s, and it still has a cult following today. Vienetta might have just been ice cream and chocolate, but the design and shape transformed it into an intricate dessert with plenty of wow factor (via Daily Edge). As such, '80s kids knew much better than to scoop their grubby fingers into a chilled box of Vienetta, lest they invoke the wrath of their parents.
Although Vienetta might be associated with the '80s, there's still something magical about those classic waves of vanilla ice cream and a gentle spray of chocolate decoration on top — not to mention the oohs and ahhs of fanfare as the Vienetta came to the table.
1983: Pasta salad
The early 1980s were the heyday of summery fave pasta salad. According to The New York Times, the allure of pasta salad hinged on its versatility. No matter what ingredients you had in your refrigerator, there was bound to be something that could make your pasta salad sing. The NYT also mentioned that home cooks could go way outside of their comfort zones, fusing together flavors from different cuisines to create sumptuous signature salads.
Pasta salad requires starchy pasta, plenty of dressing, and enough veggies to break up the mass of pasta itself. Today, pasta salads are still on the menu at summertime cookouts and gatherings all over the country. If you want to try your hand at this classic side dish, try this easy bowtie pasta salad with pantry ingredients. Of course, you don't need to follow a specific recipe for pasta salad, either. You can embrace the spirit of improvisation and just add whatever sounds good to you.
1984: Loaded baked potatoes and potato skins
Although baked potatoes are still, and probably always will be, popular, the '80s took things to an amazing new level with potato skins. According to McCall, baked potatoes with all of the fixings appeared on menus in both high-end and fast food joints. Classical toppings like chili, cheese, and sour cream mingled with more obscure and tasty offerings like chicken a la king. Everyone was giving their potatoes some serious glow-ups, and then the potato skin craze came.
Grub Street says the mid-1980s turned potato skins into a bar food staple. What potato skins really have going for them is their texture. The crispy skin mingles together with the thin layer of creamy potato, gooey cheese, and crisp bacon bits topped with just the tiniest sprinkle of green onion for a feast of flavors that pleases just about any palate. Order them up at your favorite watering hole or make a knock-off TGI Fridays potato skin recipe at home.
1985: Wine coolers
Although wine coolers' time in the sun was somewhat brief, they sure did burn bright while they were popular. According to Wine Folly, wine coolers combined fruity, summery flavors with various types of white wines for portion-controlled, bright-colored beverages with fun tropical-themed labels. Big names like Seagram's quickly dominated the wine cooler scene, and by the mid-'80s, these sweet drinks captured a significant portion of the U.S. wine market. However, a change to the tax code in 1991 made wine coolers less profitable for beverage companies to sell, and they became much less popular.
Now, wine coolers are making a serious comeback. Canned, individual servings of wine are popular, and big names like Bartles and Jaymes are relaunching and rebranding their wine coolers to appeal to a whole new generation (via Esquire). With so much nostalgia for the 1980s these days, it's hardly a surprise. Maybe Bartles and Jaymes will relaunch its Piña Colada or Fuzzy Navel flavors again for a fun and classic throwback.
1986: Microwave popcorn
According to The Washington Post, microwave popcorn was the snack du jour of American families in 1986. It was the most convenient method for bringing that movie theater experience into the comfort of your living room. Plus, there were tons of different varieties to choose from, and you could toss on some extra butter and seasonings if you wanted to get fancy.
The '80s was a decade full of innovation in the microwave popcorn space. Most notably, the decade saw manufacturers first introduce heat susceptors, the metallic strips embedded into microwave popcorn bags that help heat up the kernels. All brands of microwave popcorn varied, as did microwaves themselves, so you really had to keep an eye on the bags to avoid charred burned kernels. However, once you hit the sweet spot, you had a tasty snack in just a few minutes. The only thing left to do was kick back, watch your movie, and remember to be kind and rewind when it was all finished.
1987: Chicken fried steak
A huge food fad of the 1980s was Chicken fried steak. This dish initially caught on big in Texas in the 1960s and 1970s (via Texas Real Food), but it was huge in the '80s and was featured on television commercials as a way to get hungry diners through doors (via YouTube). It's easy to understand the appeal of Chicken fried steak. You take a thin piece of tender steak, coat it in egg and batter, and then toss it in a piping hot pan until it's perfectly fried all around. Served with a generous pile of creamy mashed potatoes with pan gravy poured over the whole dish, CFS is a stick-to-your-ribs meal with tremendous textures and flavors, plus deep-fried goodness.
Chicken fried steak shares some commonalities with foods like schnitzel or fried pork chops. It's no wonder that it was and continues to be one of those dishes you reach for when you need a little something comforting in your tummy. You can still find it at diners, across the South and the Midwest, or make your own.
1988: Oat bran muffins
Oat bran is rich in fiber, but its taste can leave a little to be desired, which is why the oat bran muffin was such a game-changer. According to The New York Times, oat bran muffins were flying off bakery shelves near the end of the 1980s. Customers loved their (reasonably) good taste and myriad health benefits. The Times compared the meteoric rise of bran muffins to the croissant craze a decade earlier.
It's fairly easy to understand oat bran muffins' appeal. They are convenient, healthy pastries you can smear a little butter on and have with your morning coffee. Oat bran muffins also predated a lot of the get-healthy-quick fads of the 1990s, making them a very suitable food for closing out the 80s and ushering in the new decade. Today, you can still find oat bran muffins just about everywhere, although they're not seen as quite the magic bullet solution for good health they once were.
1989: Caesar salad
At the end of the 1980s, Caesar salad was always on the menu, either for a tasty lunch or as an appetizer before a big meal. Whether you added sliced roasted chicken, anchovies, or veggies was up to you. Still, the combination of tangy, creamy dressing, plenty of shaved parmesan cheese, giant crusty croutons, and crisp lettuce was always the same.
According to The New York Times, Caesar salad was so popular at the beginning of the 1990s that bottled dressings were flying off the shelves, and variations on the theme were popping up everywhere, but Caesar salads were popular in restaurants a few years before they hit the kitchen table mainstream. Per The Washington Post, the Marriott put the Caesar on its nationwide menu in 1985 and a few years later it was everywhere.
The key to Caesar salad is simplicity. You need high-quality lettuce, fresh cold dressing, plenty of tasty parmesan, and big old crusty homemade croutons to make the dish sing. Tableside pepper was optional but usually welcome and liberally added to the towering plates.
1990: Molten lava cake
There's something dramatic and special about slicing your spoon into a dense molten lava cake with a liquid center. Maybe that's why this luxurious dessert was everywhere in the early days of the 1990s, perhaps served alongside a small sphere of premium vanilla ice cream and crowned with a bit of extra chocolate sauce for good measure. According to the Arkansas Democrat-Gazette, molten lava cake takes all the best parts of a soufflé and pudding and puts them together in a symphony of textures and rich chocolate flavors that are the perfect foil for the ice cream.
It's also relatively easy to make at home. All you need are some simple pantry ingredients, individual ramekins, and a close eye on the oven timer. Although traditional versions of the cake call for chocolate and vanilla flavoring, you can add a little pizzazz with orange liqueur or a few artfully placed raspberries on the plate. It's a great dessert that gives a nod to the '90s and allows you to show off your expert baking skills.
1991: Creme brulee
Coming fast on the heels of molten lava cake, creme brulee delighted us all in the early 1990s with its combination of creamy, soft custard and deliciously brittle sugar topping (via The Washington Post). The trick was to crack the sugar and get a nice mouthful of pudding, plus shards of the top. The combination was delightful and unexpected, and every five-star restaurant worth its salt had its own take on creme brulee.
Although creme brulee tastes like the most decadent, flavor-rich dessert that you've ever tasted, the process of making it is relatively straightforward and uses common pantry ingredients. You just need eggs, cream, vanilla, and sugar for the pudding base, plus a little extra sugar to sprinkle on the top. True chefs know that the best way to get that tasty, perfect, caramelized sugar sear is with a blowtorch. You just need to keep a close eye on the technique to perfect it.
1992: Veggie Burgers
Although the first veggie burgers were dreamt up in a humble London restaurant called SEED catering to famous folks like Yoko Ono and John Lennon, they didn't go commercial until quite some time later. According to The Smithsonian, veggie burgers hit the mainstream in the early part of the 1990s, with the Gardenburger debuting in 1992 and the Boca Burger company coming into existence in 1993.
One could argue that these early burgers paved the way for today's nearly endless options for meat substitutes (via Vox). While vegetarian selections in the 80s and 90s were limited, the humble veggie burger found its footing and gave way to supermarket shelves full of options, plus gourmet veggie burgers on restaurant menus across the country, according to Vox. It is no longer fringe to be meat-free, and vegetarians — and vegans — can rest assured that something yummy is on the menu for them too.
1993: Sushi
Although sushi was available in plenty of specialty restaurants from coast to coast as early as the 1970s and 1980s, people really started to dig into this Japanese staple in the 1990s. All at once, sushi was a global phenomenon, gracing boutique restaurants all over the planet. Robert DeNiro opened a sushi restaurant in the 1990s, and by the middle of the decade, it was mainstream (via Taste). Supermarkets started selling ready-made sushi alongside more familiar fare.
Bite-sized sushi rolls offered skeptical diners a way to expand their palates without a lot of commitment and let them feel cool while doing so. Since there are so many different types of sushi, including vegetarian and cooked varieties, nobody was left out, and you could get as off-the-wall with your flavor choices as you wanted. Although there's something special about restaurant-grade sushi, you can still make it at home if you know the proper techniques.
1994: Low-fat foods
1994 was the year that we decided that the magic solution to our weight loss woes was low-fat, or even no-fat, versions of all of our favorite junk foods. While low-fat sweets like Snackwell's didn't solve our problems, they were still the snacks of choice for the mid-90s, the total opposite of later fad diets like Atkins and Keto. Instead of believing that carbs were the devil, like the diets of the early aughts, the low-fat doctrine said that carbs were good, but fat was evil (via The New York Times).
As the decade concluded, we were forced to reckon with the fact that low fat or no fat wasn't necessarily good, and a healthy diet and lifestyle were the only two things guaranteed to help you look your best. Still, there's something nostalgically hopeful about ripping into a big old box of Snackwell's cookies, and they remain a coveted classic in many circles.
1995: Sun-dried tomatoes
In the mid-'90s, there was one dominant food trend on restaurant menus all over the country. Sun-dried tomatoes ruled the middle of the decade, and chefs used these concentrated gems of tomato flavor in almost every combination that you can think of. From salads to pastas to appetizer trays, sun-dried tomatoes were there in pride of place. According to Food & Wine, sun-dried tomatoes are more than just a flash in the frying pan. They can still elevate any dish and lend a deep, layered summertime flavor to your favorite dishes.
Although you might not find them on every restaurant menu these days, sun-dried tomatoes aren't going anywhere anytime soon. Plus, you can make them at home by liberally salting halved grape or cherry tomatoes and letting them cure and dry in the sun. Alternately, pick up a jar at almost any supermarket in the country and experiment with their delightful flavor yourself.
1996: Baked brie
If you went to any swanky party during the 1990s, one food was always on the menu: baked brie. Baked brie's appeal is undeniable, and it's one of the food trends that stands the test of time. Brie is a surprisingly flexible cheese, pairing well with lightly spiced crostini or various slices of fruit. Although it's very tasty cold, baking it transforms it into a heavenly, gooey, delicious, and buttery wheel of premium cheese that folks in the '90s simply couldn't get enough of.
According to Eat This, Not That, many gourmands weren't just satisfied with roasting up a giant wheel of brie. Instead, these intrepid cooks would wrap their brie up in flaky pastry, adding another level of texture and flavor to the dish. The combination was so good that we'd argue that it was a food treasure and one that we should bring back to fancy parties, stat.
1997: Crab cakes
Although crab cakes have been around for ages, they got new life in 1997, taking center stage on restaurant menus all over the country (via Insider). Crab cakes have an elemental standard composition of eggs, crab, bread crumbs, and spices, but you can also embellish them with clever sauces, add siracha for kick, or even serve them as sandwiches. Since crab cakes are relatively easy to make, home cooks can perfect the recipe as long as they have good lump crab on hand and a few basic pantry staples.
As the 1990s wore on, restaurant chefs started to diverge from traditional ingredients and incorporate other flavors like orange, capers, corn, or lobster into their crab cakes. This led to a furious discussion about whether crab cakes should remain spartan in their ingredients or branch out into other flavor profiles to stand out (via The Baltimore Sun). Ultimately both traditional and non-traditional crab cakes ruled the day.
1998: Bagels
The late 1990s were the years of the bagel, which dominated all other crusty breads and breakfast foods as the ultimate portable and carb-rich meal. According to South Coast Today, bagels joined Moroccan cuisine and intricate cheese trays as prominent food trends of the late 1990s. Bagel shops all around the country got into the trend, serving a dazzling array of different styles and sandwiches until the bubble burst around the turn of the millennium (via the Los Angeles Times). However, even if we're not as bananas for bagels as we once were, you can still get a toasted bagel piled high with sandwich meat or a hearty smear of cream cheese just about anywhere in the country.
Today, bagels are still popular with the "everything bagel" coming out as the reigning flavor in places like New York City (via Time Out). Fortunately, you don't have to visit the Big Apple to try them, as you can even whip up 3-ingredient everything bagels at home.
1999: Cosmopolitans
The end of the 1990s will always be known for one thing: the Cosmopolitan. This fruity, tart, and citrusy drink was popularized by Carrie Bradshaw and her friends in "Sex and the City" and soon hit its zenith in bar scenes across the country. According to Refinery29, the Cosmopolitan, or "Cosmo" as SATC's characters regularly referred to it, was the must-have accessory for any hot young thing in the know. Of course, it also helps that Cosmos are both tasty and attractive, with a sweet and sour flavor and a deep pink hue, and fruity garnish.
Cosmos were also a refreshing alternative to martinis, served up in standard triangular glasses for sophisticated sips that wouldn't give you olive breath or burn your palate with too much gin. Although the Cosmopolitan's star has fallen a bit, you can still order it virtually anywhere or even make it at home with Cointreau, citrus vodka, cranberry juice, and lime to taste.
2000: Tuna tartare
The dawn of the new millennium ushered in all sorts of exciting changes and shook up the culinary world. One key example was tuna tartare, a delicately seasoned and chopped mixture of raw tuna. According to SFGate, tuna tartare was the darling of restaurant-goers and foodies in the know in 2000. It was the benchmark of haute cuisine, with inventive chefs coming up with citrusy or Asian-inspired recipes to showcase the premium fish in the best possible way.
While tuna tartare was the appetizer of choice for top restaurants, you don't need to be a five-star chef to make it. In fact, you can create it in your own kitchen. Gordon Ramsay's tuna tartare recipe is an inventive spin on the classic dish. It's pretty easy to put together with the right ingredients. Serve it at your next dinner party, delight your friends, and prepare to kick it like it's 2000.
2001: Cupcakes
According to Parade, our collective love for cupcakes took a sharp upswing at the beginning of the millennium thanks to "Sex and the City" and Carrie Bradshaw's unique ability to turn the small, frosted cakes into the must-have food accessory of the early aughts. Like the Cosmopolitan before them, cupcakes got a massive boost from Bradshaw, who visited New York City's Magnolia Bakery in season three. After her sweet treat pit stop at Magnolia Bakery, people started thinking of cupcakes as gourmet food rather than something you serve for a birthday party in primary school.
It all makes sense. Cupcakes are portion-controlled delights with an ideal ratio of frosting to cake. With flavors that range from the tried-and-true to the undeniably gourmet and whimsical, it's impossible not to find a cupcake concoction that fits your personal taste preferences. While our love affair with cupcakes has waned slightly, there are still plenty of bakeries churning out these petite treats.
2002: Macaroni and cheese
2002 was a tumultuous year in the United States. As a country freshly reeling from the September 11th terror attacks, plus a war in Afghanistan, Americans understandably gravitated to comfort food classics, plus Asian and Peruvian cuisine. According to The New York Times, bubble tea, purple Peruvian potatoes, and pisco were predicted to have their moments, but it was macaroni and cheese that emerged as the key food of the early 2000s, with a million boxes of Kraft Mac and Cheese flying off American grocery store shelves daily, and headlines from the time declaring it the "ultimate comfort food" (via Herald Tribune).
In addition to being a childhood classic, macaroni and cheese hits all of the comfort food notes pitch perfectly. You have piles of carb-rich pasta, plus plenty of molten, gooey cheeses, and sometimes a light sprinkle of breadcrumbs or panko on top. Plus, savvy and hungry cooks can dress up the dish with bacon bits, Buffalo chicken, or vegetables like mushrooms and broccoli. Whether you like your mac and cheese baked or stirred up on the stovetop, it's the ultimate satisfying treat.
2003: Low-carb foods
While the 1990s had low fat, the early aughts embraced low-carb diets designed to whittle away at peoples' waistlines (via WebMD). As with today's Keto craze, low carb promised devotees that they could shed the pounds by simply eliminating or cutting way back on carbohydrates. The Atkins diet, one of the more popular manifestations of low-carb eating, was a way for people to eat pounds of bacon and burgers as long as they left the buns at home (via Insider).
Also, although low-carb eating delivered results initially, people found that the weight piled right back on as soon as they started eating grains again. After Atkins, gentler low-carb diets like the South Beach Diet gained popularity, allowing people to eat a much bigger range of foods and not totally demonizing the humble carb. Today, the ultra low carb keto diet is popular, although many people experience adverse side effects like the so-called "keto flu" (via Healthline).
2004: Matcha
The new millennium was matcha's time to shine. Matcha, an ancient Chinese powdered tea, had been popular in Japan for years but it became widely ubiquitous in the early aughts (via It's Foodtastic). It made its way across the pond soon thereafter appearing in trendy cafes in New York City, according to The New York Times. Matcha's rise as the preferred powder of tastemakers likely relates to its superfood status and its vibrant-green color (via Plant Based News). It's beautiful, delicious, and the perfect counterbalance to heavier desserts.
From hot teas to desserts, matcha's sweet and slightly nutty taste was everywhere and still is. Today, this once-obscure flavoring is totally mainstream. You can get matcha lattes and teas at Starbucks, matcha crepes, ice creams, and cakes at bakeries, and even buy matcha powder from brick-and-mortar stores or Amazon to create some good-for-you emerald-hued creations from the comfort of your own home.
2005: Frozen yogurt
Although frozen yogurt has been around for ages, it got new life in the early 2000s thanks to designer FroYo joints like Pinkberry and Red Mango. According to The New York Times, frozen yogurt boomed in Greenwich Village during the beginning of the decade, feeding hungry New Yorkers towering cups of the good stuff. Fifteen years later, the trend is still going strong (via Franchise Help). Frozen yogurt is a healthier alternative to ice cream, and with tons of different flavors and toppings, you can dress it up or down as much as you want.
According to Healthline, frozen yogurt has good-for-you bacteria and might promote good internal health, making it a smarter alternative to fat-laden, sugary ice cream. It's also a sophisticated icy treat, a grown-up answer to the seductive siren song of the ice-cream truck. That's probably one of the top reasons why the frozen yogurt bubble shows absolutely no signs of bursting.