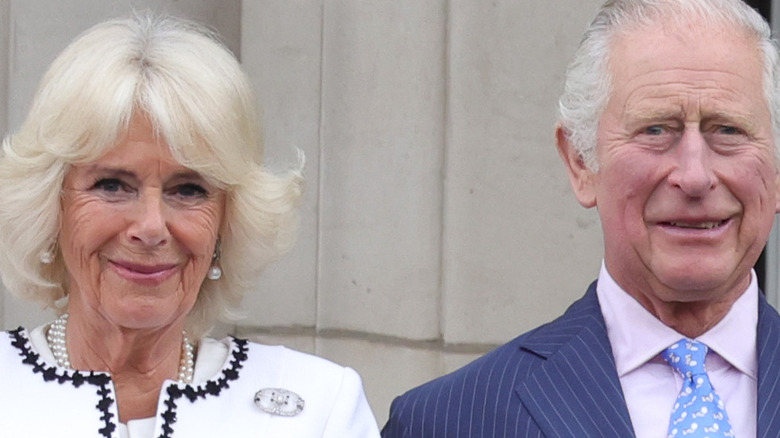 While Prince Charles and Camilla Parker Bowles have been married since 1995, it's difficult for longtime followers of the British royal family to forget the scandals that marked the pair's early relationship and the affair that they reportedly conducted throughout the time that they were each married to other people — Princess Diana and Andrew Parker Bowles, respectively.
One of the biggest Charles-Camilla scandals erupted in 1993 when a transcript of a particularly intimate phone call was leaked to the public. The phone call, soon dubbed "Camillagate," included a number of words exchanged between the two that either alluded to or directly spoke to the nature of their relationship (via The Mirror).
The phone call also brought about the official end of each of their marriages, which paved the way for Charles and Camilla to marry one another decades after they met and first began their relationship. Here's a look at "Camillagate": How it happened, what it sparked, and how the phone call impacted the people around them.
Prince Charles and Camilla Parker Bowles met in the 1970s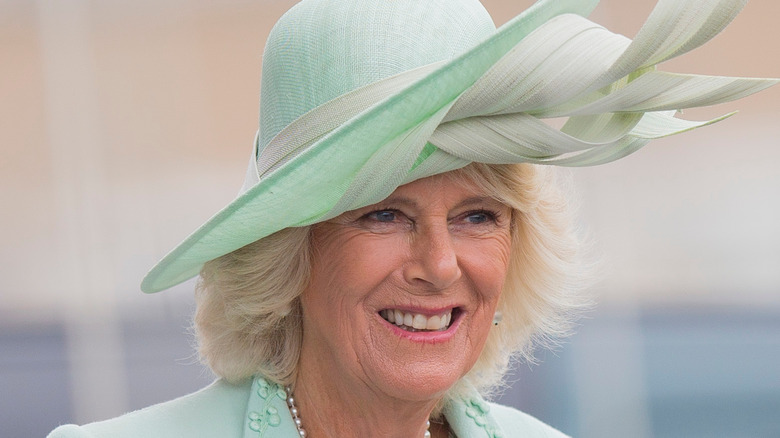 As many royal followers know, Prince Charles met his second wife, Camilla Parker Bowles, in 1970 when they were introduced at a polo match. As reported by Brides, some have said that Camilla approached Charles first, telling him, "My great-grandmother was the mistress of your great-great-grandfather. I feel we have something in common." Still, it seems that the more official story is that the pair were introduced by their mutual friend, Lucia Santa Cruz. The two soon began a relationship partly because Camilla reportedly hoped that doing so would be a way to get back at her ex-boyfriend, Andrew Parker Bowles.
Marie Claire noted that royal biographer Penny Junor once explained, "So when she was introduced to Charles and he thought she was pretty special … he thought she was a bit of alright and she thought 'Andrew is at the moment off with Princess Anne, you know her brother, teach Andrew a lesson.'" The relationship between Camilla and Charles eventually ended when Charles went out on an assignment with the Royal Navy, and Camilla returned to Andrew.
Camilla Parker Bowles married Andrew Parker Bowles in 1973
Camilla and Andrew Parker Bowles married a few years after she first met Prince Charles. Camilla and Andrew went on to have two children together, Tom and Laura Parker Bowles. The pair were allegedly not faithful to one another throughout their marriage, though the arrangement appeared to be one that they both agreed to (per Marie Claire). Both Camilla and Andrew remained to Prince Charles, even naming the future King of England as their son's godfather.
Some royal observers have stated that at the beginning of their marriage, Camilla reportedly believed she could change Andrew and that he would commit to only her. Royal biographer Penny Junor once explained, "She foolishly believed that leopards can change their spots and her heart belonged to Andrew, the man so many women had wanted but whom she had successfully bagged. He thought he was everything she looked for in a man, and he would give her everything she had dreamed of" (via Oprah Daily).
Prince Charles married Diana Spencer in 1981
Prince Charles began his relationship with Lady Diana Spencer in July 1980. The two first met in 1977 when they were introduced while Charles was dating Diana's older sister, Sarah Spencer. Sarah and Charles broke off their relationship after she told a press member that she would not marry Charles "if he were the dustman or the King of England" (via Vogue), and Diana and Charles were linked two years later.
Charles proposed to Diana in February 1981, and the two married on July 29, 1981, in a wedding that was televised to 750 million people worldwide. Diana expressed doubt about the marriage ahead of the big day. She nearly backed out entirely after she was said to have found a bracelet featuring interlocking Cs — a gift that Charles had made for Camilla, with whom he had been carrying on an affair. Ultimately, the two got married and went on to have two children together: Prince William and Prince Harry.
Prince Charles and Camilla Parker Bowles continued their affair despite being married
Even though they were married to other people, Prince Charles and Camilla Parker Bowles continued their torrid affair from at least 1986 and into the 1990s. As noted by Town & Country, Princess Diana reportedly confronted Camilla about the relationship in 1989, walking up to the other woman at a party and stating, "I know what's going on between you and Charles and I just want you to know that." The pair exchanged words, with Camilla reportedly asking Diana, "You've got everything you ever wanted. You've got all the men in the world fall in love with you, and you've got two beautiful children, what more do you want?"
For his part, Andrew Parker Bowles didn't appear to be too upset about his wife's ongoing relationship with Prince Charles. It just so happens that he also reportedly enjoyed his extramarital affairs, including a longtime relationship with Rosemary Pitman. Andrew even married Pitman in 1996, and the pair were together until her death in 2010 (per Hello!).
A scandalous phone call was released in 1993
The early 1990s proved to be a dramatic time period for Prince Charles, Camilla Parker Bowles, and their respective partners. Back in 1989, Charles and Camilla had been secretly recorded while engaged in a very intimate phone call. The transcript of the phone call was leaked a few years later, an act that proved to be the catalyst that ended both the marriage between Charles and Princess Diana and that of Camilla and Andrew Parker Bowles.
Royal expert Wayne Francis told Express that the public leaking of the call left Andrew incredibly uncomfortable and embarrassed, while Howard Hodgson, who knew Charles, admitted that the future king feared he would never live the scandal down. As Hodgson told Marie Claire, "He knows that people not sympathetic to him or the monarchy will recall it at the time of his coronation and at all other meaningful moments in his life."
Charles continued to be plagued by how the scandal impacted his family members, including his children. As Hodgson said, "He remains deeply ashamed of the embarrassment that he caused his mother, deeply sorry for the pain it caused both his and Camilla's children."
The 'Camillagate' phone call dominated the news for weeks
Prince Charles and Camilla Parker Bowles could not go anywhere without seeing stories about their infamous phone call for weeks following the release of transcripts in 1993. At the time, the Los Angeles Times even speculated that the phone call could prevent Charles from ascending the throne following his mother's reign.
The paper quoted The Sun's Deidre Sanders as writing that the two sounded as if they had been conducting their relationship for years instead of only months and that, "It's all very intimate, down-to-earth and — if you can forgive the fact they are both cheating on their partners — endearingly human." However, Sanders went on to add that the leak of the call certainly cast Charles and the royal family in a negative light.
Other journalists were focused on another problem that the release of the transcript pointed to: the possibility that the monarchy itself was being surveilled and that the members of the family didn't realize it. As Lord Jacob Rees-Mogg said at the time, "I think one has to ask whether it was done as part of the security screening and whether what has happened is that the Royal Family were being taped as part of MI-5's (Security Service) operation."
Camilla Parker Bowles and Andrew Parker Bowles separated in 1993 and divorced in 1995
For the two people most involved in the leak of the transcript, the act ended up setting off the end of both of their marriages. While some insisted that Andrew wanted out of the marriage after experiencing public humiliation due to the leak of the call, the pair's lawyers insisted that this idea was not accurate and that the real reason for the divorce was that they had begun to lose interest in one another (via The New York Times).
For their part, Camilla and Andrew released a statement that appeared to be designed to be deliberately vague. For example, a portion of the statement read, "Throughout our marriage, we have always tended to follow rather different interests, but in recent years we have led completely separate lives" (via The Washington Post). While some speculated what those separate lives might have been like, the two appeared unwilling to offer further details.
Camilla and Andrew ultimately divorced in 1995, two years after separating and living apart.
Princess Diana and Prince Charles divorced in 1996
cPrince Charles and Princess Diana also called off their marriage around the same time, though their royal divorce took much longer to work through. Because of the monumental nature of who the two were in the world, their separation was announced to the House of Commons by former British Prime Minister John Major, causing confusion when he added, "There is no reason why the Princess of Wales should not be crowned Queen in due course. The Prince of Wales's succession as head of the Church of England is also unaffected" (via The Guardian).
The separation was also simultaneously announced by Buckingham Palace. A portion of the statement read, "The fact is that, with great sadness, they have recognized that their continuing relationship would be better under separate domestic arrangements. They are still fond of one another and fully supportive of one another's intentions to fulfill their individual public duties as wholeheartedly as before."
The divorce was finalized on August 28, 1996 (via History). Their divorce settlement included in part that Princess Diana would receive a lump-sum payment of roughly $22.5 million in addition to $600,000 per year for the maintenance of her office (via Cosmopolitan).
Princess Diana's death impacted Prince Charles and Camilla Parker Bowles
Prince Charles and Camilla Parker Bowles began a relationship following the end of the marriage between Charles and Princess Diana. In 1997, the pair celebrated Camilla's 50th birthday with a big party at Charles' home and appeared ready to bring their relationship into the public eye. However, tragedy struck on August 31, 1997, when Princess Diana was killed in a car crash in Paris (per Town & Country).
Charles and Camilla reportedly had to keep their relationship under wraps for a little longer as Britain and the world mourned Diana's death. In 1998, The Guardian reported that Camilla had been introduced to Prince William and Prince Harry. However, the Queen was reportedly still not on board with the relationship when Camilla threw Charles his 50th birthday party that year.
Eventually, everyone came around, and Charles and Camilla married in April 1995; the rest, as they say, is history.