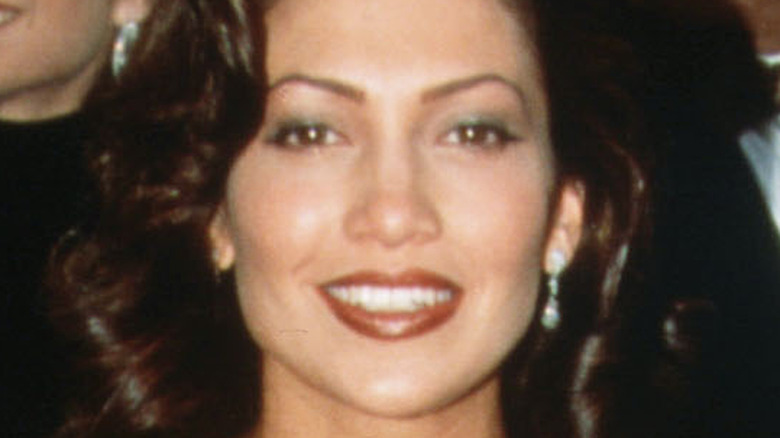 When it comes down to talking about iconic pop-culture figures, it's pretty hard not to mention Jennifer Lopez. The multi-talented star quite literally does it all. She sings, acts, performs, designs, and is an all-around boss.
According to Britannica, Lopez was born Jennifer Lynn Lopez on July 24, 1969 in Bronx, NY. At a young age, she took dancing lessons and had aspirations of becoming famous one day. At the age of 16, she made her acting debut in 1986's "My Little Girl." Despite it being a small part, it was the start of big things. In 1990, she appeared on the comedy series "In Living Color" after she was cast as one of the "Fly Girls" dancers.
As time went on, Lopez started to become a regular face on television. She appeared in Janet Jackson's music video for "That's The Way Love Goes" in 1993 and started to feature in more films. However, it wouldn't be until the late 1990s (pictured above at 27 years old) when the public really started to notice her. After starring in and playing the role of deceased singer Selena in the biopic movie of the same name, her career would soon be in demand. However, acting wasn't all Lopez wanted to do in life.
Jennifer Lopez seemed like a force that was unstoppable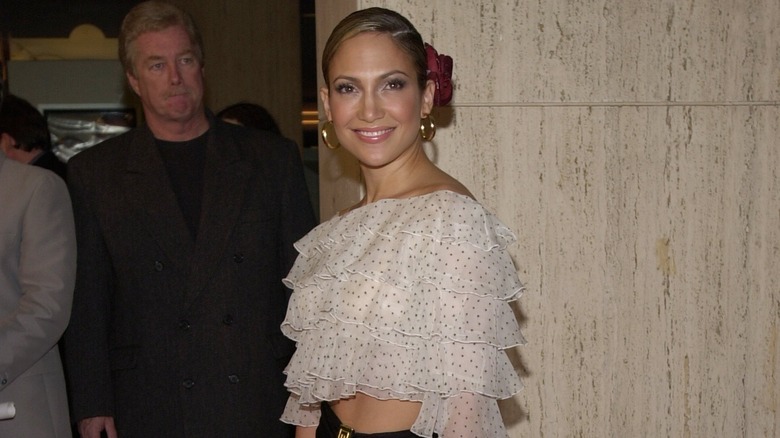 After the success of "Selena," Jennifer Lopez landed more big film roles in "Anaconda," "Out of Sight," and "The Cell," per Britannica. The New York-born entertainer was on the rise and establishing herself as one of Hollywood's hottest actors. However, she had plans to be more than just a movie star.
In 1999, Lopez released her debut single "If You Had My Love" and instantly proved she was a double-threat. According to Billboard, the song was a massive success and topped the U.S. Hot 100 singles chart. Her debut album, "On The 6," was released the same year and has sold over 3.5 million copies in the U.S. alone and over 7.2 million in total worldwide, per Chart Masters. Lopez (pictured above at age 32) was officially an international star, who continued to dominate the airwaves and big screen for the next decade.
Lopez became a queen of rom-com movies. In 2001, she played the character Mary Fiore in "The Wedding Planner." During the same time, she was promoting her sophomore album, "J.Lo," and broke an impressive record by becoming the first artist/actor to have a No. 1 album and film simultaneously, per MTV.
With a lot of success, came some failures for Jennifer Lopez
Topping the charts and appearing in box-office smashes was a regular thing for Jennifer Lopez in the early 2000s. After starring in "The Wedding Planner," she went on to take more lead roles in "Maid in Manhattan," "Monster-in-Law," and "Shall We Dance?" However, with the success, came a lot of failures too.
In 2003 Lopez and her then-boyfriend, Ben Affleck, played the main characters in the comedy film "Gigli." Even though the movie was supposed to make people laugh, it was heavily criticized for its bad acting and also performed horribly at the box office, making only $7 million worldwide, per Box Office Mojo. As previously reported by GQ, it has been described as "one of the worst movies ever released." At the 2004 Golden Raspberry Awards, "Gigli" won Worst Picture while Lopez (pictured above at 36 years old) took home Worst Actress. The following year, the movie was named Worst "Comedy" of Our First 25 Years at the same award show.
Lopez's music career was going strong until the late 2000s. After a successful four studio albums, her sales started to take a hit. In 2007, "Brave" was her first album to sell less than 1 million copies worldwide and sold as little as 180,000 in the U.S. alone, according to Chart Masters.
Jennifer Lopez proved she's a comeback queen
Jennifer Lopez and her then-husband Marc Anthony, welcomed their twin children, Emme Maribel Muniz and Maximilian David Muniz, on Feb. 22, 2008, according to MTV. The mom-of-two kept a fairly low profile for a couple of years after giving birth.
In 2010, Lopez returned to the big screen for the first time in three years and starred in "The Back-up Plan" alongside Alex O'Loughlin. The rom-com came out on top at the box office and grossed over $77.5 million worldwide, per Box Office Mojo. Along with acting, Lopez was ready to make a return to the music scene and collaborated with rapper Pitbull for "On The Floor" in 2011. According to Chart Masters, the single was a global smash and sold over 9 million copies, becoming her best-selling song by a mile. The single was taken from her first album in four years, "Love?," which sold more copies than her previous two studio albums.
In 2011, Lopez (pictured above at 42 years old) became a judge on "American Idol" and was paid an impressive $12 million for her first season, per StyleCaster. The "Love Don't Cost a Thing" hitmaker's salary quickly shot up to $17.5 million in 2013, making her one of the show's highest-paid judges. Lopez's career was clearly back in demand and the public had fallen in love with her again. In December 2011, she was named the "world's greatest musical comeback act," according to the Los Angeles Times.
Jennifer Lopez's love life has always been a talking point
Jennifer Lopez's love life throughout her career has been well-documented. After all, she has dated some very high-profile men and has even tied the knot three times.
According to Oprah Mag, Lopez got married in February of 1997 to Cuban waiter Ojani Noa, who she filed for divorce from less than a year later. Her first high-profile relationship in the spotlight, however, was with rapper Diddy in 1999. Their relationship lasted two years and has remained a memorable moment within pop culture. The same year of their split, Lopez walked down the aisle with backup dancer Chris Judd. However, like her first marriage, it was over less than 12 months later. Lopez also found love with actor Ben Affleck in 2002. The couple lasted two years before calling off their engagement in 2004.
Lopez's third marriage was with Latin star Marc Anthony. They tied the knot in 2004 and welcomed their twin children, Emme Maribel Muniz and Maximillian David Muniz, in 2008. Three years later in July 2011, the pair announced they were breaking up. One of Lopez's (pictured above at age 49) most-recent love stories was with former baseball player Alex Rodriguez. As reported by Elle, they announced they were dating in May 2017 and got engaged in March 2019. All seemed well until split rumors surfaced in March 2021.
Jennifer Lopez's career is still in demand
Throughout the ups and downs, Jennifer Lopez is still on top of her game and her career, which is very much in demand. In 2016, she performed in her own Las Vegas residency, "All I Have," at the Zappos Theater. The show ran for two years and sold 487,303 tickets and grossed $101.9 million at the box office, becoming the sixth most successful Vegas residency of all time, per Billboard. In 2019, Lopez (pictured above at 51 years old) starred in "Hustlers" alongside Constance Wu and Julia Stiles. The big-screen movie was a massive success, grossing over $157 million at the box office, according to Box Office Mojo. Lopez's role as Ramona Vega was praised by Rotten Tomatoes as a "career-best performance."
The following year, Lopez performed at the Super Bowl halftime show in Miami with fellow Latinx superstar Shakira. According to Market Watch, their show-stopping set was watched by an astonishing 104.1 million people. Continuing to keep busy, in January 2021, Lopez launched her own skincare line, JLo Beauty, per Emirates Woman, and served as a judge on the talent show competition "World of Dance." She has continued to live the high life, starring in a rom-com movie alongside Maluma and Owen Wilson, "Marry Me," and her own Netflix documentary, "Jennifer Lopez: Halftime." At the 2022 MTV Movie & TV Awards, she was honored with the Generation Award.
With a total net worth of $400 million, Lopez's hard work throughout the years has morphed her into a successful business mogul who earns $40 million per year.
Bennifer 2.0 is back and better than ever
After announcing their engagement to the world, Jennifer Lopez (pictured above at 52 years old) and Alex Rodriguez shared a statement with Today in April 2021 to reveal their wedding plans were off and that they are better off as friends. While many fans may have been sad about their breakup, they quickly got over the news once they discovered Bennifer 2.0 was a real thing. As previously reported by Page Six, Lopez and ex-fiance Ben Affleck was caught packing on the PDA just two months after Lopez's split from Rodriguez. After much speculation, the pair made their relationship Instagram official by sharing a snapshot of them kissing on Lopez's 52nd birthday.
The couple hasn't wasted any time whatsoever. In March 2022, TMZ revealed they had purchased a luxurious mansion for $50 million. That's not all, however. The following month, Lopez announced in her newsletter that she and Affleck were engaged again. "Did you ever imagine your biggest dream could come true?" she wrote, adding (via CNN), "Saturday night while at my favorite place on earth (in the bubble bath), my beautiful love got on one knee and proposed." Lopez expressed that the romantic moment left her "speechless" and totally caught her off guard. "I was smiling so big and tears were coming down my face, feeling so incredibly happy and whole. It was nothing fancy at all, but it was the most romantic thing I could've ever imagined," she continued. Aww, this right here is true love!