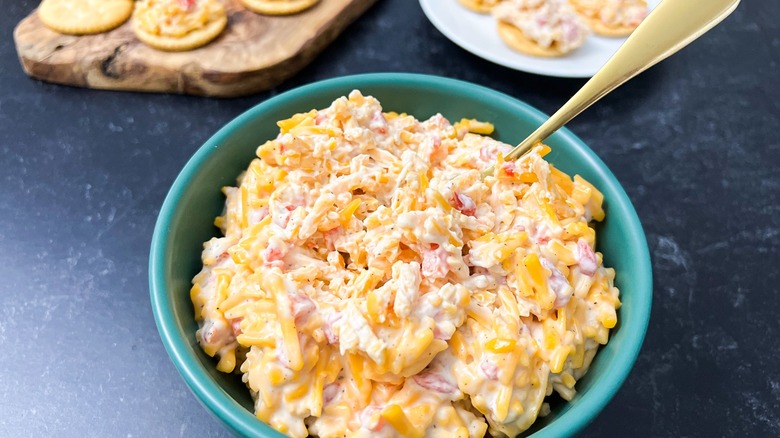 Pimento cheese is a very regional item; if you are not from the South, you may not be familiar with it. Recipe developer Erin Johnson shares her love for the retro dish: "I love this recipe because it's nostalgic and delicious." She even uses pimento cheese to make grilled cheese sandwiches, which sounds like a total game changer.
"Pimento cheese is the kind of recipe where every family has their own version of it, and everyone has opinions on what should or should not be included," Johnson says, adding that quite a few traditional recipes do not call for cream cheese. She does use this ingredient, though, as well as a secret ingredient of her own: pickle juice. "The acidity really brightens the spread," she explains.
Read on to find out how to make this Southern favorite in your own kitchen, then prepare to have your mind blown as you discover its many, many uses.
Collect the necessary ingredients for Southern pimento cheese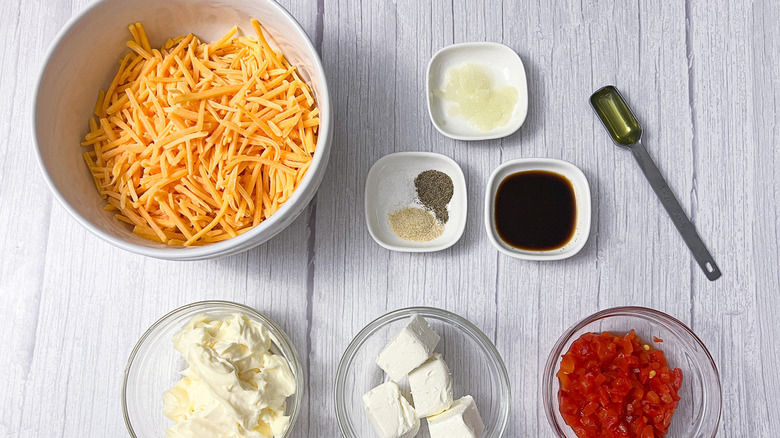 To make this pimento cheese spread, you'll need mayonnaise, cream cheese (let it come to room temperature before starting), cheddar cheese, and, of course pimentos (look for the diced and jarred variety). For flavoring, you'll add a tiny bit of onion, salt, pepper, garlic powder, Worcestershire sauce, and dill pickle juice. Not a pickle person? You can use vinegar instead. For a slightly spicier version, you could also use the liquid from a jar of pickled jalapeños and add a pinch of red pepper flakes or cayenne to the mixture.
You'll need to do a little prep work first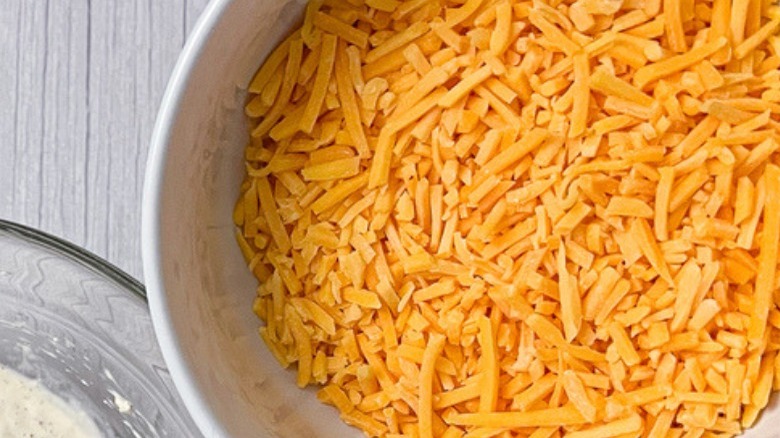 Johnson's recipe calls for a small amount of grated onion, so you will need to peel an onion, slice off a chunk, and grate it. Don't worry: Those tears will soon be tears of joy. While you're at it, you should also roughly chop the pimentos (if they're not already diced) and grate the cheddar cheese. You can of course use pre-shredded cheese, but doing it yourself will ensure a fresher product — and one with fewer additives.
Mix the mayo, cheese, and seasonings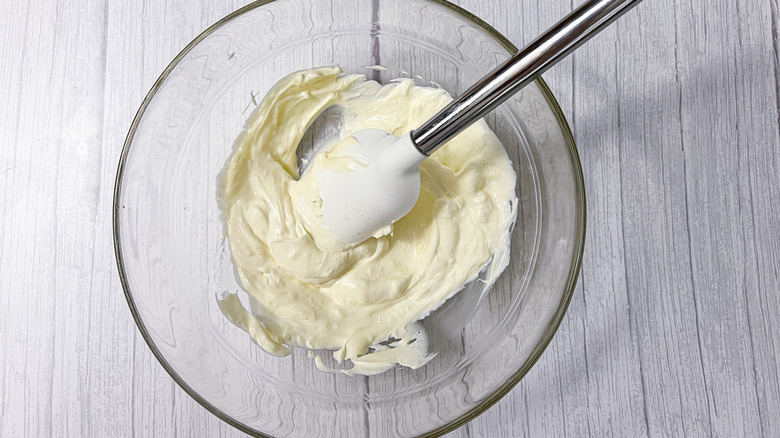 Mix the cream cheese (that you've already softened by letting it sit at room temperature for a bit) with the mayonnaise, then add the dry seasonings along with the onion, Worcestershire sauce, and pickle juice. Stir until you have a homogeneous mixture.
Finish off your pimento cheese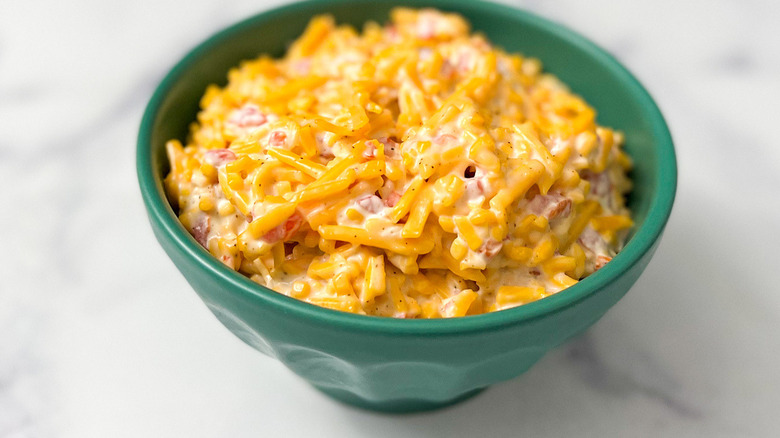 Up to the point where you add the pimentos, you don't have to worry too much about over-stirring the spread; in fact, you could even use a food processor. When you add the pimentos, though, you'll need to do so carefully, folding them in gently with the grated cheese. This is because those peppers are soft-bodied little things and you want them to add red flecks to the spread, not tint the whole dish pink.
Johnson feels that pimento cheese is a very versatile ingredient, telling us that "any place you'd want cheese, you can use this." Among her suggestions are adding it to grits, using it as a sandwich filling, topping burgers or chicken with it, or simply spreading it on crackers. The cheese isn't really all that long-lasting, though. Johnson says if stored in an airtight container, the pimento cheese will keep for up to a week.
⅓ cup mayonnaise
2 ounces cream cheese, softened
1 teaspoon grated onion
¼ teaspoon salt
¼ teaspoon black pepper
¼ teaspoon garlic powder
2 teaspoons Worcestershire sauce
1 teaspoon dill pickle juice
4 ounces diced pimento, drained
2 cups shredded sharp cheddar cheese
In a bowl, mix together mayonnaise and cream cheese until well blended.
Stir in the onion, salt, pepper, garlic powder, Worcestershire sauce, and pickle juice.
Fold in the pimento and cheddar cheese.
Serve immediately, or store in an airtight container in the refrigerator for up to 1 week.