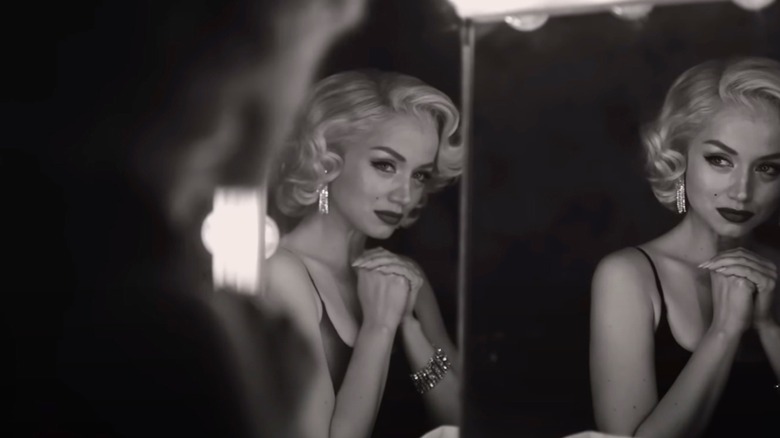 The Ana de Armas-starring Marilyn Monroe biopic "Blonde" is director Andrew Dominik's fictional take on the superstar's life, but since it's still based at least partially in history, there are real versions of many of the film's characters. Just as Monroe herself was a real, living human, many of the people she encounters in "Blonde" are also based on real people. The first teaser trailer showed off some stunning footage of de Armas as Monroe, so it's not hard to imagine that they other performers will take their interpretations of these famous faces as seriously. After all, some of them are playing film stars whose visages were committed to the annals of history and can be compared.
"Blonde" will follow Monroe's life from "her journey from Norma Jeane Baker, abused daughter of a single mother, to the most sought-after celebrity in the world," which means we'll also see fellow actors like Tony Curtis and Charles Chaplin, Jr., her second husband and baseball legend Joe DiMaggio, and of course, President John F. Kennedy.
Here is a guide to all of the major players that we know about so far in "Blonde," along with who's playing who and where you might have seen them before. Diamonds may be a girl's best friend, but this easy guide will be your best friend to understanding the history behind the fiction in "Blonde."
"Blonde" will premiere exclusively on Netflix on September 23, 2022.
Ana de Armas as Marilyn Monroe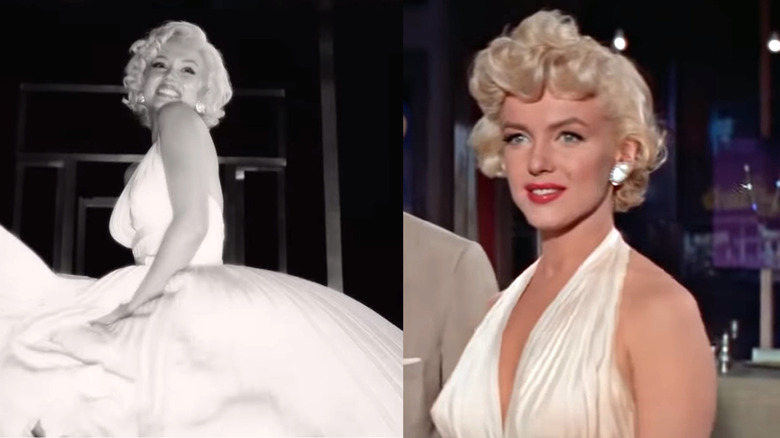 "Blonde" is the story of Marilyn Monroe, and the woman behind one of the world's most charismatic and tragic stars is Ana de Armas. Monroe was born Norma Jeane Mortensen, though she later changed her to Norma Jean Baker, and then to Marilyn Monroe. She was raised by her mentally ill single mother for many years before going into the foster care system. She married her first husband, a co-worker at a factory, in 1942, but the marriage didn't last long. In 1946 she signed a contract with 20th Century Fox under the screen name Marilyn Monroe, though her stardom wouldn't kick off until 1950 when she appeared in "All About Eve" and started starring in a slew of films that garnered critical and audience acclaim. She would marry twice more and have an alleged affair with the president of the United States, star in more than 20 feature films, and become an internationally recognized superstar. She died from an overdose in 1962 that some believe may have been a suicide, though the circumstances surrounding her death have been contended by fans and historians for decades. Monroe's legacy is hard to fully encompass briefly, as her impact is felt across entertainment, beauty ideals, feminism, and so much more.
Ana de Armas is one of Hollywood's biggest stars right now. She's sweet and smart as a nurse-turned-detective in Rian Johnson's "Knives Out," sizzling and slightly scary in "Deep Water," and she lights up the screen every time she's in the latest Bond flick, "No Time to Die." Soon she'll be the star of the "John Wick" spin-off, "Ballerina," making her a real cinematic force to be reckoned with.
Bobby Cannavale as Joe DiMaggio
Casting for Monroe's first husband, a factory worker who became a police officer, has not been announced, but her second husband, Joe DiMaggio, will be played by "Boardwalk Empire" star Bobby Cannavale. DiMaggio, the "Yankee Clipper," was one of the most famous baseball players to ever live. Like Monroe, he was a rags-to-riches story, overcoming his own difficult childhood to become a sports legend. Shortly after he retired from baseball, he asked a mutual friend to set him up on a date with Monroe. The two hit it off and dated for two years before marrying in 1954. Their marriage only lasted nine months, in part because Monroe wanted to explore her still-growing stardom and DiMaggio wanted a stay-at-home wife. The two eventually reconciled years later and were friends up until Monroe's death.
Bobby Cannavale is a prolific performer in both TV and movies, though most fans recognize him as Gyp Rosetti from "Boardwalk Empire." He's also starred in "Nurse Jackie," "Mr. Robot," "The Irishman," and "Nine Perfect Strangers."
Adrien Brody as Arthur Miller
Monroe's third husband, playwright Arthur Miller, will be played by "The French Dispatch" star Adrien Brody. Miller is best known for writing the play "Death of a Salesman" in 1949 and "The Crucible" in 1953. He also wrote several screenplays, including one for Monroe called "The Misfits" in 1961. The two married in 1956, and Monroe even converted to Judaism in an attempt to get closer to her new husband spiritually. The two were married for five years, and during that time Miller came under scrutiny from the House Un-American Activities Committee, created to search for alleged communist conspiracy within the United States. He was eventually convicted in 1957 but filed an appeal and won. Monroe and Miller divorced shortly before the release of "The Misfits," as the strain of creating the movie together damaged the relationship beyond repair.
Adrien Brody is best known for his work with Wes Anderson, including films like "The Darjeeling Limited" and "The French Dispatch," though he has a storied career in TV and film. Recently he's starred on the Starz series "Chapelwaite," played Pat Riley on the LA Lakers series "Winning Time," and playing an antihero in "Clean." Soon he will appear in Anderson's next film, "Asteroid City," along with the Apple TV+ movie "Ghosted."
Caspar Phillipson as John F. Kennedy
Caspar Phillipson has gotten a name for himself playing former president John F. Kennedy. The Danish actor starred as the president in the 2016 biopic about his wife, Jackie Kennedy, who was played by Natalie Portman. Phillipson looked and sounded so much like JFK that he started getting asked to portray him for other reasons, including a version of the speech Kennedy was supposed to give in Dallas before he was killed in 1963. Now he will play JFK in "Blonde," though he the perspective is going to be wildly different from the lens of his potential mistress than that of his wife in "Jackie."
Monroe and Kennedy allegedly had a romantic affair, and her performance of "Happy Birthday" for him in 1962 didn't help matters. Many historians believe the two may have been more intimate than they let on, but they didn't have a lengthy affair. Kennedy was assassinated in November 1963, a little more than a year after Monroe's own tragic death.
Xavier Samuel as Charles Chaplin Jr.
Charles Chaplin Jr., the son of silent film star Charlie Chaplin, will be played by "Tell Me Your Secrets" star Xavier Samuel. Chaplin was the eldest son of the man who made "The Great Dictator," and he followed in his father's footsteps by going into acting. He starred in films like "Sex Kittens Go to College," "The Beat Generation," and "High School Confidential!" Chaplin and Monroe dated prior to her marriage to DiMaggio, though they never wed. Like Monroe, Chaplin died at a tragically young age, dying in 1968 at the age of 42 from a pulmonary embolism.
Xavier Samuel is a rising star from Australia who first gained Hollywood's attention with his turn in the 2009 horror film "The Loved Ones" before going on to star in "The Twilight Saga: Eclipse" in 2010. He also played a hot version of Frankenstein's monster in "Frankenstein," and will appear in the upcoming Baz Luhrman Elvis biopic, "Elvis."
Evan Williams as Edward G. Robinson Jr.
Edward G. Robinson, Jr., the actor and son of Hollywood legend Edward G. Robinson, will be played by "Escape Room" star Evan Williams. In Joyce Carol Oates' novel "Blonde," which the film is based on, a character named Eddie G based on Robinson has a threesome with Monroe and the fictionalized Chaplin. Whether or not that's purely fictional is anyone's guess, but Robinson did know Monroe from their time working together on the 1959 comedy "Some Like it Hot." He was known for his turbulent behavior and wild life, and he died of a heart attack at the age of 40.
Evan Williams is best known for playing Luke on the TV series "Awkward" and the Chevalier on "Versailles," but he has a wide-ranging career with roles in everything from "Degrassi: the Next Generation" to the upcoming season of "Westworld."
Michael Masini as Tony Curtis
Tony Curtis, the famous actor and father of "Halloween" scream queen Jamie Lee Curtis, will be played by "The Young and the Restless" star Michael Masini. Curtis was born Bernard Schwartz but took on the moniker of "Tony Curtis" when he moved to Hollywood in 1949. After starring in a series of films that didn't do all that well, he managed to earn some attention for playing magician Harry Houdini in "Houdini" in 1953. He was nominated for an Academy Award for his portrayal of a prisoner chained to a Black convict (played by Sidney Poitier) in the segregated South in "The Defiant Ones" in 1958, although he did not win. He was eventually cast in Billy Wilder's screwball comedy "Some Like it Hot" in 1959, where he starred with Monroe and Jack Lemmon. He was married to fellow Hollywood star Janet Leigh, and the two starred in a number of movies together. Curtis continued to act until his death in 2010.
Fans might best recognize Masini as the hot cop Officer Drago in "Birds of Prey" or as Officer Malone on "General Hospital." He's a major soap opera star with a growing career in film, and he certainly looks the part. You can currently catch him on the Patricia Arquette-led series "High Desert."
"Blonde" will premiere on Netflix on September 23, 2022.