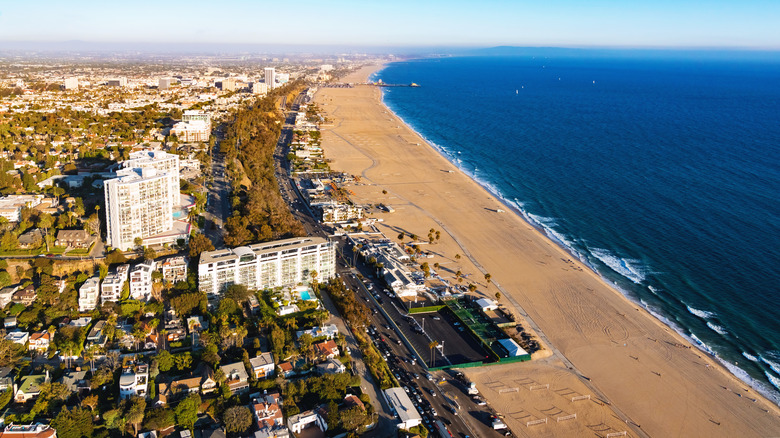 Santa Monica is a charming and lively beach town located in Los Angeles, California. According to its official website, this beloved beachside community is known for its wide beaches, stellar shopping, and iconic pier. Visiting the amusement park on the pier is an absolute must, and it is the perfect place to grab a funnel cake between riding the rollercoaster and taking in the views from the dock. When it comes to watching the sunset, take a walk through Palisades Park and be sure to snap some photos.
Though there is plenty to do and explore in Santa Monica, where you stay can play a huge role in your overall experience. Thankfully, there are plenty of options to explore. From high-end hotels to more low-key boutique accommodations, there really is something for everyone in this beach town. That being said, we've pulled together some of the best hotels in Santa Monica, California, so you can start planning your next vacation now!
The Fairmont Miramar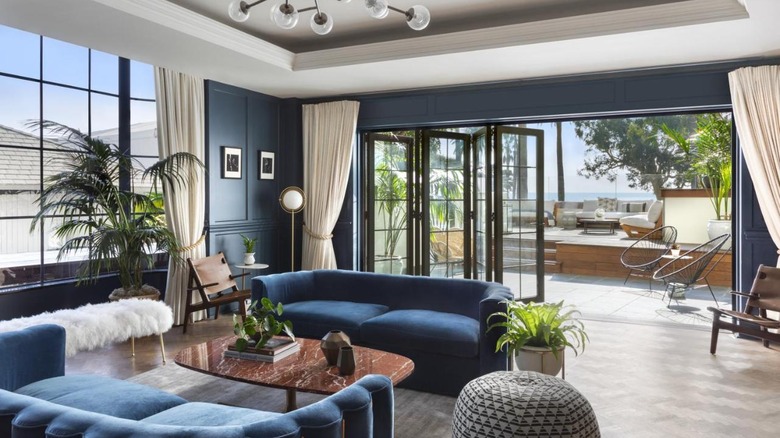 The Fairmont Miramar is, without a doubt, one of Santa Monica's most iconic and historic hotels. The Fairmont offers 297 elegant guest rooms, suites, and bungalows spread out across five acres of the beautiful Santa Monica bluffs. Their accommodations range from luxurious bungalows with three bedrooms, four bathrooms, and private access to their stunning Miramar gardens. Even the traditional guest suites boast breathtaking views and gorgeous coastal modern decor.
The location is perfect, nestled between downtown Santa Monica and the Pacific Ocean. Some other property highlights include the pristine pool and lounge setup, full spa, two restaurants (including Soko, an authentic Japanese sushi joint with only eight seats), a classic hotel bar, and The Bungalow, which is one of the most popular outdoor bars in all of Santa Monica. Be sure to make yourself a reservation at their beautiful restaurant FIG during happy hour for some amazing food and cocktail deals.
Hotel Casa del Mar
Stay just steps from the Pacific Ocean at Hotel Casa del Mar. This luxurious hotel by the sea found its design inspiration from the grand villas of the Mediterranean. This coastal design influence is carried throughout all of their accommodations, ranging from more reasonably priced standard hotel rooms to truly impressive Pacific View and Penthouse suites.
The Hotel Casa del Mar is so much more than just a place to stay — between its beachside heated pool, three aesthetic restaurants, a full-service spa and gym, and beach butler service, everything you need is instantly at your disposal throughout your stay here. The hotel even offers a wide array of beach activities available exclusively to its guests, including surf lessons, bike rentals, personal trainers, and more! Be sure to check out Terrazza Lounge during your stay, where acclaimed Chef Gemma Gray serves carefully crafted fresh seafood dishes in a gorgeous room with 180-degree ocean views.
Santa Monica Proper Hotel
Modern and professionally decorated, the Santa Monica Proper Hotel is a true work of art. Between the neutral color palette and bohemian accents, this hotel offers an elevated experience. The rooms follow the signature style of the Proper, featuring grand headboards, vintage-inspired wallpaper, and modern light fixtures. When it comes to location, the Proper Santa Monica is located right off of Wilshire, and it is very close to the Third Street Promenade and the rest of downtown Santa Monica.
The Proper Hotel is also home to the wildly popular Calabra, a beautiful indoor/outdoor bistro serving delicious Mediterranean-meets-California cuisine. Between the impressive views of the Pacific Ocean, the carefully curated menu, and the full-service cocktail bar, Calabra is a must for hotel guests and locals alike. And be sure to make a reservation in advance if you can; this star-studded restaurant books up quickly!
Huntley Santa Monica Beach
From the glass elevator to the sleek lobby, The Huntley Hotel offers first-class accommodations to those visiting Santa Monica. It is conveniently located right off of 2nd Street and is very close to the downtown area of the beach town. The rooms have a modern sophistication to them that matches the downstairs lobby, but the highlight of the property is, without a doubt, the glass elevator. Hop in and ride all the way to the top floor and take in the epic views.
Once you reach the top floor, the elevator doors open up to a restaurant called The Penthouse. Snag a window seat at sunset for the ultimate show while sipping on a martini or refreshing glass of wine. Once you retire back to your room for the night, guests are guaranteed a stunning view of either the Pacific Ocean or the sparkling Los Angeles skyline, making the Huntly a must-stay for tourists looking to enjoy the sights of the city.
The Ambrose Hotel
Are you looking for a more personal stay during your time in Santa Monica? The Ambrose Hotel is a boutique hotel that takes pride in its thoughtful care for each and every guest's experience. With just 77 rooms on the property, The Ambrose is more intimate than many of its major beachside competitors, allowing guests to feel comfortable and cared for throughout their stay. Each room is designed and styled in a California Craftsman style, further lending to the hotel's cozy residential feel.
The Ambrose also offers unique services to ensure guests experience Santa Monica with the utmost convenience and enjoyment. Between a guest-exclusive Tesla car "house car" service, beach cruiser access year-round, a full gym, and more, the Ambrose provides everything you could need throughout your stay. Additionally, The Ambrose takes full advantage of their stunning patio area every day from 6 PM to 8 PM, offering a local wine tasting called Santa Monica Sips!
Shutters on the Beach
Are you looking to stay right on the beach? Shutters on the Beach is a celebrity hotspot known for its white exterior and classic decor. Inspired by Cape Cod's charming cottages, Shutters' rooms are comfortable and luxurious, with shuttered windows opening onto sea or pool view balconies. Each room has been meticulously designed and decorated to enhance the stunning blue and green hues of the Santa Monica coast visible right outside each guest's window. Check out their Beach House accommodations for a true one-of-a-kind beachfront experience. You'll feel like you're in your own vacation home.
Throughout your stay at Shutters on the Beach, be sure to take advantage of the wide variety of services offered exclusively to guests. Dine at one of their three ocean-view restaurants, including 1 Pico, a California Coastal fine dining restaurant known for its incredible seafood and weekend brunch, all with Pacific Ocean views.
Hotel Oceana Santa Monica
Hotel Oceana is lavish, luxurious, and exclusive. It is located right on Ocean Avenue, meaning you can literally wake up, walk out the front door, and stroll along Palisades Park while taking in the ocean views. Nestled right between Montana Avenue — a street lined with high-end local boutiques, restaurants, and shops — and downtown Santa Monica, which is known for its bustling tourism, Hotel Oceana could not be more perfectly located. Its establishment takes pride in its true luxe experience, offering a wide variety of opulently decorated, impressively spacious suites in addition to its gorgeous standard rooms.
The luxurious experience does not just extend to its five-star rooms. Hotel Oceana offers a wide range of high-quality experiences exclusive to its guests only. Are you looking to spend the day on the beach? Hotel Oceana offers complimentary beach yoga in the mornings, a beach butler service guaranteed to create the perfect beach picnic, and an incredible guest-exclusive restaurant, lounge, and bar.
Loews Santa Monica Beach Hotel
Vacation in the heart of Santa Monica at Loews Santa Monica Beach Hotel. This highly-rated luxury hotel is located within walking distance of all of Santa Monica's most popular tourist attractions, including the Third Street Promenade, the Santa Monica Pier, Santa Monica beach, and more. Loews Santa Monica has taken its prime location into account in the design of each room and suite, furnishing with cool neutral tones reminiscent of the sea and the sky to ensure guests enjoy their coastal beach stay to the fullest.
One of the Loews Santa Monica Beach Hotel's most impressive features is its expansive pool deck. Named by L.A. Magazine as the best hotel pool in all of Los Angeles, this guest access-only pool features sweeping views of the Santa Monica Pier, Ferris wheel, Pacific Ocean, and stretches of sand. Be sure to grab a drink from its hotel bar and enjoy a sunset sip poolside during your stay!
The Georgian Santa Monica
The Georgian Santa Monica can be recognized by its towering blue and yellow exterior. Located right on Ocean Avenue, The Georgian sits in the middle of the hustle and bustle of Santa Monica, and some of the best restaurants and bars are within walking distance of this iconic hotel. Best of all, Palisades Park sits right in front of the hotel, allowing guests to start or end each day with a stunning walk around the cliffside while taking in the panoramic views.
The Georgian has been a Santa Monica landmark since 1933 and was one of the first sky-scraping buildings built along the gorgeous palisades park on Ocean avenue during California's coastal expansion. Its colorful art deco exterior truly sets this hotel apart from many of its "California coastal" competitors, as its Hollywood glamor aesthetic extends from the architecture to the design of each renovated room. Vacation in style in one of its 56 rooms or 28 suites, all boasting a unique vintage yet vibrant speakeasy style.
Viceroy Santa Monica
The Viceroy Santa Monica is a luxury accommodation that has an artsy appeal. Between the modern furnishings and the pops of color both in the interior and on the hotel's exterior, the Viceroy Santa Monica allows guests to stay in style. It is centrally located between the main downtown area of Santa Monica and the more laidback Ocean Park neighborhood. Venice is also close by if you want to explore more of the westside.
The rooms at the Viceroy have a very elegant, sophisticated, and timeless appeal, and the inviting shades of blue set the scene for being near the ocean. If you're looking to lay low without having to leave the property, reserve a spacious poolside cabana and enjoy top-notch service. The on-site restaurant Sugar Palm has a refreshing, seafood-forward menu and a fun outdoor patio, ensuring you'll have everything you need at the tips of your fingers.
Shore Hotel
From the modern, glass architecture to the minimalistic and sleek lobby, Shore Hotel on Ocean Avenue is the perfect spot for those looking to stay in the center of Santa Monica. This sustainably-focused hotel is within walking distance of literally everything! From the pier to Palisades Park to the Third Street Promenade, Shore Hotel places guests right in the heart of this beloved beach town, ensuring they will be entertained every second of every day.
If you catch a craving for Mexican-inspired cuisine, walk to the nearby Blue Plate Taco and sip a margarita oceanside while you chow down on some lobster tacos. When it comes to the rooms, they are a standard size and have a clean and crisp decor that matches the orange and blue pool area of the hotel. Start your morning off in a pool-side lounge chair or post up on your balcony while you do some people-watching.
Hotel Shangri-La
Hotel Shangri-La is located in the heart of Santa Monica. Situated right on Ocean Avenue, this unique and sleek accommodation is within walking distance of everything from the Third Street Promenade to Palisades Park. The iconic pier is also just a short distance up the road, as are some of the best restaurants and bars in Santa Monica. The rooftop pool is exclusive to guests, and it is the perfect place to enjoy a cocktail and soak up some sun if the weather is nice.
The hotel's art deco design dates back to 1939, paying homage to old Hollywood glamor and making it an architectural staple for locals and tourists alike to admire. Each room within the Hotel Shangri-La is unique — some drawing inspiration from the art deco exterior, while others, like its Heaven Suite, take their inspiration from Los Angeles's more current rock 'n roll scene. No matter your taste, the Hotel Shangri-La is sure to have a stunning oceanside room ready for your every need.
Palihouse Santa Monica
Are you looking for something more low-key and quiet? Palihouse Santa Monica is located in a residential area right off 3rd Street. It has a very elegant and sophisticated exterior, and despite being in a cozy part of the neighborhood, it is still within walking distance of the Third Street Promenade. Guests have the option to spend the day shopping, dining, and people watching before retreating back to the serenity of their guest suites.
With only 38 rooms on the property, there is definitely a sense of exclusivity at Palihouse Santa Monica. The building itself first opened in 1927, giving it a rich history that has seen many different eras and walks of life. When it comes to dining, there is an on-site eatery that is reserved only for hotel guests, and the all-day menu features farmers' market goodies that are served from 8 AM to 3 PM.
Le Méridien Delfina
Owned by Marriott, Le Méridien Delfina is a reliable hotel that is located right near the pier and the beach. Since it is only four blocks away from the sand, guests can enjoy a morning walk to the beach for a quick dip or simply ride bikes along the boardwalk. In addition to free valet parking, guests of the Le Méridien Delfina are also greeted with two complimentary glasses of champagne upon arrival, resulting in the warmest of welcomes. The rooms all have hints of blue in them, along with a Mediterranean vibe.
If you need to get a workout in, stop by the state-of-the-art fitness center and hop on one of the Pelotons. The fitness center is also open 24/7, ensuring that the hotel works around your schedule. Though there are tons of nearby restaurants and bars, the onsite Longitude Bar + Restaurant is a snazzy spot to grab a craft cocktail or evening glass of wine.