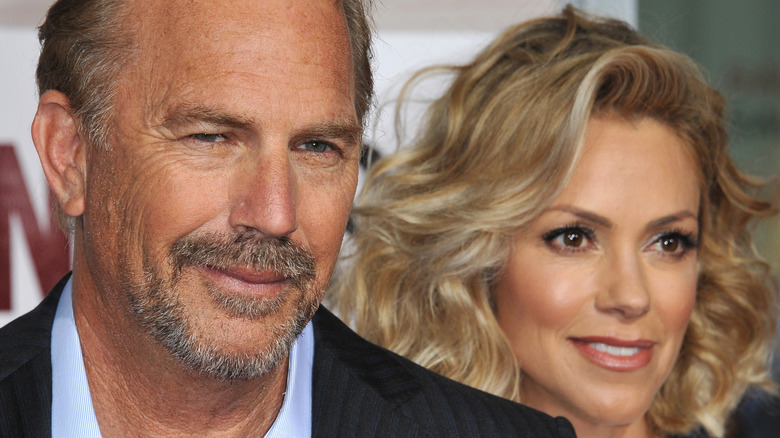 Ask anyone, "Yellowstone" is a hit. The Paramount Network drama debuted in 2018 and, according to Deadline, quickly became the second most-watched cable show, barely trailing behind "The Walking Dead," scoring over 5 million viewers on its premiere episode alone. A modern-day western, "Yellowstone" tells the tale of the Dutton family, whose patriarch (played by Kevin Costner) owns the largest cattle ranch in the United States.
While the Duttons mostly concern themselves with fending off land developers, local Indian reservations, and national parks, they also engage in a fair amount of romance, from Rip and Beth to Jimmy and Mia. After all, what good show doesn't have a romantic plot line or two? However, since the show returns for Season 4 in the fall of 2021, as per Paramount, many fans are wondering if the "Yellowstone" stars are romantically involved in real life. So, we answer that question for you here. Keep reading for a look at the cast of "Yellowstone" and their real-life significant others.
Yellowstone star and A-list actor Kevin Costner is married to designer Christine Baumgartner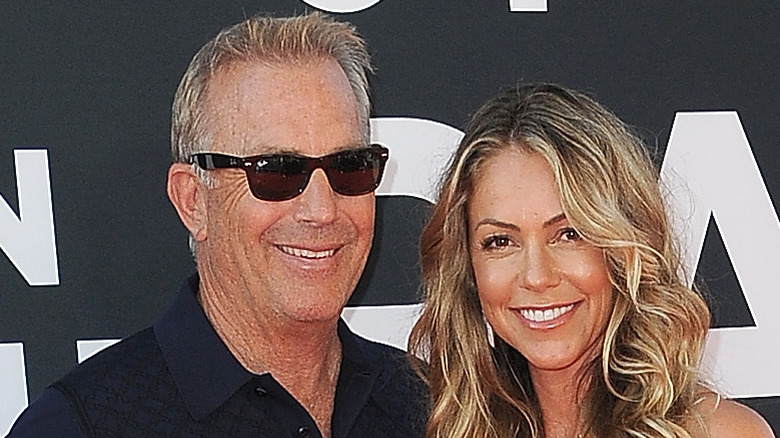 As listed on IMDb, actor Kevin Costner stars in "Yellowstone" as John Dutton, the head of the family and the owner of Yellowstone Dutton Ranch. On the show, Dutton has been widowed for many years, as his wife died before the show's timeline began. In real life, however, Costner is happily married to designer Christine Baumgartner. As per People, the actor was married to Cindy Silva until they divorced in 1994. Following his divorce, he met Baumgartner first while golfing and once again in 1998, which is when they started dating. "We exchanged numbers, and I [asked], did she mind if I called her in two weeks," Costner told People. "I did not realize that was like an insult to a woman."
Despite that "insult" and the close to 20-year age gap between the two, Baumgartner and Costner dated until they married in September of 2004. The publication also reported that their wedding ceremony and reception took place at the actor's ranch in Colorado, at which Costner arrived in a horse-drawn carriage. According to a close friend who spoke to People, Baumgartner and Costner are like "little kids together, really in love."
Yellowstone creator, director, and actor Taylor Sheridan's wife Nicole is an IRL cowgirl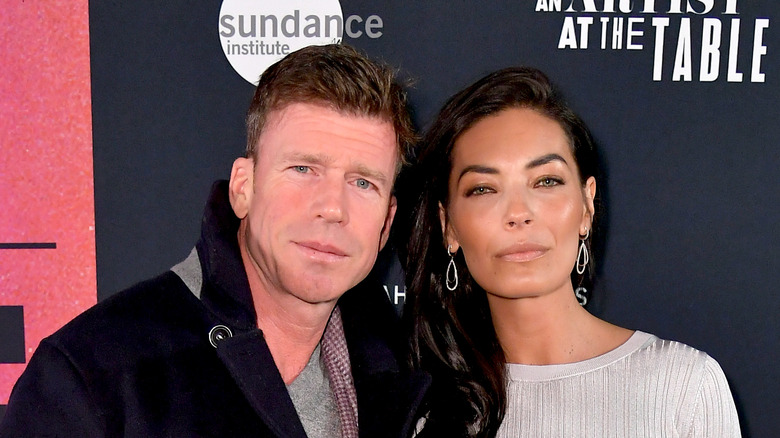 Taylor Sheridan is no stranger to both sides of the camera. The writer, director, and actor is not only creator, director, and producer of "Yellowstone," but, according to IMDb, he's also appeared in three episodes as Travis Wheatley, a local horsetrader. In real life, he's married to Nicole Sheridan, formerly Nicole Muirbrook. As per her IMDb page, Nicole has her own acting career, with appearances in shows like "Dark Blue" and "How I Met Your Mother." And, she's even a cowgirl, too! The actress and mother posted a photo of herself on Instagram, herding cows on horseback, complete with a flannel shirt and cowboy hat. Is it a coincidence that a man who created a show about cowboys married a cowgirl? Maybe, but probably not.
Nicole and their family are also a main source of his motivation. "I imagined jumping forward seven years when I found out my wife was pregnant, and living in some little two-bedroom apartment in West Hollywood," he explained to Deadline when asked about his motivation to become a writer. "That's not living by example."
Yellowstone actress Kelly Reilly married Kyle Baugher in England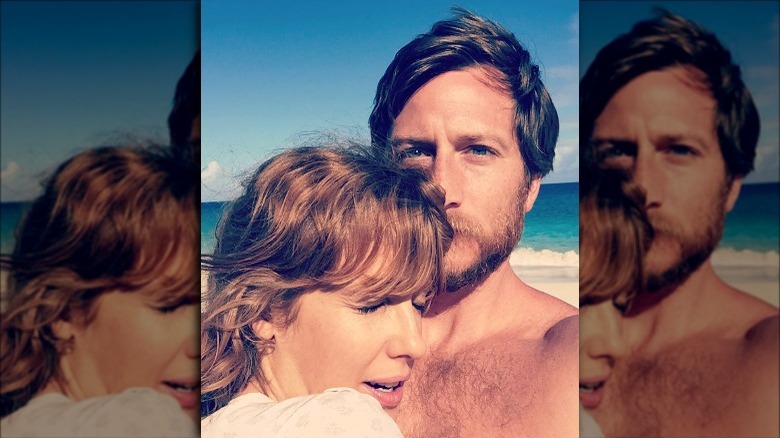 British actress Kelly Reilly ditches her accent to play Beth Dutton on "Yellowstone." Beth is John Dutton's daughter, though she shows no real interest in ranch life — except when it comes to the attractive ranch hand Rip Wheeler. In real life, Reilly is happily married to Kyle Baugher. According to Parade, Baugher is not an actor, but a financier. The publication also reported that the pair got engaged in 2012 and were married in Somerset, England that same year.
Though they've been married for some time, there is little known about Reilly's life with Baugher, as the couple appears to be very private. However, from what fans can glean from social media, they do seem quite happy together. For example, Reilly posted a romantic snap of her and her husband snuggled up together on a beach back in 2018. She captioned the Instagram post with, "My favourite human." Aww.
Luke Grimes, who plays Kayce on Yellowstone, married model Bianca Rodrigues in 2018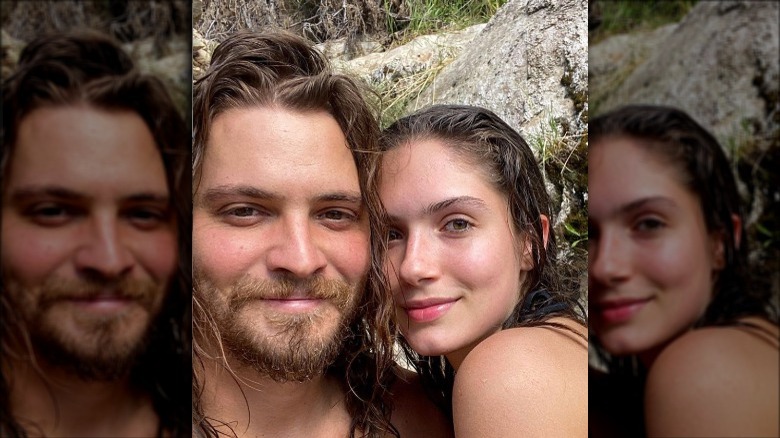 Though he shot to stardom through his work in "Fifty Shades of Grey" and "American Sniper," Luke Grimes has been making recent headlines for starring as Kayce Dutton in "Yellowstone," as per IMDb. Kayce is the son of ranch owner John Dutton, but his main roles in the story are those of ranch hand and husband to Monica Long. Much to fans' chagrin, heartthrob Grimes is also married in real life to Brazilian model Bianca Rodrigues Grimes (via Parade). The pair married on November 21, 2018.
Rodrigues Grimes has quite the following on social media, with almost 200,000 followers, as of this writing, on her Instagram alone. Though her large following might be because of her frequent — and stunning — bikini posts, it also might be for her many shots of her and her hubby. For example, the model posted a gorgeous black-and-white photo of her and Grimes on their anniversary, captioning it, "Happy anniversary anjo. Te amo!"
Cole Hauser, Yellowstone's Rip Wheeler, and his 'Sweet' wife have three kids together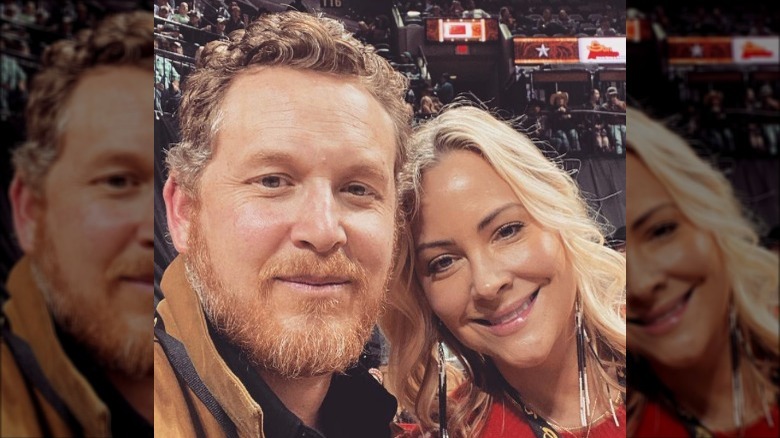 According to IMDb, Cole Hauser plays the ruggedly handsome ranch hand Rip Wheeler on "Yellowstone." Though a large part of his role on the show is the tumultuous love between Rip and Beth Dutton, Hauser's real love life is much more settled. As per Express, the actor has been married to Cynthia Daniel since 2006. Daniel is also an actor, seeing lots of success in hits like "The Basketball Diaries" and "Sweet Valley High," via IMDb. Express also reported that the couple has three kids, ​​named Ryland, Colt, and Steely Rose. The family enjoys a nice life, especially since the actor's net worth is not too shabby.
Hauser seems to have found the perfect balance between a successful career and a happy home life. "I am pretty good about compartmentalizing working and family. They are two of my biggest passions. I am not the kind of guy who forgets about them," he told Havok Journal (via Express). "I am always making time for each and every one of my children and also my wife, also, as a family together." Sounds like a good guy!
Yellowstone star Ryan Bingham filed for divorce from his wife of over a decade in 2021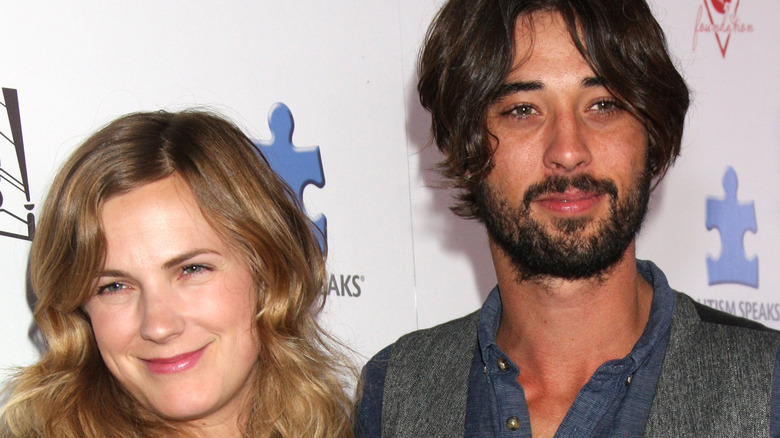 On "Yellowstone," country singer and actor Ryan Bingham plays Walker, an ex-convict who gets lots of second chances to turn things around for himself on the Dutton ranch, as per IMDb. Sadly, Bingham's real-life love life is just as tumultuous as his character's. According to Express, in 2009, he married director Anna Axster and had three children together. Express also noted that Axster even directed a few of Bingham's music videos as well as the hit indie flick "A Country Called Home."
Unfortunately, as per a report from The Blast, Bingham filed for divorce from Axster in June of 2021. This is pretty sad news, especially considering this interview with Texas Highways (via Express), where Bingham said that his wife and family made him feel "whole." "When I met my wife we were both vagabonds, just roaming around the country. Then we got a place in LA, and it was the first time I ever had my name on a lease. I had an address!" he explained. "When we got the keys and went inside, I just cried."
Wes Bentley's marriage helps the Yellowstone actor stay sober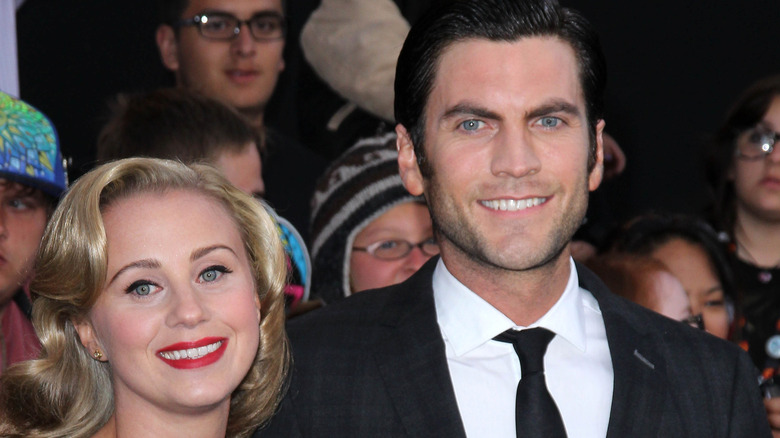 Before Wes Bentley starred in "Yellowstone" as Jamie Dutton, he struggled with serious addiction. According to The Hollywood Reporter, the actor hit rock bottom in 2009 when he pled guilty to a heroin possession charge and his work started to suffer. "I wasn't bringing my A game to any of [the movies]," he told the publication of that time. "I don't know if I was bringing my B game. I just kind of didn't care and [was] coasting." Back then, Bentley was married to actress Jennifer Quanz, but they divorced in 2009 because of his addiction, as the publication noted.
However, as per The Hollywood Reporter, the actor began to turn things around by going to rehab. Bentley also found intense motivation to stay sober: his current wife, Jacqui Swedberg, whom he married in 2010. The couple had a son soon thereafter. "I've been given this second chance," he told The Hollywood Reporter. "And I'm going to do everything I can with it."
If you or anyone you know is struggling with addiction issues, help is available. Visit the Substance Abuse and Mental Health Services Administration website or contact SAMHSA's National Helpline at 1-800-662-HELP (4357).
Kelsey Asbille's boyfriend stars on a show the Yellowstone actress binge-watches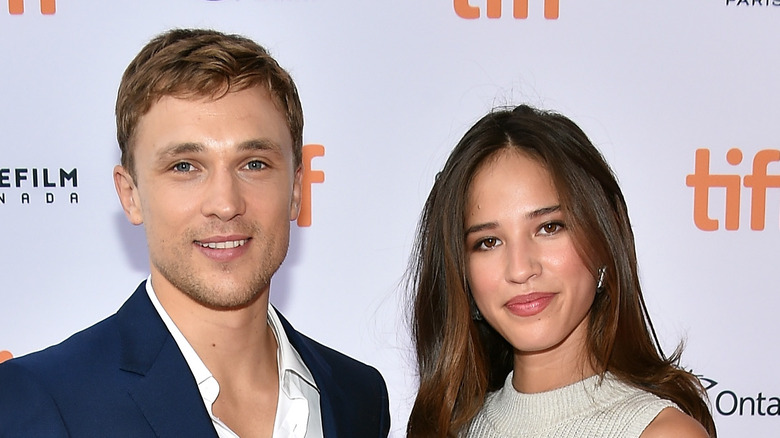 Kelsey Asbille plays Monica Dutton Long on "Yellowstone," according to IMDb. Long's marriage to Kayce Dutton isn't simple, as she's the granddaughter of the Native American elder who frequently clashes with her husband's father over the ranch land. In real life, however, Asbille is in a happy, feud-free relationship with actor William Moseley, as reported by Marie Claire. As per his IMDb page, Moseley scored big roles in hits like "The Chronicles of Narnia" and "Artemis Fowl."
But, according to an interview Asbille did with Marie Claire, his girlfriend most loves his work on the TV show "The Royals." When asked what she does to "chill," Asbille responded, "I love binge-watching TV … I also binge-watch E!'s 'The Royals.' My boyfriend is on it." And "The Royals" isn't the only thing Moseley's given Asbille. She also told the publication that her favorite piece of art in her home is a painting he gave her. "A beautiful, peaceful black-and-white photograph of the full moon over Half Dome in Yosemite, by Ansel Adams, which hangs in my bedroom," Asbille explained. "It was a birthday gift from my boyfriend."
Yellowstone's Josh Holloway and his wife have been married since 2004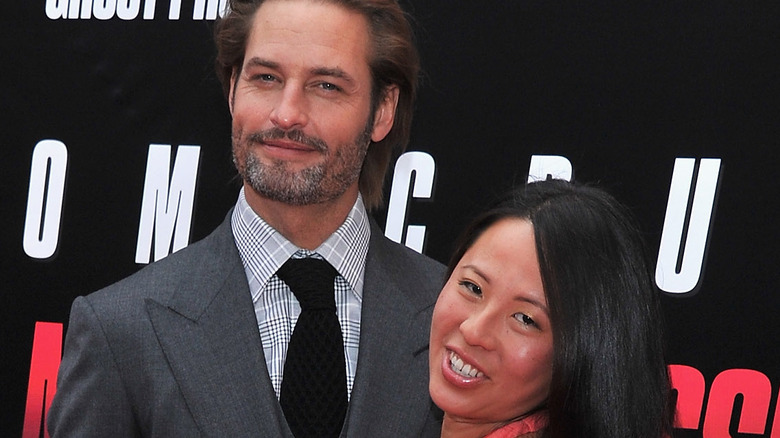 Josh Holloway first rose to fame playing James Sawyer Ford on "Lost," but now he's back in the spotlight, thanks to his role in "Yellowstone." As per IMDb, the actor plays Roarke, a rival rancher who's after the Dutton family's land. In real life, Holloway is married to Yessica Kumala. According to Hello!, he proposed to his now-wife when he was shooting the "Lost" pilot in Hawaii, and they married shortly thereafter in October of 2004. The publication also reported that the couple has two children, a daughter named Java and a son named Hunter Lee.
When Entertainment Tonight (via Hello!) asked Holloway how he feels about being a sex symbol, he responded, "That's funny because I'm a family man." Which he certainly is! As per an interview the actor did with Women's Health (via People), the entire Holloway family sleeps in the same room. "I wake up thinking about how beautiful my children are, lying there sleeping," he revealed. A family man indeed.
These days, Josh Lucas stars on Yellowstone and has a model girlfriend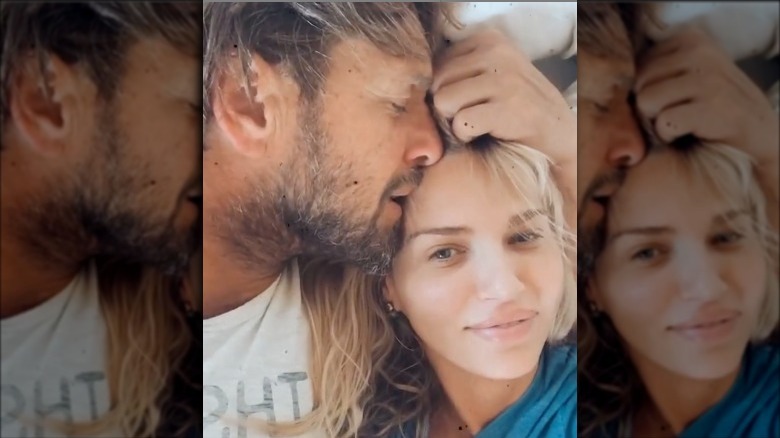 Josh Lucas is certainly at the top of Hollywood's list. The actor has an impressive career with starring roles in beloved movies like "Sweet Home Alabama" and "A Beautiful Mind" as well as more recent hits like "Ford v Ferrari," as per his IMDb page. Lucas is catching attention once again for playing young John Dutton in flashback scenes on "Yellowstone."
Lucas' love life isn't as smooth as his career, though. The actor was married to Jessica Ciencin Henriquez, whom he shares a son with, but, according to Page Six, she filed for divorce in 2014. Now, however, it seems Lucas is turning things around, with a new relationship with model Rachel Mortenson. Page Six also reported that Lucas and Mortenson met during the COVID-19 pandemic and have grown very close. A perfect example of their closeness is a video Mortenson posted to Instagram of her and Lucas cuddling and kissing. She captioned the video, "Name a better gift than waking up to forehead kisses." We can't think of much.
Yellowstone actor Neal McDonough has been married to Ruvé McDonough for 16 years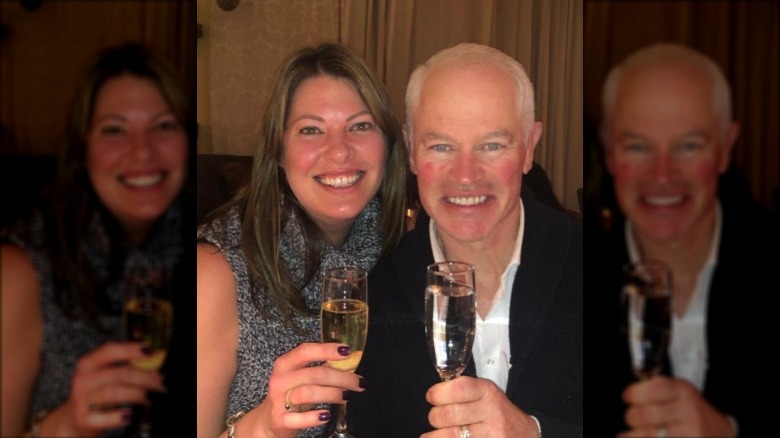 Neal McDonough has had a long career in TV and film. According to IMDb, the actor has appeared in popular TV shows like "Desperate Housewives," "Justified," "Arrow," "Suits," "The 100," and many more. He's also been in movies, including "Captain America: The First Avenger," "Bad Country," and "Proud Mary." McDonough also enjoyed a six-episode arc on "Yellowstone" as Malcolm Beck, a conniving businessman who wants to take over the Dutton family's land.
The actor isn't as conniving in real life, however. In fact, he seems like quite the sweetie — especially when it comes to his wife, Ruvé McDonough. The actor posted an adorable tribute to his wife on Instagram to celebrate their 16th anniversary. "To say I am a blessed man is an understatement," he wrote. "For 16 years I have had the honor to be Ruvé McDonough 's husband!! You are my first, only and last! Happy Anniversary my love! To infinity more!"
Yellowstone's Eden Brolin, daughter of this actor, is engaged to Cameron Crosby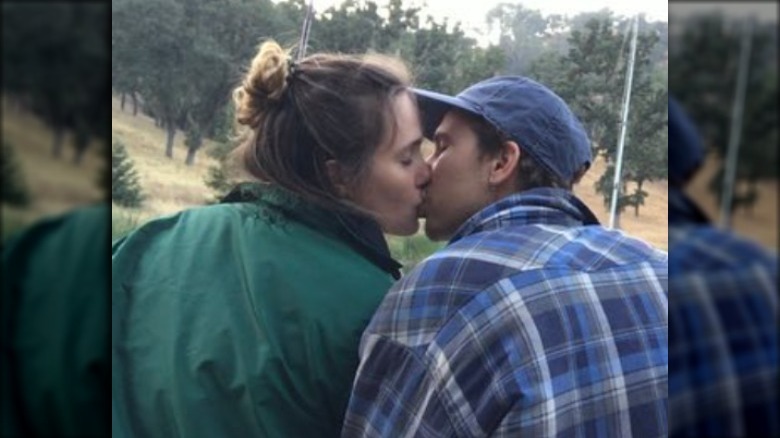 Eden Brolin plays the barrel-racing horse rider Mia on "Yellowstone," according to IMDb. In real life, Brolin has another role: fiancée. The actress is engaged to Cameron Crosby, another actor who, per IMDb, is best known for "A Million Little Things" and "To All the Boys I've Loved Before." Brolin and Crosby's engagement was announced in the cutest way. Her dad, actor Josh Brolin, posted a sweet photo of his daughter and her man on Instagram with this caption (via People): "My little girl's getting married, asked by a guy whom I adore … A guy who I have a strong feeling will look after her best interests, keep her heart safe."
Though the pair got engaged in 2018, there's no evidence that they've married yet. They do, however, still appear to be very much together. Brolin posted a collection of photos of Crosby for his birthday in May of 2020. She wrote on Instagram, "Man, you are so special and so much more amazing every day that I get to spend with you. I love getting to share my life with you and I'm beyond grateful that you are in this world." Adorable!
Dave Annable of Yellowstone and his wife got back together after a brief separation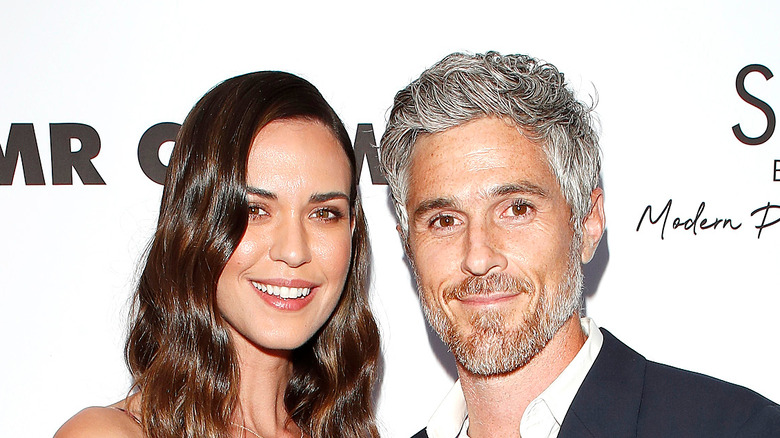 Though Dave Annable plays Lee Dutton, a member of the Dutton family, on "Yellowstone," his IMDb page shows that he's only appeared in two episodes of the Western thus far. However, the actor does have several other notable credits, including "666 Park Avenue," "Brothers & Sisters," "Heartbeat," and "This Is Us." Annable's real-life significant other is his wife, "Supergirl" actress Odette Annable. According to People, the pair married in October of 2010 and have one child together, a daughter named Charlie. The Annables split up for a brief time in October of 2019, telling People that they came "to the mutual decision to separate." They added, "Our daughter is our primary concern and we remain committed to co-parenting her together."
However, People also reported that the two reunited in August of 2020. The actor posted a photo of himself kissing his wife on Instagram and captioned it: "2020. It ain't all bad news. #TheAnnables." Love to see it!
Hassie Harrison, who plays Yellowstone's Laramie, has dated actor Austin Nichols since 2018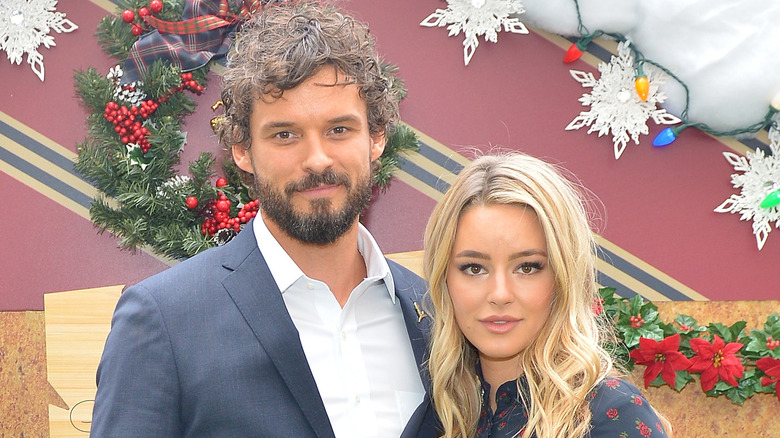 Hassie Harrison is another barrel-racing cowgirl on "Yellowstone." As per IMDb, she brings her blonde charm to the character Laramie, a friend of Mia's. The actress has brought that same charm to many other projects like "Hart of Dixie" and "Tacoma FD." She also had a small role in the movie "The Iron Orchard," same as her boyfriend Austin Nichols. According to his IMDb page, Nichols' claims to fame include "One Tree Hill," "The Walking Dead," "Bates Motel," and "Ray Donovan."
Us Weekly reported that the pair made their red carpet debut and official couple announcement at Oceana's 11th Annual SeaChange Summer Party in July of 2018. "This is my lady!" Nichols told the publication. Harrison added that they'd been together for "a while." Harrison and Nichols seem to still be a couple, as the actor posted a romantic photo of him kissing Harrison in March of 2020 with the caption, "One of the most important days of the year. THE DAY YOU WERE BORN. Happy Birthday to you @hassieharrison." Love!