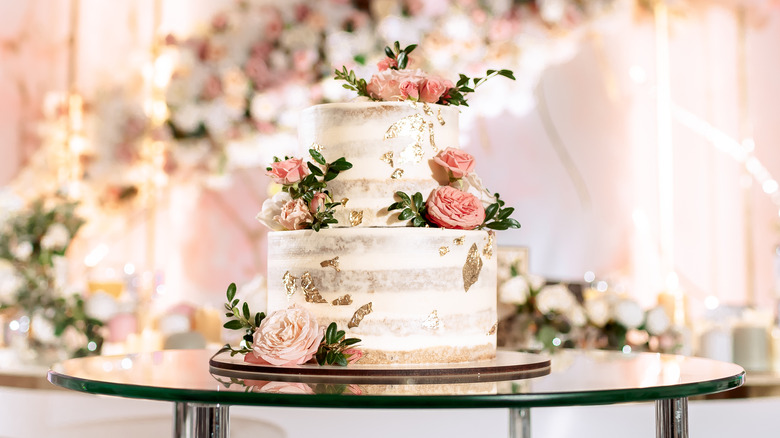 A wedding is a highly special and joyous occasion. For many couples who have decided to get married, it's important that every aspect of the wedding day is incredible: From the wedding photos to the dress and the catering, all the various elements of the special day need to be accounted for and properly planned.
This includes the cake, which may be one of the most important aspects of the entire wedding. Couples have to decide on the flavor of the cake, the size of their decadent dessert, and of course, the budget.
According to Brides.com, the average cost of a wedding cake in America is about $350 although pricier cakes can cost up to over a thousand dollars, depending on the size and the bakery. This may sound like a lot of money for a cake, but for some people, forking out the extra cash for a top-tier cake is worth it to commemorate such a momentous occasion.
While each couple has their own specific wedding budget for a wedding cake, many celebrities typically have more than enough money to spend on a fancy, lavish wedding cake. Some celebrities opt for highly expensive wedding cakes that'll leave you gaping at the price tag and craving a decadent slice of cake.
Paul McCartney and Heather Mills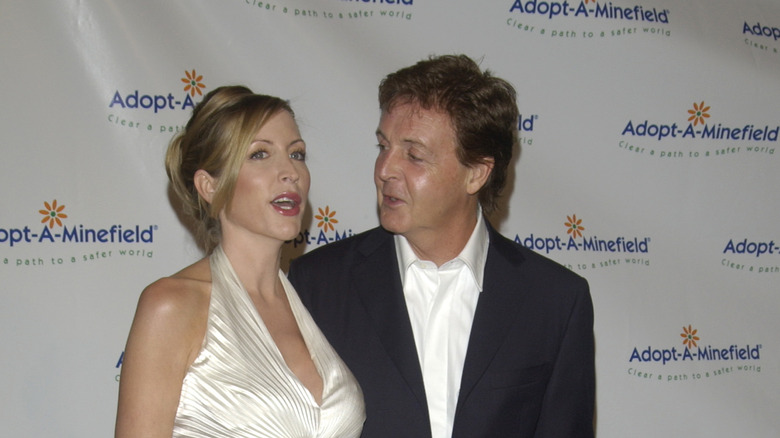 Who doesn't love chocolate? Paul McCartney most probably adores the rich flavor of chocolate, as evidenced by the delicious cake at his wedding to Heather Mills. The famous bass player, songwriter, vocalist, composer, and Beatles member has done a lot in his life, including the creation of a plant-based cookbook. He has also been married three times. His marriage to Heather Mills occurred four years after the death of his wife, Linda Eastman.
Though the marriage between Paul McCartney and Heather Mills ended after six years, their wedding cake would be remembered for a lifetime. The couple's wedding cake was made by Brighton chocolatier Choccywoccydoodah. The name of the chocolate shop is as much of a mouthful as the cake at Paul and Heather's wedding, which was a chocolate cake with four tiers.
The cake cost about £1,000, and while this isn't as pricey as some other celebrity wedding cakes, it's still well over the amount of money that many would feel comfortable with spending on a single wedding cake, even if it was chocolate flavored.
Michael Douglas and Catherine Zeta Jones
Michael Douglas has been featured in hit films like "Antman," and he will be long remembered for the roles he has played in the course of his acting career. He'll also be remembered for his second marriage to Catherine Zeta-Jones, the famous Welsh actress who starred in "The Legend of Zorro."
The pair were married in November of 2000 at the Plaza Hotel in New York (via BBC News). The wedding was a private, high-security event; guests were asked to provide proof of hologram invitations before being allowed to enter, and private photographs of the event were prohibited.
Despite the high security, photographers from Hello! magazine managed to get in and take photos of the wedding. The cake at this wedding was made by Sylvia Weinstock, and like many wedding cakes, it contained delicious buttercream and adorned with loads of beautiful sugar flowers.
The cake cost $7,000 and it had ten tiers (as per Wedding Plan Secrets). The cake was so high that the top two layers of the cake had to be taken off so it would fit into the hotel's ballroom, although, even before the top layers were re-attached, the cake was still a giant, sugary masterpiece.
Chelsea Clinton and Marc Mezvinsky
Chelsea Clinton is a little different from many other celebrities: She isn't royalty, nor is she a social media influencer or singer: She's an author, and the daughter of former President Bill Clinton. When she married Marc Mezvinsky, the couple spared no expense for the big day to ensure that everything was perfect. A large sum of money was spent to celebrate the matrimony, and the toilets alone cost $15,000 (via Today). Perhaps even more shockingly, Chelsea and Marc spent almost as much as they did on the toilets on their wedding cake.
Much of the dishes on the menu were vegan. The cake wan gluten-gree to accommodate Chelsea's gluten allergy. The cake alone, sans the decorations, cost £7,000, or a little under $9,000 USD, although the final price of the cake, along with the eye-catching sugar flowers and fondant, was much higher. Finding gluten-free options can be a hassle at times, so it's nice to know that Chelsea Clinton was able to find a cake that fit her dietary restriction, albeit for a pretty hefty price.
Michael Jordan and Yvette Prieto
Michael Jordan may be one of the greatest American basketball players out there, but he's also a man who had one of the most expensive wedding cakes in the world.
Jordan's proposal to Yvette Prieto led to a beautiful, elegant wedding in 2013 (via Parade). Like many celebrity weddings, no expense was spared and every aspect was carefully planned to make sure that the big day met the couple's expectations. The wedding's reception took place at The Bear's Club, a beautiful private golf club in Florida (as per Heavy).
While the bride and the groom were naturally the center of attention at the entire event, the cake was definitely one of the key items at the reception. According to USA Today, the decadent dessert was a white rum cake covered in delicately designed white fondant and sugar crystals. It was covered in beautiful crystal brooches. The cake was also topped with the couple's monogram
The whole wedding cost about $10 million, and the cake took about $11,000 of that bill. That's a pretty expensive cake, though seeing as it was Michael Jordan, he was probably able to afford it without any worry.
Kim Kardashian and Kris Humphries
Kim Kardashian is probably one of the most well-known names on the internet. The American social media personality is a phenomenon among celebrities, and her name is unlikely to fade from popularity anytime soon. Kim married Kris Humphries in August of 2011, and the pair shared a beautiful wedding reception together, with a cake fit for royalty. The cake cost almost twice as much as the average American wedding (via Zola).
According to USA Today, Kim and Kris's wedding featured a 10-tier white cake with chocolate chip frosting. It was based on the wedding cake of Duchess Kate Middleton and Prince William, which was a fruit cake that was covered in icing made with a sugar paste base.
The entire cake cost an incredible $20,000, which was reportedly $15,000 more than the average cost the creator of the cake charged for the average wedding cake (via ENews). Many people may not be able to spend that kind of money on a dessert but a wedding cake this extra seems rather fitting for Kim Kardashian.
Elvis Presley & Priscilla Anne Beaulieu
The singer Elvis Presley has been fondly dubbed "The King of Rock and Roll," and had gone down in history as one of the greats. Though the final years of his life were sadly plagued by addiction, his early years, including his wedding, are remembered for their festive, celebratory nature. In 1967, Elvis married Priscilla Anne Beaulieu in a hotel in Las Vegas (via Memphis magazine).
It was a beautiful wedding and the cake was as much of a show-stopper as Presley himself. Elvis and Priscilla's wedding cake was made of a yellow sponge cake and was filled with sweet apricot marmalade, as well as a kirsch-flavored Bavarian cream (via People). It was also coated in a fondant icing, royal icing, and delicate, gorgeous marzipan roses.
The cake had six tiers, and it had a price tag of $3,200. Although this may not sound as expensive as some of the other wedding cakes, today, that sum translates to a whopping $22,000. The cake was a tribute to the luxurious, celebratory lifestyle that Presley led as he made unforgettable music.
Eddie Murphy and Nicole Mitchell
If you're aware of the actor who did the voiceover for the character of Donkey in the "Shrek" movies or if you're an avid viewer of "Saturday Night Live," then the name Eddie Murphy is likely a familiar one. The American actor and comedian has risen to fame through his comedic voice acting and skits. In 1993, Murphy married Nicole Mitchell in a ceremony that was short and sweet, and although the wedding cake was sweet as well, it definitely wasn't short.
No expense was spared for the wedding day: According to Livingly, the total cost of the wedding was $1.5 million dollars, and this price included every single aspect of the wedding, from the dress to the wedding cake.
The wedding cake itself was a multilayered masterpiece featuring several layers decorated with intricate sugar flowers. According to Affair Post, the entire dessert cost about $25,000, making it one of the most expensive celebrity wedding cakes out there. It's safe to assume that this wedding cake tasted absolutely heavenly, and made the former couple's special day all the more special.
Liza Minnelli and David Gest
A six-foot-tall cake isn't something you'd typically order for a party; however, for occasions like weddings, "go big or go home" is a common sentiment among many spouses. Liza Minnelli, daughter of Judy Garland, is an actress, dancer, and singer who spent her entire life surrounded by glamour, so it hardly surprising that her wedding to David Gest was a glamorous, luxurious event, as well.
The couple married in 2002 and spent $3.5 million on the ceremony, and quite a bit of that money was spent on the cake (via Cheat Sheet). The beautiful twelve-tiered cake had a height of an astounding six feet. The dessert was decorated with roses (some real, some candy) and made for a stunning, eye-catching dessert.
The price of the cake was a total of $40,000, which is pretty expensive, but when you're a celebrity with a lot of money, it's only natural that you would spend dollars on the things that are important to you, like a wedding cake. And, while this cake is quite expensive, it's not quite the most expensive celebrity cake out there.
Princess Diana and Charles, Prince of Wales
The wedding of the Prince of Wales and Princess Diana in 1981 featured a lavish, yet very expensive wedding cake. This was a wedding to be remembered; it aired on television and was viewed by 750 million people. The wedding was highly memorable and so was the cake. The centerpiece dessert, like most royal wedding cakes, was giant, multilayered, and stunning.
It was a five-layered masterpiece of a fruitcake that was created by the Royal Naval Cooking School in Chatham, Kent (via mini museum). The cake was made up of five layers; it was also feet tall and weighed exactly 255 pounds. (via The Royal Family). The cake was topped with a beautiful bouquet of flowers but what really tops things off is the price of the cake, which sits at $40,000, according to Bakingo.
Even almost several decades after the wedding, slices of this masterpiece are still being auctioned off, and though eating it may not be the best idea, it is reported that Princess Diana's cake is still in pristine condition. These preserved cakes are a historical piece of history that remind us of a joyous occasion.
Kate Middleton and Prince William
A wedding is a momentous event, and the marriage of Kate Middleton and Prince William was an occasion like no other. After the ceremony, the couple's reception was hosted by Queen Elizabeth at Buckingham Palace, which is where the couple's beautiful wedding cakes were served (via RoyalUK). That's right, cakes, as in plural: The wedding had two cakes; the couple's grand wedding cake and the groom's wedding cake (via Brides). Both were tall, delicate, beautiful, and also extremely expensive.
The main cake was very extravagant: It was an eight-layer fruit cake decorated with a classic white frosting featuring 17 different flowers (as per Delish). The main cake was mostly based on Kate's preferences. The cake was so big, that the baker reportedly had to take down a door from the picture gallery to transport the cake into the palace. The groom's cake on the other hand was heavily influenced by William: It was a three-tier chocolate biscuit cake, adorned in chocolate flowers.
William and Kate's wedding cakes cost $80,000 each, leading to a total of $160,000 for both cakes, making them some of the most expensive wedding cakes out there. A wedding budget of this size is very rare, and it's probably safe to assume that these cakes tasted as good as they looked.