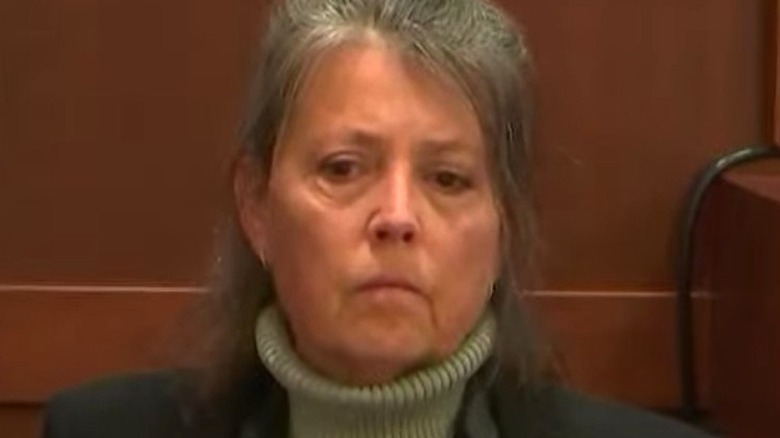 Johnny Depp's older sister, Christi Dembrowski, has recently been thrust into the spotlight due to her involvement in the highly publicized defamation trial between the "Pirates of the Caribbean" actor and his ex-wife, Amber Heard.
Dembrowski and Depp experienced a painful and tragic childhood at the hands of their mother, Betty Sue Palmer, when they were growing up, which undoubtedly made their bond close. While traumatic experiences can cause people to drift apart, for the two Depp siblings, it seemed to keep them together. In the mid-1990s, Dembrowski took on the role of her brother's personal assistant, and in the 2000s, she started working with Infinitum Nihil, the actor's production company.
Though Dembrowski does not have nearly as much fame and fortune as her celebrity brother, she has remained close to him both personally and professionally over the years, even coming to his defense during his defamation trial. Here's the truth about Johnny Depp's lesser-known sibling, Christi Dembrowski.
Christi Dembrowski had a rough upbringing with her brother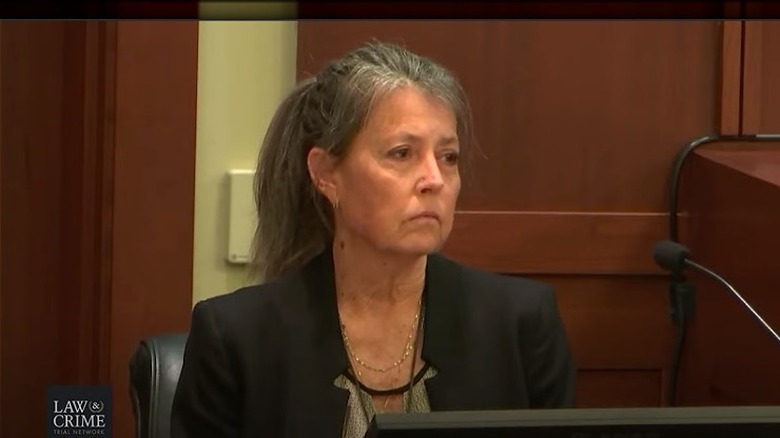 Christi Dembrowski and Johnny Depp spent much of their childhood moving around to different homes between Kentucky and Florida, along with their other siblings, Daniel and Debbie Depp. The Depp children grew up in a violent household at the hands of their mother, Betty Sue Palmer, who often fought with their father, John Depp, according to Dembrowski's testimony in Johnny's 2022 defamation trial with Amber Heard. While on the stand, Dembrowski explained what she and her siblings, including the "Cry Baby" actor, witnessed as they were growing up. "We would run and hide. … She would hit us. She would throw things," she testified (via People).
In a 2013 interview with Rolling Stone, the actor gave insight into what he experienced in his home as a child. "It was a relatively violent upbringing. If you did something wrong, you got hit. If you didn't do something wrong, you got hit. But my parents, they did the best they could with what they knew," Johnny revealed.
When she was finally old enough to leave, Dembrowski moved out of the house when she was 17 years old, got married, and became pregnant, Insider reported. Despite their difficult upbringing, she revealed in court that their mother was less aggressive as she grew older and Dembrowski, along with Johnny, helped take care of Palmer up until her death in May 2016, per ET.
If you or someone you know may be the victim of child abuse, please contact the Childhelp National Child Abuse Hotline at 1-800-4-A-Child (1-800-422-4453) or contact their live chat services.
She also has a career in the film industry
Similar to her brother Johnny Depp, Christi Dembrowski also has had a lengthy career in the film industry. According to her IMDb, she has worked as an assistant for Depp since the mid-1990s, and has also dabbled in film production.
The "Public Enemies" actor launched his own production company called Infinitum Nihil in 2004. The name "Infinitum Nihil" means "infinite nothing" in Latin, and is actually inspired by a quote from writer Leo Tolstoy, which reads, "Force is force … matter is matter … will is will … the infinite is the infinite … nothing is nothing," according to the company's website. Since the start of Infinitum Nihil, Dembrowski has worked with her brother in producing a number of different films, including Martin Scorsese's "Hugo," "The Rum Diary," "Dark Shadows," and "City of Lies," per her IMDb.
Dembrowski currently serves as the president of Infinitum Nihil (per Variety) and most recently was announced as a producer on the upcoming drama "Muscle Shoals," reported Deadline.
She's faced legal troubles with Johnny Depp
Over the years, Johnny Depp garnered a hefty net worth of $150 million (per Celebrity Net Worth), but he has also gotten into some financial troubles for mismanaging his multi-million dollar fortune. For the greater portion of his career, the actor's finances were handled by The Management Group (TMG), and in 2017, he sued the company and his former business manager, Joel Mandel, for $25 million for mishandling his money. In the lawsuit, the actor alleged "the firm cost him $8 million in unnecessary tax penalties and fees, loaned without permission $10 million of his money to parties close to him, and secured a $12.5 million hard money loan with his residuals," The Hollywood Reporter detailed.
Among those involved in the legal issues between Depp and TMG was his sister and personal assistant, Christi Dembrowski. In a countersuit by TMG, the company accused his close friends and associates, including Dembrowski, of not being responsible with the actor's money. According to Variety, the "Alice in Wonderland" actor loaned his sister $7.1 million over a period of 17 years, with the two agreeing that she would be paid in loans, and that they were not to be paid back. Depp's loan to Dembrowski, along with other loans to family and friends totaling approximately $1.9 million, were the reason for his financial troubles, TMG claimed in the countersuit.
Ultimately, Depp settled the lawsuit in June 2018, though the terms were not released, per CBS News.
Christi Dembrowski publicly defended her brother against serious allegations
Christi Dembrowski has been very close with her brother, Johnny Depp, over the years. From working as his personal assistant to being the head of his production company, she has stuck by her brother's side through thick and thin.
In Depp's highly publicized defamation trial with ex-wife Amber Heard, Dembrowski testified on his behalf and defended him against the swirling accusations dominating the trial and arguably in the media. The defamation trial, in part, was an attempt to clear the "Blow" actor of Heard's claims of domestic violence and gain back his good reputation.
On his behalf, Dembrowski testified that, due to their abusive childhood upbringing, Depp pledged he would not continue that same cycle of violence he experienced toward anyone. "As we were older, we decided that once we had our own home, that we were never going to repeat in our own home anything similar to our childhood," she said in court (via Insider). The Infinitum Nihil producer also claimed in the trial that while she was concerned about Depp's use of a singular medication at points, she never believed that he had a problem misusing drugs or alcohol, contrary to Heard's allegations, per The Independent.