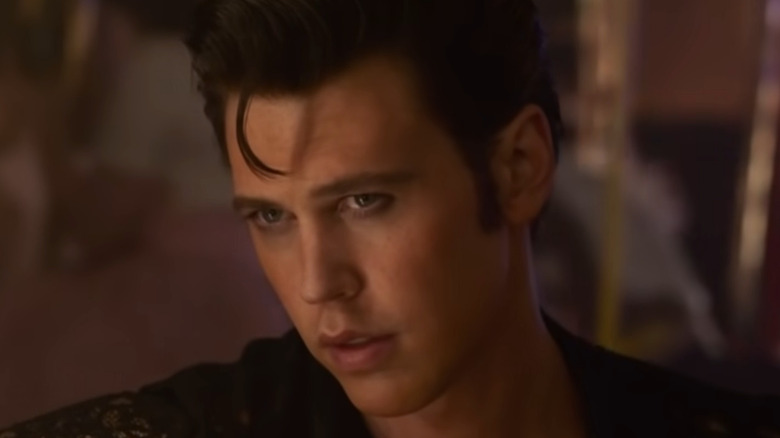 There are few entertainers as iconic as Elvis Aaron Presley. More than 40 years after his untimely death, and 60 years after his peak period of cultural influence, Elvis still fascinates. Whether it's the fresh-faced young heartthrob whose pelvis couldn't be shown on national television, the leather-clad comeback kid thrilling audiences with a return to his roots, or the rhinestone-studded, sweat-drenched Vegas showman fueled by pills, everyone has an iconic Elvis that resonates with them.
And there are few filmmakers with Baz Luhrmann's pedigree. From "Moulin Rouge!" to "The Great Gatsby," Luhrmann has established a distinct visual style and willingness to lean into cinema's inherent falseness. His films pop with wild energy, and Luhrmann is unusual in the way he uses music — chopping and enhancing famous pop songs to serve his visuals. His decision to make a film based on Elvis Presley's life is an exciting one, and his casting choices, including Austin Butler as Elvis and Tom Hanks (transformed by makeup) as Elvis' manager, Colonel Tom Parker, crystallize how special this film will be.
If you're excited about "Elvis," read on to learn everything there is to know about the production. If you're not yet excited about the movie, watch the trailer and get excited.
The film's been in development since 2014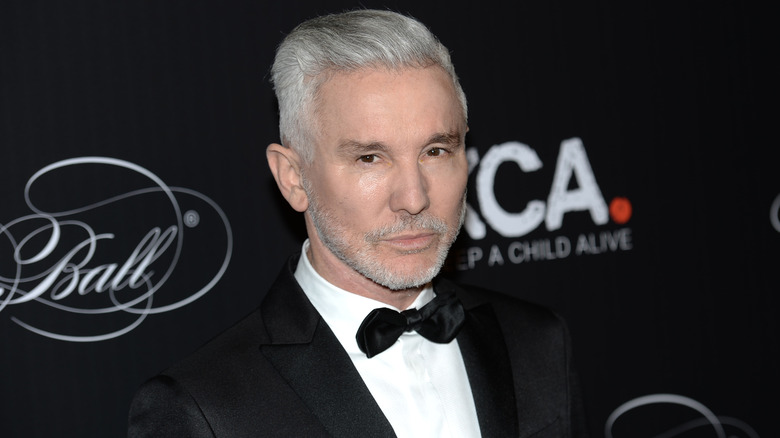 "Elvis" is obviously a labor of love for Luhrmann. First of all, Luhrmann doesn't direct a lot of films — according to the Britannica, Luhrmann has only directed five feature films in the last 30 years: "Strictly Ballroom" (1992), "Romeo + Juliet" (1996), "Moulin Rouge!" (2001), "Australia" (2008), and "The Great Gatsby" (2013). He obviously takes his time choosing and developing his projects, and the results of all that work and planning definitely show up on the screen. Love it or hate it, as noted by Indiewire, his take on "The Great Gatsby" is iconic, for example.
According to The Wrap, Luhrmann announced that an Elvis Presley biopic would be his next project way back in 2014. Things were serious from the beginning, as Warner Bros. had secured the rights to Presley's music for use in the film already. But as The Post reports, after that dramatic announcement, it took five long years before any news about the film was released. In 2019 Luhrmann made the announcement that Oscar-winning superstar Tom Hanks would be portraying Colonel Tom Parker.
As noted by Deadline, "Elvis" was initially planned for a late 2021 release after beginning production in Australia in early 2020. Of course, then a global pandemic slammed into the world and disrupted everything, and "Elvis" was no exception.
Tom Hanks will be playing against type
Two-time Oscar-winning actor Tom Hanks has occasionally played evil or dark characters, but he's primarily known for portraying fundamentally decent, strong men. As noted by Esquire, that's why Hanks has earned the designation of being "America's Dad." He just seems to project honest, goodhearted energy whenever he's onscreen.
According to Euronews, Hanks' persona as a normal, decent human being is what attracted Luhrmann to the idea of casting Hanks as Parker. He likened an actor's abilities to the strings on a musical instrument and wanted to give Hanks the chance to play a "string" he hasn't had the opportunity to play before.
But in Baz Luhrmann's "Elvis," Hanks is playing a complex character who's going to be very hard to like. The real Colonel Tom Parker was a bit of a mystery, but as noted by Smithsonian Magazine, the story he told everyone about his early life was mostly untrue. Parker was actually born in the Netherlands and may have fled that country to escape punishment for a murder he had committed. And as noted by Biography, although Parker managed Elvis Presley's career to great heights, he also took advantage of the singer, paying himself 50% of the earnings, and often made deals that offered him short-term gains at the expense of Presley's long-term career health. To say this role goes against type for Tom Hanks is an understatement.
The film was delayed when Hanks caught COVID
In March 2020 much of the world was still playing catch-up with COVID-19 and the global pandemic. Then something happened that made it very clear that the pandemic was real — Tom Hanks and his wife, Rita Wilson, announced they had tested positive for the disease. As noted by The Guardian, Wilson and Hanks were diagnosed on March 10, 2020, and were hospitalized for three days. Hanks calls them the "celebrity canaries in the coalmine of all things COVID-19," as the news spurred people around the world to take COVID seriously.
The diagnosis had genuine consequences. Hanks and Wilson were seriously ill — he reported crippling body aches and fatigue, while Wilson suffered severe nausea and a high fever — and according to USA Today, "Elvis" had to shut down production as a result — for six long months. After Hanks announced his positive diagnosis on March 11, the film shut down until September 23, 2020.
NME reports that in the wake of Hanks' diagnosis and the shutdown, the entire cast and crew were tested for COVID-19. The production had to view the footage that had already been shot in order to identify and track down some of the people who had performed as extras in the background of scenes in order to administer the tests and place people who'd had contact with Hanks into quarantine. Thankfully, at the time of testing, no other members of the cast or crew were infected.
Luhrmann loved filming in Queensland
"Elvis" was filmed in Australia, which might seem like an unusual choice for a film about an American icon born in Tupelo, Mississippi, until you remember that director and co-writer Baz Luhrmann is Australian, according to Britannica.
But Luhrmann's decision to shoot the film in Australia was about more than just loyalty to his roots. As reported by ABC News, Luhrmann believes that Gold Coast, Queensland is an ideal city for film production — a place where, like Hollywood, a film could be made from start to finish. Luhrmann notes that this wasn't always the case. In the past, ambitious filmmakers had to leave Australia in order to find the resources and talent necessary to make a feature film. According to The New York Times, "Elvis" is considered an Australian film despite the lack of Australians onscreen, but because the top creative team features several native Australians.
In fact, when the production of "Elvis" was delayed after Tom Hanks and his wife Rita Wilson contracted COVID-19, Luhrmann credited the Queensland government for its help and assistance as the film's crew navigated the unprecedented situation. According to Euronews, Luhrmann was grateful for the Queensland government's competent process for handling the situation as they worked out how to keep everyone in the cast and crew safe once filming resumed. And Luhrmann even urges filmmakers to consider moving their entire production business to Gold Coast, because he feels it is a great place to live.
A lot of actors wanted to be Elvis
It's easy to see why an actor would want to land the role of Elvia Presley. Elvis remains iconic for many reasons — his revolutionary position in the history of popular music, his incredible success and lingering influence, his physical beauty, and his legendary performance style. At the same time, Elvis was a deeply private person who remains something of an enigma to most people — the ideal sort of historical character for an actor to imbue with their own style.
According to Deadline, just about every young actor in Hollywood wanted the role — so much so that many big names agreed to film tests for director Baz Luhrmann. Us Weekly reports that Ansel Elgort, Miles Teller, Aaron Taylor-Johnson, Harry Styles, and even rapper G-Eazy all tested for the role, but in the end didn't bring what Luhrmann wanted. When Austin Butler was announced as the actor tapped to play the King, The Post notes that fan reaction was largely shocked: Butler simply didn't seem like he had the right physical and performance chops for the role, and he didn't seem to be in the same league as the other names associated with the film.
Butler had to work to land the role. Luhrmann first heard of him due to his performance in "The Iceman Cometh" on Broadway opposite Denzel Washington, but then put the actor through a series of screen tests and performance workshops before deciding he had what it took to become Elvis (via Deadline).
Austin Butler does his own singing
Elvis Presley was an extremely talented performer. His singing voice is still instantly recognizable, and he had a lot of incredible control. He was a performer capable of blending rhythm and blues, rock, and gospel music into a style all his own, and his physical presence on stage was both controversial and iconic. Any actor taking on the role would find it a challenge to portray the King properly without descending into a "thank you very much"-style caricature.
Luckily, Austin Butler has a lot of musical talent. According to The Wrap, Butler began taking violin lessons at the age of 9, then began playing guitar as a teenager. Even more impressive, The Hollywood Reporter notes that Butler does a lot of his own singing in "Elvis." In the earlier scenes of the film, it's entirely Butler's voice emulating Presley's. Later in the film, when Presley was an older man, Luhrmann says he blended Butler's voice with Presley's to better capture the way Presley's voice changed as he aged.
Us Weekly reports that this wasn't an easy process for Butler, despite his innate musical ability. The actor admits to feeling scared about emulating the King's iconic voice, worked with a voice coach for a whole year before production began, and watched concert footage of Elvis continuously in order to capture the sound.
Luhrmann cast real musicians
Recreating the past onscreen isn't easy, especially if you're trying to be true to the underlying social movements. The story of Elvis is, in many ways, the story of rock music and pop culture in this country, but it's also the story of musicians, especially Black musicians, who didn't have the opportunity to become as famous and successful as Presley.
According to Deadline, director Baz Luhrmann was determined to present an authentic-sounding movie as well as to honor history in "Elvis." As a result, he insisted on casting real professional musicians in as many roles as possible in order to make the film as authentic as possible. Notable musicians playing prominent roles include Grammy-winning guitarist and singer Gary Clark Jr., who will play blues artist "Big Boy" Crudup, Grammy-nominated singer Yola as Sister Rosetta Thorpe, as well as Grammy-winner Shannon Sanders, Grammy-nominated Lenesha Randolph, Shonka Dukureh, and Jordan Holland.
The presence of current top musicians will not only give the musical aspects of the film a sense of realism and authenticity but for younger fans who might not recognize music stars of the 1950s, it will provide a way to engage with the film.
The film's about more than Elvis
"Elvis" is a biopic, so we can guess the general outline of the film's story. But it's also a Baz Luhrmann film, which means you can expect the unexpected. As noted by Film Inquiry, Luhrmann's signature style is more about visuals and audience engagement than tight plots and character work — this is the man who turned the literary classic "The Great Gatsby" into a two-hour music video, after all.
We do know that the film will cover most of Elvis' professional life. According to Vice's i-D, "Elvis" will cover about 20 years in Elvis' life, focusing mainly on the period between the late 1950s when Elvis first blew up through 1977 when he died at the age of 42. That doesn't mean the film will ignore Presley's younger days. Luhrmann has stated the early scenes of the film will explore the impact that growing up white in a largely Black community had on Presley.
People reported that Luhrmann saw Presley's story as a way to observe the changing cultural and political landscape of America in the 1950s and 1960s. The way Presley straddled Black and white America as the Civil Rights movement gained traction in this country makes Presley's story an ideal vehicle for this sort of examination. And according to Vogue, Luhrmann is also interested in tracing the harsh societal changes in America via Presley's personal journey from an innocent boy to a drug-addled superstar.
The resemblance is uncanny
When an actor takes on an iconic character from history, they typically must resemble the real person, as closely as possible. If they don't look or sound like the real person it can be distracting. This is especially true for celebrities from the recent past like Elvis. Everyone knows what Elvis looked and sounded like. If Austin Butler doesn't do a good job of mimicking Presley, the rest of the film suffers. As noted by The Post, many people were shocked when Butler was cast, and confidence was low in the actor's ability to bring such an icon to life.
But based on the trailer, Butler is going to pull it off. As Southern Living notes, Butler's resemblance to the King in the trailer for "Elvis" is "uncanny," and that word seems to cover everyone's reaction. Butler has learned how to speak in a southern drawl that's a perfect match to Elvis Presley's real voice. As noted by E! Online, Butler not only does much of the singing in the film, but he also appears to have mastered the frenetic hip thrusts that made Presley so controversial at the time. As reported by 9 News Gold Coast, Butler worked with a local Gold Coast trainer on hip mobility exercises in order to be able to nail Presley's moves on screen.
The movie's also about Colonel Tom Parker
As charismatic and legendary as Elvis Presley is, his longtime manager, Colonel Tom Parker, is arguably just as interesting. Luhrmann knows this, and "Elvis" is as much about Parker's relationship with Presley as anything else. As noted by Southern Living, the relationship between Parker and Presley will be essential to the film.
In fact, according to Film School Rejects, that relationship is the real focus of the film's story. That makes sense because Parker's seemingly absolute control over Presley has long been a fascinating subject. Parker was extremely shady. He was rumored to have fled his native Netherlands after allegedly being involved in a killing, created an elaborate backstory for himself, and was discharged from the army in 1932 after going AWOL and suffering what some have called a "psychotic breakdown." His fear of discovery affected Presley directly: Parker turned down lucrative offers that would have required him to leave the United States because he didn't have a passport, and reportedly allowed the IRS to simply send him a tax bill out of fear that causing any trouble would lead to an investigation (via Smithsonian Magazine).
In fact, as noted by Rolling Stone, the trailer for the film opens with narration by Hanks as Parker that explicitly positions him as the villain of the story. That makes it clear that Parker is just as important to the film as Presley himself.
Elvis will open the Cannes Film Festival
As reported by Deadline, back in 2013, Baz Luhrmann made history when he become the only director to have two films open the Cannes Film Festival — 2001's "Moulin Rouge!" and 2013's "The Great Gatsby." Now he's poised to make that record even harder to break by adding a third Cannes opening night film: "Elvis." All in all, Luhrmann has had four films chosen for the festival, dating back to his first feature, "Strictly Ballroom," in 1992.
Variety reports that the film will have its world premiere at the 75th annual Cannes Festival on May 17, 2022. Director Luhrmann will attend the ceremony along with stars Austin Butler, Olivia DeJonge (who is portraying Priscilla Presley), and Tom Hanks. "Elvis" will not be screened as part of the competition, which means it's not under consideration for any of the coveted awards that Cannes hands out. The festival includes films out of competition for the buzz they generate — another out-of-competition film at the 75th festival, for example, is Tom Cruise's "Top Gun: Maverick" (via The Hollywood Reporter).
This isn't the first of Luhrmann's films to be included out of competition at Cannes — in 2013 "The Great Gatsby" wasn't. As noted by The Hollywood Reporter, "Strictly Ballroom" was included in the Un Certain Regard section (reserved for films from new directors that showcase innovative storytelling or visuals) in 1992, and "Moulin Rouge!" was in competition at the festival in 2001.
You can finally see the film this year
After a production that was interrupted for six months by a global pandemic — a pandemic which also made releasing films to theaters almost impossible — it's not surprising that the release date for "Elvis" has shifted several times. According to Deadline, the film was initially set to be released on October 1, 2021, then was shifted to November 5, 2021, and was then further delayed until June 3, 2022. Now, according to Harper's Bazaar, we finally have the set-in-stone release date for the film in the United States: June 24, 2022.
The film will likely be available to stream on HBO Max at some point in 2022, but not until a theater-exclusive period of at least 45 days ends, according to Collider. During the height of the pandemic, Warner Bros. experimented with dropping major feature films into theaters and onto the streaming platform simultaneously. Although The Hollywood Reporter notes that this strategy was successful in pumping up HBO Max's subscriber numbers, it also irritated some big-name filmmakers who felt their work was being dumped in order to lure streaming eyeballs. As a result, the studio agreed to a 45-day exclusive theater-only window before dropping movies onto HBO Max.