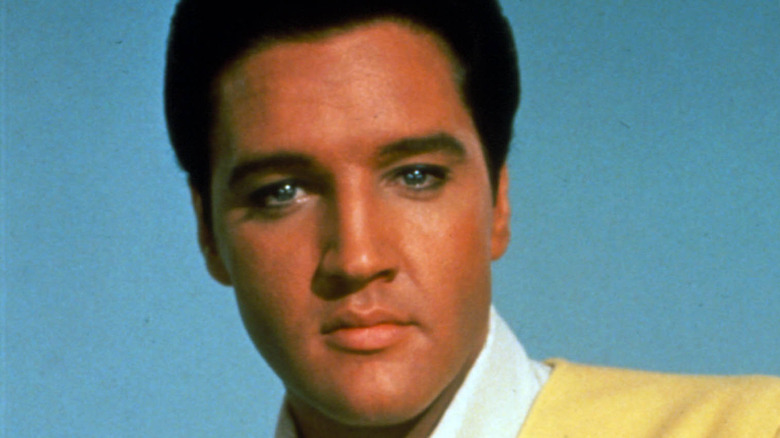 With the 2022 release of Baz Luhrman's "Elvis," old and new fans alike are revisiting one of America's most influential performers. While critics remain split about the film, most agree that Austin Butler does a fantastic job playing the King (via AV Club). Many also feel that his performance gets even stronger as the movie progresses, and we watch the singer's infamous tailspin fueled by junk food, prescription drugs, and a revolving door of women.
Many critics also remain united in their dislike of Colonel Tom Parker as portrayed by Tom Hanks. David Ehrlich from IndieWire caustically argues, "Tom Hanks in a … performance defined by a fat suit, a fake nose, and an accent that I can only describe as the 'Kentucky Fried Goldmember' is possibly the most insufferable movie character ever conceived." Ouch!
With a release date of June 24, 2022, audiences will have to make up their own minds when it comes to Butler's and Hanks' performances. But one thing's for sure: Colonel Tom Parker played a huge role in shaping Elvis' career, not only in music but also on the big screen. Presley starred in 31 movies and two documentaries that enjoyed theatrical releases, per the Washington Post. The King of Rock 'n' Roll managed to make some highly entertaining films, but which ones are worth taking a first (or second) look at? Keep reading for his top 10 movies.
1958's King Creole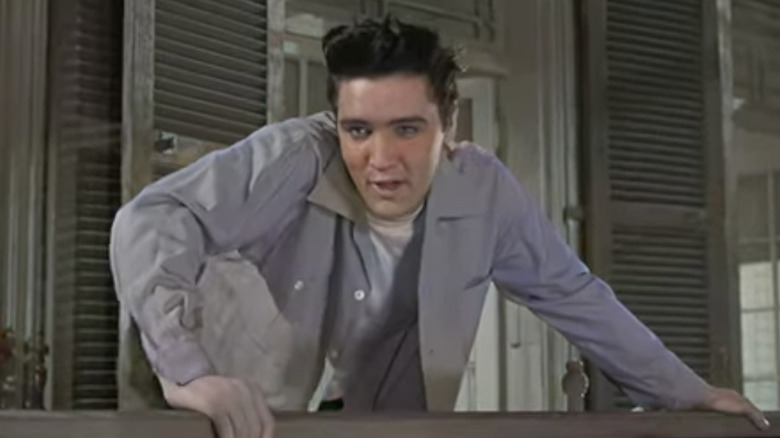 Hands down, fans of Elvis Presley movies (and even critics) count "King Creole" as one of his best flicks, per Graceland. Released in 1958, this musical drama stars Presley as Danny Fisher, a role he later ranked as his favorite. The plot is based on Harold Robbins' 1951 novel "A Stone for Danny Fisher" with some significant changes. The film was directed by Michael Curtiz of "Casablanca" and "White Christmas" fame.
"King Creole" enjoys a 100% Tomatometer rating on Rotten Tomatoes. There are many reasons it stands head and shoulders above the pack. For starters, the film wasn't designed merely as a vehicle to showcase Elvis and generate revenue from his reputation. According to Steve Templeton's "Elvis Presley: Silver Screen Icon," James Dean initially filled the protagonist's shoes. But his premature death in a car crash in 1955 changed everything.
Eventually, producer Hal Wallis cast Elvis as the lead, and the setting and plot got modified to fit his image. Rather than preserve the initial setting of New York and focus on a boxer, Paramount moved the story to New Orleans' French Quarter and made Elvis a performer. Yet, "King Creole's" creators preserved its film-noir feeling, which complemented Elvis' intense performance. The singer-turned-actor also enjoyed the support of a first-rate cast, including Walter Matthau, Carolyn Jones, and Dean Jagger.
1970's Elvis: That's the Way It Is
Natural, spontaneous, and passionate: That's Elvis at his best. This admixture is showcased in the documentary "Elvis: That's the Way It Is," as reported by The Guardian. Directed by Denis Sanders, the film celebrates the best of 1970s Elvis, from his hip belts of macrame to his over-the-top jumpsuits.
The movie provides behind-the-scenes access to the King as he prepares to take Vegas by storm again. According to TV Guide, the film captures him at a transitional moment, having decided to eschew Hollywood in favor of full-time musical performance. In a fitting gesture, he said goodbye to the big screen on the big screen. Elvis' relationship with "Sin City" has become so legendary that many people can't think of the neon-lit desert landscape without him. (Countless Elvis impersonators and the Nicholas Cage flick "Honeymoon in Vegas" have helped cement these associations.)
A wonderful homage to late 1960s and early 1970s America, it's filled with psychedelic grooviness and technicolor charm. The 2001 version includes exclusive performance footage of iconic numbers like "That's All Right (Mama)." Best are spontaneous moments where his talent gets fully showcased, like a performance of "Little Sister" that transitions seamlessly into "Bridge Over Troubled Water." Few Rotten Tomatoes movie reviews converge regarding Tomatometer and audience scores, but "Elvis: That's the Way It Is" enjoys a 92% rating in both categories.
1960's Flaming Star
Over time, Elvis longed to move past his swivel-hipped rock star persona. Lightweight rom-coms and teen flicks came to bore him. But his manager, Colonel Tom Parker, kept pushing these roles (via Timothy Knight's "Elvis Presley in the Movies: A Retrospective"). So, he gladly took on a role in Don Siegel's "Flaming Star," which Time Out calls Presley's best role.
Siegel would go on to great acclaim with the "Dirty Harry" movies, but "Flaming Star" marked his early attempt at a Western. According to Variety, Elvis plays the son of a white man and a Kiowa woman who gets caught between his parents' opposed cultures. Based on a Clair Huffaker novel, the themes are a bit cliched, but the production is beautifully realized and the plot consistently entertaining. It marked Elvis' sixth movie, and he had big shoes to fill when playing Pacer Burton: The filmmakers initially intended the role for Marlon Brando (via Elvis History Blog). But Presley impressed Siegel, especially in terms of his athleticism. He even proved a superior fighter on set against a black-belted stuntman.
Siegel later reminisced that Elvis felt especially nervous about one highly emotional scene. Begging for more time to prepare, he offered Siegel the use of his Rolls Royce if he'd postpone shooting. Siegel kept the car for a fortnight before the scene had to be tackled, and he remembered being blown away: "To Presley's amazement and mine, Elvis gave his finest performance ever." No wonder the film enjoys a Tomatometer of 91%!
1972's Elvis on Tour
The film that ultimately performed best for Presley was 1972's "Elvis on Tour," winning a Golden Globe for Best Documentary (via Graceland). Martin Scorsese worked as montage supervisor on the film, and Elvis played himself on a 15-city tour only five years prior to his death. The film continues to be well-received by fans, and a testament to this remains its audience score on Rotten Tomatoes: 89%.
With "Elvis on Tour," fans get an intimate look at Elvis' daily life through interviews, candid backstage antics, archived TV appearances, and rehearsals. The movie also does an excellent job of showcasing the King's wide-ranging musical talents in songs ranging from country to rhythm-and-blues and gospel. Interviews with Elvis and his dad, Vernon Presley, are interspersed with footage of various members of his entourage like the infamous Colonel Tom Parker.
From Hampton Roads, Virginia, to Greensboro, North Carolina, "Elvis on Tour" covers the fast-paced and demanding life of one of America's top performers. After its release on November 1, 1972, it ranked 13 on the National Box Survey by Variety (via Graceland). Of course, the soundtrack to the movie also proves amazing, with songs ranging from "A Big Hunk O' Love" to "Can't Help Falling in Love" and "Love Me Tender."
1964's Viva Las Vegas
Ranking at 86% on the Tomatometer is another of Elvis Presley's most beloved movies, "Viva Las Vegas." According to Steve Templeton's "Elvis Presley: Silver Screen Icon," this film remains high on the list for Elvis fans. Part of the popularity stems from the sizzling chemistry between Presley and the Swedish-American actress Ann-Margret. Their performance styles fit together like two peas in a pod.
Elvis stars as Lucky Jackson, a down-on-his-luck race car driver with dreams of dominating the Las Vegas Grand Prix. Ann-Margret is Rusty Martin, the swimming pool manager at the hotel where Presley and his mechanic must work as waiters. Originally called the "Only Girl in Town," the revamped title has become iconic, and the offscreen romance between Ann-Margret and Elvis would cause scandal, speculation, and fascination.
The film is also one of Presley's highest-grossing movies. Released on April 20, 1964, "Viva Las Vegas" premiered in New York City, but the rest of the country didn't get a chance to see it until its re-release in mid-June of that year. In terms of earnings, it ranked No. 11 for the year, raking in $4.7 million. By the end of the 1960s, it had earned $5.5 million. That's over $51 million in today's cash, per the US Inflation Calculator. This proved a significant revenue generator since the original production cost $1 million, as reported by Timothy Knight's "Elvis Presley in the Movies: A Retrospective."
1957's Jailhouse Rock
Like many of Elvis' most popular films, "Jailhouse Rock" capitalizes on the 1950s zeitgeist of youth culture, as reported by Timothy Knight's "Elvis Presley in the Movies: A Retrospective." Presley plays Vince Everett, capitalizing on the familiar trope of the rebellious hellion.
Yet, his take on this character proves less edgy than portrayals by Marlon Brando and James Dean. Considering the fact Presley broke into song at least a couple of times in each film he made, it's easy to see why he appeared less dangerous than Dean or Brando. What's more, he faced the constant pull from his manager, Colonel Tom Parker, who preferred to see him in musicals about teeny-bopper problems to ensure the money kept flowing in.
While Presley's character ends up behind bars for killing a man, the movie does him no dramatic favors by having him sing away in jail a few scenes later without proper exploration of the guilt his character should have felt. Although not his best movie, it accurately recorded events pivotal to 1950s America, namely the Elvis phenomenon and the rise of the teenager. And it showcased an incredible soundtrack containing catchy songs we're still singing today. According to Carrie Rickey, writing for the Library of Congress, "The Elvis who emerged in this movie modeled how teenagers might style defiance."
1957's Loving You
Originally named "Lonesome Cowboy," Presley's turn in the 1957 film "Loving You" allowed him to explore themes close to his lived experience. The film depicts the rise of his character, Deke Rivers, from a small-town beer delivery guy to a rock 'n' roll sensation (via Timothy Knight's "Elvis Presley in the Movies: A Retrospective").
Rotten Tomatoes audience scores rank "Loving You" at 68% and with good reason. The movie expertly captures the excitement and enthusiasm of Presley's performances. While Elvis felt comfortable in the role of a fast-rising rock star, the film also marked one that Colonel Tom Parker could get behind. After all, Parker wanted to cultivate the King's family-friendly persona. That said, the movie still contains some spicy moments, like Elvis' first onscreen smooch, according to Steve Templeton's "Elvis Presley: Silver Screen Icon." Interestingly, his partner in crime, Jana Lund, wasn't even one of the leading ladies in the movie. Instead, she occupies a minor role as a fan who makes trouble.
Besides this innocent lip-locking, the film boasts vibrant technicolor and a first-rate cast that includes Wendell Corey and Lizabeth Scott. Delores Hart co-stars with Elvis, a well-matched casting decision that would be repeated to great effect in "King Creole." The movie premiered at the Strand Theater in Memphis, Tennessee, on July 9, 1957, and it remained on the National Box Office Survey by Variety for one month, at one point reaching No. 7.
1965's Girl Happy
"Girl Happy" has all the makings of a gangster movie. Elvis Presley is cast as Rusty Wells, a singer employed by Big Frank, a mafia-connected club owner in Chicago, to accompany his daughter on spring break (via Timothy Knight's "Elvis Presley in the Movies: A Retrospective"). But the movie spends little time indulging in the inherent tensions involved in this plot in favor of a light-hearted musical romp through sunny Florida.
The opening sets this tone with Elvis and his leading lady (Shelley Fabares) dueting on their way to Fort Lauderdale. Elvis appears in nearly every scene of this fun 96-minute romp, which defies expectations at every turn with crooning numbers and an upbeat mood. While Presley fills this role with charming ease, behind the scenes he'd grown tired of playing the same formulaic roles.
But this weariness never shows in the film, although he did confide in director Boris Sagal about the numbness of making movies by rote. Sagal suggested Elvis move to Hollywood and spend time studying the craft of acting. Despite talking about making changes, Elvis remained stuck in the lightweight rut when it came to the films he chose to star in. Not only did he continue in the same vein, but he also worked with Fabares on two more films, counting her as one of his favorite co-stars. That said, "Girl Happy" garnered a 67% audience approval rating from Rotten Tomatoes.
1962's Blue Hawaii
Besides Vegas, one of the geographic locations most closely associated with Elvis is Hawaii. This is exemplified in the movie "Blue Hawaii," as reported by Timothy Knight's "Elvis Presley in the Movies: A Retrospective." In fact, "Blue Hawaii" marked the first of three flicks filmed in the Aloha state.
Presley plays Chad Gates, a recently discharged soldier and heir to his family's pineapple business. Angela Lansbury plays his mom, and the movie explores what happens after Gates rejects the expectations placed upon him, becoming a tour guide instead. Starring opposite Presley was Joan Blackman who does a fantastic job as his love interest. Filmmakers liked the pairing so much that they resurrected the casting couple for "Kid Galahad" (via Steve Templeton's "Elvis Presley: Silver Screen Icon").
Hawaii gained statehood in 1959 (via History), which made this film especially thrilling to residents. It opens in the Honolulu Airport where we see Elvis arrive on the island. The King's fans can be heard cheering in the background, and try as they might, the film's sound engineers couldn't remove all of the enthusiastic wailing. Although Rotten Tomatoes' Tomatometer score sits at a measly 29%, audience members stand behind this pic, having awarded it 67%.
1955's Love Me Tender
According to Timothy Knight's "Elvis Presley in the Movies: A Retrospective," the trailer for 1956's "Love Me Tender" splashed Elvis across the screen, leading audience members to assume he played a lead role. Instead, he portrayed the supporting role of Clint Reno, little brother to the movie's true protagonist, Vance Reno, acted by Richard Egan. Yet, "Love Me Tender" still represents one of Elvis' best films because of his natural approach to the role.
Elvis didn't have the theatrical experience of many of his co-stars, but this worked to his advantage. Vance Egan actively encouraged Presley to be himself. Yet, the King was no slouch. To prepare for the role, Presley memorized the entire script, not merely his lines. And his co-stars also felt impressed by how deeply he got into character.
The film takes place in 1865, and it contains the best features of a Western. Most of the action happens in the saddle, and the scenery is pure eye candy. It contains the authenticity and attention to detail you'd expect from a big-budget Hollywood production. But the film's marketing played up Elvis' minor role to the hilt. They renamed the movie, originally titled "The Reno Brothers," to "Love Me Tender" to ride the momentum of his beloved single, and they marketed it heavily to teens. This led film critics to short-change the finished product. Maybe that's why the Tomatometer reads 58% while audiences have given it 65%.