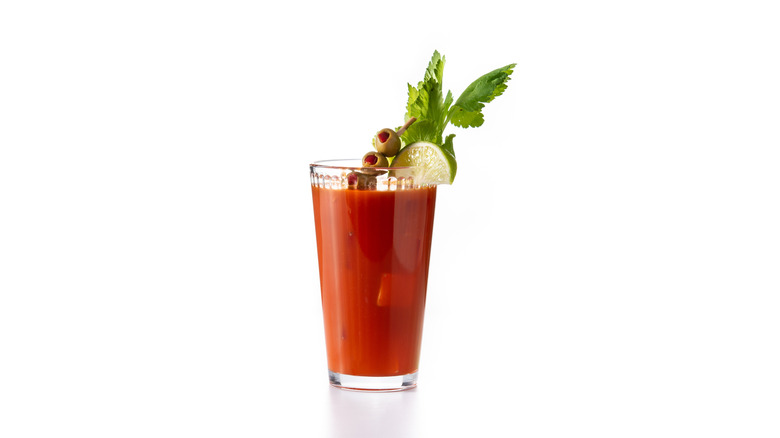 We may receive a commission on purchases made from links.
If you've had alcohol in the morning, then you've probably tried a Bloody Mary. This drink is the unofficial cocktail of brunches. It was named for Mary Tudor, daughter of Henry VIII, it contains tomato juice, vodka, and various spices, and it is garnished with an assortment of vegetables and savory items like celery stalks, olives, and bacon strips, among other foods.
A Bloody Mary is typically served in a tall glass with a straw, though the specific taste of the perfect Bloody Mary varies from drinker to drinker. Some prefer a subtle spice, while others want it bold, peppery, and hot. Some reserve this drink for the daytime while others like to sip on one all day. No matter how or when you take your Bloody Mary, if you're a fan, you're a fan, and nothing beats a good one.
Unfortunately, it's not feasible for most of us to frequent our favorite bunch spot daily for a perfectly crafted Bloody Mary. Sometimes, we may need to make a Bloody Mary at home, and using a quality accessible mix is of utmost importance. With so many different Bloody Mary mixes on offer, it can be difficult to discern which mix will give you the perfect cocktail.
Stirrings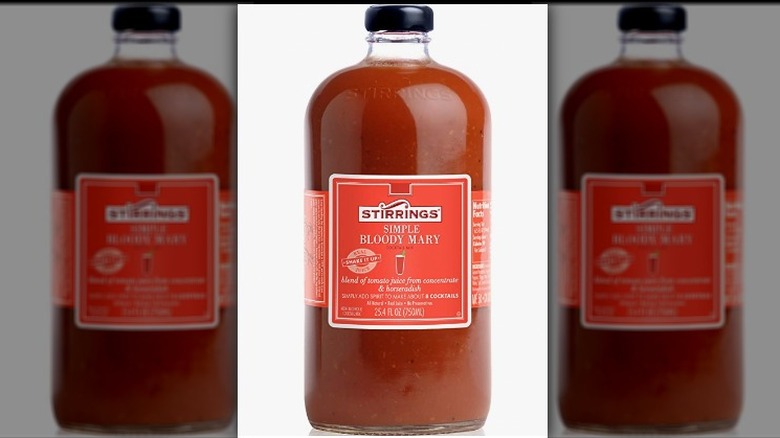 Stirrings sells a variety of cocktail mixers. They're all non-alcoholic and made with real juice, and that includes the Bloody Mary mix. Stirrings Bloody Mary Cocktail Mix doesn't have the depth of flavor that some other Bloody Mary mixes have, though it does contain horseradish, which spices up the mix. However, the overall mix lacks the zing that's needed in a Bloody Mary.
There are some plus points to this mix: It's not expensive and it doesn't contain high fructose corn syrup, which curries one reviewer's favor. But overall, this is an average Bloody Mary mix.
Stirrings doesn't have the greatest rating, but this mix gets the job done. If you're going to use it, it's best to pick a flavored vodka and add your own spices. You'll need some black pepper, and perhaps some paprika, cayenne, or red pepper flakes for the spice. If you're comfortable playing bartender, give Stirrings a try. But if you want a mix that's perfect as is, look elsewhere.
Suckerpunch
The Suckerpunch Gourmet Bloody Mary Mix is great because it's vegan and non-GMO, so it suits various diets and preferences. It's gluten-free and is made with just eight ingredients. SuckerPunch seems dedicated to creating a product that isn't going to harm our bodies.
However, this bloody mary mix isn't great in terms of taste. A product that is purposely made with a unique taste or a unique twist on a classic is admirable, but in this case, SuckerPunch went overboard. The mix contains dill pickles, and although a dill pickle has a lovely flavor, its inclusion in this mix leads to a taste that is far too intense and overwhelming.
As one reviewer said, "Unless you love pickles more than anything else in life, avoid this product … It tastes 100% like dill pickles." On the other hand, another reviewer noted, "I happen to like the taste of pickles … so I found the taste of pickles to be a great addition." According to the reviewers, if you love dill pickles, this is the bloody mary mix for you. If not, choose something else.
Miss Mary's
The Miss Mary's brand sells an assortment of cocktail mixes. Miss Mary's offers a margarita mix, an old fashioned mix, in addition to a couple of different Bloody Mary options. It's great that Miss Mary's offers different Bloody Mary mixes because every person's flavor preference is a little bit different. Miss Mary's Thick & Savory Bloody Mary Mix has a good rating, but it's lacking in a few areas.
A Bloody Mary mix needs to have the right balance of flavor, spice, and consistency. This Miss Mary's mix lacks the right consistency, which is vital to the overall mouthfeel of an enjoyable cocktail. The mix is too thin, which is a diametric opposition to the product's name.
The taste and the spice of this mixture are great, but as one reviewer says, the "taste is right on. Just the right heat and spice. But thickness (viscosity) is severely lacking. Very thin, water like viscosity." If you purchase this mix, you may need to add a little tomato juice for some extra thickness.
Master of Mixes
Master of Mixes is another brand that sells a variety of cocktail mixers. It's impossible to do all things well, so when a brand sells as many cocktail mixers as Master of Mixes, it's to be expected that one isn't going to be quite as good as the others, and in this case, it's the Classic Bloody Mary Drink Mix.
The reviews on this mix are mixed. Some users love it; one finds says that this is "by far the worst Bloody Mary mix I've had in my life." If a product is this polarizing, it's usually not a good sign. Master of Mixes' blend does have redeeming qualities, like the featured flavors. It's got a hint of lemon and a nice blend of spices, but the overall taste is bland, and unless you are a mixologist or have a very keen palate, it may be hard to improve.
An excellent Bloody Mary mix doesn't require any additional additions. Sure, you'll add your own vegetables and another edible accouterment, but a good mix won't have you reaching for your spice cabinet, and that's not the case here.
Powell & Mahoney
Like so many Bloody Mary mixes, the Powell & Mahoney mix is met with mixed reviews. The Powell & Mahoney Bloody Mary Cocktail Mixer is fine, it's just not a favorite. It has a good consistency and a little bit of spice, but it's not a stand-out product. It's also quite expensive, and if you're going to spend that much money on a product, it should be a standout.
This mix has lots of ingredients, and some don't seem totally necessary, like soy sauce and citric acid. However, it is a decent find, and some customers really like it. One reviewer says, "Great classic Bloody Mary mixer with a hint of heat. Thick consistency so be sure to shake before pouring. I add a bit of pickle juice to send it out a bit." If you're willing to go to the lengths this reviewer does just to make this a good mix, then Powell & Mahoney's Bloody Mary mix is worth the purchase.
Bloody Mary Mix From Hell
The most notable trait of Bloody Mary From Hell Mix is its packaging and its overall marketing. Upon looking at the bottle and reading its name, you may be expecting an ultra spicy mix, and depending on your taste buds, you're either going to wholeheartedly agree or disagree. Some feel that this blend is overwhelmingly spicy, while others think that it's not as spicy as it purports.
So, as far as spice is concerned, you're either going to be incredibly disappointed or incredibly pleased with this mix. Aside from the spice, Bloody Mary Mix From Hell is a worthwhile mix because it has a good consistency. It's thick enough that the addition of liquor will easily turn this into a drinkable cocktail without making the drink too runny. And, as noted in the product description, this mix can also be used as a hot sauce in various recipes. This is not the world's greatest Bloody Mary mix, but it gets the job done and it is a versatile product to have in your pantry.
Hella
Hella sells several cocktail mixes. Its Spicy Bloody Mary Premium Cocktail Mixer is good, but it's not great, which is disappointing considering the quality of the other blends. The mix is gluten-free and made with natural ingredients. It has a good flavor, derived from ingredients like horseradish and black pepper, balanced with lemon juice. Hella's mix is a little bit pricey, though it can be used to make micheladas as well.
Customers who have tried the Hella's Habanero Margarita mix are huge fans, but unfortunately, the magic in hella's margarita mix doesn't exist in its bloody mary mix. Many tasters find that it's not spicy enough. As one reviewer said, "The flavor was good, but will probably move on to another choice next time."
Like with other bland Bloody Mary mixes, this mix requires other flavors in order to spice up the mix, but Hella's Bloody Mary blend may have you wishing for a brand that doesn't require any other additions.
Lefty O'Doul's
Lefty O'Doul's Bloody Mary Mix blend originates in San Francisco. This mix is quite tomato-forward, as a Bloody Mary mix should be, and the spice is derived from horseradish and Worcestershire sauce, which is a classic flavor profile for the cocktail.
Overall, this is a good Bloody Mary mix that results in a decent cocktail. The mix is good, but it requires some additives to give it the kind of powerful flavor that a classic Bloody Mary cocktail requires. As one reviewer writes, "I love the horseradish in the mix, but thought it lacked something."
While the flavor is lacking, the consistency is actually quite good. As another reviewer noted, it "didn't become watery when I added vodka," which is worth applauding as this certainly isn't the case for all mixes. If your main concern is the consistency, then you can purchase Lefty O'Doul's, but you'll most probably have to fiddle with the flavor.
Tabasco
The Tabasco brand is best known for its hot sauce, so it's only right that it entered the mix game in earnest with its own Bloody Mary Mix. And it's a good one. Overall this is a well-reviewed product. Customers like that they don't have to add anything to the blend. Tabasco's mix has a great taste, and as one reviewer notes, "It has the perfect kick of spices to it." As noted on the product's packaging, this mix is mildly spicy, and most drinkers seem to be perfectly happy with the spice level.
Although this is a great mix, many customers have cited poor packaging, claiming their mix has arrived damaged. Even the best product in the world needs to arrive in one piece, and this brand should really take care not to send its customers damaged goods. If you want this bloody mary mix, it's best to pick it up at the store instead of ordering it online.
Charleston
There's a lot to love about the Charleston Bloody Mary Mix: it's gluten-free, contains no MSG, and it uses natural ingredients. It's got a noticeable hint of spice that isn't too overwhelming, and it has a great consistency. As one reviewer notes, "You can drink this with or without the alcohol and [sic] tastes superb," which is hard to find in Bloody Mary mixes.
One reviewer did note that the mix is a little sour, but it has a good overall flavor. Charleston's mix is more expensive than the mix of many of its competitors, but the flavor is definitely worth it. However, like Tabasco's blend, there are several reviews claiming that the package arrived broken, and that there was no way to obtain a refund.
Although this doesn't directly affect the flavor or quality of the mix, it is something to be aware of as this mix is too pricey and too tasty to waste. Like with Tabasco's mix, you'd be best off purchasing this product locally rather than online.
Pat O'Brien's
Pat O'Brien's Bloody Mary Mix is another strong contender. This mix stems from New Orleans, and as noted on Amazon, it was voted the best Bloody Mary in New Orleans. If you want a strong southern flavor in a cocktail that makes you feel like you're adorned in purple and gold celebrating Mardi Gras, then Pat O'Brien's is the right brand for you.
This mix has a great flavor and consistency, and while it is lacking in spice, this can be forgiven considering its other strengths. One reviewer notes that this mix does have MSG, so if you are averse to this then you should choose a different mix. But as another reviewer notes, it "Tastes like being in New Orleans" and "surpasses all Bloody Mary mixes! It's the absolute best!" You may need to add a dash of hot sauce or a couple of black pepper to this product, but overall it's a solid Bloody Mary mix with good reviews.
Clamato
Clamato is a great mixer for a reason. It can be tossed in a beer or used to make a Michelada. It's also a favorite of many pure tomato juice drinkers. It can be used for a Bloody Mary mix. It has a fantastic tomato flavor that is consistently good. The consistency of Clamato is fabulous, and it can be consumed with or without the alcohol.
However, it doesn't contain the spices or flavors of a classic Bloody Mary blend. But, as the product says, Clamato is perfect as a Bloody Mary base, not an entire mix. If you want to use Clamato for your cocktail, you will have to add your own spices, and potentially other liquids, like lemon juice or pickle juice, so be prepared to do so.
Clamato is still quite good because every other characteristic of this mix is perfect for a Bloody Mary. If you are confident in your bartending skills, Clamato is a must-have. As one reviewer says, "It is now and has always been my mixed juice of choice." It's hard to beat a classic.
Mr. & Mrs. T
Mr. & Mrs. T's Bloody Mary Mix is a stellar option among Bloody Mary mixes. It's is a straightforward mix with a bright taste with good spice. It's too strong to drink without adding alcohol, but it attains a great consistency when you add a little bit of vodka.
This is a wonderful blend for fans of a bloody mary who aren't professional bartenders and want a low-maintenance mix they can simply pour alcohol into and call it a cocktail. One reviewer shared, "I … do not know how to make something without tasting it – so this was a great option."
Mr. & Mrs. T's mix is a solid mix that you can count on, and if you've never tried a store-bought bloody mary mix, this is a good one to start with. It's great to serve at gatherings as it's tasty enough that it doesn't really require the addition of extra ingredients, and it's easy to build on if you do some bolder flavors. You won't regret purchasing this mix.
Major Peters'
Major Peters' slogan is "Always Delicious," and its Original Bloody Mary certainly lives up to this motto. This company offers a fantastic cocktail mix. As one reviewer says, "Amazing flavor; only thing missing is the celery, ice, and the vodka."
Another reviewer writes, "We've been using it for about forty years, my only complaint is they have jacked up the price." While there isn't much that can be done about the higher price, this mix is still worth the increased price. And, though the mix is more expensive now, it's still on the lower end of the price range for Bloody Mary mixes.
Major Peters' Bloody Mary mix is spicy without being overpowering and it also has a good consistency. It contains vinegar, garlic, onion, and molasses, which work to enhance the flavor of this mix. And it's made with real tomato juice. This mix is definitely worth purchasing.
Jimmy Luv's
Jimmy Luv's Bloody Mary Mix is a fantastic blend. It's unanimously well-reviewed among the select few that have tried it. This mix has a great consistency and a wonderful flavor profile. It has a good level of spice. And, as noted in the product description, it can also be used as a sauce or topping for chicken wings, making it the perfect bloody mary mix to pick up if you are preparing for a gathering.
This brand also tells you exactly how to prepare a Bloody Mary using its mix, making it simple to concoct a stellar drink in a matter of minutes. All you need to do is add this mix to vodka and ice, mix it well, and then serve with the garnish of your choice.
Jimmy Luv's Bloody Mary mix is sold at a relatively low price, and it's above average in quality, which makes it more than worth your money. As one reviewer puts it, "Bottoms up."
Old Bay
George's Old Bay's Seasoned Bloody Mary Mix is truly fantastic. Old Bay is a company named after a classic seasoning, and its Bloody Mary mix does not disappoint. It's made with fresh ingredients and it has a delicious taste. It's robust and bold and it tastes exactly like how you'd expect a Bloody Mary to taste.
Using Old Bay's blend will make you feel like a bartender. It's hard to find a mix that convinces you that you've paid a professional to mix your drink, but this one does just that. Old Bay primarily makes seasonings and hot sauce, and this is the only cocktail mix that it offers, which allows the brand to focus all its efforts on this product, and it shows in terms of the quality.
One customer says, "[It] doesn't need any doctoring if you don't have extra ingredients to pour in." Not many bloody mary mixes meet the standard of not requiring any additives, but Old Bay's definitely does. Buy this mix and experience the Bloody Mary magic yourself. Your next at-home brunch guests will thank you.
Zing Zang
Zing Zang Bloody Mary Mix is high on everybody's list: This is one of the most highly rated Bloody Mary blends in existence, and for a good reason. Zing Zang just knows how to do it. There's no other way to put it.
This mix has a beautiful blend of spices, and its inclusion of vegetable juices really sets it apart from other mixes. There are very few Bloody Mary mixes that utilize vegetable juice, but Zing Zang adds celery, carrot, and spinach juice to this mix, giving it a fresh taste that the mixes of competitors lack.
One reviewer says, "This mix has a really good flavor and tastes like a [Bloody Mary] mix should." You can add more ingredients to this mix, but you don't have to, and you probably won't want to.
Even if you're mixing olives, bacon, cheese, celery, or whatever else you add to your Bloody Mary, you're still going to enjoy this mix. Zing Zang is definitely the best grocery store Bloody Mary mix in existence.