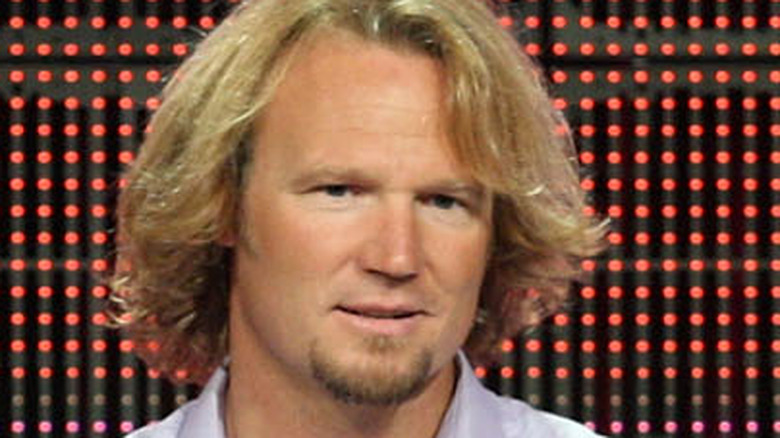 When we think of the defining shows of TLC, programs such as "Toddlers and Tiaras," "Say Yes to the Dress," and "19 Kids and Counting" come to mind. But the network wouldn't have such a hold on everyday families turned reality stars with the Browns, a polygamist family anchored by patriarch Kody Brown.
"Sister Wives" premiered over a decade ago, if you can believe it, and has given viewers incredible insight into the lives of polygamists and the complications that can arise when more than one marriage is on the table. To say that the show has been an eye opener, a stunner, and a surprise is an understatement.
Given that "Sister Wives" has been on the air for so long, viewers who have consistently tuned in have seen Kody (and his family, of course) grow and change with time. But what did Kody's life look like before he and his four wives took to the screen, and what has his journey been like since? Take a look at his transformation.
Kody Brown was raised in a polygamist household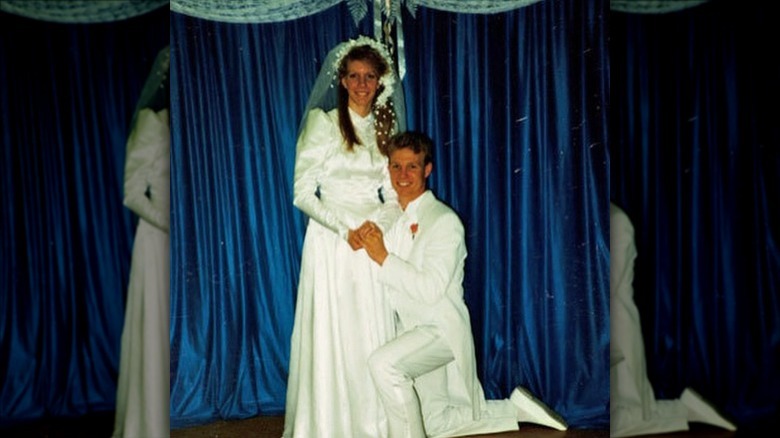 If you've ever tuned into "Sister Wives" and asked yourself how someone might get into a plural marriage, you're certainly not alone. Leading a polygamist lifestyle is a very unique and rare situation. So how did Kody Brown get on this path in the first place?
Kody was born in Wyoming in 1969. Kody's father, William Brown, was a Mormon polygamist who had multiple wives, including Kody's mother. While he did reportedly struggle with his religion, Kody's father maintained his plural marriage and raised his multiple families on his ranch in Lovell, Wyoming (via Screen Rant).
Kody is, of course, known for having four wives and a herd of children from them, but his own upbringing served as a parallel experience. His father had 10 children with his three wives, and he and Kody's mother, Genielle Brown, have greatly impacted "Sister Wives" and Kody's own path. William passed away in August 2013; although he is no longer around, Screen Rant noted that his "influence" is still felt within the family.
He shares a mother with one of his wives
That's right, Kody Brown and one of his wives, Janelle Brown, share a mother due to their parents' polygamist lifestyle. We're here to break it all down. As noted by InTouch Weekly, Kody's father, William Brown, was married to Sheryl Brown for a portion of time. Sheryl is Janelle's mother, and while Kody and Janelle do not share parents genetically, they are linked as siblings and partners. During an episode of "Sister Wives," Janelle opened up about the dynamic, explaining that she introduced Kody's dad to her mom.
"Before Kody and I were really courting, I was actually friends with his family. My mom was worried I was getting sucked into some polygamous cult. But she ended up meeting Kody's dad and they ended up falling in love and getting married before Kody and I started courting," Janelle shared (via InTouch Weekly).
William and Sheryl were married until his death in 2013, and Sheryl was included as one of William's spouses in his obituary, as were his two other wives, Genielle Brown (Kody's biological mom) and Bobbi Brown. The more you know!
Kody became a husband in 1990
Way before the world was introduced to Kody Brown via TLC, he began his journey into the polygamist lifestyle. He married his first wife, Meri Brown, in 1990 and the two seemed absolutely smitten with one another. Back then, they were two young adults who dreamed of living their lives together. As noted by Us Weekly, Kody truly believed that Meri was his "soulmate." The couple tied the knot just half a year after Kody popped the question, and in his 2012 memoir, "Becoming Sister Wives: The Story of an Unconventional Marriage," Kody further opened up about his early experience with Meri.
"Meri was so cute and sweet when I met her that I had a hard time suppressing my hopelessly romantic nature," the Brown patriarch wrote of his first wife. Those early days were certainly marked with enthusiasm and simplicity. Some three years later, a previous connection from Meri's side of the family would lead to wife number two.
He married two more wives in 1993 and 1994
Many of us look for that one special person, but Kody Brown found his special people. Kody met his second romantic connection, Janelle Brown, in an unusual way. As noted by Entertainment Tonight, Janelle was married to Meri's brother, Adam Barber, from 1988 until 1990, but the union didn't last. It was apparently meant to be for Kody and Janelle, as the two entered into a "spiritual marriage" by January 1993, per Us Weekly.
A year later, Kody married his third wife, Christine Brown. Kody and Christine reportedly first crossed paths in 1990 when they met while chaperoning a youth wilderness hike (via ABC News). Christine took the time to get to know both Kody and Meri and by 1994, she and Kody were an item. Fast forward to Valentine's Day, and the Brown patriarch popped the question. Three wives in four years? That might be some kind of record!
Kody Brown's family continued to grow in the early 2000s
Kody Brown spent the latter half of the 1990s establishing his relationships and marriages to his three wives, Meri, Janelle, and Christine. And as the nursery rhyme goes, "First comes love. Then comes marriage. Then comes baby in the baby carriage" – and the Brown family followed the plan to the letter. As noted by Hollywood Life, Kody has a litter of kids from his three wives, resulting in 18 children — yes, 18, putting "Cheaper By the Dozen" to shame.
Here's the breakdown: Kody and Meri have one child together, daughter Maria. Kody and Janelle had six children together: four sons Logan, Hunter, Gabriel, and Robert, and two daughters Savannah and Maddie. The Brown crowd grew by another six children mothered by Christine and fathered by Kody: son Paedon and daughters Gwendlyn, Truely, Aspyn, Ysabel, and Mykelti. If you're keeping count, that's 13 kids so far.
Kody Brown and his three wives made their onscreen debut in 2010
We've traveled all the way from the 1960s to the 1990s, and now we're in the 2000s when Kody Brown and his three wives made it onto television for the first time. As noted by TV Insider, the topic of polygamy a decade ago was even more taboo than it is now, and it was only through selective programming (or personal connection) that anyone really knew about the unique marital environment. But to say that Kody, Meri, Janelle, and Christine Brown changed the game is an understatement, and TLC clearly knew what they were doing when they decided to air a new show called "Sister Wives."
"Sister Wives" dropped on the channel in September 2010, and Kody, his wives, and their children made their way into people's homes via their own in Lehi, Utah.
"I like marriage, and I'm a repeat offender," Kody said in the very first episode (via TV Insider). "I have adopted a faith that embraces that lifestyle. In fact, it recommends it and [likes] to reward good behavior, so if you're good with one marriage, they figure you'll be good with two. I hope they think I'll be good with four."
Kody took another wife in 2010
Fans of the polygamist reality show were treated with a plural marriage in real time when Kody Brown married again in 2010. As noted by The U.S. Sun, Kody initially crossed paths with his fourth wife, Robyn, at a friend's house and quickly entered a courtship. Just four months later, the two solidified their romantic relationship and Kody introduced her to the other sister wives.
That same year, Robyn became a "spiritual" wife to Kody and his fourth union alongside Meri, Janelle, and Christine. The following year, Robyn and Kody announced that they were having their first child together (hence the growing number of kids over time).
As of this writing, Kody and Robyn are still going strong, with an inside source allegedly telling Us Weekly in January 2022 they're closer than ever. "She has him wrapped around her finger. They act like they're still newlyweds. They're still very much in love," the source shared. As for Robyn's relationship with the other wives? Well, that's a bit more complicated, with Us Weekly noting Robyn's hesitation and "guilt" as things have gone south.
Kody and Meri Brown divorced in 2014, but there's a catch
Here's where things start to get a little rocky. Kody Brown was only legally married to Meri — the rest of his unions were considered "spiritual marriages." The couples were not technically husband and wife in the eyes of the law. However, Meri's status as Kody's legal spouse changed in 2014, as the couple got divorced. Before you jump to conclusions, it wasn't like that — Meri simply made the call to divorce due to a difficult circumstance Robyn was forced into.
As noted by Hollywood Life, Robyn had three children from a previous marriage, Dayton, Aurora, and Breanna. Their biological father was "absent from their lives," per Robyn, and "doesn't financially support them" in any way. Kody, for his part, asserted, "I'm their dad," and Meri took action from there. She paid an under-the-radar visit to an attorney, who told her that if she divorced Kody and he subsequently married Robyn legally, he could adopt her three children. So that's just what happened.
"If anything happened to Robyn, we'd have no legal claim on Dayton, Aurora and Breanna," Meri said of the situation. "[They're] part of our family."
2015 brought a huge shift to Kody's relationship with his first wife
While Meri Brown's move in 2014 signaled a very sweet and understanding nature between the Brown family and wives, 2015 changed that. As noted by People, Kody Brown's first wife started online dating, met a man on a dating site, and began a virtual relationship. As it turns out, though the "man" in question lied and was actually a female fan. The online relationship became an incredibly toxic and destructive force in Meri and Kody's relationship. Of the bond between Meri and the online figure, Kody said, "[It] turned out to be extremely exploitative and abusive. And from that experience, Meri and I sort of saw our marriage just dissolve."
Meri shared that she and the person she met online became "friends" and shared a sense of humor. "He was saying all the right things to make me trust him and make me think that he was this real person that really cared," Meri said during an episode of "Sister Wives," alluding to the genuine nature that she thought she was sharing with this virtual connection (via People).
Kody Brown pulled up roots and relocated to Arizona
A central aspect of "Sister Wives" and Kody Brown's polygamist lifestyle, in general, was rooted in Mormonism. Utah is very well known for its large Mormon community, and so it made a lot of sense that the Brown family called the state home. However, in 2018, Kody, his wives, and kids all moved to Arizona — a move that came as a big surprise to "Sister Wives" viewers. So what prompted such a stark relocation? Some fans seem to think that it all had to do with Robyn Brown and her status as the "favorite wife."
According to The U.S. Sun, Robyn's son reportedly obtained a scholarship to an Arizona-located university, and due to that admission, the whole family moved from their home in Utah. To add insult to injury, Robyn and Kodi "purchased the most expensive home in Flagstaff out of all the wives," according to the report, dropping almost $900,000 on a five-bedroom, four-bathroom house. If that wasn't enough, an inside source told The U.S. Sun that Robyn is Kody's favorite wife, without a doubt, due to her "new" status. "Every single new wife who comes in are [the] favorite," the alleged source revealed. "She's young, pretty, she's absolutely favorited."
The pandemic added extra challenges
When The List sat down with Kody Brown for an exclusive interview back in April 2021, he revealed what life was like during the pandemic. "We've got four homes, four mothers who basically, because they're running their household, are kind of in charge of their household," Kody said. "Big struggle for me, whether that's from bad leadership or whether that's bad choices, or I don't even know what. But it's been a struggle for us to get on the same page on how we behave regarding COVID-19."
The Brown family patriarch went on to tell us that he was trying to stop COVID-19 "from just tearing like a wildfire" through his family, but each house wasn't "abiding by the same COVID protocols.""Different mothers have a different opinion about how to behave about it," he continued saying. "Some days we get it all dialed in and we're a united team, and other days we don't."
Kody Brown and his wife Christine split in 2021
Well, some things are too good to be true. In 2021, Kody and Christine Brown called it quits. As noted by People, the parents of six kids, then ranging in ages from 11 to 26, announced their separation on social media, sharing with fans that after almost three decades together, they were going their separate ways.
"After more than 25 years together, Kody and I have grown apart and I have made the difficult decision to leave," Christine revealed in an Instagram post. "We will continue to be a strong presence in each other's lives as we parent our beautiful children and support our wonderful family. At this time, we ask for your grace and kindness as we navigate through this stage within our family."
For his part, Kody said he was saddened by Christine's decision, but expressed his "respect and admiration" for his ex. "Although we are moving forward on different paths, we will always remain committed parents," he said (via Yahoo).
Meri and Kody are still together, but their relationship has soured
Ever since Meri Brown's catfishing scandal, her relationship with Kody Brown wasn't nearly what it used to be. In the years that have followed, the bond between the once-legally married pair has pretty much gone fully south, and in the "Sister Wives" Season 16 reunion episode, the duo cleared up any confusion regarding the status of their relationship.
"I'm not ever going to be in a conjugal relationship with [Meri] because I'm not going to go through that emotional torture ever again," Kody said, as noted by Us Weekly. "I'm not trying to make Meri sound bad, it's just a bad match." Kody went on to say that there was just too much "damage" between him and Meri, and that there was "no real safety" between them. He even went as far as to say that he simply wouldn't go there when asked about details, clearly indicating that there was some deep-seated pain.
As for his other wives' reactions to the dynamic between Meri and Kody, Christine shared during the reunion episode that their struggles are heartbreaking, saying, "I don't want to be in a loveless marriage. I don't know how she does it. I guess she's more fine with it than I am."
Where things stand with Kody's other wives
If you're keeping score, two out of Kody Brown's four marriages have more or less dissolved. So it raised the question: where do things stand with his wives Janelle and Robyn Brown? Let's start with Janelle.
As noted by People in February 2022, Kody shared that he and Janelle are "not in sync," and that their relationship is certainly at arm's length. "We actually just are able to have a marriage that's, if you will, lower in attachment," Kody said of Janelle. "I don't even know. We're good friends, we get along well. It's more of a, like, just a committed relationship." Kody wouldn't elaborate on if he was "in love" with his wife.
Regarding Robyn, well, it was clearly established earlier that she is rumored to be his favorite wife, and the two are still going strong. In 2016, they welcomed their second child together, Kody's 18th child, Ariella (via People). An insider reportedly told Us Weekly in January 2022 that Kody has been "spending all his time with Robyn" and that they are "in their own world, living their own lives."