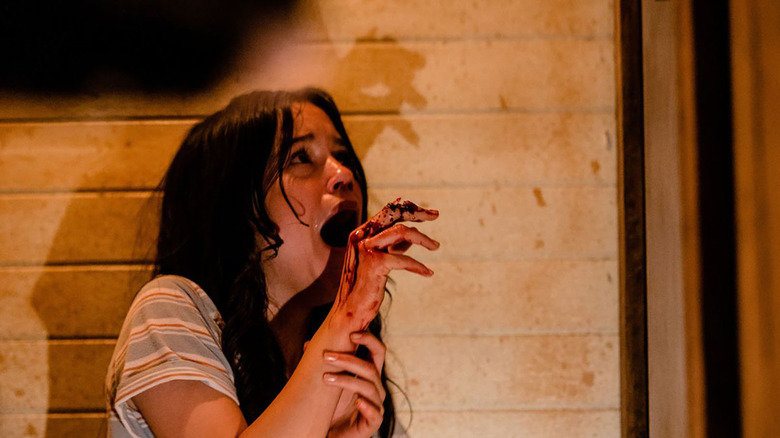 It's 2022 and the horror genre continues to crank out some absolute beauties. Despite what pessimistic haters might have you believe, horror is not dead, and the continuation of the genre's prolific and profitable legacy doesn't show any signs of slowing down anytime soon. Considering the overwhelming amount of content available at any given moment, keeping up with new releases is no easy task. Fortunately, much of the staff at /Film are a bunch of dorks who spend their time consuming every last morsel of horror goodness in order to feel something. We are hungry for horror, insatiable in fact, and we will continue to devour every last scary movie and turn them into easy-to-read listicles for your amusement until our dying breath.
Forget about allocating an extra hour to scroll until your eyes bleed trying to figure out what to watch, here are the best horror movies of 2022 (so far), presented in alphabetical order.
Crimes of the Future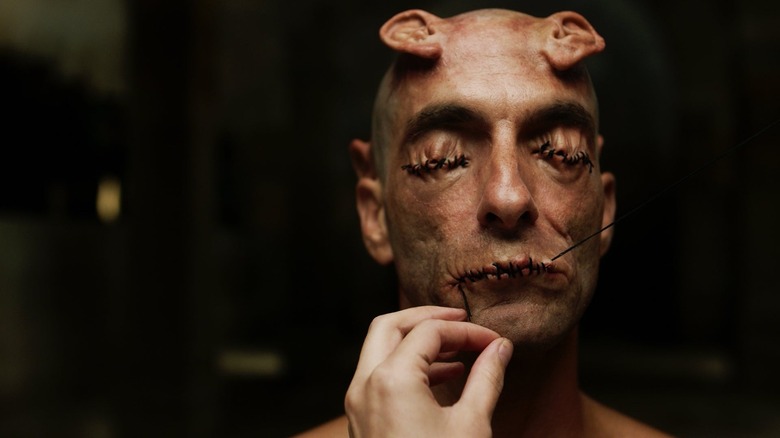 The introduction of David Cronenberg's latest, "Crimes of the Future," observes a little boy quietly going into his bathroom and chewing on a trash bin like it's made of crackers; eight-year-old Brecken (Sozos Sotiris) digests the plastic just fine. His mother, repulsed by this biological imperative in her son, coldly smothers the child to death and calls her husband to come pick up the body (a body she refers to as "it"). Thus begins Cronenberg's thorough treatise on climate change, biotechnology, evolution, and — because it's a Cronenberg film — how it all relates to art. It's the Canadian director's first feature film since 2014's "Maps to the Stars" and his first feature from his own screenplay since 1999's "eXistenZ." But the "Scanners" storyteller hasn't lost his ability to push buttons; its Cannes screening contained enough body modification and graphic viscera to prompt audience walkouts, just as Cronenberg predicted.
Viggo Mortensen (following up on prior roles in Cronenberg's "Eastern Promises and "A History of Violence") stars as a performance artist who cultivates strange new internal organs which his partner Caprice (Léa Seydoux) surgically alters or removes as part of their performance pieces. Densely packed with philosophies and latex prosthetics alike (including a man who is all ears), and supported by a memorably pulsating score by frequent Cronenberg collaborator Howard Shore, "Crimes of the Future" is what /Film's Chris Evangelista hails as "a return to roots" for its director, who always asks the most uncomfortable, open-ended questions about humanity, with plenty of body horror to punctuate. (Anya Stanley)
Fresh
The dating world can be an absolute nightmare, and few movies exemplify that reality quite like "Fresh." Nora (Daisy Edgar-Jones) is caught in the rat race of modern dating, wading through an endless sea of unsolicited dick pics, boring dinner dates, and pathetic attempts by men she's only met through dating apps desperately trying to get in her pants. App-based dating is a steaming trash heap of weirdness and disappointment, so Nora is absolutely elated when she gets her very own grocery store meet-cute with Steve (Sebastian Stan), a charming doofus (because he's Sebastian Stan) who woos her with conversations about cotton candy-flavored grapes and love of a good classic cocktail. The two quickly develop an adorable relationship fit for a Sundance darling rom-com from 2012, and it seems too good to be true. Well, it is, because as it turns out … uh, well, spoilers.
If you've successfully managed to escape the big reveal of "Fresh" thus far, do yourself a favor and continue the trend. It's sincerely refreshing to see a film take such wild and graphic thematic swings wind up on Hulu of all places, and Sebastian Stan continues to prove why he's one of the most versatile actors in the game. Sorry to the Bucky Barnes stans everywhere, you might not be able to see him the same way ever again. (BJ Colangelo)
Hatching
Body horror is coming back in a big way, and the Finnish import "Hatching" is an incredible standout. Siiri Solalinna plays Tinja, a young gymnast who is desperate to appease her image-obsessed mother who runs a popular lifestyle Mommy blog. Think about all of those insufferable moms on "Dance Moms" or "Toddlers and Tiaras," slap on a coat of Rae Dunn aesthetics, and you're in the right wheelhouse. One day, a crow flies through the house, and after Tinja's mother catches it, she snaps its neck. Oddly, Tinja is awakened later that night by the pained cries of the crow in the woods and discovers a strange egg near its body. Feeling guilty about the egg losing its mother, she brings it home and keeps it incubated under a pillow and eventually inside a stuffed animal.
And then … it hatches.
With each passing day, the creature from the egg (which Tinja names "Alli") begins to appear more like Tinja, and Tinja's behavior grows increasingly erratic. What unfolds is a revolting look at the unexplainable connection between Tinja and Alli, and the way Tinja's family completely disregards their horrific new reality in favor of maintaining appearances. The film is currently available on VOD and absolutely worth the watch. (BJ Colangelo)
The Innocents
In his genre guide novel "Danse Macabre," author Stephen King (who many know as the writer behind the kids-gone-bad short story "Children of the Corn") posited that most kids don't torture in the sinister sense that adults assign them when they do morbid things like pulling the wings off of insects. Instead, he frames it as an inquisitive impulse:
"Kids are endlessly, voraciously curious, not only about death but about everything — and why not? They are like people who just came in and sat down during a good movie that's been on for thousands of years. When you're five, your big gurus are Santa Claus and Ronald McDonald … when you're five, you seek knowledge down those avenues that are open to you."
Eskil Vogt's "The Innocents" has its quartet of youths navigating those very avenues, which would be pretty routine until they are armed with freaky mind powers.
Animal lovers beware: one kid seeks his knowledge in a pretty cruel way with the local creatures.
During a thick Nordic summer, in an apartment complex isolated within a dense forest, a group of school-age children figures out their own moral codes, tainted by varying degrees of supernatural power-ups. One begins as a victim, but given the chance to punish his bully without laying a finger on him, struggles with the corrupting effect that power has on his own sense of right and wrong. Supported by an incredible cast of child actors and a sparse script that keeps anyone from monologuing, "The Innocents" veers away from the sandpit of hokey-ness that plagues so many bad-seed stories; it's both a solid thriller and an effective birth control ad. (Anya Stanley)
The Sadness
The rumors are true: "The Sadness" is one of the most relentlessly violent and unapologetically cruel horror films ever made. No exaggeration. No hyperbole.
"The Sadness" must be seen to be believed. Not for the faint of heart, Rob Jabbaz's directorial debut is inspired by the "Crossed" comic book series from Garth Ennis and Jacen Burrows. The film stars Berant Zhu and Regina Lei as a Taiwanese couple attempting to find one another in the middle of a viral pandemic that has turned everyone in the world into homicidal maniacs. As the violence escalates, the government remains complicit by doing a whole lot of nothing. Gee, sounds familiar.
It cannot be overstated how unflinchingly vicious "The Sadness" is. If you're disappointed that there's not as much of an in-depth promotion for this title, understand that this is an intentional decision. "The Sadness" is one of those films that you can't fully prepare for, no matter how much you know, and it's best to let the film just overtake your senses. Fortunately, the film was acquired by Shudder and is available to stream now, but, uh, trigger warning for absolutely f****** everything. Seriously. (BJ Colangelo)
Scream
When Drew Barrymore met the nasty end of the blade in the opening sequence of Wes Craven's slasher juggernaut "Scream," it certainly caught the attention of moviegoers in 1996. Not only did the movie shake loose the formulaic dust of slasher movies (the "Halloween" franchise would present its sixth thorny entry only the year prior, to poor reception) and codify its own rules, but the film would go on to become a massive success beyond its $173 million box office return, spawning multiple sequels and a teen slasher series on MTV and then VH1. While Craven's death in 2015 put new projects on hiatus for a while, his Ghostface killer was revived once again this year, with new directors at the wheel for the first time.
Matt Bettinelli-Olpin and Tyler Gillett helm the fifth installment in the "Scream" franchise with the poorly titled "Scream," wherein the fictional town of Woodsboro is under threat once again from a slasher (or slashers) unknown, intent on eliminating those connected to the original killings whether by blood relation or direct involvement. Following in the spirit of the previous films and marrying slice-and-dice mayhem and whodunit sleuthing to snappy commentary on horror itself, the nu-Scream is both a "requel" and a reset of a film series that had lost its way in the middle sequels. While o.g. characters like Sidney Prescott (Neve Campbell) are brought back in this next chapter, they're wisely given supporting roles to facilitate the passing of the baton to a fresh cast of new blood — including Jenna Ortega, who must be exhausted from shrieking her way through Ti West's "X" in the same year.
As the old gives way to the new, "Scream" is a thrilling night at the movies, bringing depth and energy to an already-strong legacy. (Anya Stanley)
We're All Going to the World's Fair
One of the films that falls into the weird zone of festival hit in 2021/VOD release in 2022, "We're All Going to the World's Fair" is a hypnotic look at what happens when the line between reality and fantasy begins to disappear as a teen girl throws herself into a massively multiplayer online role-playing horror game (MMORPG). Believed to be the scariest game online, a young girl named Casey (Anna Cobb) starts recording the way the game slowly manipulates her physical appearance, not unlike the way people document weight loss progressions or gender transitions.
Due to her existence in a rough home, Casey doesn't have much of a social life outside of the internet, which only pushes her further and deeper into the realm of "The World's Fair." The film thrives in its metaphors and subtextual messaging, refusing to give concise answers to the viewer and forcing all who watch to interpret the film on their own … much like the way society is now forced to determine whether or not the latest influencer video on a social media timeline is authentic or just an act.
This one might be a bit too galaxy-brained for the average horror fan, but if you're someone that enjoys films that mess with your mind, this is one to watch. (BJ Colangelo)
X
When /Film's Matt Donato caught Ti West's "X" at SXSW, he held it up like baby Simba at Pride Rock as a staunch retort to the oft-used but seldom-proven claim that there are no good original horror movies anymore. "Slashers are alive and well," he beams. "If only we supported new original slashers as much as the next 'Halloween' or 'Scream,' studios would take more unbelievable risks like 'X.'" Donato is correct that the risk is unbelievable — watching it in theaters only underlines the astonishment that the movie was greenlit for a wide theatrical release. It follows a group of filmmakers in 1979 who embark to rural Texas to shoot an adult film; the farmhouse they stay in during production is run by an elder couple and it's through them that the slasher approach to the story takes on a hagsploitation bent.
West leavens every character with depth. Even knowing what kind of movie this is and what body count to expect, each person is whole, with ambitions and reasons for being there, including the baddies. Understanding the despair of dreams deferred, West layers in a beautifully-performed acoustic cover of "Landslide" by Brittany Snow to interrupt the audience's bloodlust and add emotion where other unnamed Texas-based contemporary slasher movies failed to. It's immersive, creating an attachment for everyone and devastation when it's their time to be swallowed by the horror movie maw.
As a cherry on top, that maw is practical; New-Zealand-based special effects company Wētā Workshop facilitates the story's ultraviolence with shocking prosthetics and old-school tricks which allow one doomed soul's body to continue twitching after decapitation, for example. Offering lowbrow blood for the horror hounds and some highbrow meat to chew on, "X" represents the best of what the genre has to offer. (Anya Stanley)
Other films available to check out
Here's the thing — taste is subjective, and anyone acting like an arbiter of horror's quality is pretentious and rude. There are plenty of other 2022 horror movies to choose from that may not have been mentioned, but that doesn't mean they won't become someone's personal favorite of the year. As just a quick laundry list, "The Coven," "You Won't Be Alone," "You Are Not My Mother," "Umma," "The Cellar," "Master," "The Last Thing Mary Saw," "The Seed," "Slapface," "All The Moons," "Night's End," "Virus-32," "The Twin," "They Live in the Grey," "The Requin," "Offseason," and for some, "Texas Chainsaw Massacre," are all films currently available for your viewing pleasure.
The beautiful thing about horror is that while fear is universal, what scares us isn't. There's something for everyone and every taste, you just need to know where to find it. (BJ Colangelo)
Coming soon
It's a great time to be a horror fan. There are eerie tales of terror peppered throughout the theatrical/streaming release schedule this year from storytellers new and familiar. Kidnappers, aliens, vampires, and monstrous families all have movies en route to entertain every kind of genre fan.
In June, the "Sinister" band is back together (director Scott Derrickson, co-writer C. Robert Cargill, and star Ethan Hawke) with an adaptation of Joe Hill's short story "The Black Phone," about a boy trapped in the lair of a beast named The Grabber, played by Ethan Hawke in a terrifying mask. That arrives in theaters on June 24. A month later, Jordan Peele's "Nope" will sweep up audiences with a story that's been cryptic so far, but seems to be about close encounters of the fourth kind. Then there's "Bodies, Bodies, Bodies" coming this August, which looks to be a satirical meta-horror romp begging to be the next A24 horror darling.
With Mike Flanagan's "Midnight Mass" standing as the most hard-hitting approach to the vampire structure in ages, the new adaptation of Stephen King's "Salem's Lot" has a lot to live up to. But dispatches from CinemaCon 2022 hail the Gary Dauberman-helmed feature as a return to "great, classic-feeling horror" that descends upon moviegoers on September 9.
For those looking for the next — or last — chapter to familiar franchises, the final part of David Gordon Green's "Halloween" revival trilogy, "Halloween Ends," culminates in a showdown between Haddonfield menace Michael Myers and the one who got away from his blade, Laurie Strode (reprised by Jamie Lee Curtis). "House of 1000 Corpses" director Rob Zombie can't stay dead, either. The filmmaker known for gritty and grimy horror is dropping a feature based on the hit 1960s sitcom "The Munsters," marking his first dip into family-friendly waters come fall of 2022.
Stay frosty and remember the rule: lights out, sound up! (Anya Stanley)