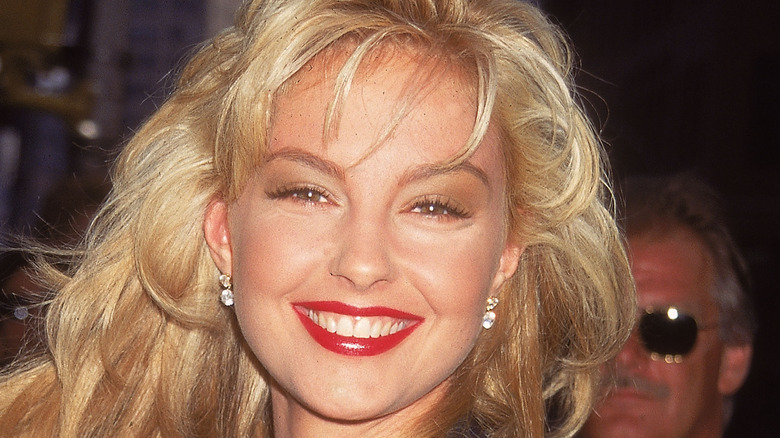 The following article includes references to sexual abuse, sexual assault, and suicide.
Ashley Judd lost her mother, country music legend Naomi Judd, on April 30, 2022. The pair had a complicated relationship that was ultimately rooted in love, with Ashley writing on Mother's Day 2022 that the best way any fan of her mother could honor her life would be to make motherhood safer for women around the world. As she explained in an op-ed in USA Today, "My mama was an extraordinary parent under duress: She showed my sister and me the power of having a voice and using it, and there has been no greater lesson."
Ashley has been open about her childhood, which was fraught with sexual abuse, and the depression she battled as an adult when she began to confront those issues and concerns. But despite the tragic moments Ashley Judd has experienced and the pain that she has survived in so many ways, she has also enjoyed an enormously successful career as an actress, from her very first role on TV in 1991 to her Golden Globe nomination for "De-Lovely" and more.
Ashley Judd's childhood was marred by struggle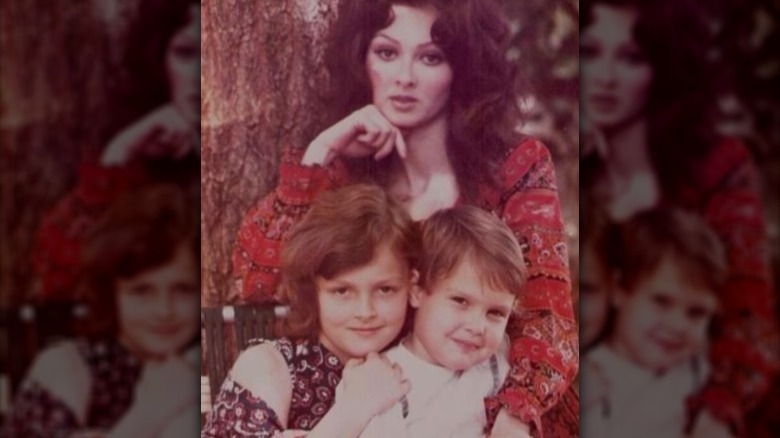 Ashley Judd's origin story isn't necessarily a glamorous one. In her 2011 memoir, "All That Is Bitter and Sweet," Ashley described a childhood that was lonely and dotted with incidences of sexual abuse after her mother, Naomi Judd, hit it big in the country music scene alongside her sister, Wynonna Judd. As Ashley describes some of the terrible things she went through as a child and teenager, she also adds that she repressed a lot of what happened to her, only unpacking memories and trauma after she began therapy in 2006 (per Reuters).
Ashley acknowledged that while the memoir details her truth as she lives and believes it, it's also true that each member of her family will have their own perspective and memory bank that could contradict her own. As she put it while speaking to Today, "You know, the book is very honest [but] it's not necessarily accurate, because everyone in my family has their own perspective and their own experiences. But it's very true for me."
Ashley also explained that one reason she wrote the book was to detail why she loves to do humanitarian work. As she said, she began writing down the stories of people she met around the world and decided to share hers. Ashley told Today, "I was really encouraged by people I trust to include some of my own story … I eventually got willing to put it in there."
Judd attended a dozen schools before graduating high school
To say that Ashley Judd moved around a lot as a child is an understatement. According to The Morning Call, Judd attended 12 different schools before she finally graduated. It's unclear why she was in and out of schools so much, though it's likely that her mother and her sister's obligation to tour frequently in support of their mother-daughter country music duo The Judds had a lot to do with it.
Judd wrote in her memoir, "All That Is Bitter and Sweet," that she didn't always live in the same home. In fact, at different points, she lived with her grandparents, her father Michael Ciminella, and her mother (via Today). This left Ashley vulnerable to people who didn't have her best interests in mind, and she revealed she was sexually assaulted by an unnamed family member (via Today).
Ultimately, Ashley seems to have made peace with her childhood — the many moves and all. As she told Today of her family, "We came from a dysfunctional family system that didn't work very well. So the kinds of things that happened to me are very typical and standard and indicative of a family system that doesn't work very well."
She was accepted into the Peace Corps but moved to Hollywood instead
After finishing high school, Ashley Judd headed to the University of Kentucky and majored in French. As shared by the Los Angeles Times, she ended up dropping out, despite being an honors student and having been accepted to the Peace Corps. Instead of heading overseas on a humanitarian or diplomatic assignment, Judd moved to Hollywood in pursuit of a career as an actress.
While showbiz was in her family, Judd was the first of the group to try acting professionally. She followed a similar path as many Hollywood hopefuls: She worked as a hostess at the Ivy and as a receptionist at a creative arts agency in Los Angeles while going on auditions, according to the Los Angeles Times. However, Judd would end up taking a break from acting and volunteering with the Peace Corps come 1999, AP News reported.
Judd finally broke into acting in 1991
In 1991, Ashley Judd was cast in the NBC show "Sisters," which marked her first foray into the world of television. Ashley seemed to garner mixed reception in the media, with the Orlando Sentinel describing her as "imperious," "haughty," and "withering." The publication chose to focus more on Ashley's presentation during the interview than her performance on the show, emphasizing that while Ashley said that her mother didn't want her to go into acting because "she thought it was a real vapid, vacuous existence," it was the author's belief that Naomi Judd "programmed her daughters for the spotlight."
"Sisters" brought Ashley into close contact with another future star, Paul Rudd, who also counts the show as his first professional acting role. Rudd's character ends up dating and ultimately marrying Ashley's character (via E! Online). Things between the twosome go sour after they have a daughter together, and Rudd's character decides to move to Minnesota to run a video store, kicking off a divorce and custody battle.
Ruby In Paradise was a transformative time in Judd's career
Ashley Judd's first starring role in a film came in 1993, in "Ruby in Paradise." Judd stars as the title character, Ruby Lee Gissing, who moves from Tennessee to Panama City Beach, Florida, after the death of her mother. The movie has been described as a coming of age film, and Judd's character certainly goes through all the steps toward realizing adulthood. She makes friends, gets a job, and meets men.
As Entertainment Weekly wrote at the time, Ruby's strength was not losing her sense of self and identity in the men who entered her life. As the publication wrote, Judd's performance was one of the strongest in the film, and she "conveys such a quiet war of emotions-a need for security coupled with a yearning for identity-that Ruby's very tentativeness comes to seem a sign of strength."
Judd told film critic Roger Ebert that the day she went to audition for the film was a busy one. In fact, "Ruby in Paradise" was her fourth audition of the day, and she was frantic by the time she arrived. She was struggling to find her scenes in the script when she was spotted. Judd explained, "The casting director sees this and she says to me, 'Take your time, go home. Come back when you're ready. He'll want to talk to you about character.'" Judd followed the advice, and ended up coming back and landing the role. Her career trajectory was set.
Her career really started taking off in 1996
For a period of time following "Ruby in Paradise," it seemed like Ashley Judd was everywhere. Indeed, her career definitely hit a major high point in the 1990s, when she starred in back-to-back films that all did well at the box office.
In the 1996 made-for-TV movie "Norma Jean and Marilyn," Judd played the iconic Norma Jean. As many fans of Marilyn Monroe know, her name at birth was Norma Jeane Mortenson, and the film portrays two different versions of the same woman. The Austin Chronicle praised Judd's portrayal of Norma Jean, noting, that she was "tenacious and resilient, having endured — as told via recurring flashback — repeated physical and emotional trauma at the hands of various men throughout her life."
While she was enjoying enormous professional success at the time, Judd also revealed to SouthCoastToday that her personal life was a bit of a mess. The publication noted that Judd was tired of answering questions about her personal life as her star continued to rise, Judd said, "If you don't protect yourself you're not going to have anything left."
Ashley Judd was nominated for a Golden Globe for De-Lovely
In 2004, Ashley Judd finally combined her acting skills and her unsurprisingly prodigious singing ability when she co-starred in the film "De-Lovely" alongside Kevin Kline. While Judd's mother and sister were well known around the world for their singing abilities, Judd had so far resisted singing in a public capacity. The movie itself simply called for it, as Judd played Cole Porter's wife, Linda Porter.
Judd explained to Lawrence.com that, ultimately, choosing to sing in the movie wasn't really an issue for her — at first. But when it came down to the actual act, she hesitated. Judd said, "I have a healthy enough ego to think I have a reasonable, if not outright pleasant, voice. However, when it came time to sing I had a real crisis of confidence."
In the end, both Judd and her husband at the time weren't entirely happy with how she sounded in the movie. While her ex encouraged her to go back and try again, Judd accepted the results as they were. And luckily, it worked out for her. She was nominated for a Golden Globe for her role in the film.
Ashely Judd married Dario Franchitti in 2001
Ashley Judd met racecar driver Dario Franchitti at a wedding reception in 1999. USA Today reports that the pair were set up by friends, and Franchitti didn't know anything about Judd and her famous family when they met. They married two years later in 2001 in Franchitti's native Scotland, with News24 noting that Judd's sister Wynonna served as her maid of honor and celebrity couple Catherine Zeta-Jones and Michael Douglas attended the wedding.
However, the pair called off their marriage in 2013, issuing a statement to People that didn't go into detail about the split. As they put it, "We have mutually decided to end our marriage. We'll always be family and continue to cherish our relationship based on the special love, integrity, and respect we have always enjoyed."
As Bleacher Report has noted, during their time together Judd became quite the expert on racecars, often showing up at the track to cheer Franchitti on.
In 2006, Ashley Judd revealed she's an antinatalist
Ashley Judd has never had children, and it turns out one big reason for that is that she is vehemently opposed to the idea of anyone having biological children of their own when there are so many children in the world who are suffering or growing up in unsafe conditions. In her memoir, Judd revealed that she is an antinatalist (via The Focus).
She detailed her reasoning to The Free Library, saying, "It's unconscionable to breed, with the number of children who are starving to death in impoverished countries." Judd went on to add that she realizes her stance is a strong one, and she doesn't expect that a lot of people will agree with her — and she's okay with that. Furthermore, Judd said that it's possible she will change her mind about having children at some point, before adding that if she and her husband at the time did decide to have children, it wouldn't have been something they would have announced to the world anyway.
Judd sought mental health support in 2006
Ashley Judd was visiting her older sister Wynonna at the Shades of Hope Treatment Center when she began to realize that she might have issues of her own to confront and process. Counselors at the center agreed, and told Judd she could also stay at the center for treatment. Judd moved in, later telling Glamour that part of her sister's treatment is what spurred her to realize she too needed help. As she put it, family members of a person at the center are asked to quietly let the person in the center explain how various traumas have impacted them. While listening to Wynonna, Ashley says, "I found I was having traumatic responses to what I was hearing: I would get light-headed and almost pass out."
Judd went on to clarify that her addictions were "behavioral, not chemical," so it wasn't something that she would have sought help for on her own. She told Glamour that her concerns included "codependence in my relationships; depression; blaming, raging, numbing, denying and minimizing my feelings." Ultimately, she was able to walk away from the experience a stronger person, sharing that she learned that to be the best version of herself. "I have to feel all my feelings instead of numbing myself to them —and actually, when I allow myself to do that, they pass more quickly," she said.
She received her undergraduate degree in 2007
Ashley Judd originally dropped out of the University of Kentucky to pursue a career in Hollywood when she had only one course left to finish. While that was probably the right move, given she has gone on to enjoy a wildly successful career that might not have happened otherwise, Judd always wanted to finish up her degree at her original school. In 2007, she did just that when she graduated from the University of Kentucky with her Bachelor's degree in French (per Deseret News).
While she might have left school early originally, Judd credits her professors at the University of Kentucky for inspiring her to believe in herself enough to take that step. In an interview conducted a year before she graduated, Judd told the Lexington Herald-Leader, "I had the most extraordinary professors who encouraged me, believed in me — I can feel myself start to cry — and nurtured my gifts. It was the most pivotal, seminal moment of my life" (via Deseret News).
She published a telling memoir in 2011
In 2011, Ashley Judd added published author to her resume when she published her memoir "All That Is Bitter and Sweet." In the book Ashley didn't hold back while describing her troubled childhood, and, blessedly, her mother Naomi Judd stepped back and let Ashley tell the world her story as she understood it.
While some of the details Ashley included in the book — such as her accusation that her step-father and mother committed "covert sexual abuse" by having "a lot of loud sex in a house with thin walls" — had to be hard for Naomi to read and hear. Ashley's mother simply told Today, "I love my daughter. I hope her book does well." Ashley appreciated her mother's response, telling Today as much when she said, "I'm very grateful for my mother's exquisitely gracious attitude toward my right to share my narrative."
The Washington Post reviewed the book and noted several interesting takeaways, including that Ashley's ex-husband of over a decade is "almost missing in action" and seemingly less important than her pets. The publication also questioned Ashley's several chapters about her time at a treatment facility, ultimately noting, "It's to Judd's credit that she sought a way out of her depression and anger, even if one also hopes that she will someday learn to put her experiences in plainer English."
Judd suffered a horrific injury in the Democratic Republic of the Congo in 2021
Ashley Judd was on a humanitarian trip to the Democratic Republic of the Congo in 2021 when she suffered a fall that resulted in a catastrophic injury. Judd shattered her leg and then had to undergo a 55-hour rescue effort that was only made possible by the people who were nearby to help her. Ashley wrote about the injury on Instagram, sharing that things were very serious when she finally made it to the hospital. She wrote, "I arrived to them from DRC in terrible shape and my leg had no pulse. I desperately needed a blood transfusion. Their sisters (nurses) are exemplary, technically top notch, and they cared for the trauma in my body as well as my soul with equal proficiency."
Judd's father was able to help her recover, with Judd later sharing that Michael Ciminella flew to Johannesburg to meet her. As she detailed on Instagram, "I'm very thankful to all of the experts, including … my Pop, who is rubbing my foot to remind my foot while it still cannot move that it is connected to my body." Ultimately, Judd recovered from her injury and celebrated being able to hike 25 miles in January 2022 (per Instagram).
She lost her mother Naomi Judd in 2022
Country music fans around the world were stunned by the news that country music legend Naomi Judd had passed away on April 30, 2022, and no one was more devastated by Naomi's passing than her daughters Wynonna and Ashley Judd. In the weeks that followed their mother's passing, Ashley became the de facto family spokesperson for all things related to her mother's death.
In mid-May 2022, Ashley sat down for an interview with Diane Sawyer on Good Morning America and revealed that Naomi had died from a self-inflicted gunshot wound. After explaining that the family wasn't sure if they wanted to release that information at all, Ashley went on to speak about the severity of her mother's mental illness, and how she spent her last day.
Ashley said, "I visit with my mom and pop every day when I'm home in Tennessee, so I was at the house visiting as I am every day. Mom said to me, 'Will you stay with me?' and I said, 'Of course I will.'" When Ashley went upstairs to let her mother know that a friend had arrived to see her, she found her mother's body. As Ashley shared, "I have both grief and trauma from discovering her."
If you or anyone you know is having suicidal thoughts, please call the National Suicide Prevention Lifeline​ at​ 1-800-273-TALK (8255)​.