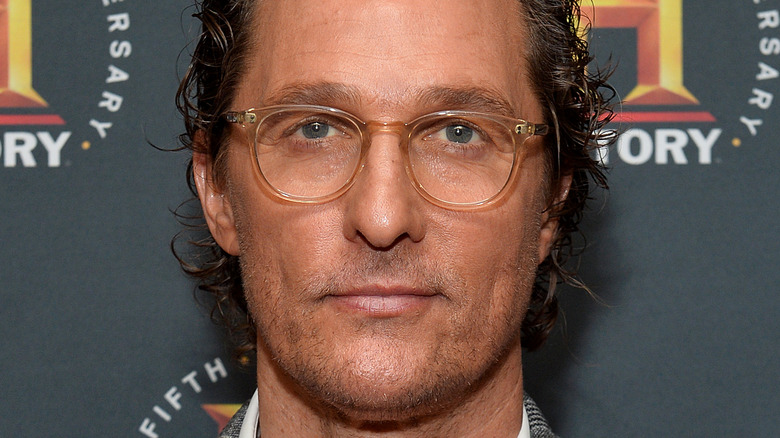 The following article includes mentions of child abuse and sexual abuse.
As one of the most recognizable faces in Hollywood, Matthew McConaughey's acting career has been full of ups and downs. "I was told after an audition with Kate Winslet, 'You pretty much got this role in "Titanic."' Then I didn't get it. Leonardo DiCaprio got it," McConaughey confessed to Parade. But despite missing out on one of the most iconic movies ever, McConaughey went on to appear alongside DiCaprio in "The Wolf of Wall Street." That year, he beat DiCaprio for that role in the best actor race at the Academy Awards: McConaughey earned his first Oscar for his performance in "Dallas Buyers Club" and delivered an amazing acceptance speech.
Outside of his films, the long-haired star is known for his cool and relaxed attitude. As Architectural Digest explained, his idea of a good time involves hanging out in a Malibu-parked Airstream trailer that's been personalized with some of the amenity comforts you might expect of an A-list actor. This mobile home allows McConaughey to explore the country on the road and is, as he said, "where I get some time with myself." This time alone is well-earned because in contrast to his easy-going vibe, McConaughey's real-life story is full of tragic moments. From his upbringing in Texas to dealing with death, life was not always alright, alright, alright for this movie star.
These are the tragic details about Matthew McConaughey.
Matthew McConaughey's painful incidents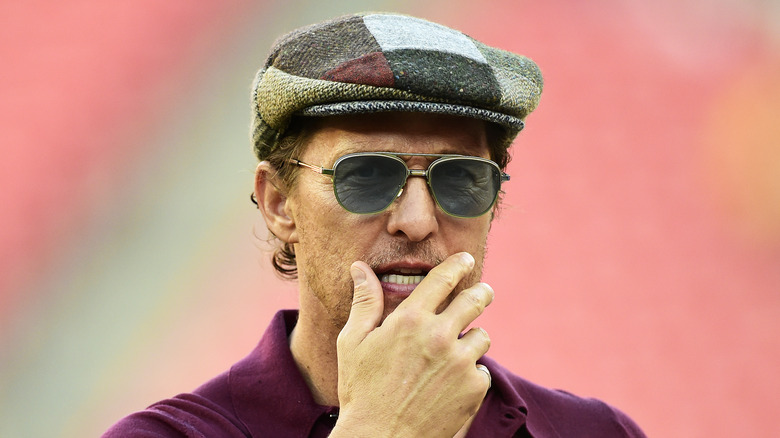 Matthew McConaughey's physical dedication to roles has impacted his body. Both he and Jared Leto dropped a lot of weight in preparation for their Oscar-winning performances in "Dallas Buyers Club," and these changes received a great deal of coverage. For McConaughey, he "chewed a lot of ice" on his way to dropping nearly 50 pounds, as he told the BBC. "I did it in as healthy a way as I found possible," he explained, thanks to help from a nutritionist. But previously, McConaughey injured himself while preparing for a film, and his UFC training in order to play a brawler in the comedy "The Grackle" went a little too far, People reported. Photos on X17 even surfaced of the actor with bandages on his face in 2007.
The physical toll on McConaughey has not just been from filming but personal activities, too. "I've had seventy-eight stitches sewn into my forehead. … I've had four concussions from falling out of four trees," the actor wrote in his memoir "Greenlights," as quoted by GQ. And how exactly did McConaughey get that scar on his face? "Nephew ran over me with a jet ski," he admitted to Parade. Fortunately, a doctor fixed the wound on the famous actor's face. But not the kind of physician you may have expected. "I got sewed up by a veterinarian," McConaughey revealed.
A bittersweet time abroad for the actor
As a teenager, Matthew McConaughey moved to Australia as an exchange student. During his time on the continent, the future star worked several varied jobs, such as an assistant golf pro, assistant to a barrister, bank teller, mechanic on a boat, construction worker, and photo processor, Us Weekly reported. The young man also weighed just 140 pounds, partly because his go-to supper tended to be a combination of ketchup with iceberg lettuce, per Parade. And McConaughey experienced the dangerous wildlife firsthand down under. "The brown snake. When I was here I almost stepped on one. I should have been bitten," McConaughey revealed to Today. "It went right through my legs and gave me bit of a scare."
During his stay, McConaughey stayed with the Crocker family on their farm outside of Sydney. He spent five months with the family, assisting with taking care of their horses while also attending high school, according to The Daily Telegraph. McConaughey would return to Australia to promote the film "How to Lose a Guy in 10 Days" years later but learned upsetting news at the time: Mrs. Eileen Crocker had fallen ill. Her husband, Mr. Noel Crocker, said that McConaughey "sent Eileen a cheerio" while she was in the hospital, which he noted "made her life so much more comfortable." Sadly, she died later in 2003 after McConaughey's visit to Australia.
How Matthew McConaughey lost a best friend
In 1994, "Angels in the Outfield" marked the big-screen gig that followed Matthew McConaughey's first movie appearance in the 1993 classic "Dazed and Confused." As Entertainment Weekly summarized, his small role in the star-studded baseball movie was just the beginning, as McConaughey quickly picked up additional parts. After his performance in "A Time to Kill," an emotional roller coaster of a courtroom drama, the actor "realized he was resigning himself to a life of never meeting 'a stranger' again," as Parade put it. According to McConaughey, he was surprised by the deeply personal details fans learned about him — such as his dog being diagnosed with cancer — and how they would talk to him about it. "How'd you know I had a dog?" the actor would be left thinking.
As McConaughey explained on a 2006 episode of "The Oprah Winfrey Show" (via Contact Music), he picked up that dog — a Labrador and chow mix named Ms. Hud — from a Tucson, Arizona pound back in the '90s. "We went on a road trip from California to Florida and back. She got diagnosed with cancer in Louisiana on the way east. We got her leg amputated on the way back," he detailed. After some fun times together, however, his dog sadly grew sicker, and the doctors said more surgery would be needed. McConaughey recounted the heart-wrenching moment when he asked, "'Ms. Hud, do you wanna be a one-legged dog?' And she looks up and she says, 'Let me move on, Pop,' so we let her move on."
He hit 'a rough patch' with his mom
The relationship between Matthew McConaughey and his mother, Kay McConaughey, has been through highs and lows. In Matthew's memoir, as quoted on "Red Table Talk," he called his mom "a true baller" and a hard-working woman who survived cancer twice. But the mother-and-son duo went through "a rough patch for about eight years right after I got famous," the actor revealed. After his first lead role in 1996's "A Time to Kill," Matthew considered that the moment he became a household name. "I started to have my weekly Sunday call home to call my mother," he explained, but noted that the person on the other end of the line was not who he remembered. "Mother wasn't answering the phone," the star continued. "A fan of my fame was answering the phone."
Matthew continued to share updates about his life with Kay as he tried to navigate new ground as a celebrity. But the same things that the actor would confide to his mother would sometimes "show up in the six o'clock news three days later." Like one time, Matthew turned on the TV only to see his mom leading a camera around his childhood home and telling private details about his upbringing. The movie star said he had to limit the conversations, and he confessed, "I was not able to talk to her as my mom for about eight years." But once Matthew felt stable in his acting career, he told Kay that she was free to tell any story.
No such thing as good enough for Matthew McConaughey
Based on his previous run-ins with the law and film credits, Bustle once dubbed Matthew McConaughey as "the ultimate celebrity hippie." For his first acting role in 1993's "Dazed and Confused," McConaughey famously played a pothead named Wooderson, The Guardian recalled, and he played an even bigger stoner in 2019's "The Beach Bum" called Moondog. It's perhaps surprising, then, that in complete contrast to these lazy characters on screen, the real-life McConaughey is highly driven. So much so that he's a perfectionist.
In an interview for The Guardian, the actor opened up about how he feels about his own career. "I've never done [a film] that's lived up to what I imagined it could be," he confessed. Included in that list is his Oscar-winning performance in 2013's "Dallas Buyers Club." "I've been a part of a bunch of films that I highly respect and really have a love for and think are great," the star clarified. "And I've done performances that I'm very happy with." Even so, none of this work has fulfilled his expectations. "And I don't think I'll do one that does," McConaughey added.
In his revealing acceptance speech at the 2014 Oscars, the actor explained that when he was 15 years old, he considered his hero as himself in 10 years' time. Then at 25, McConaughey's hero was himself another decade in the future. "I'm not going to attain that," he said. "I know I'm not and that's just fine with me because that keeps me with somebody to keep on chasing."
The movie star's parents were 'like a hurricane'
Matthew McConaughey grew up in Texas in a tough love household. In an interview on "The Tim Ferriss Show," the actor remembered the "very physical and oftentimes violent, loud relationship" between his father and mother. As a result, the couple's marriage was on and off, leading to three unions and two divorces. McConaughey further explained in an interview on the Facebook video series "Red Table Talk" that his parents' dynamic "was like a hurricane in the Pacific."
McConaughey also recounted his personal encounters with his parents. In "Greenlights" (via "Red Table Talk"), the actor wrote, "When I first threatened to run away from home, my parents packed my bags for me." For discipline, McConaughey's parents never grounded him but rather resorted to physical punishments, with the star recalling how his mom claimed of the former, "That would be taking your time away from you. And time is your most valuable asset." The actor further clarified on "Red Table Talk," "I never got injured. But I do remember the values I used that were instilled in me from butt whuppings."
If you or someone you know may be the victim of child abuse, please contact the Childhelp National Child Abuse Hotline at 1-800-4-A-Child (1-800-422-4453) or contact their live chat services.
As a teen, Matthew McConaughey was sexually abused
When Matthew McConaughey was just a teenager, he was sexually abused. In his memoir, the actor wrote, "I was blackmailed into having sex for the first time when I was 15," Us Weekly quoted. As a result of the incident, the teen lived with guilt, confessing, "I was certain I was going to hell for the premarital sex. Today, I am merely certain that I hope that's not the case."
The actor also revealed in "Greenlights" another shocking event that happened just a few years after. McConaughey wrote that he was "molested by a man when I was eighteen while knocked unconscious in the back of a van." After opening up about these experiences, however, McConaughey said, "I've never felt like a victim."
When Tamron Hall noted that he doesn't delve into specifics of these incidents in his memoir, McConaughey replied in 2020, "Ultimately, there's nothing that I feel is constructive about the details … that could be relatable to other people." He went on to say that he worried that the information would just become tabloid fodder. While McConaughey added that he doesn't identify as a victim, he did say that he had been "victimized in those two situations."
If you or anyone you know has been a victim of sexual assault, help is available. Visit the Rape, Abuse & Incest National Network website or contact RAINN's National Helpline at 1-800-656-HOPE (4673).
When a fun night landed him in jail
With Matthew McConaughey's increasing fame in the second half of the '90s, he became a tabloid mainstay, according to Esquire. Or, as the actor explained of that period, he was "wobbly for a while." The press followed McConaughey and his reputation "for partying, walking the beach shirtless, dating starlets, and having a good time." But McConaughey's party-hard ways landed him in hot water right before the new millennium.
In October 1999, police received a loud music complaint and subsequently arrived at McConaughey's home in Austin, Texas, where he was reportedly seen playing the bongos in the nude while a second man clapped and danced along, The Washington Post reported. As the actor remembered in his memoir (via Yahoo! Entertainment), "While I was banging away in my bliss, two Austin policemen also thought it was time to barge into my house unannounced, wrestle me to the ground with nightsticks, handcuff me and pin me to the floor." The police arrested the actor — who was 29 at the time — around 3 a.m. "on suspicion of possession of marijuana, possession of drug paraphernalia and resisting transportation."
Both drug charges were dropped, and McConaughey only spent that one night in jail. Perhaps undeterred by the high-profile bust, the actor later told Parade that he kept the drums that were partly responsible for the arrest and has continued to collect and travel with these instruments whenever he works.
Matthew McConaughey's devastating loss
In an interview with People, Matthew McConaughey remembered his childhood interactions with his father, James Donald McConaughey. "In having to say, 'Yes Sir,' to my father and his friends. And having to shake their hands and look them in the eye … I knew it was about respect for elders," Matthew recalled. "But one common denominator in my mind was, 'Oh, it's because they're fathers.'" This stuck with the actor, who is now a dad of three himself.
As Matthew navigated his life, he remembered the comfort in having his father around. "Oh, if I really get in a bind, I still got Dad. I still got pop. He's my safety net," he said on "The Tim Ferriss Show." In his memoir, as quoted by Vanity Fair, Matthew vividly remembered the moment his mother told him his dad died in 1992: "My knees buckled. I couldn't believe it. He was my dad." However, the actor explained that the tragic event ultimately helped him become a better person by looking at himself through a most honest lens, holding himself accountable when need be, and navigating the world more independently, saying on "The Tim Ferriss Show," "If he had not passed on … I would have had him as a crutch."
Meanwhile, in his 2014 Oscars acceptance speech, McConaughey spoke fondly of his father. "To you dad, you taught me what it means to be a man," he said.
A horrific tragedy hit close to home for the star
While America was left shocked and mourning by the tragic school shooting in Uvalde, Texas in May 2022, the event stung especially hard for Matthew McConaughey, the most famous native from the small town. As an open supporter of the Second Amendment, McConaughey explained in an essay written for the Austin American-Statesman that he thought new or updated rules needed to be implemented to prevent more senseless deaths to gun violence.
However, instead of focusing on gun control debates, which he argued usually went nowhere, the actor highlighted what constituted gun responsibility and how he believed firearms should exist in America. McConaughey then laid out four different policies that he felt would still allow for the Second Amendment while also incorporating safety measures to ensure gun tragedies would come to an end. "For ourselves, our children, and our fellow Americans — we have a duty to be responsible gun owners." he wrote. "… It's time for real leaders to step up and do what's right, so we can each and all just keep livin'."
Around this time, McConaughey further pushed for legislative action by speaking at the White House. Alongside press secretary Karine Jean-Pierre, McConaughey emotionally described how he'd driven straight to Uvalde with his children and wife, Camila Alves, to meet with the local community, which inspired his political action. "You could feel the pain, the denial, the disillusion, anger, blame, sadness, loss of lives, dreams halted," he said, later concluding, "So where do we start? … We start by making the loss of these lives matter."
The ups and downs of Matthew McConaughey's career
For a time in the 2000s, Matthew McConaughey seemed to hold the affection of moviegoers everywhere as the male lead in numerous romantic comedies. He had consistent onscreen work, and many actors would dream of being cast in such roles. However, McConaughey had a different entertainment path in mind and decided to start passing on all rom-com offers — ultimately putting his acting career at risk.
"In saying no to those things, I knew work was going to dry up for awhile. I still said no," McConaughey told Deadline in 2014. "No lasted six months. That stretched to a year, and still nothing came in. Year and a half, still nothing." Around this time, he even considered quitting acting altogether to work a more normal job, toying with the idea of being anything from a teacher to an orchestra conductor, as the actor revealed on "The Oprah Conversation" (via Entertainment Weekly). Finally, McConaughey began being cast in the types of dramatic roles he so desperately sought. The move culminated in the "Dallas Buyer's Club" star's best actor award at the 2015 Oscars, and this period was dubbed his "McConaissance."
But according to some critics, this big win was more of a peak than the start of something great for McConaughey. His 2016 films "Gold" and "Free State of Jones" were box office bombs, even with his dedication of gaining 47 pounds for the former, per The Guardian, while "The Sea of Trees" was poorly received during its debut at the Cannes Film Festival.