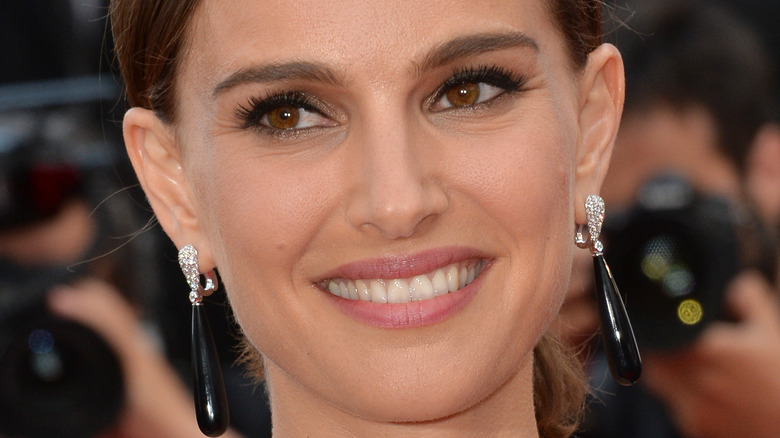 Onscreen, Natalie Portman has been matched up with some real pieces of work. There was the boyfriend who abandoned her pregnant character at Walmart in "Where the Heart Is," the killer king of "The Other Boleyn Girl," and the brooding Jedi who would become one of the galaxy's most sinister Sith lords in the second "Star Wars" trilogy.
Thankfully, Portman fared much better offscreen. However, the "Thor: Love and Thunder" star discovered there's a major downside to dating a fellow celeb. "You're double as interesting to the press and if you break up then you have to see their face all over the place, which is hard," she confessed to the Brisbane Times. But her dating history is not devoid of entertainers, and it's punctuated with her marriage to "Black Swan" choreographer Benjamin Millepied. Her romance with the choreographer and ballet dancer received the type of attention she wanted to avoid, thanks to a source who told Page Six that Millepied was living with a long-term girlfriend when he and Portman first got acquainted.
The couple avoided the heartbreak of any breakup headlines and tied the knot in August 2012, welcoming two children together. In 2016, Millepied offered some rare insight into Portman's personal life. "My wife is very much a smart normal person who spends time with her amazing friends from college. You don't see her running around to parties," he told The Guardian. But what do the other guys Portman has dated have to say about her?
Moby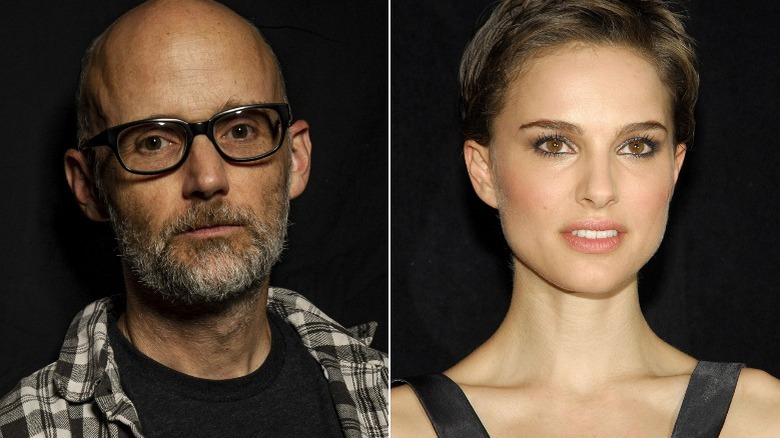 Oddly, a celeb Natalie Portman vehemently denied dating was one of her few rumored exes who couldn't stop talking about his apparently imagined relationship with her. In a 2008 Spin interview, Moby claimed he had a fling with Portman that made him the envy of "Star Wars" fans all across the galaxy. "You can't date Luke Skywalker's mom and not have them hate your guts," said the "We Are All Made of Stars" singer.
Moby also mentioned Portman in his memoir, "Then It Fell Apart." He claimed that he met her backstage at a show in Austin, and he shared his misinterpretation of their conversation. "I was a bald binge drinker who lived in an apartment that smelled like mildew and old bricks, and Natalie Portman was a beautiful movie star. But here she was in my dressing room, flirting with me," he wrote. He alleged that they dated and that he was relieved when the "Annihilation" actor broke things off.
Portman painted a much different picture of their interactions. "My recollection [of Moby] is an older man being creepy with me when I just had graduated high school," she told Harper's Bazaar in 2019. On Instagram (via BuzzFeed), Moby responded to the interview by insisting that they did date. However, he later deleted the post and issued an apology to Portman. Two years later, he told The Guardian that what he wrote was how he remembered their relationship.
Gael Garcia Bernal
"The Motorcycle Diaries" star Gael García Bernal and Natalie Portman were rumored to have started their on-and-off relationship sometime in 2003, per US Weekly. However, the couple reportedly called it quits one year later. The Sun (via the Irish Examiner) alleged that Portman had broken up with Bernal because he decided to attend the Cannes Film Festival with his parents instead of her.
Per Lainey Gossip, the couple rekindled their romance in 2006. While Bernal mostly kept his lips sealed about his feelings for Portman, he possibly gave her a sweet shoutout at the Berlin International Film Festival in 2007. According to Variety, Portman was in the audience when the "Old" actor said he considered an unnamed special someone his home. But by 2008, Bernal was expecting a child with his new love, actor Dolores Fonzi, per People.
One warning sign that the couple wasn't compatible in the long term was their different views on monogamy. Portman emphatically stated that she's an advocate of it in an interview with W magazine, while Bernal's feelings weren't as certain. "I can't say I don't believe in it, I just think that everyone has their own interpretation," he told Elle in 2014. But there's hope for fans who loved seeing these two together. In 2021, Bernal said he's open to working with Portman in the future. "I don't know, it would be fun," he told "Despierta América" (via Yahoo! vida y estilo, translated from Spanish).
Devendra Banhart
In 2007, Natalie Portman reached out to freak-folk troubadour Devendra Banhart to ask him to record a song for a digital album titled "Big Change: Songs for FINCA." The proceeds of the album sales went to charity, and the actor did something charitable for the musician to thank him for his contribution. In 2007, she appeared in the music video for his song "Carmensita" for free, per People.
While venting to Pitchfork about his record label filming music videos without his input, Banhart said, "With the 'Carmensita' video, I was too busy falling in love with Natalie [Portman] while making it to have any say." Luckily, he was pleased with the results of his collab, which cast Portman as a princess in a Bollywood fairytale. Banhart, meanwhile, was a heroic prince whose happy ending took a bizarre turn when he found himself with an octopus bride.
After their split in 2008, the singer-songwriter was more loose-lipped about Portman than some of her other exes. "I love Star Wars. But I don't entirely honor her films," the hirsute hipster told Spin in 2009. "I try to forget that the prequels exist, I really do. So we just avoided the subject for the sake of my mental state." Apparently, Portman forgave Banhart for disparaging her work. While describing his relationship with the actor to Vulture a few months later, Barnhart said, "She's one of my best friends. I love her super-much."
Jude Law
Natalie Portman and Jude Law first appeared together in the Civil War drama "Cold Mountain," and their working relationship became more intimate when they were cast as lovers in "Closer." However, it wasn't until they finished filming their third project together, "My Blueberry Nights," that they allegedly became more than co-stars. According to a 2007 Daily Mail report, Portman and Law were spotted deep in conversation at the movie's wrap party. "Jude thinks she's beautiful and they get along very well," an insider dished. Not for nothing, just a month earlier Portman had been spotted acting cozy with Gael García Bernal at Vanity Fair's Academy Awards after-party, per Lainey Gossip.
Neither Portman nor Law ever confirmed they were romantically involved, but their personal and professional chemistry is undeniable. The British actor has also had plenty of nice things to say about his frequent co-star. When they shared the screen in the 2018 drama "Vox Lux," Law spoke to ET Canada about their unique bond. "It's a funny intimacy that you have sometimes," he said. "It's very rare. You really share, on a personal level, a real care and a bond with someone."
Law kept the compliments coming during a Wired Autocomplete interview alongside his co-star. Upon discovering that "What did Natalie Portman invent?" was one of the commonly searched-for questions about the star, Law turned to her and responded, "I'm not surprised people thought you were possibly an inventor. You know, because you're smart."
Jake Gyllenhaal
In May 2006, a series of photos chronicled Jake Gyllenhaal's sweet gesture before he and Natalie Portman enjoyed a dinner date in NYC. Per the New York Post, he was photographed waiting to greet her with a bouquet of tulips. According to Pop Sugar, the actors' rumored romance didn't last long, but the actors remained close and even shared a kiss in the 2009 drama "Brothers."
When Gyllenhaal got the opportunity to pry into Portman's personal life for a 2009 Interview magazine piece, they had a nostalgic conversation about '80s toys and media. This prompted Portman to confess that she used to be terrified of Gargamel, the villain from "The Smurfs." "That's interesting because you seem so fearless," Gyllenhaal replied. "Looking at all these things that you've done and contributed to the world so far, I would have thought that the evil wizard Gargamel would've been something you could have very easily stepped over."
The pair became such good pals that they could get away with playfully ribbing each other in public. In fact, when Gyllenhaal presented Portman with an award at the 2011 Palm Springs International Film Festival, he turned his speech into a mini roast. "She's a vegan, which makes it really frustrating when you're picking a place to eat," he told the audience, per People. Portman was pregnant at the time, which was another attribute that Gyllenhaal drew comedic inspiration from, quipping, "Her child will probably need therapy after seeing Black Swan."
Andy Samberg
During their 2009 Interview magazine convo, Jake Gyllenhaal revealed that he was fascinated by Natalie Portman's fondness for filthy rap tunes. "You do incredible things for the world, and then you listen to just completely obscene hip-hop music," he said. As it turns out, she can also create it. When Portman hosted "Saturday Night Live" in 2006, she teamed up with Andy Samberg to record an expletive-ridden work of art titled "Natalie Raps." In it, she drops rhymes about sex, violence, and drug use.
The following year, US Magazine reported that Samberg and Portman were dating. Neither party addressed the rumor, but in a 2012 Playboy interview, Samberg did share the story of how Portman's ribald rap came to be. "We were skeptical because we thought of her the same way everybody else did. She seems so sweet and innocent," he recalled. "And then she broke into some Lil' Kim song and started rapping verses for us, the filthiest lines I've ever heard. We were completely taken aback."
Samberg and his fellow members of The Lonely Island teamed up with Portman again in 2018 for another dirty digital short, "Natalie Raps 2." This time, she rapped about giving birth, eating Tide Pods, and Jar-Jar Binks' anatomy. As game as she was, the "Brooklyn Nine-Nine" star told Vulture that she vetoed some of his lyric ideas. "I will say, she was in the right for wanting them changed. We are disgusting," he confessed.
Hayden Christensen
Even though viewers knew how it would end, Hayden Christensen and Natalie Portman worked hard to make their "Star Wars" characters' love story believable. In an effort to improve their onscreen chemistry the two hung out together when they weren't filming. The actor behind young Anakin Skywalker told BBC News, "There was a play to become comfortable with each other."
Apparently, it worked. In a 2002 interview unearthed by a fan site for the star, Christensen was asked, "Do you fall in love with Natalie just a little bit?" He replied, "You know, you have to a little bit if you're really going to believe yourself in the role." While speaking to Tulsa World in 2003, he didn't even try to pretend like he didn't enjoy shooting his intimate scenes with Portman. He gushed, "She's a real sweetie, and a good kisser. No, make that a fantastic kisser!" While a 2010 MTV News report claims that the co-stars may have dated in 2000, Christensen told the Evening Standard that the romance rumors were untrue, saying, "I don't think it's a good idea to date actresses." He would go on to date his "Jumper" co-star Rachel Bilson for 10 years.
The "Star Wars" prequels" weren't well-received by critics, but Portman got plenty of glowing reviews from her co-star. "[Natalie is] a really committed actress and a really nice person at the same time," Christensen told ET in 2002. "… [We] just got along really well."