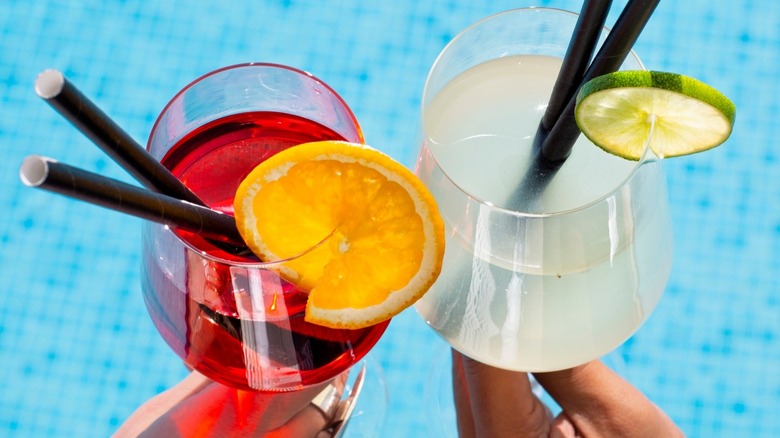 It seems fair to say that we don't look at mocktails or non-alcholic drinks the same way we used to. Thanks to phenomenons like Dry January, Sober October, and an overall trend of people drinking less, zero-proof spirits and moderation movements are evolving from simple market trends to full-blown lifestyles. Pretty impressive for a wellness category that was almost nonexistent just five years ago (via Forbes).
At the heart of all these booze-free products and creative concoctions is a practice of being more mindful: about what we're putting into our bodies, about the effects substances may have on us and those around us, and about what feels empowering versus punishing. We won't be the first to tell you that you don't have to struggle with alcohol addiction to want to drink less or stock your bar with some zero-proof spirits. With that in mind, we've pulled together a list of drinks that serve up that summer feeling without relying on booze — all of them sure to delight. (Swimming pools and beach towels sold separately, by the way.)
1. Tropical Pineapple Ginger Fizz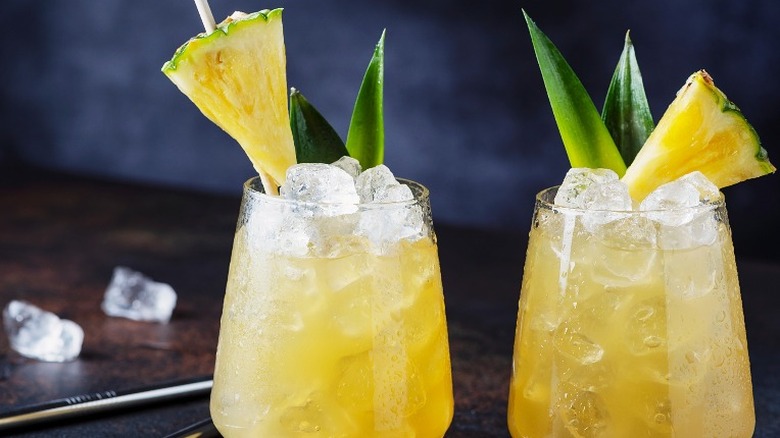 Move over, Moscow Mule. You won't need booze to enjoy the kick of ginger and fruit in this cup of summertime. Cup of Zest's Pineapple Ginger Fizz is the answer to the oft-heard criticism about mocktails, which is that they lack depth of flavor. A real match made in heaven emerges when the spicy kick of ginger bubbles meets the tart sweetness of the tropic's MVP, pineapple. There is nothing "one note" about this concoction. It doesn't hurt that pineapple helps reduce inflammation and that ginger is a gold-star digestive aid. No better time to work on your glow — inside and out — than while sunbathing at the pool.
Another myth mocktails like these are helping to bust? That non-alcoholic beverages are only for those who are sober. According to NPR, even before the pandemic hit, there was a growing trend among those interested in taking periodic breaks from booze (hello, Dry January!). Flash forward three years, and the phrase "sober curious" is now considered a bona fide health trend. As in, the more, the merrier. We'll cheers to that!
2. Strawberry Agua Fresca
You know you're in for a real treat when a drink on the menu translates to "fresh waters." You'll be delighted to know that you likely already have everything you need to whip up this popular juice: fruit, sugar, and water. Mindful Mocktail's strawberry agua fresca draws on the centuries-old Mexican tradition of blending seasonal fruits with sugar and lime. In the length of one summer afternoon, you can emerge victorious with a pitcher full of bright, sweet juice with a playful sour kick. We all know hydration is key, especially during the warm summer months. But we can't think of any finer way to dress up our water than with some strawberry and lime.
And if you're short on time but craving an agua fresca nonetheless, you might give Agua Bonita a try. Started during COVID by friends Erin PonTell and Kayla Castañeda, this canned agua fresca option is inspired by both women's cultural heritage and experience in the beverage industry. Vibrant flavors made from real ingredients inside a pretty can? Can't get much better than that this summer.
3. Easy Breezy Peaches & Cream
You don't need tequila to enjoy the frozen flavors of summer, that's for sure. This Peaches and Cream mocktail by Cook At Home Mom is like sipping on a pie without the crust. And with just three ingredients, there's no reason to hesitate! You can still have your dog day afternoon after whipping up this quick, delicious substitute for alcohol. These kinds of fun, inventive drinks do not require you identify as "sober curious" or even "sober sometimes." The only prerequisite is a thirst for a classic summer treat.
Regardless of your personal relationship to alcohol, for $1 per serving (give or take), you can whip up a frosty treat with peaches — or substitute another seasonal fruit you love. That means more money for summer adventuring, whether that's 'round the fire pit with your family, in the grandstands at a baseball game, and everything in between. Did we mention this recipe is keto-friendly, too? Take it from us, this vegan mocktail will pair oh-so-nicely with your favorite lawn chair and a beautiful sunset. Time to kick back!
4. Ghia's I Love Yuzu
Yuzu may not be one of the more well known citrus flavors of summer, but it's a great excuse to try Ghia, a Mediterranean-inspired zero-proof apertif. Yuzu, a Japanese citrus fruit, is incredibly aromatic and makes a tasty sour juice that can be found for purchase in most Korean or Japanese grocery stores. Yuzu juice is in a delightful duet with Ghia's botanical non-alcoholic aperitif in the brand's I Love Yuzu mocktail recipe that's big on flavor and small on fuss. It's as easy as a mix, splash, and stir.
According to Instacart, brands like Ghia that sell non-alcoholic spirits are part of a very successful trend in the booze-free business. Non-alcoholic spirits have seen 203% growth since April 2021 — far and away the most popular non-alcoholic category for consumers. Glossier alum and Ghia founder Melanie Masarin used memories of her grandmother as inspiration when it came to defining Ghia's flavor profile, all with the goal of bringing "more intention to drinking, in the same way there's intention to enjoying a great meal" (via Vogue). So whether you're taking a pause from drinking, in recovery, or just wanting to avoid an ill-timed hangover, brands like Ghia are helping to make your choice to reduce alcohol intake more mainstream with each passing day.
5. Pretty in Pink Rose Lemonade
Alcoholic bevvies are not the only gorgeous drinks in town this season! Carry this Pink Rose Lemonade by Mindful Mocktail in hand and we can almost guarantee your friends at the BBQ will be begging for a taste. And before you let the rose petals intimidate you, know that this recipe is as simple as can be. In other words, no bartending experience required.
Summertime is, unsurprisingly, full of invitations. Social calendars can fill up before the summer solstice even arrives. It's always a good practice to have booze-free options at gatherings, and it's an even greater skill to learn how to level up your hosting without alcohol being at the center of your menu (via Forbes). This Pink Rose Lemonade definitely has the pizazz needed to catch the attention of your party-goers and their tastebuds. In a 2020 poll, Gallup reported that fewer Americans are drinking alcohol. 60% of American adults reported drinking alcohol, and though that remains the majority of our population, 40% of non-drinking Americans is no small slice of pie. Let that be your summer inspiration to focus on Insta-worthy drinks that don't need booze to punch up the charm!
6. Watermelon Frozen Slushie
What summer is complete without watermelon? Fix your melon up as a slushie, and you are truly conquering adulthood, one sip at a time. (Frosé is so 2016, anyway.) Next time you receive an invitation to a backyard BBQ, pile your freezer up with some fresh watermelon, strawberries, and lime, and bust out that blender that's growing cobwebs on the kitchen counter. Savor the Flavour's slushie mocktail will remind you and all your friends why watermelon is such an iconic summertime flavor.
Still need a little motivation to get that blender whirring? Peak watermelon season is nearly here, kicking into high gear in July and August in North America (via Simply Recipes). That means your grocers and local farmers market will be stocked with the freshest and juiciest fruit on offer. Did we mention this melon slushie can be made ahead of time to have at the ready for any watermelon cravings or thirsty visitors who may stop by? No more spoiled fruit! So what are you waiting for, Harry Styles to croon you a note or two?
7. Big & Bold Mangonada
You won't miss the booze in this adventurous mango treat. Vibrant colors and flavors combine for a frozen bev that will have your tastebuds hoppin'. Originally found among Mexican street vendors, this sweet-sour-and salty slushie is just what summer ordered. And if you don't live near a Mexican food truck or grocer, there's no need for FOMO: Muy Delish has an easy breezy recipe for this chili-spiced mango treat, including DIY versions of Tajin and Chamoy, popular Mexican condiments featuring chile peppers, lime, and sun-dried fruits.
The star of the show here is M-A-N-G-O, not only a tasty fruit but a healthy ingredient that offers 67% of your daily vitamin C (via India Times). "So what?" you might wonder. For starters, Vitamin C is a heavy-hitter antioxidant when it comes to skin health. We're talking a dewy glow (not sweaty mess) and anti-aging properties. You won't find any such offerings in, say, a hard seltzer. Mango, the summer fruit to rule them all, makes this exotic treat a perfect opportunity to practice eating chile with fruit, too. An unusual tropical pairing, but one with high, high reward!
8. Spiritless Mint Whiskey Smash
Alcohol-free whiskey may sound risky, but the payoff is huge when paired with lemon, mint, and heaps of crushed ice. You know the faux-distiller Spiritless Kentucky 74 is doing something right when the Southern giant Garden & Gun praises their mixology. This alternative Whiskey Smash using the brand's non-alcoholic whiskey draws on all the familiar, bright flavors found in its alcoholic counterpart with none of the burn that traditional bourbon adds — but you're more than welcome to throw on a derby hat before you bust out the pitcher.
Three gals from Kentucky dreamt up the booze-free brand (take that, bourbon industry!) and they even suggest using Spiritless 74 as a partial substitute for bourbon, reducing the alcohol in a given recipe as a gift to your future self. We're talking better sleep and feeling more clearheaded — just a few benefits of scaling back your drinking. And Spiritless 74's founding women know a thing or two about what it's like to strike out against tradition and try new, sometimes unpopular ideas — and just look where they've landed! We love a good dose of inspiration to try new things.
9. Rosemary Rhubarb Mocktail
We say rosemary, you say rhubarb! Rosemary! Rhubarb! Fans of tart and savory pairings need look no further than Allianna's Kitchen for their bubbly fix. It's almost too pretty to drink — almost. And what makes this mocktail so winning, in our opinion, is that it's not trying to mimic the exact flavors of a boozy counterpart. The flavor profile afforded by the rhubarb's sour notes and the herbaceous addition of rosemary really do make for an adventurous taste bud experience.
Speaking of tastebuds, what even makes a good mocktail, anyway? Ironically, a good person to ask is a bartender — yes, the same folks whipping together alcoholic concoctions. And believe it or not, more goes into this mixology than just removing the booze. Lola Hushin, head bartender at Getaway in Brooklyn, told VinePair, "I think what makes a compelling non-alcoholic cocktail is that it has the ability to slow you down while you're enjoying it. It has to have an element or two which gives it a certain strength of flavor and texture and differentiates it from something like juice." Rhubarb and rosemary certainly lend complexity and creativity. The options are endless, really!
10. Wilderton's Rise & Shine On Cold Brew
The only buzz you'll get from this drink is sweet, sweet caffeine. For those adventurous coffee drinkers, Sunset has a great coffee mocktail that would be a stellar addition to Sunday brunch with friends. Wilderton, a botanical zero-proof spirit, brings notes of smoke and spice to this refreshing take on an iced cuppa joe garnished with orange bitters and grated cinnamon. You could even whip up a caffeine-free batch of this cold brew to really wow the crowd without piling on any extra jolts.
Reimagining your relationship to alcohol can look a variety of ways, that much is clear. The physical benefits of putting down a drink — both in the short term and long run — are varied too. Feeling better is a given, but did you know that, according to GoodRx, not drinking alcohol also contributes to more stable moods, increased energy levels, improved digestive function, and healthier immune systems? Sounds like an unstoppable combination to us. Who's ready to seize all the summer days?
11. Seedlip's Clementine MiNOsa
A perfect addition to your weekend brunch plans, Seedlip's reimagining of the mimosa stars clementines as the citrus of choice. You won't miss the booze or the oranges in this fresh glass of summer. And just like the traditional mimosa, Seedlip promises easy fixin'. For this zero-proof fare, combine soda water (bubbly!), clementine juice, and Seedlip's own Grove variety — a complex spirit that borrows flavors from bitter and blood orange, lemongrass, and ginger among other ingredients. This mocktail comes together faster than it takes to set up your beach cabana.
You can almost guarantee that you'll come across more than one social gathering this summer where folks are drinking alcohol. But if you're trying out a new lifestyle choice or just not feeling up to drinking that day, there's something to be said for being able to stick to what you like and not have to sacrifice taste or fun when it comes to enjoying a booze-free time with friends or family. This mimosa alternative offers exactly that, so it's a win-win!