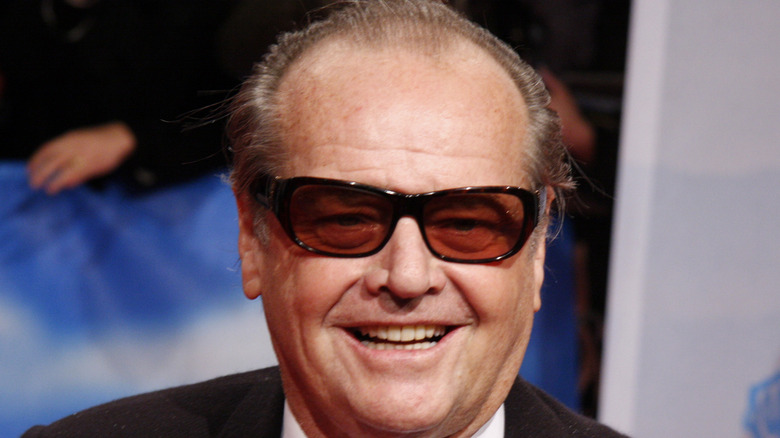 Jack Nicholson will go down in history as one of the greatest American actors. For seven decades, the New Jersey-born actor has dominated the silver screen, turning in bravura performances in films such as "Easy Rider," "The Shining," and "One Flew Over The Cuckoo's Nest," among others. According to IMDb, he's won three Academy Awards and has been nominated 100 times for other industry awards, including 86 wins.
However, over the years, Nicholson has kept details of his personal life close to the vest. That's all well and good for a respected celebrity of his caliber, as many others like him have chosen to do the same. However, the lid he's kept on his personal life was opened slightly in the 1970s, thanks to some digging by a Time magazine reporter, and it was revealed to Nicholson, and the whole world, that the actor's family was not at all what he thought it was.
The 1930s were a different time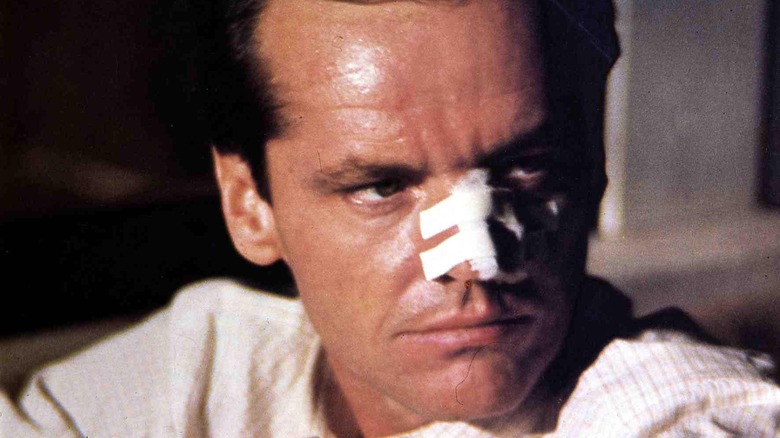 Jack Nicholson was born on April 22, 1937, in Neptune, New Jersey, according to Biography, and grew up in the Jersey Shore city of Manasquan. His parents — at least, the two people who he thought were his parents — were John and Ethel May Nicholson. The young lad grew up with his "parents" and with June, 17 years his senior, whom he believed was his much older sister, and another "sister" (actually his aunt), Lorraine.
As it turns out, however, June had gotten pregnant and wasn't sure who the father was. These days, teen pregnancy is handled with a bit more care and is discussed a bit more openly than it was nine decades ago, and indeed, Jack's grandparents decided to raise the boy as if he were their own son, not their grandson, and never tell him the truth. June and Lorraine agreed, and Jack grew up with his mother and aunt acting the part of his sisters.
According to Showbiz Cheat Sheet, the family eventually moved to New York City and the townsfolk promptly forgot about any rumors.
Moving to L.A. with his "sister"
June was an aspiring actress, according to Biography, and by the time her "brother" was 16, she had moved to L.A. to chase her dreams. Jack had finished high school with good-enough grades to get a partial college scholarship but he was directionless and uninterested, preferring to bet on the ponies and pick up a few shifts as a lifeguard.
In 1954, Nicholson decided to follow his "sister" to L.A., where she had an apartment. By this time a mature, muscular and attractive young man, he tooled around in a couple of odd jobs before a local MGM producer took notice, and by 1958, Nicholson was appearing in low-budget horror movies, something he would do until his big break in 1969's "Easy Rider," which cemented him as a capable, dramatic actor and leading man.
June, meanwhile, didn't have the success her "brother" did, and she died in 1963 when Jack was 26 and June in her mid-40s.
A Time Magazine reporter spills the beans
By 1974, the 37-year-old Nicholson was one of the biggest stars in Hollywood, and as part of the publicity for his then-upcoming film "Chinatown," Time magazine decided to do a feature story on him. As InStyle reports, when the researchers were looking into Jack's childhood and parentage, they came across some facts that didn't add up with the narrative that Jack had been providing. His father wasn't dead, but was alive and well, and his sisters were actually his mother and his aunt. Nicholson found all of this out when the researchers called him on the phone to ask for clarification.
Jack called his brother-in-law to get some answers. "Shorty, this is the most f*cked thing I've ever heard. A guy calls me on the phone, and says that my father is still alive, and that Ethel May wasn't really my mother, that June was my mother," he purportedly said.
Eventually, Shorty and Lorraine, who was still living, confirmed the details, and the jig, such as it was, was up.
Jack took the news surprisingly well
These days, commercial DNA testing is ubiquitous and relatively inexpensive, and just about anyone can find out about their ancestry via a company that does most of the groundwork for you. Unfortunately, that testing has led to family secrets being revealed, and as The Brainy Penny notes, more than one family has been destroyed after decades-old lies about paternity and maternity have come out into the open.
However, when Jack Nicholson found out that he'd been lied to about his parentage, he was more relieved than anything else, according to Biography. For one thing, he was an adult man — and "pretty well psychologically formed," as he described it. For another, the revelation provided clarity, not confusion. "As a matter of fact, it made quite a few things clearer to me. If anything, I felt grateful," he said. Further, according to InStyle, he was actually impressed with his family's ability to keep a secret for so long. For a time, Nicholson would refer to June as his "sister-mother," but eventually just stopped publicly talking about her.
Who was Jack Nicholson's father?
When Jack Nicholson found out that the man whom he thought was his father was actually his grandfather, he was apparently content to leave it at that. According to Biography, he had no interest in getting his paternity tested.
Meanwhile, a man named Don Furcillo-Rose has claimed to be Nicholson's father. Indeed, it's believed that Furcillo-Rose and June were in a relationship at the time. According to Showbiz Cheat Sheet, Furcillo-Rose was keen to marry June, but was married at the time and trying to get a divorce. Ethel was having none of the whole situation and simply told Furcillo-Rose to hit the bricks.
However, Radar Online claims that Nicholson's father was actually bandleader Eddie Kirschfeld, who performed as Eddie King and who was June's manager. Because King would have faced deportation if it was revealed that he'd impregnated an underage girl, June lied and claimed Furcillo-Rose was Jack's father.