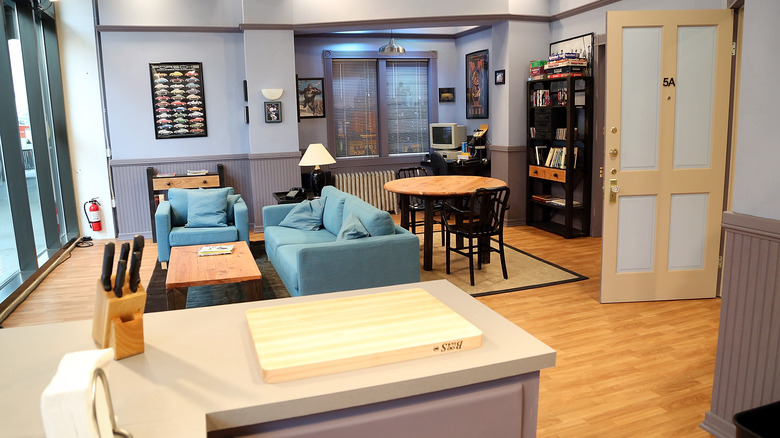 Between zombie apocalypses and medical miracles, we see plenty of unrealistic things on television. But one thing that beats all of these TV tropes are the luxurious apartments and living spaces featured on almost every show. It seems like all of our favorite characters live in sumptuous pads in the center of the city's trendiest neighborhoods — even as underemployed, 20-somethings. Their homes features everything from open-air kitchens and exposed brick to working fireplaces and high ceilings. If you've ever lived in an urban metropolis, you know just how hard it is to find even one, let alone all of these amenities in an apartment on a budget.
TV production designers have been setting unattainable apartment goals for decades, as noted by Apartment Therapy. Apart from the unbelievable size and cost of television living spaces, there are also unrealistic floor plans and layouts that couldn't possibly exist in real life. (We're looking at you, Jerry Seinfeld's hallway.) Here, we've rounded up the top most unrealistic TV apartments and homes that just don't make any sense.
How could Monica afford her apartment on Friends?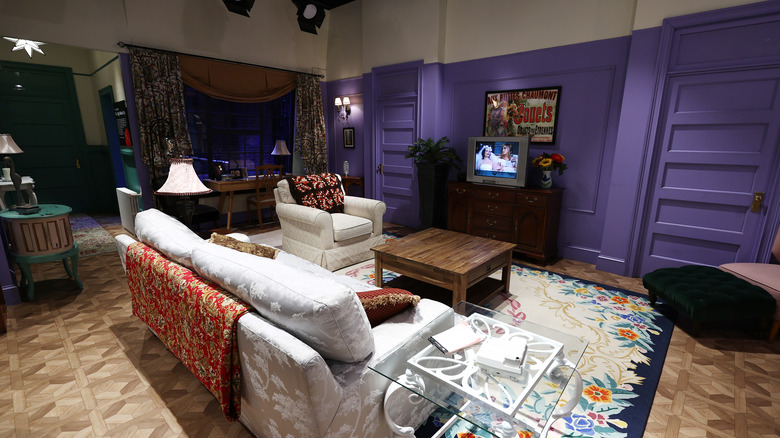 Monica Gellar's apartment on "Friends" is one of the most recognizable and iconic living spaces to ever grace television screens. The show follows the lives of six 20-somethings as they navigate love, relationships, and careers in New York City. In the space of 10 years it became one of the most beloved TV shows in history. Set largely in Monica's two-bedroom West Village apartment, the cozy living space was as much a character on the show as the six friends. The gathering space is bursting with personality, from the lilac walls to the vintage posters and second-hand furniture.
Despite this, the apartment is one of the most unrealistic parts of the show, per Time. According to Free Tours by Foot, Monica's apartment is located in an area of Greenwich Village with rental prices averaging $3,500 for a studio apartment. Considering that Monica is a struggling chef and her roommate Rachel is a waitress in the early seasons, it all seems a little too good to be true. The The New York Times does note that rents fluctuate by neighborhood, but even with varying prices the "Friends" gang would be priced out of their not-so-humble abode.
Jerry Seinfeld's apartment defies the laws of physics
As one of the most famous New York City apartments of all time, Jerry Seinfeld's 129 W 81st St. apartment is instantly recognizable. From the bike hanging on the wall to the sports posters, the living space is filled with familiar decorations. It served as the main hangout spot for Jerry, Elaine, Kramer, and George over the course of the nine seasons, as well the fans watching along.
However, the home wouldn't make any sense in the real world. Yada yada yada. As pointed out by Esquire, the hallway outside the apartment would run through Jerry's kitchen. Since the front door is at an angle, the hallway could not possibly extend to the right. This is a case of an oddly shaped apartment designed for television studio audiences that defies the laws of physics!
While we could just suspend our disbelief and accept the apartment for what it is — a television set — there are also other strange gaps in logic. For one, there's the hot tub in Kramer's apartment. And then there's the fact that Jerry would unlikely to able to afford the Upper West Side location on a comedian's salary.
Carrie probably couldn't afford her pad in Sex and the City
Carrie Bradshaw's Upper East Side apartment is pretty amazing. From the famous front entrance steps to the dreamy walk-in closet, her glamorous lifestyle in "Sex and the City" is the envy of many viewers. In the series, Carrie lives in a rent-controlled apartment at 245E 73rd Street — an address that doesn't actually exist. While the outdated kitchen and odd layout were meant to evoke a bohemian artist vibe, only a fairly successful artist could afford the apartment in reality. Carrie supposedly pays just $700 a month, but in today's standards, an apartment of its size would cost around $3,000 a month, per Fancy Pants Homes. The average columnist today makes $52,000, which would place Carrie's income close to $38,000 in the late 1990s and early 2000s. Given Carrie's shoe addiction and penchant for designer fashion, her living situation becomes even more unrealistic.
Apart from the questionable finances associated with Carrie's apartment, there's also a few other inconsistencies – namely, a bathroom window that constantly shifts in location and size and visitors who make it up to her front door without being buzzed in.
The Big Bang Theory apartment has an odd floor plan
"The Big Bang Theory" follows the adventures of quirky physicists Leonard and Sheldon, along with Penny, their neighbor across the hall. Their apartment might be the center of the action on "The Big Bang Theory" over the course of 12 seasons, but it doesn't make much sense. By looking at the floor plan of the apartment, you can see that the rooms avoid right angles. The sheer size of the open concept space is also unrealistic. While it might not be noticeable when watching the show, the detailed floor plan created by Clarendon Serviced Apartments shows just how strange the layout actually is.
Another odd thing to note about the living space is that there was a doorbell no one ever used. Additionally, it seems like the other apartments on the floor are missing. According to the number of mailboxes in the lobby, there should be at least four apartments on the fourth floor. But, they never appear in the series. Perhaps Sheldon scared them away?
The loft on New Girl would be impossible to find
"New Girl" follows adorkable Jess as she moves into a hip downtown L.A. loft shared with three male roommates after a break-up. There's Nick, an intelligent bartender and writer, Schmidt, a marketing professional, and Winston, a former athlete. As a young, low-salaried art teacher, Jess lives in an apartment with remarkable square footage, along with sprawling open living spaces and quirky design touches.
As reported by Curbed, finding a gargantuan Arts District apartment like the one featured in "New Girl" with four separate bedrooms is literally impossible. Other amenities such as the wood floors, rooftop access, laundry room, exposed brick, and industrial-style paned windows would place the rent around $4,500. The exterior of the building is the Binford Building at Traction and Eighth, where one-bedroom lofts go for about $2,159 to $3,191 a month, per IAmNotAStalker. Given that the "New Girl" loft includes four bedrooms, it's highly unlikely that the roommates could afford this warehouse-style space (even if they split the rent).
The apartment on Sherlock has an odd layout
Set in 21st century London, "Sherlock" shows eccentric detective Sherlock Holmes solving murder mysteries with the help of Dr. John Watson. Sherlock's dark and cozy apartment looks like an extension of his personality, complete with a roaring fireplace, comfortable furniture, and bookcases filled to the brim. But while the apartment might look cozy, a floor plan from Clarendon Serviced Apartments shows the awkwardness of the flat's layout. Sherlock's bedroom and bathroom are located on the other side of the kitchen and dining area, meaning guests would have to walk into his bedroom just to use the toilet. Watson himself is shown in his dressing gown with a towel after showering in the episode "The Reichenbach Fall."
Another strange detail about the 221B Baker Street apartment is that no front door is shown. It appears that neither Sherlock and Watson use a key after going past the building's main front door. Hopefully this mystery is next on Sherlock's case list.
How do the 2 Broke Girls pay their rent?
After disgraced heiress Caroline starts working at a greasy spoon diner with street-wise Max, the two girls strike up an unlikely friendship. Max allows Caroline to crash on her couch and the two eventually become roommates. The apartment features a living room with an open kitchen, a bedroom, and a bathroom with a bathtub.
While the series was undoubtedly a fan favorite during its six seasons, some things just don't add up. Even though the girls are supposedly broke, the rent for Max's one-bedroom Williamsburg, Brooklyn apartment would be between $2,000 to $3,000 a month, per an agent from Caliber Associates (via Gothamist). While Williamsburg is portrayed as a seedy area on the show, in reality it is one of the most happening neighborhoods in New York City. It's pretty hard to believe that Max and Caroline could afford such a spacious apartment on their diner paychecks, let alone the massive front yard space where Caroline keeps her horse, Chestnut.
Frasier's condo is worth a pretty penny
A show about two psychiatrist brothers, "Frasier" was ridiculously popular during its run from 1993 to 2004. While watching the show, one of the main questions that comes to mind is: How on earth does Frasier afford this apartment? His luxury Seattle high-rise is undoubtedly swanky (hello Space Needle views) and filled with pricey decorations like an Eames chair, a Le Corbusier lamp, and a Chihuly vase.
Could the three-bedroom, three-bathroom condo be too good to be true? According to Curbed, Frasier's apartment in 2018 would be worth around $3 million. Seattle realtors estimate the high-rise was worth near $1 million back in 1993. By looking at the average salary for a psychiatrist at that time and Frasier's work history as a radio host, GQ reports that the apartment's mortgage would be simply untenable on his income — unless he invested in Microsoft.
In addition to the condo's price tag, it faced criticism from interior designers who had a thing or two to say about the furniture layout, per Insider. Specifically, they did not like the bland color palette and how the couch faces away from the fireplace.
The layout didn't make sense in How I Met Your Mother
During its nine-season run, "How I Met Your Mother" was something of a cult classic. While it took a long time for viewers to discover the identity of Ted Mosby's wife, it was undoubtedly worth the wait. On the show, Ted's apartment functioned as the main gathering space for the gang of friends. With exposed brick walls, a working fireplace, and cozy furnishings, the apartment was filled with character. However, interior designers don't see any sense in the layout, as the fireplace should be the focal point of the room. If the furniture were rearranged, the living space would become way more functional.
In terms of cost, the Upper West Side, two-bedroom apartment is estimated to be around $3,395 per month in rent, via Insider. While Ted might be able to afford this on his architect salary, it's likely he would be a bit cash strapped, especially during the times he lived alone or was unemployed.
Felicity has a seriously swanky dorm room
NYU dorms have never looked better than on "Felicity," a show chronicling the college experiences of Felicity Porter, a teenage girl who moves to New York City from Palo Alto, California. Felicity attends the University of New York on the series, which is based on real-life New York University. Between seminars with bearded professors and stress-inducing final exams, Felicity is running in and out of her dorm room. She decorates this living space with ultra-cool pieces and never has to deal with a noisy roommate.
The living spaces on this show make it seem like brick-exposed, spacious lofts are attainable for unemployed college students, which is far from the truth. Most of the filming took place at USC in California, as reported by Gothamist, which might help explain why the student dorm rooms are unbelievably luxurious and spacious. In addition to the unbelievably large space, there are also unrealistic architectural features like bay windows with window seats and hardwood floors, as noted by the Chicago Tribune.
Will & Grace's New York pad would not come cheap
Set in New York City, "Will & Grace" depicts the lives of Will Truman and Grace Adler, two best friends sharing an apartment together. In the show, their awesome living space features an outdoor area, spacious living room, Central Park views, open-plan kitchen, and private bathrooms, along with a classic fireplace and alcove (via People). Grace worked her interior designer magic on the apartment, making it the coolest place for the friends to hang out.
In what may come as a surprise to no one, the gorgeous Upper West Side digs come with a steep price tag. According to Trulia, the two-bedroom, two-bathroom space, which was located at located at 155 Riverside Drive, is estimated to cost $5,940 per month in rent. Although Will makes a killer living as a high-powered attorney, Grace's modest interior designer salary would make it unlikely for her to share the enormous apartment, unless Will is paying a larger portion of rent.
Liz Lemon's 30 Rock apartment is super expensive
There are few reasons to be jealous of Liz Lemon on "30 Rock," apart from her beautiful apartment. Located on the Upper West Side at 160 Riverside Drive, Liz's apartment is perfectly cozy and comfy. It has two bedrooms, a working fireplace, and even original moldings. However, given the expensive neighborhood, Liz would probably be hard-pressed to afford the apartment in real life. While she does have a high-paying job at NBC network series TGS, the show has questionable popularity. According to Curbed, a two-bedroom at Liz's address is worth about $2.8 million. Although not impossible, it seems unlikely that a NBC writer could pay close to $10,000 a month in rent for an apartment of this caliber.
However, the price tag is just the tip of the iceberg. The most unrealistic aspect of Liz's apartment is how clean it is. Given her messy workspace and personal life, there's no way her home is so pristine.
Hey Arnold! shows the swankiest bedroom of them all
No other 9 year old has a room as cool as Arnold's from "Hey, Arnold!" on Nickelodeon. In the show, which aired from 1996 to 2004, Arnold lives in a fictional city that closely resembles Brooklyn, New York. He is a sweet kid with a football-shaped head, navigating the highs and lows of growing up with his fourth grade friends Helga G. Pataki and Gerald.
Arnold lives with his grandparents who run a boarding house and occupies the biggest room on the top attic floor, as noted by The Oxford Comma. The room is made entirely out of glass windows and controlled by a remote control, including the lights, alarm clock, and pullout wall sofa. Inside, there's a water cooler, a computer, and storage shelves built into the wall. The space is only accessible by ladder, and features an amazing view over the city. Although Arnold pays $0 in rent, arguably no other TV bedroom comes close to being as amazing. It seems highly unlikely that a child would get to live in such an impressively designed space, but if anyone deserves it, it's Arnold.