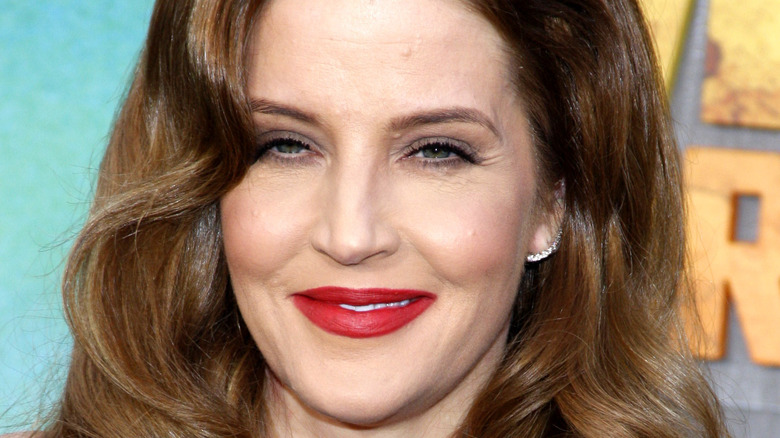 The following article includes references to suicide and drug use.
Lisa Marie Presley was born into legend. As the only child of Elvis and Priscilla Presley, she has lived a life that has really included it all: complication, loss, love, death, beauty, and an overwhelming desire to live and create music.
Of course, that doesn't mean that things have always been easy for Lisa Marie. She has been married and divorced multiple times and is the mom to four children, twins Harper and Finley Lockwood, daughter Riley Keough, and son Benjamin Keough, who sadly died in 2020.
Throughout it all, Lisa Marie has fought to have her story told in a way that is honest, powerful, and true to who she is. Here is a detailed look at what you might not know about Lisa Marie Presley — from her time growing up at Graceland in Memphis, Tennessee to her own career as a singer and everything in between.
Lisa Marie Presley is a former Scientologist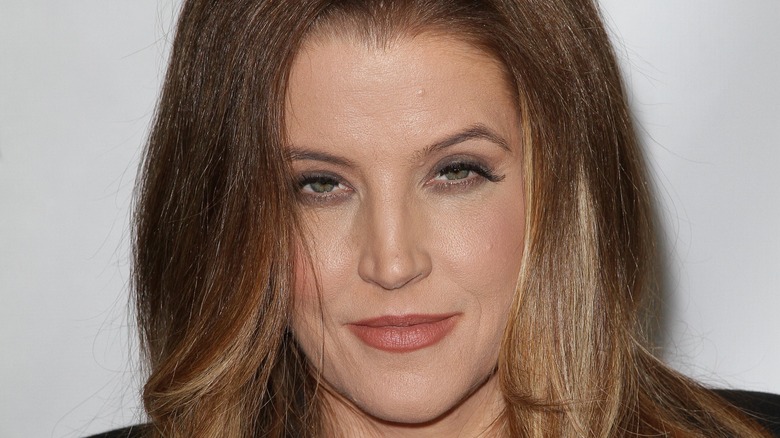 Lisa Marie Presley's mother Priscilla Presley became a member of the Church of Scientology when her daughter was only a small child. Lisa Marie mostly grew up with her mother in Los Angeles, spending time with her dad in Memphis, Tennessee, until his death in 1977. She was an active member of the Church of Scientology until 2012, when she reportedly decided to leave the church (via Time).
The move surprised some at the time; after all, the Church of Scientology still boasts a quote on its website from Lisa Marie in which she credits the movement with helping her quit drugs. It reads in part, "Were it not for Scientology, I would either be completely insane or dead by now. I am forever grateful for the technology of Scientology and to Mr. Hubbard who dedicated his life to helping man and this planet, as well as to the people who have dedicated their lives to helping others through Scientology."
Lisa Marie didn't issue an official explanation for her departure, though some pointed to song lyrics and unpublished interview quotes as indicators that she had grown jaded by the faith (via Dame Magazine).
Lisa Marie Presley has been married four times
There are a lot of things you can say about Lisa Marie Presley, but you definitely can't say she doesn't believe in love — or at least, in trying very hard for it. Presley has walked down the aisle four times. In October 1988, when she was just 20 years old, she married actor and musician Danny Keough.The pair had two children together, son Benjamin and daughter Riley, before divorcing in 1994 (via ABC News).
Although Presley and singer Michael Jackson had known each other for decades, they didn't begin dating until her relationship with Keough ended, the couple revealed in an interview (via Express). They married in 1994, with Presley issuing a statement that explained, "My marriage to Michael Jackson took place in a private ceremony outside the United States weeks ago. I am very much in love with Michael, I dedicate my life to being his wife. I understand and support him" (via Us Weekly). However, Jackson and Presley ultimately divorced in 1996 (via Biography).
Four years later, Presley met Nicolas Cage at a party. By 2002, they were married (via InStyle). However, Cage filed for divorce that same year and the split was finalized in 2004 (per CNN).
In January 2006, Presley married Michael Lockwood, who is the father of her twins Harper and Finley. Presley and Lockwood called it quits in 2016, though they continued to fight a bitter custody battle for years afterward, according to Town & Country.
Elvis named a plane after Lisa Marie Presley
Lisa Marie Presley's father Elvis Presley was known for his lavish lifestyle and his desire to have fun, and he certainly proved both when he purchased a Convair 880 Jet in April 1975. The Daily Express notes that the plane cost Elvis $250,000 at the time, which equates to about $1.3 million today. After buying it, Elvis named it Lisa Marie after his young daughter.
Elvis used the plane extensively over the next year, as it became his main form of travel as he toured the United States. Danny Smith, Elvis' second cousin and the son of a member of Elvis' staff, recalled to the publication that traveling on the plane was an incredible experience, sharing, "I just remember how excited [and] impressed [I was]. Then we made the flight, which was a wonderful flight. To me, I can only tell you how I felt during that time and it was like a whole apartment or condo floating through the air."
Lisa Marie Presley was at Graceland when her father died
Elvis Presley died on August 16, 1977. The circumstances surrounding his death were tragic, and ultimately his official cause of death was a heart attack. The Sun noted that at the time of his death, Elvis suffered from a number of physical health problems, including emphysema, which led to an enlarged colon, liver damage, and hypertension.
Lisa Marie Presley does not often speak about the day her father died, but she was actually at home with him at Graceland in Memphis, Tennessee, when he passed. In a rare moment in 2012, Lisa Marie opened up about what happened the night her father died. She said, "I don't like talking about this. It was August 16th, at 4am. I was supposed to be asleep, actually. He found me, you know. [He said:] 'Go to bed'" (via Express). She continued, saying her father gave her a kiss and put her back to bed, and that was the last time she saw him alive.
Lisa Marie Presley's son's death in 2020 has devastated her
In July 2020, Lisa Marie Presley and Danny Keough's son Benjamin Keough died by suicide (via TMZ). The world was stunned to hear news of his death, but no one was more devastated than the 27-year-old's parents. Presley's representative told People, "[Lisa Marie] is completely heartbroken, inconsolable and beyond devastated but trying to stay strong for her 11-year-old twins and her oldest daughter Riley. She adored that boy. He was the love of her life."
Presley was clearly proud of her son, often commenting on his musical abilities and natural gifts, as well as his physical resemblance to her late father. She once told CMT that Benjamin was a "quiet storm" backstage at an event. "Everybody was grabbing him for a photo because it is just uncanny," she said. "Sometimes I am overwhelmed when I look at him."
In May 2022, Presley revealed on Instagram that her son's death is still an incredibly painful topic for her to even speak about. While promoting a biopic about her father's life on Instagram, she wrote, "I am and will forever be mourning the loss of my son. Navigating through this hideous grief that absolutely destroyed and shattered my heart and my soul into almost nothing has swallowed me whole. Not much else aside from my other 3 children gets my time and attention anymore."
If you or anyone you know is having suicidal thoughts, please call the National Suicide Prevention Lifeline​ at​ 1-800-273-TALK (8255)​.
Lisa Marie Presley is passionate about music
Since she is the daughter of one of the biggest musical and pop culture legends of all time, it's not too surprising that Lisa Marie Presley is also a gifted singer and performer. She released her first album "To Whom It May Concern," in 2003, and spoke at length to Rolling Stone about what she hoped to accomplish with her music.
As Presley told the publication, she put her entire self into making the record. She explained, "You want to know who I am, and what I am, it's in here … This is me, and it's from me, and that's the only reason I did it" (via Elvis.com.au).
Presley also opened up to Healthy Living about her career as a singer, telling the publication that she has wanted to be a musician her entire life. She explained that it's important to her that people understand she believes music would've been her destiny no matter what. Presley said, "I think that regardless of what I was born into, my interests have always been into music at a very young age. I think I would have done this regardless. It's my passion; it's what I live for."
Lisa Marie Presley had a very unique childhood
Lisa Marie Presley split her childhood between Los Angeles, California, where her mother lived, and Memphis, Tennessee, where her father lived. That in and of itself is a lot for a young child — not to mention she was only nine years old when her father passed away — but the reality of what her father's life was really like definitely resulted in a very unusual childhood for his daughter.
In an interview with Rolling Stone, Presley explained that life at home with her mother had structure and order, and life at home with her father was a little chaotic (via Elvis.com.au). Presley said, "I was a tyrant. . . . If he was sleeping, which he mostly was during the day, I could do whatever until I was ordered to his room if I pushed it too far. I was awful." She added that she was often approached by fans and photographers who were hoping for behind the scenes glimpses at the daily life of her dad.
Presley admitted that she would take money from those who made the requests and then throw their cameras. She also said that she had to worry about fans jumping the perimeter fence around Graceland.
Lisa Marie Presley thinks her father's legacy makes her own career more complicated
Lisa Marie Presley has been open about wanting to pursue a career in music on her own, but she admitted to Healthy Living Magazine that she believes her father's shadow makes her own attempts at forging a path in the field more complicated. While she obviously has some advantages due to her lineage and last name, that doesn't mean she's been guaranteed success.
Presley said, "I get exposed to more and have more opportunities; however, there is a lot more expected out of me, which is the other aspect of that. I am constantly compared." She went on to admit that while she hoped to see herself as simply a singer/songwriter, that's not something the music industry seemed willing to do; instead, she had to attempt to build her own musical career under the weight of the expectations that come with being the daughter of a legend. As she puts it, "Even though I may have some extra opportunities, it is an extreme … intense comparison and sometimes it's not fair."
Lisa Marie Presley runs numerous charities
Music and entertainment isn't the only field that Lisa Marie Presley is interested in. In fact, she runs several charities, a fact that she was only too happy to discuss in an interview with Healthy Living Magazine. As Presley told the publication, when it comes to finding charities and non-profits to run and support, she often gravitates to those that support improving the lives of children in some way.
Presley also runs the nonprofit Presley Place, which is based in Memphis, Tennessee. As she explained, "It is a housing project for families that are down. It's there to help get their lives back together and get a job. They can get training and learning skills and have an apartment with two bedrooms for their children and them." Presley explained that the goal of the program is that families can receive the help they need in a time period and then are able to move on to get their own homes and careers.