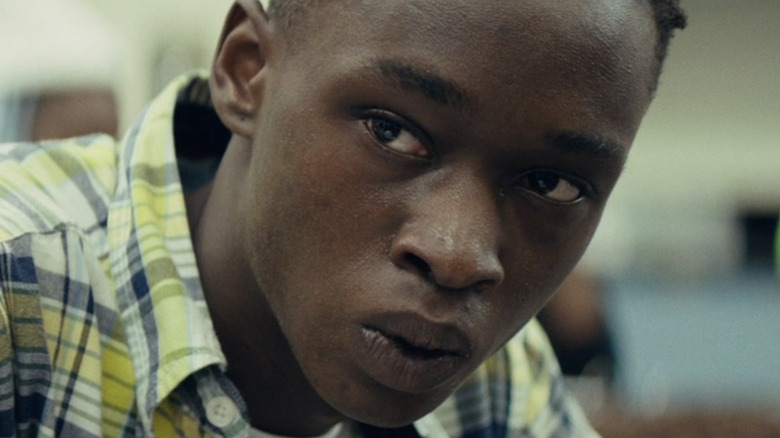 While the representation and visibility of LGBTQ+ characters in movies has grown along with changing rights and positions in mainstream society, the presence of queer characters in film actually goes back to the beginnings of the medium itself (via The Chicago Tribune). Although often coded and rendered to a subtextual space, queer folks can be seen in films throughout history, even if that aspect of their identity isn't explicitly stated.
Luckily, it's not all about what isn't said or shown, as there have been countless films made about and by LGBTQ+ folks, which explore various realities and experiences of this identity. While many have rightfully called out the problematic practices of primarily rendering the queer experience as a tragic or traumatic one, as well as predominately casting non-LGBTQ+ actors in roles that could have gone to queer actors, there are also a number of films that defy these conventions. However, it's worth noting that some movies on this list conform to (or even establish) these conventions — that can make watching them complicated, but it doesn't necessarily mean that they're not great or important in other ways.
After all, as with any marker of identity, the LGBTQ+ experience is one of multitudes, filled with as much joy, heartbreak, fun, and even mundanity as any great story. Here are 75 great LGBTQ+ films that capture various aspects of being queer in ways both big and small, and have helped transform the representation of the community both on and off-screen.
A Fantastic Woman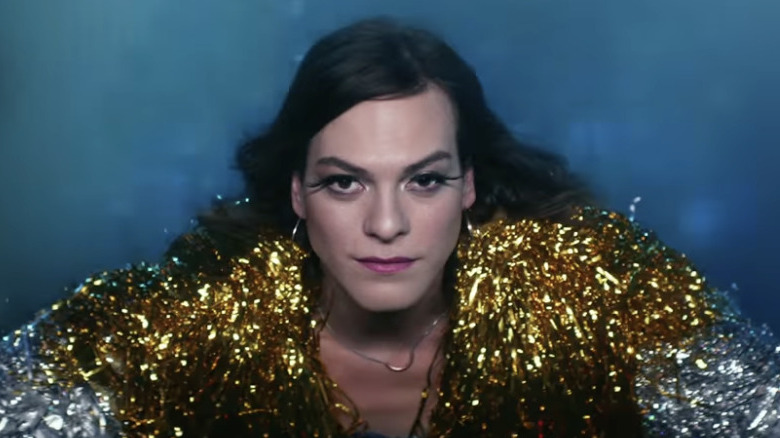 Chilean director Sebastián Lelio burst onto the international scene with his 2017 film, "A Fantastic Woman." Trans actress Daniela Vega stars as Marina, a woman dealing with the sudden death of her older boyfriend Orlando (Francisco Reyes). Orlando's ex-wife and son refuse to let Marina have any involvement in his funeral, as they see her relationship with him as illegitimate and would rather erase her from his life completely. As Marina deals with her grief and the changes in her life as a result of Orlando's death, she tries to find a way to say goodbye to the man she loved.
"A Fantastic Woman" won the Academy Award for Best Foreign Language Film and was the first Chilean film to do so (via The Hollywood Reporter). This Oscar win and subsequent press around "A Fantastic Woman" helped restart conversations in Chile around discriminatory gender identity laws and push lawmakers across party lines to pass a bill to allow trans people to legally change their names (via The Atlantic). Of course, an award alone can't do that, as it comes down to the film itself.
The movie garnered extremely positive reviews from critics and audiences alike, who found Daniela Vega to be particularly, well, fantastic. "A Fantastic Woman" is not only a powerful film about grief and the sudden change in reality when someone dies, but it's also a portrait of the very real day-to-day bigotry and prejudices that many trans folks face. However, while it's oftentimes upsetting, it's also joyful, funny, and biting, which is part of what makes it so great and an instant LGBTQ+ classic.
A Single Man
Fashion designer (and perfume daddy) Tom Ford made his directorial debut with 2009's "A Single Man," an adaptation of the novel of the same name by queer icon Christopher Isherwood. "A Single Man" explores a day in the life of a British professor living in California in 1962. George (Colin Firth, in his first Oscar-nominated role) is in the throes of grief following the death of his lover, Jim (Matthew Goode), who died in a car accident eight months earlier. Unable to go on, George has decided to end his life, but first must get his affairs in order. As he reminisces about his life with Jim, George encounters old friends and potential new lovers, who help him see his life and love in a new way.
Ford brings a visually bold and stunning look into this world. It's not just style over substance, however, as "A Single Man" is devastating in its exploration of the loss of someone you love. In many ways, that's a universal experience, but the particularity of going through that in a world that often renders this type of love invisible is what sets this movie apart. Critics and audiences agree, with Manohla Dargis writing for The New York Times that in "A Single Man," Ford "created a gay man troubled by ordinary grief and haunted by joy, a man apart and yet like any other." "A Single Man" is actually not like any other, and that's what makes this film a must-see LGBTQ+ classic.
If you or anyone you know is having suicidal thoughts, please call the National Suicide Prevention Lifeline​ at​ 1-800-273-TALK (8255)​.
The Adventures of Priscilla, Queen of the Desert
"The Adventures of Priscilla, Queen of the Desert" gave many people what they didn't know they needed: a drag queen road trip movie. In this 1994 Australian cult classic, drag queen Tick aka Mitzi Del Bra (Hugo Weaving) gets asked by his ex-wife to perform at a casino on the other side of the country. So, he gets a bus — named Priscilla — and invites fellow drag performer Adam aka Felicia Jollygoodfellow (Guy Pearce), as well as Bernadette (Terrence Stamp), a trans drag queen who recently lost her partner, to join him. Along the way, they introduce people to the joys of watching a drag show, deal with homophobia, and discover that they don't know each other as well as they thought.
While there are elements of "Priscilla, Queen of the Desert" that feel dated — the film has been called out for using a cast of straight cis male actors (per The Daily Mail) — its message of acceptance and chosen family remains as relevant as ever. It resonated with audiences and critics alike, who found the movie to be pure fun and heartwarming joy. It's emotional too, particularly in its representation of Bernadette. Queer elders aren't often shown on-screen, and Bernadette's intergenerational friendship with the younger Tick and Adam is powerful to see. Plus, this movie gave us this banging mash-up of Gloria Gaynor's "I Will Survive" with indigenous music, so for that alone, it earns a spot on this list of LGBTQ+ classics.
All About My Mother
Influential gay director Pedro Almodóvar's "All About My Mother" centers around single mother Manuela (Cecilia Roth), whose life is turned upside down when her teenage son Esteban (Eloy Azorín) is killed in a car accident. Unable to return to how things were before, Manuela gets involved in the lives of various women, who are all connected to her ex Lola, a trans woman who disappeared many years ago.
"All About My Mother" is one of Almodóvar's most celebrated films, with a near-perfect rating on Rotten Tomatoes and a Best Foreign Language Oscar to its name. The warm and unshakable Manuela is at the heart of the movie, but her heart doesn't beat without the female friendships that help her through her grief. In particular, her friend Agrado (Antonia San Juan) — a trans sex worker with a penchant for wit and gossip — helps breathe life back into Manuela, and in many ways, is the life force of the film.
As Rebecca Bodenheimer wrote for Roger Ebert on the 20th anniversary of the film, Agrado "isn't just comic relief; she also has her own interiority and strong sense of self." It's this type of trans representation, along with Almodóvar's vision of the world and his exploration of different types of femininity, that make "All About My Mother" an LGBTQ+ classic.
Anaïs in Love
Charline Bourgeois-Tacquet's 2021 French romantic comedy "Anaïs in Love" dives into the chaotic world of 30-year-old Anaïs (Anaïs Demoustier). Anaïs can't commit to anything other than being present and following every whim, so she follows older academic Daniel (Denis Podalydès) into bed when the urge strikes her. Soon, she follows Daniel's wife Emilie (Valeria Bruni Tedeschi) to a conference in the countryside, because she feels a magnetic attraction to Emilie that she doesn't have with Daniel.
What's lovely about this film is that it's definitely a queer movie, but it's not really about that. Anaïs sleeps with men and women, but no one's sexuality is discussed (or even questioned), nor is it the driving force. What drives the film is actually Anaïs' determination to be entirely present. Being present — by cutting ties to the past or fantasies of a future — can be seen as an aspect of queerness, as some people feel forced to disconnect from their past once they come out, or may not be given the tools to dream of the future.
"Anaïs in Love" is funny, sweet, and surprisingly devastating, as it explores what happens when someone who never stops moving finally decides to stop (for a moment). Critics and audiences agree, as the film has stellar ratings on Rotten Tomatoes, and although it was released in 2021, it already stands out as a great addition to the world of LGBTQ+ film.
Appropriate Behavior
Writer-director Desiree Akhavan made her feature film debut with 2014's "Appropriate Behavior," a queer rom-com set in New York City. Akhavan plays Shirin, a bisexual Persian-American woman, who's struggling to get over her breakup with her ex-girlfriend Maxine (Rebecca Henderson). After their relationship ends, Shirin finds herself homeless and jobless, so she tries to get her life back on track by finding a new house, different job, and finally coming out to her family, who have no idea that she and Maxine were more than just "roommates" (who shared a bed).
"Appropriate Behavior" is both laugh-out-loud funny and relatable, as it focuses on the experience of going through a breakup and suddenly finding yourself totally lost. The film's focus on Shirin's difficulties in coming out to her family elevates it to more than just a generic rom com, even as it adheres to some of those tropes. The way it does so feels fresh, and it finds that balance between the specificity of both the queer and Persian-American experiences, as well as the universality of being heartbroken, confused, and self-destructive. The film got stellar reviews, as seen by its rating on Rotten Tomatoes, and it's undeniably one of the best LGBTQ+ rom-coms around.
Beautiful Thing
Hettie McDonald's 1996 comedy "Beautiful Thing" follows two teenagers living in a working class neighborhood in London. Jamie (Glen Berry) is a shy teen, who has a crush on Ste (Scott Neal), who lives next door in an abusive household. Seeking refuge from his family one night, Ste sleeps over Jamie's house, and the two boys kiss. As Jamie and Ste reckon with their feelings for each other and about themselves, they try to find a way to fit their relationship into a community that might reject it.
While there are some expected moments and clichés in "Beautiful Thing," the movie offers something new in its look at two characters who — despite initial anxieties — accept themselves. One might expect Ste to freak out and never look back at his intimacy with Jamie. Instead, after he takes some space to process what happened, he returns to Jamie to see what comes next. The film has almost entirely positive reviews on Rotten Tomatoes, and critic Eric Henderson writes for Slant, "'Beautiful Thing' might be the most beloved of all the gay-youth movies released in the late '90s." Check it out for yourself to see if you agree.
Before Night Falls
Julian Schnabel's 2000 biopic "Before Night Falls" introduced the world to Javier Bardem, who plays Cuban poet Reinaldo Arenas. Based on Arenas' 1993 memoir of the same name, the film details his life as he discovers his identity both as a writer and a gay man in 1960s and 1970s Cuba. Although Arenas initially joins Castro's revolution, he's later imprisoned by Castro's government due to his "counterrevolutionary" writing and homosexuality. He eventually leaves Cuba for the U.S. in the '80s, starting a new life for himself which ends abruptly a few years later in 1990 (via The New York Times).
"Before Night Falls" marked Bardem's international debut and for many, this remains his best and most important work to date. Schnabel's direction is dreamy and poetic, capturing the sense of Arenas' writing, as well as his complex personality, which isn't defined by any one thing. As the Critics Consensus on Rotten Tomatoes notes, the movie's "imagery manages to evoke a sense of the writer's artistry, and Bardem's strong performance holds the film together. Finally, a biopic done well." It's a deeply sad movie, as it follows Arenas until the end of his life, but ultimately, it's a stunning representation of an important LGBTQ+ figure whose work the world deserves to know.
Beginners
Mike Mills' 2010 semi-autobiographical film "Beginners" revolves around Oliver (Ewan McGregor), who's dealing with the grief of recently losing his father Hal (Christopher Plummer). The film details how Oliver and Hal's relationship changes after Hal comes out as gay at 75. When Hal is diagnosed with cancer, Oliver takes care of him, while also trying to take care of himself and his new relationship with Anna (Mélanie Laurent).
Weaving between flashbacks and the present, "Beginners" explores Oliver's relationship with his father through memories, which seem to be as present as when they first occurred, if not more so. While Oliver himself is not queer, the relationship he has with his father is an important one that usually explored on-screen — sweet and mutually loving, and it's one that grows as Hal grows into himself.
Mills based the film on his own experiences with his father (via The New York Times), and his care and affection for the subject shows. "Beginners" is lovely, emotional, and often funny — plus, it features a telepathic Jack Russell (played to perfection by Cosmo the dog), which is reason enough to love it. The film was well-received by critics, and for many viewers, this is a classic LGBTQ+ film thanks to its representation not only of an older gay man (who proves that it's never too late to be your true self), but also of the loving relationship between a queer father and his child.
Bessie
Out lesbian writer-director Dee Rees brings Bessie Smith aka "The Empress of Blues" to life in this 2015 period piece. Bessie (Queen Latifah) makes her way into the vaudeville world of the 1920s, but struggles to perform, as no one wants to hire dark-skinned Black women. So Bessie tracks down blues singer Ma Rainey (Mo'Nique), who helps her hone her craft. Bessie's popularity begins to skyrocket, which transforms the relationships in her life, and brings some new ones in. However, the harsh realities of the Great Depression and deep-rooted racism set in as Bessie struggles to maintain a hold on herself and her career.
Bessie Smith's bisexuality is not at all glossed over in this biopic, which details her relationships with Lucille (Tika Sumpter, in a fictional role based on Smith's history, per The New York Times), as well as with Richard (Mike Eps). Queen Latifah shines in a role that seems like it was made for her, and her power is matched by Mo'Nique's brilliant turn as the bisexual Ma Rainey. "Bessie" garnered extensive critical praise, and ultimately, is a great LGBTQ+ film because it focuses on queer Black female characters, and sheds light upon these pioneers of music.
The Birdcage
Mike Nichols' 1996 comedy "The Birdcage" — a remake of "La Cage aux folles" — focuses on Armand (Robin Williams), the owner of The Birdcage nightclub, where his partner Albert (Nathan Lane) headlines as a drag queen. Their balanced life gets disrupted when their son Val (Dan Futterman) comes home to say that he's engaged to Barbara (Calista Flockhart). Oh, and also, Barbara's parents are super conservative politicians, and they'll be coming over for dinner to meet the family, so can Armand and Albert pretend to be straight, and also can Albert say he's Val's uncle?
In many ways, "The Birdcage" is an LGBTQ+ classic. It's Nathan Lane, Robin Williams, and Hank Azaria in short shorts — how could it not be? But the film is also upsetting, as the bulk of it is spent watching two out and proud men (three, including Azaria's Agador) be forced back into the closet for the sake of their ashamed son and his right-wing in-laws.
Particularly with LGBTQ+ movies, stories can be very much products of their time, and many of those times have encouraged queer representations that are harmful or problematic. "The Birdcage" is definitely a '90s movie, and doesn't reflect the changes in representation and language of later years. But it is also delightful thanks to the work of comedic powerhouses like Williams, Lane, and Azaria. While its message can come off as cheesy — there's a "We Are Family" moment at the end — there's also nothing wrong at all with encouraging acceptance.
The Bitter Tears of Petra von Kant
Openly gay director Rainer Werner Fassbinder was a face of New German Cinema, and in his short life, became one of the most celebrated European auteurs ever. While all of his films contain a queer perspective, a prime example of his work is "The Bitter Tears of Petra von Kant." Based on Fassbinder's own play, this film takes place in one location: the bedroom of fashion designer Petra von Kant (Margit Carstensen). The movie explores Petra's relationships with other women. Marlene (Irm Hermann) is another designer whom she tends to dominate, while Karin (Hanna Schygulla) is a beautiful woman who catches Petra's attention and obsession.
"The Bitter Tears of Petra von Kant" is a prime example of Fassbinder's style. Visually stunning and deep, it's a movie in which nothing is as it seems and dynamics constantly shift. It's bold, surreal, and claustrophobic, as it explores the sadomasochistic relationships of Petra, who's trying to find some sense of connection. Many queer viewers criticized the film at the time of its release due to its representation of a "morbid freak show" (via Criterion), but others see the power in Fassbinder's exploration of loneliness, femininity, jealousy, and the age-old question of "Do I want to be her or be with her?" According to Criterion, Fassbinder cited Douglas Sirk as a major influence, and channels Sirk's power for melodrama in his own way with "The Bitter Tears of Petra von Kant" to deliver an LGBTQ+ film unlike any other.
Blue is the Warmest Color
Abdellatif Kechiche's adaptation of Jul Maroh's graphic novel "Blue is the Warmest Color" is perhaps the most divisive film in the lesbian community to date. Adèle Exarchopoulos plays teenage Adèle, who's open to the experiences and pleasures of life, but struggles to find exactly where they lie. Things change when she meets Emma (Léa Seydoux), a college-aged artist, who introduces Adèle to the deep joys and even deeper pains of falling in love for the first time.
Many queer viewers — including Maroh — have criticized the film for its male gaze, particularly in its sex scenes (per Autostraddle). This feeling was enhanced when stars Exarchopoulos and Seydoux spoke out in an interview with The Daily Beast about their negative experiences making the film, which left them feeling taken advantage of.
In these real ways, "Blue is the Warmest Color" is problematic. However, it's also a powerful film about first love and first loss. "Blue is the Warmest Color" sits in that disorienting intersection of LGBTQ+ cinema, where the lines of visibility and invisibility meet. For many, this representation of a young woman falling in love with another woman for the first time speaks volumes, and for others, it's overshadowed by the uncomfortable perspectives and dramas of the film. As it stands, critics loved "Blue is the Warmest Color," which was the first film to win the Palme d'Or at Cannes for both the director and actors (via The NY Times), and for anyone interested in LGBTQ+ cinema, it's worth a watch.
Born in Flames
Lizzie Borden's 1983 documentary-esque fiction film "Born in Flames" focuses on the trials and tribulations of different pirate radio factions in New York City in an alternate world, where a socialist government has come to power. Isabel (Adele Bertai) is a white feminist, who hosts a pirate radio show, where she leads aggressive sermons to try to detach people's minds from all that they've been taught. Honey (Honey) is a Black feminist, who hosts a different radio show and takes a different approach, as she seeks to encourage collective mobilization. Their worlds collide when a militant group called the Women's Army develops to bring the revolutionary spirit back to New York.
The critically acclaimed "Born in Flames" is a classic example of queer agitprop, which brilliantly exposes various ideologies and "isms" in a smart, funny, and intersectional way. Celebrated lesbian director and screenwriter Guinevere Turner wrote for The Advocate that "Born in Flames" is "a film from the past that takes place in the future [and] speaks volumes about the present." The movie exposes how seemingly different politics can just mask the same deep-rooted issues and flaws within society, and decades after its release, it remains one-of-a-kind in the world of LGBTQ+ cinema and film in general.
Bound
While some read "The Matrix" as a trans allegory (something that Lilly Wachowski confirmed in an interview with Netflix), fans of the Wachowskis don't actually have to dig so deep to find a much more explicitly queer film by these filmmakers. The Wachowskis made their feature film debut with 1996's "Bound," an erotic noir thriller starring Jennifer Tilly and Gina Gershon. Tilly plays Violet, a woman who's stuck in an abusive relationship with her boyfriend Caesar (Joe Pantoliano). She finds an unexpected way out when she meets Corky (Gershon), and the two embark on an affair and a scheme to steal a few million dollars from Caesar and his mafia buddies.
"Bound" is not only a fun crime film that showcases the Wachowskis' visual style, but it's also a great and subversive lesbian film. Corky and Violet are two women who fall for each other and find a way to beat the system of toxic patriarchy and get a happy ending. Critics loved the movie, including Roger Ebert, who wrote that "Bound" is "is one of those movies that works you up, wrings you out and leaves you gasping. It's pure cinema, spread over several genres." Drew Gregory explores a trans reading of "Bound," writing for Autostraddle that the movie "isn't just a masterful lesbian film made by two queer trans women — it's a masterful lesbian film made by two queer trans women before they came out." However you identify, if you love surprises and/or the Wachowskis, you'll love "Bound."
Boy Meets Girl
The 2014 rom-com "Boy Meets Girl" stars Michelle Hendley as a young trans woman who dreams of moving from Virginia to New York City to become a fashion designer. Ricky (Hendley) is stuck in her hometown, where her main outlet is her cis straight best friend Robby (Michael Welch). Ricky's friendship with Robby gets tested when she starts having an affair with Francesca (Alexandra Turshen), which forces Robby to confront his feelings for his best friend and makes Ricky wonder what it is she really wants.
In the world of rom-coms, the number of LGBTQ+ options is limited and within that, the number of trans-rom coms is even smaller. "Boy Meets Girl" stands out because it's a story about a trans woman finding love, and it stars a trans woman in the role. Brian Carney writes for The Washington Blade that "Boy Meets Girl" is a "groundbreaking romantic comedy" that "charms [and] inspires." Critics praised this sweet film about love, friendship, and self-discovery, which Michelle Hendley carries wonderfully in her film debut, and is worth checking out for anyone looking for an LGBTQ+ and trans movie that has a happy ending (or two).
Boys Don't Cry
Director Kimberly Peirce made her feature debut with 1999's biographical drama "Boys Don't Cry." Based on a true story, the film is about Brandon Teena (Hilary Swank), a trans man trying to start a new life in Nebraska. Brandon meets Lana (Chloë Sevigny), and as the two of them fall in love, Brandon's life falls under the threat of Lana's bigoted and violent friends and family discovering the truth of his identity.
At the time of its release, the critically acclaimed "Boys Don't Cry" marked a milestone of LGBTQ+ representation, as it centered around the life of a trans man and was told from a lesbian director's perspective. Stories about trans men are so few and far between in mainstream films that "Boys Don't Cry" still remains perhaps the most known movie about a trans masculine character.
However, while the significance of "Boys Don't Cry" cannot be overstated, it is also a product of its time. Hilary Swank won a Best Actress Oscar for her performance as Brandon, and many have noted the complicated factor of a cis femme woman playing the most celebrated trans male character on-screen to date. While the film brought to light the horrific hate crime that took the real Brandon Teena's life and changed the sensationalized rhetoric around the case, many viewers also take issue with the film's depiction of sexual violence and murder (via The NY Times).
The Boys in the Band (1970)
Director William Friedkin brings Mart Crowley's 1968 play "The Boys in the Band" to life in this 1970 adaptation about a group of gay men having a dinner party. Michael (Kenneth Nelson) is hosting a night of fun for his crew. As Michael's friends continue to show up and turn out, the night gets more and more heated, with revelations and secrets threatening to unravel the whole group.
While more mainstream publications like Time have praised Friedkin's film, the queer community has had a more complicated relationship with this representation of LGBTQ+ stereotypes, which show gay men as mean, catty, and most of all, self-loathing. The play and film bookend the Stonewall Uprising of 1969 (the year Friedkin's movie was filmed), and as Bill Weber writes for Slant, "The partygoers are caught in the tragedy of the pre-liberation closet, a more crippling and unforgiving one than the closets that remain."
However, it's impossible to deny the significance of "The Boys in the Band." The Hays Code of self-censorship in film lasted all the way until 1968, preventing the representation of so-called "sexual perversion" like homosexuality on-screen. So, this was one of the first films to center exclusively and explicitly around gay men, which made it revolutionary at the time.
BPM
Robin Campillo's "BPM" (also known as "120 BPM" or "Beats Per Minute") is a French-language film about the ACT UP movement in 1990s Paris. The film centers around a group of friends in the AIDS activist organization ACT UP as they struggle to get the French government to support the fight against AIDS. At the same time, they're trying to live their own lives, and find joy and time to grieve within a community that's disappearing before their eyes.
Since its release in 2017, "BPM" has become a beloved LGBTQ+ film, thanks to its approach in telling a different kind of AIDS story. Moving between the political and personal, "BPM" finds spaces of joy, as much as it focuses on the loss within the community. The film holds a near-perfect score on Rotten Tomatoes, with critics like Alex Godfrey writing for Empire that "BPM" is "an enthralling, enveloping experience that seizes you fully, effortlessly mixing politics, sex, life, death and art."
Campillo and his co-writer Philippe Mangeot were both members of ACT UP (via Empire), and the film stands out, as it captures their personal connections and recollections of a time period which is so often rendered nostalgically or melodramatically.
Brokeback Mountain
Ang Lee's 2005 Western drama "Brokeback Mountain" is based on Annie Proulx's 1997 short story of the same name, and tells the tale of two cowboys who fall in love. It's 1963, and Ennis del Mar (Heath Ledger) and Jack Twist (Jake Gyllenhaal) get hired to watch a herd of sheep in Brokeback Mountain. In this open and isolated place, the two men fall in love, but they are soon forced to succumb to the pressures of a heteronormative world.
"Brokeback Mountain" caused a sensation when it came out, as many clutched their pearls at the film's explicit depiction of gay love. The film was mocked and parodied as "the gay cowboy movie," which Ledger in particular hated. Gyllenhaal told Vulture in 2015, "A lot of times people would want to have fun and joke about it, and [Ledger] was vehement about being serious, to the point where he didn't really want to hear about anything that was being made fun of."
For a number of queer viewers, the relationship to "Brokeback Mountain" is a complicated one (via Bitch Media). On the one hand, the film is a beautiful and truthful telling of a story of two men falling in love in a deeply homophobic society. On the other, it's yet another tragedy about queer trauma, and it centers straight white cis actors in these roles of gay men. Either way, it remains an LGBTQ+ classic for many folks, and one that can be worth revisiting.
But I'm a Cheerleader
Jamie Babbit's 1999 satirical teen rom-com "But I'm a Cheerleader" takes a deeply disturbing subject — gay conversion therapy — and turns it into something that's still disturbing, but also quite funny and subversive. Megan (Natasha Lyonne) is a cheerleader who doesn't love kissing her boyfriend, but does have a soft spot for her fellow cheerleaders. Megan's family soon suspects that she's a lesbian (the Melissa Etheridge appreciation gives it away), so they send her to a gay conversion therapy camp, where she can be "cured" of her "problem." Things don't go according to plan — she meets Graham (Clea DuVall) at the camp, and the two lesbians who are supposed to stop being lesbians fall in (lesbian) love with each other.
Although it wasn't a hit with the critics, "But I'm a Cheerleader" has become a cult LGBTQ+ classic. The film has a John Waters-esque campiness in its visual style and humor, which crackles. However, it also maintains an emotional heart, as it tells the story of people trying to discover and hold onto themselves, while others try to erase their identities completely. In an interview with Criterion, Lyonne described how the film impacted viewers during its premiere: "[These girls] were crying and saying they'd never seen a movie like this and that it was a completely life-changing experience … That was something that stuck in my mind — that it was actually helping people and making them feel less alone in this world."
Cabaret
"Life is a cabaret old chum, come to the cabaret!" Liza Minnelli sings at the end of "Cabaret," and with that, the LGBTQ+ community was born — or at least, many a drag queen was. Bob Fosse's 1972 adaptation of Christopher Isherwood's 1939 "Goodbye to Berlin" tells the story of Sally Bowles (Minnelli), a free-spirited American just trying to have a good time in bowler hats in 1931 Berlin. She meets Brian (Michael York), a British bisexual, and they soon start dating. But reality comes knocking, as Sally struggles against the expectations of a "conventional" relationship, and the grip of Nazism tightens around Berlin.
When your mother is Judy Garland, you really only have two career options so you don't get lost in her shadow: become an accountant, or become a gay icon. Thankfully, Minnelli chose the latter with her Oscar-winning turn as Sally Bowles, whose outsiderness, combined with her desire to be loved for who she is and to create a place in the world for herself, made her an instant icon for the queer community.
"Cabaret" is a queer movie about the thin line separating self-destruction and self-celebration. Plus, it's one of the few films to feature a bisexual male lead. Brian's bisexuality is an accepted side of him, to which no one bats a heavily-mascaraed eye, which is perhaps the most powerful aspect of its queer representation. "Cabaret" celebrated its 50th anniversary in 2022, and it has never lost the subversive or progressive qualities that make it one of the best LGBTQ+ films ever.
Call Me By Your Name
Based on André Aciman's 2007 novel of the same name, Luca Guadagnino's 2017 drama introduced the world to the joys of Timothée Chalamet's face and the multifunctional uses of peaches. Chalamet plays Elio, a bookish 17-year-old who lives with his family in the Italian countryside in 1983. Elio's professor father invites Oliver (Armie Hammer) — a 24-year-old grad student — to spend the summer working with him. Under the magic of the Mediterranean summer and an epic '80s playlist, Elio and Oliver fall for each other, and Elio learns for the first time what it is to be in love and be heartbroken.
Luca Guadagnino brings his trademark visual style to this movie, which envelopes viewers with its dreamy space. "Call Me By Your Name" is a film of fantasy and longing, subjects in which many in the LGBTQ+ community could get a double PhD. The film was a massive hit with critics and audiences alike, as many saw themselves in this story of first love and first loss.
What sets this film apart isn't just its depiction of love between two men; it's also its portrayal of two parents who accept their son fully. Elio's father in particular encourages his son to follow his heart, rather than closing himself off to the world, in one of the more beautiful moments in film.
Can You Ever Forgive Me?
Marielle Heller adapted Lee Israel's 2008 memoir "Can You Ever Forgive Me?" in this black dramedy starring Melissa McCarthy. McCarthy plays Lee, an alcoholic lesbian who's struggling with financial woes and writer's block. When Lee stumbles upon a letter written by Fanny Brice while conducting research for her book, she tries to sell the letter for some extra cash. The letter isn't interesting enough, so she jazzes it up a bit on her typewriter (it's the '90s) and sells it. Lee starts forging racy and captivating letters "written" by dead celebrities, and ropes in her old drinking buddy Jack (Richard E. Grant) as her business partner. Everything is coming up roses, until Lee's actions catch the attention of the FBI.
Melissa McCarthy got her first Best Actress Oscar nomination for her portrayal of the abrasive, sharp-tongued, and lonely Lee. Lee keeps everything inside, while keeping everyone else outside. She may desire affection, but she doesn't know how to accept it.
Critics were fans of McCarthy's dramatic turn in this biopic, which has a near-perfect score on Rotten Tomatoes. What makes this film so great and greatly queer is its depiction of a complicated gay woman — one who's got a lot of flaws and is oftentimes a jerk, none of which gets "resolved" because it's not meant to. This is a side of LGBTQ+ characters not often shown — the antihero, to be clear, rather than a villain — and that makes "Can You Ever Forgive Me?" a classic LGBTQ+ movie.
Carmen & Lola
Arantxa Echevarría's 2018 Spanish-language film "Carmen & Lola" explores a world that we don't often get to see on-screen. Set in the suburbs of Madrid, the film follows Carmen (Rosy Rodríguez), a young Roma woman whose fate was laid out for her when she was born: get married and have kids. She starts to deviate from this path of her upcoming arranged marriage when she meets Lola (Zaira Romero), another Roma woman who works for her family but dreams of life outside the walls of their community. As the two women fall for each other, they're faced with the difficult realities of a world that places specific demands on women and their role in society.
Featuring a cast of non-professional actors, "Carmen & Lola" stands out as a great LGBTQ+ movie due to its representation of the Roma community, and the ways in which it depicts two queer women trying to navigate their lives within it. The film offers beautiful moments of Roma ritual and tradition, and the chemistry of Rodríguez and Romero carries through until the end. The film was nominated for 8 Goya Awards (the Spanish equivalent of the Academy Awards) and won 2 total (via IMDb). Critics in the U.S. and elsewhere agreed, as the movie garnered positive reviews and is a unique addition to LGBTQ+ classic cinema.
Carol
Legendary gay director Todd Haynes brings this adaptation of legendary bisexual writer Patricia Highsmith's 1952 novel "The Price of Salt" to life. Set during Christmas in 1952, "Carol" tells the story of Therese (Rooney Mara), an aimless department store worker, who meets the elegant Carol (Cate Blanchett). The two become gal pals, and soon become "gal pals," as they embark upon an intimate road trip across the U.S. Their idyllic bubble gets burst when Carol is forced to choose between loving Therese and retaining custody over her child in her bitter divorce battle.
"Carol" got near-universal praise for its beautiful visual style, stellar performances, and emotional narrative that moves between silence and sensuality. And for many viewers, it's particularly refreshing to see a lesbian film that doesn't end tragically (in fact, "The Price of Salt" was the first lesbian novel with a happy ending).
There's a long history of the male gaze being applied to lesbian stories, but "Carol" stands out thanks to its source material coming from a bisexual woman, screenplay coming from an out lesbian, and direction coming from a gay man. One doesn't necessarily need to personally identify with material to make it, but when so many lesbian movies get told from a certain perspective, a film like "Carol" is important. All of this and more makes "Carol" an LGBTQ+ classic, fit for watching at any time of year.
Certain Women
Based on Maile Meloy's story collections "Both Ways Is the Only Way I Want It" and "Half in Love," Kelly Reichardt's 2016 drama "Certain Women" features three vignettes about different women in Montana struggling to connect with others and be seen. Laura (Laura Dern) is a lawyer who's forced to confront a violent and disgruntled client. Gina (Michelle Williams) feels disrespected by her husband and teenage daughter, and tries to assert herself by taking over the construction of the house her family is building. Jamie (Lily Gladstone) is a ranch hand who falls for Beth (Kristen Stewart), the woman teaching her night classes.
While only one of the stories in "Certain Women" features a queer storyline, that story is a powerful one of longing and loneliness. Reichardt is known for her "slow cinema," movies that take a long and quiet approach to the everyday lives of everyday people. She's also known as a queer female director (via Variety), whose sensitive approach to filmmaking often subverts the viewer's expectations to paint rich portraits of life lived. Critics agreed, as "Certain Women" got stellar reviews almost across the board, with Kate Sables writing for BFI, "[The film's] whispers are more penetrating than most film's shouts."
The Children's Hour
William Wyler's 1961 drama "The Children's Hour" — adapted from Lillian Helman's 1934 play of the same name — shows us a world in which Audrey Hepburn and Shirley MacLaine are in love (before ripping that all away). Karen (Hepburn) and Martha (MacLaine) are old friends who run a girls' boarding school together. Things are running smoothly until a bratty teenage student decides to get back at her teachers for punishing her, and spreads a rumor about Karen and Martha being in love. As Karen and Martha's lives and livelihoods get torn apart by this gossip, Martha realizes that perhaps there's more truth to the lie than she first thought.
Considering it's an early 1960s Hays Code movie based on a 1930s play, the ending for "The Children's Hour" could only have ever been bleak, and this one is as tragic as they come. There's a long history of the "bury your gays" trope: gay stories ending either in death or misery, perhaps as a way to serve as a "cautionary tale" for audiences who might identify with these characters. However, "The Children's Hour" remains revolutionary for its time, and includes one of the most heartbreaking (and realistic) coming out scenes on film, all of which makes it an LGBTQ+ classic to this day.
D.E.B.S.
Out lesbian director Angela Robinson explored the world of espionage with the gay teen spy comedy "D.E.B.S." The film centers around a group of college-aged women who all become spies in D.E.B.S., a top-secret organization led by Ms. Petrie (played by gay icon Holland Taylor). The girls are trained in combat and espionage, and tasked with tracking down Lucy Diamond (Jordana Brewster), an elusive super-criminal. However, things fall apart when Amy (Sara Foster) — one of the D.E.B.S. — falls for Lucy.
While "D.E.B.S." wasn't critically acclaimed or financially successful, the film has gained cult status over the years, as audiences have responded to its fun and satirical look at the spy genre, as well as its representation of a queer love that goes unquestioned (and doesn't end tragically). Alyx Vesey writes for Bitch Media that "D.E.B.S." is a cheeky send-up of "Charlie's Angels" which "[explores] the queer possibilities of female spies' homosocial bonding and gender performance." Robinson has made a name for herself with her referential visual style and multi-layered approaches to both film and TV, and she clearly does so with this mid-2000s LGBTQ+ cult classic that will be sure to delight any fan of spy movies, ensemble casts, or fun in general.
Desert Hearts
Donna Dietch's 1985 romance "Desert Hearts" is an adaptation of Jane Rule's 1964 novel "Desert of the Heart," which explores the surprising journey to divorce that a woman takes in 1959. Vivian (Helen Shaver) is a professor in New York City who travels to Reno, the divorce capital of the U.S., to get a quick divorce. There, she meets Cay (Patricia Charbonneau), a younger, free-spirited woman who surprises Vivian with her approach to life and love.
"Desert Hearts" has the honorable distinction of being known as "the first lesbian movie with a happy ending," according to The Advocate. While this is reason enough to celebrate it as an LGBTQ+ classic, the film also boasts a tender script, charged chemistry between its two leads, and a beautiful, warm visual style that captures the expansiveness of the American Southwest in the 1950s. The film was critically acclaimed, with Gene Siskel writing that the movie is "a gentle story of someone being brought in from the cold." "Desert Hearts" stands out first and foremost as an emotional love story, the likes of which can be hard to find in queer cinema, and decades after its release, it remains as exciting and relevant as it was the day it came out.
Disobedience
Sebastián Lelio's 2017 adaptation of Naomi Alderman's book of the same name looks at what happens when one becomes an outcast in their community. Ronit (Rachel Weisz) is an ex-Orthodox Jewish woman, who returns to London to attend the funeral of her estranged father. While home, she reconnects with Esti (Rachel McAdams), her childhood friend who is now married to their other friend Dovid (Alessandro Nivola). The two women start an affair, which leads to unforeseen repercussions, and a profound awakening for Esti.
"Disobedience" is based on Alderman's own experiences of growing up in the Orthodox community, and she's discussed how writing the book led her to leave her faith (via The Guardian). While the film has been overshadowed by its spitting-in-someone's-mouth vibe and critiqued for its male and heterosexual gazes, it also stands out for its exploration of community and self-discovery within that. Chloe Catchpole of Empire calls it "an understated yet profound examination of identity and self-sacrifice," and many other critics agreed. Esti and Ronit's relationship drives the film forward, but at its heart, it's a movie about where you belong, and what happens if the place where you once fit in can no longer fit around you. It's a question that many folks face, and despite some of its issues, "Disobedience" does attempt to answer that.
The Favourite
Greek director Yorgos Lanthimos brings his trademark brand of black humor to "The Favourite," an 18th century period piece about two women vying for power in the queen's court. Abigail (Emma Stone) arrives at the court of Queen Anne (Olivia Colman) looking for employment and a little help from her cousin, Sarah (Rachel Weisz). After all, Sarah is the Queen's favorite, who has her ear, her approval, and access to her bed. However, the two cousins soon find themselves at odds, as Abigail starts scheming to push Sarah out and win the Queen's favor instead.
"The Favourite" contains Lanthimos' striking visual style and dry humor, as it examines power dynamics in this love triangle of women who are all trying to find power and freedom in a society that doesn't allow them much of either. "The Favourite" is Lanthimos' biggest critical and financial hit to date, and Olivia Colman won an Oscar for her role (and even more fans with her epic, Lady Gaga-centric speech). A.O. Scott of The New York Times says the "contest for Anne's affection is thrilling and unnerving to witness, a full-body, full-dress chess match with no referee and ambiguous rules," and in many ways, it's this ambiguity that makes it a great LGBTQ+ film. "The Favourite" is not a lighthearted or easy movie, but it's one of the funniest LGBTQ+ films around, and it's worth it for Olivia Colman's incredible performance and Rachel Weisz's butch gun-shooting look.
Fire
Indo-Canadian director Deepa Mehta initiated her "Elements Trilogy" with 1996's "Fire." Sita (Nandita Das) enters into a loveless marriage with Jatin (Javed Jaffrey), who's more interested in his other girlfriend than his new wife. She meets Radha (Shabana Azmi), Jatin's sister-in-law, whose hyper-religious husband refuses to act on any desires. Both women feel suffocated in their marriages and homes, and turn to each other for support. Soon, they discover freedom and happiness with each other, as their intimate friendship turns into romantic love.
"Fire" was the first mainstream Bollywood film to feature any sort of homosexual relationship, and the first to show a lesbian kiss. Despite its critical acclaim, the film received immediate backlash upon its release, with people vandalizing theaters that screened it, and even going to Parliament to try to get "Fire" banned (via Indian Express). Audiences continued to go see "Fire," however, and Mehta remembers a powerful moment of seeing women gathered in a vigil to declare their own sexuality and support for the film.
Actress Das, who plays Sita, told Indian Express that the film is "about the lack of choices that women have … It was about caring, compassion, filling of voids that women have in meaningless marriages." "Fire" situates these themes in both a queer and specifically Indian setting, which makes it stand out as an LGBTQ+ classic that resonates decades after its release.
Go Fish
Prior to becoming two of the most prominent gay writers-producers-directors around, Guinevere Turner and Rose Troche co-wrote the 1994 feature "Go Fish," which Troche directed. The film follows Max (Turner), a young woman who falls for Ely (V.S. Brodie). The two have an undeniable spark, but things cool down when Max discovers that Ely already has a long-distance girlfriend. They try to be just friends, but that proves to be more difficult than anticipated.
While both Turner and Troche would later become associated with more mainstream fare — Turner as the writer of "American Psycho," and Troche as a writer-director-producer of "The L Word" — the talents and unique voices of each are clearly present from the get-go in this first feature. "Go Fish" not only offers a time capsule glimpse of life as a lesbian in 1990s Chicago, but it also offers a timeless look at love and the intimacies of two women falling for each other. It's both specific and universal. Eleanor Ringel Cater noted in her review for the Atlanta Journal-Constitution that although the film focuses on the "exotic" world of same-sex relationships, "its ruefully on-target observations about the dating game are pretty much universal." Years after its release, "Go Fish" continues to feel fresh thanks to Troche and Turner's multi-purpose talents, which make this a fun, witty, and realistic look at LGBTQ+ love in the '90s.
The Handmaiden
South Korean director Chan-wook Park puts his spin on Sarah Waters' British lesbian period piece "Fingersmith" with his 2016 epic saga, "The Handmaiden." The setting is the 1930s in a Japanese-occupied Korea, where the name of the game is "scheme as much as humanly possible." Count Fujiwara (Ha Jung-woo) hires Nam Sook-hee (Kim Tae-ri) to work as a maid for Lady Hideko (Kim Min-hee). She's to convince the Lady to marry him so that he can steal her money and then have her committed. Nam Sook-hee soon discovers that this seemingly shallow heiress has a few dark secrets of her own. As the women try to manipulate each other into getting what they want, they realize that they can use their energy instead to scheme against the men who have harmed them.
The film got near-universal praise for its intricate storytelling, beautiful visuals, and exploration of class and gender in a colonial context. Although "The Handmaiden" is based on a book by a well-known out lesbian writer, it's very much Park Chan-wook's movie, and some may find the male gaze to be objectifying — or, at the very least, confusing — as it tells this story about two women seeking power and connection in a controlling and violent world. Regardless, "The Handmaiden" is an example of Park's incredible talents, and is an LGBTQ+ classic thanks to its tonally rich story and focus on characters, a world, and a use of bells that are all strikingly unique.
Happiest Season
Clea Duvall's 2020 feature "Happiest Season" gave many people a gift from the top of their Christmas list: a gay holiday rom-com starring Kristen Stewart. Stewart plays Abby, whose girlfriend Harper (Mackenzie Davis) invites her home for Christmas, so Abby decides it's the perfect time to propose. But as it turns out, Harper hasn't come out to her family, so she asks Abby to closet herself and pretend to be her "straight" roommate.
While many found "Happiest Season" to be an "instant holigay classic," others saw it more as a horror film along the lines of "Get Out," where one person's identity is forced to conform to their partners' family's needs and comfort levels. While "Happiest Season" does end happily, some take issue with that particular happy ending, as Harper is a terrible partner throughout. Delia Harrington of Den of Geek notes that the film "doesn't distinguish between Harper being closeted and her poor treatment of Abby." Many viewers struggle with the film's squeezing a gay love story into heteronormative boxes, and also struggle with the realization that the fiery chemistry between Abby and Harper's ex Riley (Aubrey Plaza) isn't going to result in their getting together.
However, "Happiest Season" does stand out as a mainstream, non-tragic, gay Christmas rom-com. The film got critical acclaim and whether you love it or hate it, it's still a modern-day LGBTQ+ classic that's worth checking out.
Happy Together
Legendary director Wong Kar-wai brings his beautiful aesthetics and quiet approach to "Happy Together," a 1997 film about an on-again, off-again gay couple. Ho Po-Wing (Leslie Cheung) and Lai Yiu-Fai (Tony Leung Chiu-Wai) are a couple from Hong Kong who visit Buenos Aires, where they decide to end their relationship. Both men choose to stay in Argentina, and as they try to move on and make new lives for themselves, they struggle to let go of a past that holds them.
Released just before the British handover of Hong Kong to China, "Happy Together" reflects both the bigger political anxieties of the time, while exploring themes of longing, eroticism, and the space between people. The film looks at two lonely men who don't know how to be together or apart, and instead get stuck in an intertwined and codependent space. Wong Kar-wai won Best Director at Cannes for "Happy Together," and many saw this film as an integral addition to what film scholar B. Ruby Rich called the "New Queer Cinema Movement" of the '90s. Critics lauded "Happy Together," and the BFI named it the third best LGBTQ+ movie of all time in 2016. The film remains a classic today, as it explores desire and displacement, and how these conflicting feelings can exist within a queer relationship, in a way that only Wong Kar-wai can do.
Heavenly Creatures
A few years before making femme waves opposite Leonardo DiCaprio's soft butch aesthetics in "Titanic," Kate Winslet made different kinds of waves in the LGBTQ+ community with her film debut in Peter Jackson's "Heavenly Creatures." Based on a true story, this 1994 film centers around the wealthy and outspoken teenager Juliet (Winslet), who befriends the less well-off outsider Pauline (Melanie Lynskey). The two of them bond over their rich inner lives, and they construct an elaborate fantasy world outside of the oppressive forces of their parents. Pauline's mother in particular gets in the way of their deepening friendship, so the girls decide to make their fantasies reality, and get rid of this evil and annoying maternal force.
Before bringing his eye for fantasy to "Lord of the Rings," Peter Jackson did so with "Heavenly Creatures," which offers a stunning look at the blurred lines between reality and fantasy. Even if this weren't an explicitly queer film, it could still be read as such, due to this exploration of two characters whose worlds and senses of self in their heads are quite distant from what's expressed externally. In this way, the film can be seen as an extreme representation of being closeted, where fantasy necessarily reigns supreme. Drew Gregory writes for Autostraddle, "This is a film that cares about its subjects' point of views and lets us inside its subjects' point of views." For this reason — and the talents of Jackson, Winslet, and Lynskey — "Heavenly Creatures" remains an LGBTQ+ classic.
Hedwig and the Angry Inch
Writer-director John Cameron Mitchell brought his off-Broadway show to the big screen with 2001's "Hedwig and the Angry Inch." The musical centers around Hedwig (Mitchell), an East German immigrant who's stuck in a trailer in 1980s Kansas with her memories, dreams, and the "angry inch" from a botched gender reassignment surgery. Hedwig meets teenage Tommy (Michael Pitt), who seeks her guidance and mentorship in life and all things rock n' roll. However, their relationship sours when Tommy steals Hedwig's songs and uses them to become famous, leaving Hedwig to figure out what's next.
"Hedwig" was an instant hit with critics and audiences, and the film won both the Best Director and Audience awards at Sundance in 2001 (via Playbill). There wasn't — and still isn't — anyone quite like Hedwig, who goes on a journey to discover herself and the acceptance of her whole identity, rather than settling for being half of a person, just because she's in love. "Hedwig" is as campy and fun (and funny) as it is emotional and moving. The film's themes of outsiderness, resilience, and self-acceptance — told through its epic original songs — transcend audiences beyond the LGBTQ+ community. As Mitchell noted in an interview with The Advocate, "We're all freaks, we're all losers at some point in our life. And if [Hedwig] can find some kind of solace, maybe we can too, and maybe that involves putting on a wig."
The Hours
Stephen Daldry's 2002 drama "The Hours" — based on Michael Cunningham's novel of the same name — looks at the lives of three women across three generations, who are all connected by Virginia Woolf's novel "Mrs. Dalloway." In one storyline, it's 1923 and Virginia Woolf (Nicole Kidman) is struggling to deal with her mental health, while writing a new novel about a day in the life of a woman named Clarissa Dalloway. In another, it's 1951 and pregnant housewife Laura (Julianne Moore) struggles with feelings of ambivalence around her young son Richie and the pressures of being a homemaker. Finally, it's 2001 and Clarissa (Meryl Streep) is hosting a party for her old friend Richie (Ed Harris), who's living with AIDS and is losing the strength to keep going.
Anything about bisexual queen of modern literature Virginia Woolf is inherently going to be queer. "The Hours" doesn't shy away from this aspect of Woolf's legacy, as it explores and represents the desires in all three protagonists. Critics praised the film, which was nominated for a number of Oscars, and won Nicole Kidman her first Best Actress trophy (via IMDb). "The Hours" is heavily emotional, as it doesn't shy away from suicide and intense feelings of entrapment. Ultimately, it's an LGBTQ+ classic thanks to its stellar performances, writing, and exploration of queer figures both historical and fictional.
If you or anyone you know is having suicidal thoughts, please call the National Suicide Prevention Lifeline​ at​ 1-800-273-TALK (8255)​.
The Hunger
In the world of LGBTQ+ cinema, there's a significant sub-genre of the "lesbian vampire movie." While many may see vampires as metaphorically gay — what with the intimate neck-sucking and all of that — a number of filmmakers have taken this in a literal direction. So it is with Tony Scott's 1983 cult classic, which centers around a love triangle between Sarah (Susan Sarandon) and the vampire couple Miriam (Catherine Deneuve) and John (David Bowie). John discovers that while he's got eternal life, he doesn't have eternal youth, and he suddenly starts aging quickly as the centuries catch up to him. He and Miriam enlist the help of researcher Sarah to stop the aging process, and Miriam soon finds herself enchanted by this young human woman.
"Top Gun" director Tony Scott made his directorial debut with "The Hunger," which wasn't a critical hit, but has — unsurprisingly, considering the cast, subject, and style — achieved cult status over the years. Drew Gregory of the queer publication Autostraddle notes that while a lesbian vampire story is typically presented as a queer vampire seducing a straight woman who chooses to murder her in the end (and choose heterosexuality), "The Hunger" doesn't quite fall into this category. The film maintains ambiguity around that dynamic, and for many, this — plus its goth campiness — makes it a beloved LGBTQ+ classic to revisit on Halloween or any other time of year.
Imagine Me & You
Ol Parker's 2005 gay rom-com "Imagine Me & You" imagines what happens when you discover what you want at the wrong time. It's the wedding day of Rachel (Piper Perabo) and Heck (Matthew Goode). At her own wedding, however, Rachel meets the florist Luce (Lena Headey), and feels inexplicably drawn to her. Rachel and Luce get closer as friends, but soon Rachel realizes that she wants more than that.
"Imagine Me & You" is a sweet rom com with a happy ending that works due to the chemistry of Perabo and Headey (who thankfully showcases none of the diabolical traits she later would as Cersei Lannister). The film did not fare well critically, but that hasn't stopped queer viewers from embracing it (per Autostraddle), and its nearly double audience rating on Rotten Tomatoes indicates that the gatekeepers don't always understand what people want or need.
"Imagine Me & You" is a great queer film because it doesn't go to the extremes that rom-coms usually do. There are no villains here, and all the characters are treated empathetically. It's a film that lives in the ambiguous space between black and white — Rachel isn't tormented by internalized homophobia or her feelings for a woman; she's upset that her feelings mean she'll hurt someone she loves very much. Perhaps this is the queerest aspect about it, as it looks at the question of what happens when good people encounter bad timing, and struggle with hurting the ones they care about.
Je Tu Il Elle
Pioneering lesbian feminist Belgian director Chantal Akerman made a career of exploring the lives of women. Her first narrative feature, 1974's "Je Tu Il Elle" ("I You He She") follows the life and routine of Julie (Akerman). Julie spends a lot of time writing letters to an unknown recipient and rearranging furniture in her apartment. She leaves her apartment and hitchhikes with a trucker, with whom she has a sexual encounter, before going on to visit her ex-girlfriend (played by Claire Wauthion). The two sleep together, and Julie leaves the next day.
Akerman made this film at just 24 years old, and immediately put forth the vision that would establish her as one of the foremost experimental feminist filmmakers. Her composition is often at a distance, preventing the audience from entering the minds of her characters, but the time that she takes with her work — like the 10-minute sex scene in "Je Tu Il Elle" — allows viewers to stay with these characters in intimate spaces. According to Birds Eye View, film scholar B. Ruby Rich called this movie the "cinematic Rosetta Stone of female sexuality," thanks to its explicit but non-objectifying look at the intimacy between Julie and her ex. While many may know Akerman for her masterpiece of "Jeanne Dielman," which came out just a year later, "Je Tu Il Elle" stands out as one of her most significant contributions to classic LGBTQ+ films.
Jennifer's Body
Screenwriter Diablo Cody burst onto the scene with her feature debut "Juno," and then went in a totally different direction with her second film, "Jennifer's Body," directed by Karyn Kusama. The critics weren't so enthusiastic about Cody's foray into queer horror, but genius isn't always recognized in its own time, and "Jennifer's Body" is nothing short of brilliant. Needy (Amanda Seyfried) is a mild-mannered teenager, whose beautiful best friend Jennifer (Megan Fox) seems to occupy another world. This winds up being literally true when Jennifer is turned into a succubus, and starts feeding on men in town. As Needy watches her friend transform, she discovers that she too is ripe for change.
Despite its lackluster reviews, "Jennifer's Body" has found a new life as a cult feminist film in the #MeToo era. The film was initially misunderstood to be intended for straight teenage boys — even though it's deeply female-centered and queer (via Vox). According to Vox, Cody described it as "a commentary on girl-on-girl hatred, sexuality, the death of innocence … Any person who dares to respond in an unconventional way is branded a traitor." Needy's relationship with Jennifer is the epitome of "Do I want her or want to be her?" that many LGBTQ+ folks (and others) experience, while Jennifer literally eats the toxic men around her to become powerful, all of which make this an LGBTQ+ classic. Thankfully, the film is now being recognized for its merits, with Vice noting that it was simply too ahead of its time to find its audience right away.
Kiss Me
Alexandra-Therese Keining's 2011 Swedish romance "Kiss Me" (aka "With Every Heartbeat") is about two women who fall in love, but they're really not supposed to be in love. Mia (Ruth Vega Fernandez) has just gotten engaged to Tim (Joakim Natterqvist), and shows up to her father's 60th birthday party to share the news. There, she meets Frida (Liv Mjones), the daughter of her father's fiancée Elizabeth (Lena Endre). The uptight Mia and free-loving Frida are opposites, but they decide to spend some time together, since their families will be blended soon. Their friendship soon takes an unexpected turn, as they both confront surprising feelings of attraction for one another.
While objectively, future stepsisters falling in love is a bit of an iffy premise, "Kiss Me" makes it work (they're not blood related, okay?). This is partly because of the undeniable chemistry between Mia and Frida. What seems like it should be a melodramatic, soapy film is actually quite grounded and emotional, as Mia and Frida reckon with their feelings and the implication it has for their families, but still manage to find a happy ending. While the film wasn't really on many critics' radars, it has been embraced by queer publications like Autostraddle and Curve. Plus, it features a soundtrack that includes Swedish pop star and LGBTQ+ icon Robyn (whose song "With Every Heartbeat" gives the movie its alternate title), which would be enough to land it on any LGBTQ+ list.
Kissing Jessica Stein
Jennifer Westfeldt and Heather Juergensen wrote, produced, and starred in 2001's romantic comedy "Kissing Jessica Stein." Jessica (Westfeldt) is a neurotic woman in her late 20s who's having trouble finding love. No one catches her interest until she meets Helen (Juergensen), who's smart and funny. Jessica has never been with a woman before, but decides to explore a relationship with Helen. As Jessica gets deeper into things with Helen, she's surprised to discover what it is she really wants in life.
While critics loved "Kissing Jessica Stein" for its "refreshing and comical spin on nature of love" according to the Rotten Tomatoes Critics Consensus, the film is dated in many ways. Publications like GO Magazine and Slate note how its ending — in which Jessica loses sexual interest in Helen and then pursues a romance with her male boss — feels confusing. Rather than coming off as a celebration of Jessica's bisexuality, it feels instead like an erasure of Jessica's relationship with Helen and all that we've just seen on-screen.
Despite some of these issues, "Kissing Jessica Stein" is a very funny movie, and its representation of bisexuality, lesbianism, and the relationship that two women explore with each other remains a significant one in the history of LGBTQ+ classic films.
Laurence Anyways
Gay Canadian filmmaker Xavier Dolan wrote and directed the 2012 drama "Laurence Anyways," which follows the life of a trans woman as she begins her transition. Laurence (Melvil Poupaud) and Frédérique (Suzanne Clément) have been together for some time, but Laurence realizes that she's ready to transition and live as a woman. While Frédérique is initially unable to deal with such a big change, she comes around to support Laurence and help her through the process, as the film follows the ups and downs of their relationship, and Laurence's transforming sense of self.
"Laurence Anyways" was a critical hit, and Suzanne Clément won the Un Certain Regard award for Best Actress at Cannes in 2012. Like Dolan's other work, the film explores both queer subjects and themes, and in "Laurence Anyways," the focus turns to a woman and her transforming relationship with the person who knew (or thought she knew) her best. While Racine Charlotte writes for Roger Ebert that "Laurence Anyways" seems to be more an homage to its director than to the supposed protagonist of the film, and so the trans representation here feels a bit flat, it's still worth watching as a stylish, artistic story about a woman's journey to self-discovery.
Living End
In 1992, gay director Gregg Araki released his third feature "Living End," which B. Ruby Rich identified as one of the defining films of "New Queer Cinema" that same year in the Village Voice (via BFI). In Rich's terms, these were independent movies that featured LGBTQ+ protagonists on the fringes of society, who rejected the norms of heteronormativity, as well as the "positive" image expected of queer folks in the post-Stonewall gay liberation movement.
"Living End" certainly fits into this definition: Luke (Mike Dytri) is self-destructive, while Jon (Craig Gilmore) is more mild-mannered. They're both living with HIV, and decide to embark on a rage-fueled road trip, in which they kill a homophobic cop and discover new layers to their friendship.
"Living End" got decent reviews from critics, while Rich enthusiastically describes it as "a queers-on-the-lam portrait that deserves a place in movie history — an existential film for a post-porn age, one that puts queers on the map as legitimate genre subjects." If you're looking for a cathartic queer road trip movie, and one that has long held a spot in LGBTQ+ film history, look no further than "Living End."
Love, Simon
Greg Berlanti's teen rom-com "Love, Simon" is based on Becky Albertalli's book "Simon vs. the Homo Sapiens Agenda," and looks at the life of a closeted teenage boy in Atlanta. Simon (Nick Robinson) feels anxious about coming out to his friends and family. When he connects with another closeted student anonymously online, he finds himself opening up and willing to take risks to explore parts of his identity that he's tried to ignore for years.
"Love, Simon" is a sweet, heartwarming look at the universal experience of self-discovery in high school (and the terror of experiencing it among your peers), which is told through a specific gay lens. The film isn't obviously groundbreaking in the sense that it's a relatively straightforward teen rom-com. However, this 2018 film was the first movie featuring a queer teen protagonist to be released by a major studio in the United States (via The Hollywood Reporter). The significance of this wasn't lost on its stars, with Alexandra Shipp (who plays Abby, Simon's best friend) noting that she believed the movie would "save lives and create allies" (via Variety). Meanwhile, Jennifer Garner — who plays Simon's mother — bought out a theater in her hometown for a free screening of the film, to ensure that anyone who wanted could see this "great love story." Other stars — like Kristen Bell and Jesse Tyler Ferguson — followed suit (via People).
Ma Rainey's Black Bottom
George C. Wolfe's 2020 biopic "Ma Rainey's Black Bottom" — based on the 1982 eponymous play by August Wilson — explores a day in the life of blues legend and queer icon Ma Rainey. It's 1927 Chicago, and Ma Rainey (Viola Davis) has a recording session scheduled with her band, including ambitious saxophone player Levee Green (Chadwick Boseman, in his final film appearance). What should be a straightforward day of recording goes a bit off the rails, as equipment breaks, trysts occur, and egos clash, in this highly charged microcosm of the world outside.
The real Ma Rainey was known to be bisexual — her lyrics didn't shy away from being very gay (via Billboard) — and "Ma Rainey's Black Bottom" integrates this aspect of her identity in seamlessly. It's not the point of the film — that would be the relationship between her and Levee, and the bigger theme of being Black creatives in a white space that wants to dominate them — but rather, it's just a known, accepted part of the bigger-than-life Ma. So, when Levee starts eyeing Dussie Mae (Taylour Paige), the other bandmates warn him not to mess with "Ma's girl." The film got universal acclaim for its powerhouse performances by Davis and Boseman, and is absolutely worth checking out as a slice of Black American LGBTQ+ history.
Mädchen in Uniform
Leontine Sagan's 1931 German drama "Mädchen in Uniform" was based on out lesbian Christa Winsloe's play "Gestern und heute" (via Criterion). Set in an all-girls boarding school, the film centers around new student Manuela (Hertha Thiele), who struggles to fit into this new environment. Her teacher Fräulein von Bernburg (Dorothea Wieck) takes an interest in Manuela's well-being. Manuela soon falls in love with Fräulein von Bernburg, and struggles to reconcile those feelings within the harsh limitations of this school.
This inter-war film may seem chaste today, but was groundbreaking at the time of its release, and its perfect score on Rotten Tomatoes reflects how important it was. Made by a female director and featuring an all-female cast, "Mädchen in Uniform" is explicitly queer: Manuela dresses up in drag for a school play, and openly declares her love for Fräulein von Bernburg. Perhaps what's most revolutionary about it is that while it nearly ends tragically, it then concludes on a note of acceptance and compassion instead. According to Criterion, the Nazis tried to burn all copies of the film, and the movie would have been banned in the U.S. were it not for the lobbying from Eleanor Roosevelt (long suspected of being queer herself).
"Mädchen in Uniform" is one of the original classics of LGBTQ+ cinema, which helped establish a number of tropes like lesbian desire in a boarding school and a forbidden student-teacher relationship, and it continues to stand out for its illustration of complex female characters.
Maurice
James Ivory's 1987 romantic drama is based on E.M. Forster's "Maurice," and follows the life and love of Maurice (James Wilby), a young man living in early 1900s England. Maurice meets Clive (Hugh Grant) at Cambridge, and the two friends soon realize that they have feelings for each other. Clive is reluctant to make their relationship sexual, and the men part ways as Clive seeks to assimilate to "proper" society. Maurice tries to "cure" his homosexuality with hypnosis and other tactics, but when he meets Alec (Rupert Graves), he discovers a person who not only wants him to be himself, but who very much embraces that self too.
"Maurice" — like other Merchant Ivory films — is a quiet yet lush slice of life, which brings viewers into the emotional space of the characters. The film looks at the specifics of Maurice's identity — being a gay man in the early 20th century England, which a hypnotherapist (Ben Kingsley) notes "has always been disinclined to accept human nature." However, it also looks at the universal question of being an outsider bumping up against social norms. "Maurice" got predominately good reviews, with Kevin Thomas of The LA Times writing that it's "well-nigh flawless."
This quiet film speaks volumes with its surprising ending and message of self-acceptance, which makes it an LGBTQ+ classic worth watching.
The Miseducation of Cameron Post
Based on Emily M. Danforth's book of the same name, Desiree Akhavan's 2018 coming-of-age drama "The Miseducation of Cameron Post" explores life in a gay conversion camp in the 1990s. Teenager Cameron (Chloë Grace Moretz) secretly has a girlfriend, but when the two of them are discovered together, Cameron gets sent to a gay conversion therapy camp. There, she meets fellow rebellious spirits Jane Fonda (Sasha Lane) and Adam (Forrest Goodluck), and the three of them try to resist the camp's attempts to suppress and change them.
"The Miseducation of Cameron Post" brings to light the upsetting realities and traumas of abusive gay conversion therapy in a multi-layered way. The film is emotional but it's also biting and funny, and the spirited friendship of Cameron, Jane, and Adam brings a life and energy to this dark space. They find each other in a place that's meant to be isolating and self-obliterating, and thanks to each other's presence, are able to find the opposite and survive.
The film was critically acclaimed thanks to its performances and Akhavan's direction, which Mark Kermode of The Guardian says help make this "bittersweet drama" a "poignant, witty, defiant" movie. "The Miseducation of Cameron Post" is an LGBTQ+ classic that isn't just about the specifics of gay conversion therapy, but that's also about the universality of self-acceptance, which sometimes has to come from friends and community who can help you see yourself fully and lovingly.
Monster
Before tackling queer icon Wonder Woman, Patty Jenkins approached a different queer subject with her 2003 directorial debut, "Monster." Based on the true story of serial killer Aileen Wuornos, the film follows Aileen's path to violence and death. It's 1989 Florida and sex worker Aileen (Charlize Theron) has hit rock bottom, when she meets Selby (Christina Ricci). The two fall in love, but struggle to make ends meet and take care of each other. When one of Aileen's clients sexually assaults her, she kills him out of self-defense. Feeling scared and paranoid about another attack, Aileen soon begins killing and robbing all the men who hire her, while Selby starts to wonder where this new money is coming from.
"Monster" was critically acclaimed, with the Critics Consensus on Rotten Tomatoes calling it "an intense, disquieting portrait of a profoundly damaged soul." Many know this film as the one in which Charlize Theron "deglamorized" herself (for which she won an Oscar). Roger Ebert called Theron's depiction of Aileen "one of the greatest performances in the history of cinema," aptly noting that Aileen "doesn't know how to occupy her body," which perhaps speaks to her queerness (she's never been with a woman before Selby), but also taps into something deeper. What stands out about "Monster" is its deep, raw exploration of trauma and sexual abuse. It doesn't justify Aileen's actions, but the film examines the gray area of the intersection of mental health, sexuality, and class, which inform Aileen and drive her forward as she tries to take control over her fate.
If you or anyone you know has been a victim of sexual assault, help is available. Visit the Rape, Abuse & Incest National Network website or contact RAINN's National Helpline at 1-800-656-HOPE (4673).
Moonlight
Writer-director Barry Jenkins' 2016 masterpiece "Moonlight" — based on Tarrell Alvin McCraney's play "In Moonlight Black Boys Look Blue" — follows the life of Chiron. We first meet Chiron as a young boy called "Little" (Alex Hibbert), who's sensitive and often left alone by his addict mother (Naomie Harris). He's taken under the care of the protective drug dealer Juan (Mahershala Ali) and his kind-hearted girlfriend Teresa (Janelle Monae). As a teenager, Chiron (Ashton Sanders) struggles with being bullied, but finds solace in his friend Kevin (Jharrel Jerome), who offers him compassion and intimacy. Finally, adult Chiron (Trevante Rhodes) now goes by the name "Black," and has shut himself off from love and intimacy. However, he finds himself opening up again when Kevin (André Holland) comes back into his life.
While many may remember the Best Picture Oscar being ripped from the heteronormative hands of "La La Land" and given to "Moonlight," the iconic moment actually overshadowed this historical win: "Moonlight" was the first film with an all-Black cast – as well as the first LGBTQ+ film – to win Best Picture.
Not surprisingly, the film has a near-perfect score on Rotten Tomatoes. Visually stunning and powerfully emotional, "Moonlight" offers a multi-layered view of a gay Black man's life. The film is as much about chosen family as anything, as Chiron discovers love and acceptance with his surrogate family of Juan and Theresa. There's no LGBTQ+ film quite like "Moonlight." In fact, there's no film quite like "Moonlight" at all.
Mulholland Drive
Master of shadows and surrealism David Lynch's 2001 noir feature "Mulholland Drive" explores identity and the Hollywood machine. Wide-eyed Betty (Naomi Watts) moves to Los Angeles to make it as an actress. She's staying at her aunt's while her aunt is out of town, but when she arrives, she finds Rita (Laura Elena Harring) hiding out in the house. Rita has no memory of how she got there, so the two set out to uncover the mystery of what happened to Rita one fateful night on Mulholland Drive.
In typical David Lynch fashion, nothing is as it seems in "Mulholland Drive," which requires multiple viewings to unravel its thread. Its queerness is clear, as Betty and Rita start a romantic relationship, but it goes deeper than that. The film is divided into two parts, as we see different versions of Betty: her fantasy version of herself and her "real" self, seen by others. It's this break between fantasy and reality that makes this a brilliant LGBTQ+ film. It captures that oftentimes queer experience of needing fantasy to survive, and of having one's inner sense of self be completely disconnected from what's presented to the outside world.
Many consider "Mulholland Drive" to be Lynch's best film to date; the BBC even voted it as the No. 1 greatest film of the 21st century. Filled with incredible performances (by Naomi Watts in particular), Lynch's dreamy style, and enough confounding questions to fill a lifetime, "Mulholland Drive" is an LGBTQ+ classic that's worthy of all the rewatches.
Orlando
Writer-director Sally Potter brings Virginia Woolf's "Orlando: A Biography" to life in the 1992 period fantasy film "Orlando." Tilda Swinton stars as the androgynous nobleman Orlando, who tends to Queen Elizabeth I just before her death in 1603. The Queen promises to bequeath him some land, if he adheres to her command: "Do not fade. Do not wither. Do not grow old." Orlando agrees, and with that, he becomes immortal, spending the centuries basically hanging out and writing mediocre poetry. The world changes, but his life does not, until one day (a century or two later), he falls into a deep sleep and wakes up … as a woman. Now, the Lady Orlando must reckon with her immortality and new status in a world that doesn't particularly value women.
Woolf's "Orlando" is deeply queer through and through. Inspired by her relationship with Vita Sackville-West, the book was described by Sackville-West's son Nigel as "the longest and most charming love letter in literature" (via Time). Potter's film captures that loving spirit, as well as the joy and playfulness of the novel, which many critics praised. "Orlando" presents a queer world that combines history with fantasy, with enough space and then some for this immortal trans character. It's hard to imagine anyone other than Tilda Swinton in the role of Orlando, as she moves throughout androgynous spaces seamlessly, and there's no more fun nor fantastical LGBTQ+ classic around.
Pariah
Out writer-director Dee Rees' 2011 feature drama "Pariah" examines the life of Alike aka Lee (Adepero Oduye), a young Black teenager who's exploring her identity in a world where she doesn't see many others like her. Lee's best friend is Laura (Pernell Walker), an out lesbian who encourages Lee to experiment with her butch identity. However, Lee's mother Audrey (Kim Wayans) demands that she adhere to more feminine social norms, and as the two butt heads, Lee discovers that she may need to find a place where she can be herself.
"Pariah" is a remarkable film, in that it's about a young Black lesbian's experience (and semi-autobiographical for Rees), and it's also about that experience of first love and loss. It's not only romantic love or loss either — after all, many people experience these things with their families first, and such is the case with Lee, who navigates changing and confusing connections and intimacies with love interests and family members alike. "Pariah" shows a world where things are supposedly mutually exclusive — such as sexuality and spirituality — and examines how Lee finds a place to hold all of these things at once. The film received universal acclaim, with A.O. Scott noting for The New York Times, "Dee Rees's splendid 'Pariah' is to experience the thrill of discovery."
Paris is Burning
Jennie Livingston's 1990 documentary "Paris is Burning" helped bring New York's drag ballroom scene to the mainstream. The film focuses on drag queens from different "houses" — chosen families made up of performers, who represent each house at ball competitions. Featuring queens like Angie Xtravaganza, Pepper LaBeija, and Dorian Corey, "Paris is Burning" looks at the intricacies of drag and ballroom culture, as well as the realities facing queer people of color, both inside and outside the safety of the balls.
"Paris is Burning" was loved by critics and audiences. It thrills with its scenes of the balls, showing queens turned out to the nines, while its heart is in these performers' desires for fantasy … or rather, for fantasy to become reality in the world outside the balls.
While the influence of "Paris is Burning" can't be overstated, this seminal LGBTQ+ film carries a complicated history. Livingston identifies as a lesbian, but some have questioned how her whiteness and privilege informed the film and its success (via Vanity Fair). In a 1993 interview with The New York Times, Pepper LaBeija said she felt "betrayed," as she and the other queens were promised more than the few hundred dollars they got to participate, but didn't receive anything from the film's success.
The history of the film can't be erased. However, this movie offers a view of a world that so many — even within the LGBTQ+ community — don't know. It's a powerful time capsule of a world and its people.
Philadelphia
Jonathan Demme's 1993 legal drama "Philadelphia" was the first major film about AIDS (via The New York Times). Andy (Tom Hanks) is a lawyer who's trying to keep both his homosexuality and AIDS diagnosis a secret at his office. However, when he gets fired seemingly out of the blue, he suspects that it's actually his sexuality and illness that are the cause of it, so he sues his firm for discrimination. No one will take Andy's case, until he meets Joe Miller (Denzel Washington). Joe is initially hesitant due to his own homophobic prejudices, but soon discovers that the two of them have more in common than he thought, and he takes Andy's case to court.
Based partly on the true stories of attorneys Clarence Cain and Geoffrey Bowers (per The Washington Post), "Philadelphia" offers an emotional look at how one man's sense of self and agency get denied by a society that's terrified of who he is. Joe learns to overcome his fears about Andy's sexuality once he realizes that as a gay man, Andy has faced discrimination, much the way Joe has as a Black man. The film was a box office success that was praised by the critics, and Tom Hanks won an Oscar for the role. While much of the language around AIDS has changed, at the time of "Philadelphia's" release, this illness was still shrouded in stigma and secrecy. For many, this LGBTQ+ classic helped push the conversation to a more human and understanding place (via Smithsonian Magazine).
Pink Flamingos
Gay icon and queen of counterculture John Waters wrote, directed, produced, narrated, filmed, and edited 1972's "Pink Flamingos," a film about "the filthiest person alive" and the first installment of his "Trash Trilogy" (via Den of Geek). Drag queen Divine stars as a criminal named Divine, who's recently earned the title of "the filthiest person alive." The Marbles (David Lochary and Mink Stole) decide that they want that honor, so they initiate a war with Divine to see who's the filthiest of them all.
There's shocking, and then there's John Waters … plus Divine. If one definition of being queer is being outside of "acceptable" society and writing the rules for yourself, then "Pink Flamingos" is the queerest movie that's ever been made. Waters pushes the boundaries in every way possible, and as he told The Guardian, "Pornography was just becoming legal … So I tried thinking up things that weren't illegal on film yet, but should be." Besides its shocking aspects, "Pink Flamingos" is deeply funny. It's absurd, strange, oftentimes incomprehensible, and yet it clearly comments on the absurd, strange, and incomprehensible rules that make up the fabric of society by completely unraveling that fabric and then setting it on fire (and other things we can't write here).
"Pink Flamingos" is hard to stomach — it's perhaps the abject film — but its unflinching commitment to itself, with Divine as the face of it, makes it profoundly queer, and an LGBTQ+ classic.
Portrait of a Lady on Fire
Céline Sciamma's 2019 French drama "Portrait of a Lady on Fire" tackles the very well-trodden sub-genre of LGBTQ+ cinema: "lesbian period pieces filled with intense longing." It's the 18th century and Marianne (Noémie Merlant) is a portrait painter. She's hired to paint Héloïse (Adèle Haenel), who's about to be married off to a man she's never met. Héloïse doesn't want to get married, and she doesn't want to get painted, so Marianne conducts her work in secret, observing her subject on the sly. The two women come from different worlds, but soon discover that each has something the other wants, and away from the prying eyes of the world outside, their intimacy develops into something profound.
"Portrait of a Lady on Fire" has a near-perfect rating on Rotten Tomatoes. It's one of the few mainstream lesbian films to actually have been written and directed by a lesbian, as well as star at least one queer women (Adèle Haenel, Sciamma's ex). It's a film that's about looking and being looked at — in romance, art, and society. More specifically, it's about women looking at each other — Sciamma described it to Vox as a "manifesto about the female gaze" — as it explores the gray area between subject and object, which is an aspect of the lesbian experience that isn't often explored on screen. Ultimately, "Portrait of a Lady on Fire" is a queer female rendering of a world that's unlike anything else in cinema.
Pride
Based on a true story, Matthew Warchus' 2014 comedy drama "Pride" explores the unlikely coming together of two different groups of people: gays and miners. It's 1984 and coal miners around the U.K. have gone on strike to protest the closing of mines. Mark (Ben Schnetzer) is a proud gay man who decides to raise money for struggling coal miners. Many of the strikers have become pariahs, and are now harassed by the police and suffering from unemployment, which is something the gays understand. Mark gathers his friends to form the Lesbians and Gays Support Miners (LGSM) group, and this gaggle of gays sets off to a small mining village to show their support and do what they can to help the community.
"Pride" is a heartfelt movie about two communities of people crossing their differences to reach understanding. Both the LGBTQ+ characters and the miners experience discrimination and a sense of outsiderness, albeit for very different reasons. But they all want the same thing — dignity, respect, and the chance to stand up for themselves — and that's the message of "Pride." Featuring a stellar cast that includes Dominic West, Imelda Staunton, and Bill Nighy, not to mention a killer '80s soundtrack, "Pride" was a critical success. The Rotten Tomatoes Critical Consensus declares that it's "earnest without being didactic and uplifting without stooping to sentimentality." "Pride" is an LGBTQ+ classic that perfectly balances humor and emotion, and presents a story of hope that will be sure to delight.
Professor Marston and the Wonder Women
Writer-director Angela Robinson brings her keen eye to Wonder Woman in the 2017 biopic "Professor Marston and the Wonder Women." In 1928, William Moulton Marston (Luke Evans) and his wife Elizabeth (Rebecca Hall) are psychologists, teaching at Harvard and Radcliffe. William hires his student Olive (Bella Heathcote) to be their research assistant, but things quickly change as William, Elizabeth, and Olive enter into a polyamorous relationship. As the three of them navigate this new reality, William also starts exploring the world of BDSM, as well as his idea for a comic book character who could promote a feminist vision of empowerment and equality.
While this critically acclaimed film presents the surprising true origin story of one of the most beloved comic book characters of all time, what's more surprising is Robinson's sensitive, nuanced approach to the subject. "Professor Marston and the Wonder Woman" presents a queer polyamorous relationship in a serious and compassionate way. William and Elizabeth don't compete for Olive's affections; rather, all of the expressions of love are given equal weight. David Sims writes for The Atlantic that "it's genuinely daring how Robinson depicts the evolution of their love … this is a film that doesn't fetishize their fluid sexuality and make it a sideshow to be gawked at." This is an LGBTQ+ classic that was a bit overshadowed by the release of Patty Jenkins' "Wonder Woman" the same year, but it offers a totally different and unique perspective on the beloved comic book characters and polyamory.
Rafiki
Wanuri Kahiu's 2018 romantic drama "Rafiki" looks at the love between two young Kenyan women. Kena (Samantha Mugatsia) is helping her father campaign for a local election, when she meets Ziki (Sheila Munyiva). There are instant sparks between them, and they start dating. But when friends, family, and gossips find out about this relationship, they do their best to tear them apart and ostracize each woman.
Homosexuality is illegal in Kenya, so the Kenya Film Classification Board banned the film and demanded that Kahiu change the hopeful ending since it indicated that homosexuality was acceptable, but Kahiu refused (via The Daily Beast). The film was eventually allowed to screen for a week — so it could be eligible to be submitted as Kenya's entry for the Oscars — and "Rafiki" sold out to an audience that "cheered and clapped" throughout (via Sydney Morning Herald).
Despite these hurdles, "Rafiki" pushed through to make amazing historical achievements, such as being the first Kenyan film to premiere at Cannes, according to The Daily Beast. Its significance was recognized by jury members like Cate Blanchett and Ava DuVernay, who opted to watch the film instead of deal with other official duties. "Rafiki" is a remarkable film, not only for its exploration of a taboo relationship within Kenyan society, but also for its positive, affirming, and vibrant representation of two women who choose to pursue their love against all odds.
The Rocky Horror Picture Show
In Jim Sharman's 1975 camp cult musical extravaganza "The Rocky Horror Picture Show," square couple Brad (Barry Bostwick) and Janet (Susan Sarandon) get stranded near a strange castle after their car breaks down. They seek help in the castle, and soon find themselves embroiled in the wild, absurd, and boundary-breaking world of Dr. Frank-N-Furter (Tim Curry), a trans, bisexual scientist, who introduces them to his newest creation: Rocky Horror (Peter Hinwood).
"Rocky Horror" was not critically acclaimed when it was first released, but many critics have changed their tune since then. "Rocky Horror" has become a cultural phenomenon, thanks in large part to its interactive midnight screenings. It's a divisive LGBTQ+ film, as many have criticized the movie's queer representation, particularly in the character of Dr. Frank-N-Furter, who can be seen as a dated and offensive stereotype of a trans person.
However, others have celebrated its representation of sexual fluidity and freedom, as well as its very queer aesthetic, style, and campiness. Cael M. Keegan writes for Flow Journal that despite being a "bad transgender film," "Rocky Horror" actually subverts its stereotypes to infuse Dr. Frank-N-Furter with the power to create a body on his own terms and the agency to look "for a place where his queer desires will be accepted." Wherever you fall in the "Rocky Horror" camp, there's no denying that this is a classic LGBTQ+ film that's worth a watch or a time warp at a midnight screening.
Alice Wu made her feature debut in 2004 with the romantic dramedy "Saving Face," which explores a closeted woman's relationship with her lover and mother. Wilhelmina, aka Wil (Michelle Krusiec), is a lesbian who's closeted to her mother Gao (Joan Chen). Things get complicated when Wil meets Vivian (Lynn Chen), and the two start dating, but Wil wants to keep their relationship a secret. Her paranoia about getting exposed increases ten-fold when Gao gets pregnant and is forced to move in with Wil, who struggles to keep both her mother and girlfriend happy — two goals which seem to be mutually exclusive.
"Saving Face" is a beautiful, sweet, funny film about the Chinese-American experience — both queer and not — which explores the ways in which family can stop us from being who we are. The movie was historic, as it was the first Hollywood film about Chinese-Americans since Disney's "Joy Luck Club" in 1993 (via The New York Times).
According to The New York Times, Wu based "Saving Face" on her experiences as a lesbian, as well as her relationship with her mother. She directed the film to keep its integrity, and declined producers' suggestions to make the film more white or heterosexual. Will Smith's Overbrook produced the film, and Wu got full agency over this LGBTQ+ Chinese-American intergenerational story. Wu's trust in the film paid off, as "Saving Face" was critically acclaimed, and Autostraddle named it as the No. 2 best lesbian movie of all time.
Set It Off
F. Gary Gray's 1996 heist movie "Set It Off" follows a group of tight-knit friends who decide to fight back against the system and rob a bank. Frankie (Vivica A. Fox), Cleo (Queen Latifah), Stony (Jada Pinkett Smith), and T.T. (Kimberly Elise) are disrespected and underpaid at their jobs. When Stony's brother gets killed by the police, the women decide to take matters into their own hands: They're going to start robbing banks, and use the money to take control in a world that insists on hurting and keeping them down.
"Set It Off" is a great movie about the powerful ties and caretaking between a group of Black women, and it's a great LGBTQ+ movie because Queen Latifah's Cleo is a total butch icon. In an interview with Tracee Ellis Ross, Latifah discussed her decision to take on the role: "I'm doing it because I believe I can bring positive attention to the gay African-American community, and I believe I can do a great job as an actor" (via iHeart). Latifah perfectly embodies the role of Cleo, a woman who's trying to protect her friends as much as herself. "Set It Off" represents this community of women in a multilayered way, showing their joy and companionship as much as their pain and trauma. The film was a critical success, with Rotten Tomatoes calling it a "satisfying, socially conscious heist film" and it's a standout in the world of classic LGBTQ+ films.
Show Me Love
Lukas Moodysson made his feature film debut with the 1998 Swedish romantic comedy "Show Me Love," about two bored teenagers stuck in their small town. Agnes (Rebecka Liljeberg) is closeted and in love with the more popular Elin (Alexandra Dahlström). Agnes feels like an outsider and struggles to fit in with her classmates, but her luck changes when Elin decides to start paying attention to her. The two girls form an unexpected friendship that starts crossing the line into romance, but soon discover that this relationship might be more than they (or their town) can handle.
"Show Me Love" captures that mix of boredom and excitement of adolescence, all of which is enhanced further by gay feelings of longing, lust, and love. The film was a critical hit, thanks in part to the excellent chemistry between Dahlström and Liljeberg. "Show Me Love" is a coming-of-age story, more than a coming out one. Rather, it integrates one into the other as part of the process of self-discovery: Agnes is already out to herself at the start of the film, and by the end, she discovers she's capable of having the connection she desires, while Elin realizes that she can set aside competition for care and compassion. Overall, it's a great '90s time capsule, and a great LGBTQ+ teen love story.
Summertime
Catherine Corsini's 2105 French-Belgian romance "Summertime" (aka "La Belle Saison") travels back to the free-loving '70s France. It's 1971 and Delphine (Izïa Higelin) moves from her family's farm in the country to Paris, where she meets Carole (Cécile de France), a member of a local feminist group. The two of them start a relationship, but their honeymoon period is cut short when Delphine's father falls ill, and she has to return to her family home to take care of him. When Carole visits Delphine on the farm, she's surprised to discover that the two of them must be closeted for the sake of Delphine's family and neighbors.
"Summertime" is a beautiful, lush film that perfectly captures a European summer energy of warmth, passion, and freedom. It's contrasted by the reality of having to be closeted, and the film explores this tension in a thoughtful and compassionate way. Both Delphine and Carole are valid in their desires and needs, and "Summertime" offers a realistic look — rendered in part through a lens of class — as to why Delphine continues to be closeted around her family. The film was highly praised by critics, with the Rotten Tomatoes Critics Consensus noting that it "offers a refreshing perspective on its era."
Tangerine
Sean Baker's 2015 dramedy "Tangerine" follows the day in the life of a group of friends and sex workers in Los Angeles on Christmas Eve. Sin-Dee-Rella (Kitana Kiki Rodriguez) has just gotten out of prison, and discovers that her boyfriend and pimp is cheating on her with another woman. She and her friend Alexandra (Mya Taylor) set out to find and confront him, which takes them on a surprising journey around Los Angeles.
"Tangerine" is a unique film, not just for the way it was filmed (on iPhones), but for its vibrant, energetic, and open representation of trans women and sex workers. The film feels almost like found footage of Alexandra and Sin-Dee, whose banter and comfort with each other is so effortless that it's not hard to feel like you're part of their friendship. Or at least bearing witness to something real.
The movie got universal acclaim, with David Rooney of The Hollywood Reporter calling it "a singularly delightful girlfriend movie with an attitude," and Ignatiy Vishnevetsky of The A.V. Club noting that "it's the movie's quietest, softest moments that register most strongly." "Tangerine" is an LGBTQ+ classic because it's funny, emotional, and stars trans women as trans characters. There's nothing like it.
Thelma
Joachim Trier's 2017 teen drama "Thelma" brings a gay love story into a supernatural space. Thelma (Eili Harboe) is a teenager who's grown up in a conservative, religious household. Her mind and her world open up when she moves to Oslo for college, where she meets Anja (Kaya Wilkins). The two of them get close, and as Thelma's feelings for Anja grow, so does something strange within her: psychokinetic powers. As Thelma tries to control her powers as well as her feelings, she finds herself confronting previously hidden parts of herself, and some dark family secrets.
"Thelma" places the LGBTQ+ experience directly into the body, where it grows and transforms into something that Thelma never imagined. The film isn't just an exploration of Thelma's coming out as gay; it's also her coming out as an independent, adult woman who discovers who she is outside of the strict confines of her controlling family. This instant classic LGBTQ+ film stands out thanks to its stellar performances, killer Scandinavian pop soundtrack, and Trier's visionary direction, which surprises in its move from the more mundane fare he typically deals with into the supernatural. "Thelma" was a hit with the critics, and the Rotten Tomatoes Critical Consensus declares that it "plays with genre tropes in unexpected ways, delivering a thoughtfully twisty supernatural thriller with a lingering impact."
The Watermelon Woman
Writer-director Cheryl Dunye's 1996 romantic drama "The Watermelon Woman" tells a meta story about a woman making a documentary about another woman. Dunye stars as a version of herself: a 25-year-old lesbian who works at a video store. Cheryl spends her time poring through 1930s and '40s movies, looking for appearances of various uncredited Black actresses. When she discovers a woman who's only credited as "The Watermelon Woman," she decides to make a documentary and find out this woman's identity. As she gets deeper into the life of the "Watermelon Woman," she also starts dating Diana (Guinevere Turner), which begins to complicate her filmmaking process.
"The Watermelon Woman" mixes fiction, autobiography, documentary, and history to create something unexpected and new. Besides the fact that it's an amazing film made by and about a Black queer woman, it's also one that can't quite be categorized, which is part of what makes it an LGBTQ+ classic. "The Watermelon Woman" is smart, incisive, and funny, and got critical acclaim thanks to Dunye's pioneering style. BFI listed it as one of its "10 Great Feminist Films" in 2015, and "The Watermelon Woman" is necessary viewing for anyone interested in queer, feminist, Black, or generally great cinema.
The Way He Looks
Writer-director Daniel Ribeiro's 2014 Brazilian teen drama "The Way He Looks" tells the story of Leonardo (Ghilherme Lobo), a blind teenager. Leonardo is often frustrated — he gets bullied at school and he's never even been kissed. He's close with his best friend Giovana (Tess Amorim), but they're both starting to bump up against their codependent friendship. Everything changes when a new student Gabriel (Fabio Audi) arrives at their school, and both Leo and Giovana find themselves falling for this intriguing new boy.
"The Way He Looks" is a sweet coming-of-age drama that looks at a queer relationship and experience of self-discovery through the unique lens of a blind character. Leo is often reliant on others, which can make it hard for him to hear his own voice, and see what his needs are. The film is emotional and gentle, as it looks at Leo's changing relationships in both romantic and platonic spaces. "The Way He Looks" got universal acclaim from critics, with the Rotten Tomatoes Critics Consensus noting that the movie "leaves a warmth that lingers" and it's this compassion and warmth that make it an LGBTQ+ classic.
Weekend
Andrew Haigh's 2011 British drama centers around a short-lived romance between two men. The reserved and introverted Russell (Tom Cullen) meets artist Glen (Chris New) at a club, and the two wind up spending the entire weekend together, before Glen leaves for the United States for a few years. As these strangers become more intimate, and discover the ways in which their pasts diverge and connect, they're forced to confront their own desires and fears of connection.
"Weekend" only covers the span of two days, but it's often in short time periods — and with people that we don't know — that deep intimacy can be achieved with safety. Such is the case for Russell and Glen, who are both closed-off for different reasons, but find a space of freedom and trust with each other. The film got rave reviews, thanks to Haigh's writing and direction, and the performances of Cullen and New, all of which created a powerful and real look at intimacy between two men. "Weekend" may not seem like much on the surface — it's a chamber piece, essentially — but it fills up the brief time and confined space of Russell's apartment with as much emotion as possible to create one of the best LGBTQ+ films to date.