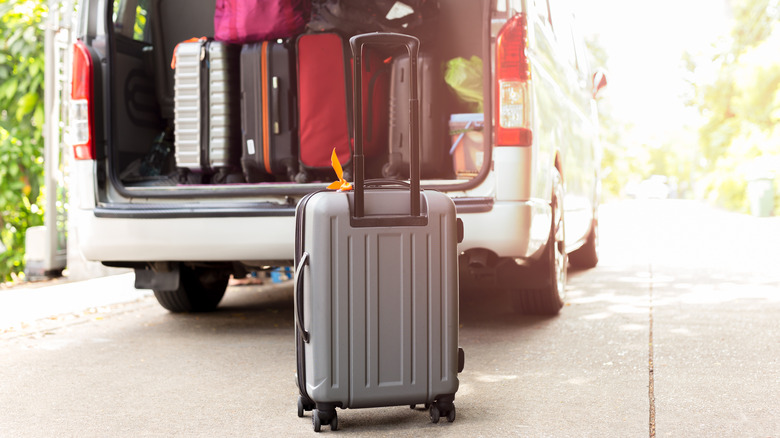 Are you looking for the ultimate way to bond with your extended family? A getaway together can be a fun way to create new memories. True, it can be overwhelming to plan a vacation for a large group. However, with a little research and strategic planning, you can have a stress-free and fun-filled time together.
First, you'll have to ask, what's your ideal destination? Are you looking for tons of attractions and kid-friendly outings to keep little ones happy? Or does your family simply want to kick back, relax, and enjoy each other's company? Some destinations even cover the best of both worlds. Talk to all travelers involved and find the perfect spot to meet your needs.
Once you've decided where you're going, you'll have to lock down where you'll be staying. When traveling with a huge group, a large rental property can make an ideal accommodation. You'll have a place to prep meals together and common spaces to hang out. Plus, as USA Today points out, you might just save some cash staying in an Airbnb versus booking a hotel since you can split the costs of the house. Check out some of the best Airbnbs perfect for your next big family vacation and bonding session.
Disney-themed Orlando property close to the parks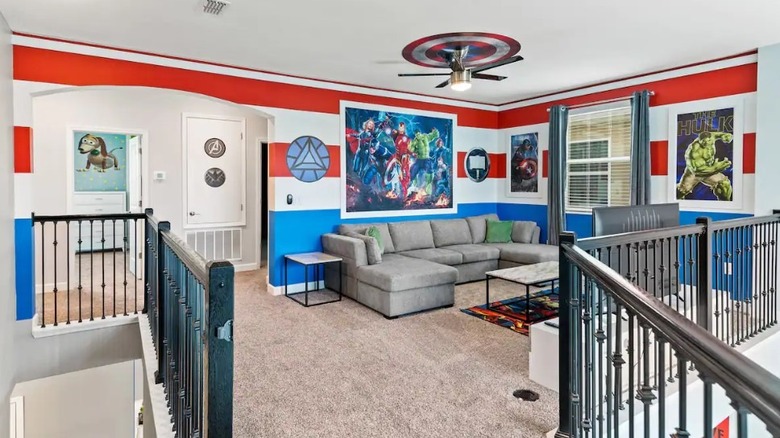 Nothing says family-friendly more than the Walt Disney world mecca in Orlando. There are four unique theme parks to explore with rides and attractions for all ages. Whether your family is into princesses or "Star Wars," there's something for everyone at the Disney Parks. Plus, if you have adrenaline junkies in your family, Universal Studios is also in the area. Here, thrill-seekers can take on the latest rollercoaster or check out the Wizarding World of Harry Potter (via Universal Studios).
When visiting Orlando, what better place to stay than in a Disney-themed vacation rental? According to the Airbnb listing, this villa sleeps 14 guests in its five creatively decorated bedrooms. Young family members will love bunking together in the "Toy Story" or "Star Wars" bedrooms. There's also a "Pirates of the Caribbean" Suite with ship-like decor. Or, head down to the "Harry Potter"-themed rec room for a magical game of foosball or air hockey.
The common areas have more subtle Disney-oriented decor that maintains the magic while being functional. A well-equipped kitchen opens to a spacious living area allowing for easy gathering and meal prep. Outside, the private pool and hot tub allow for a convenient dip between park visits. And the property offers community access to amenities like a lazy river, splash pad, fitness center, and mini-golf for fun on-site.
Rustic Pigeon Forge retreat in the Smokeys
The Smokey Mountains are an ideal spot for family-friendly hiking and nature. According to the National Park Service, the Great Smokey Mountain National Park area is home to kid-friendly trails and hiking options for every skill level. There are waterfalls, mature forests, and stunning mountain views. The site is also home to the exciting Pigeon Forge area with attractions for all ages. There is tons to do here, including the Dollywood theme park, theater shows, mini-golf, and go-karts (via My Pigeon Forge). This makes a stay here perfect for those looking for both peaceful nature and exciting fun.
Copperhead is a big tree-top property that sleeps 16 guests (via Airbnb). The rustic vibe here is perfect for family getaways. There's plenty of sleeping space between the six wood-paneled bedrooms, and the youngest guests will love the adorable three-tiered bunk room. The two-story great room and adjacent kitchen are perfect for hanging out while enjoying the view. Family members can challenge each other to foosball or a game of pool in the property's rec room.
Outside, there's tons of outdoor living space to enjoy the mountain air. Relax in the hot tub or eat dinner on the tree-covered deck. There's even an indoor pool in case the weather doesn't cooperate. When you're ready for adventure, the property is conveniently located for hiking or checking out all of the happenings in Pigeon Forge.
Lots of Lake Tahoe family fun
According to U.S. News, Lake Tahoe is one of the best small towns to visit in the United States. This popular California haven attracts visitors with its crystal clear waters, beautiful mountainsides, and tons of hiking and skiing. Plus, family-friendly activities like hot air balloon rides and cruises keep everyone busy.
A stay at The Tallac Lodge can be an awesome way to connect with family and escape to the Lake Tahoe area. The nine-bedroom modern cabin sleeps 14 guests comfortably (via Airbnb). There are four bedrooms with attached bathrooms and 2.5 others for guests to share. With three levels, this rustic retreat has plenty of hang-out spaces to gather. There is a spacious kitchen with modern appliances, tons of lounge areas, a rec room with a foosball table, and a ping pong table in the garage.
Outside, enjoy the stunning weather in the private, fenced-in yard, perfect for kiddos to play. There's also a spacious deck where families can enjoy the hot tub or cook dinner on the grill. The home is on a quiet street but in a convenient location. When you're ready to explore the area, you'll be just a short drive from tons of skiing and hiking spots. You can also walk from the property to many dining options, mini-golf parks, arcades, and even the beach!
Perfect headquarters for exploring Denver
As PlanetWare points out, there's tons to do in Denver for the whole family. The Denver Zoo, children's museums, and Downtown Aquarium are all hits with the little ones. Plus, The Mile High City is close to awesome hiking, skiing, and watersports sites. This makes it a great destination for a large family group with a wide age range and several types of interests.
Renting a vacation home provides an awesome home base for exploring Denver. This sprawling ranch sleeps 14 guests and features five bedrooms and three bathrooms (via Airbnb). The modern decor and spacious gathering spaces provide plenty of areas to hang out. There's a great game room as well with darts and pool, ping pong, shuffleboard, and poker tables.
The fenced-in yard is perfect for outside time. Plus, the property is in a great location in the charming area of Arvada. The quiet suburb is family-friendly yet convenient to plenty of attractions. You can quickly get to the G Line for easy railway access to the downtown Denver area.
Enjoy the Hawaiian islands family-style
Immerse your family in paradise with a trip to the Hawaiian islands. The Family Vacation Guide points out the many reasons that The Big Island is a great destination for travelers of all ages. Here, you can check out some cool volcanoes and explore historic parks. There's also lots of hiking, nature, and stunning beaches.
Ohana Means Family is a great duplex vacation rental that's awesome for large groups. With five bedrooms, the home sleeps 16 guests comfortably (via Airbnb). The cheery, tropical decor adds a fun vibe to the family-friendly space. The property is divided into two units, meaning you'll have access to two kitchens, two living areas, and two lanais — an ideal setup for large groups.
The home is located in the Hilo area, close to fun things to do and see. You can walk to nearby shopping and dining right from the property. Attractions like Volcanos National Park, waterfalls, and beaches are within driving distance. The charming area is a great home base for your family's Hawaiian excursion whether you are looking for relaxation or adventure.
Great group property in the Windy City
A visit to the big city is a great way to accommodate travelers of various ages with a variety of interests. Chicago is an awesome Midwestern city that's welcoming but has all of the perks of a major metro area. Go City suggests tons of family-friendly ideas for a trip to the Windy City. The Field Museum, Legoland, and Millennium Park are all big crowd-pleasers. Navy Pier and Shedd Aquarium are also must-visits for family members of all ages.
Finding big city accommodations for a large group can be challenging, but this home is in a quiet neighborhood and is also convenient to downtown attractions. The three-level home can sleep 16 guests and features four bathrooms (via Airbnb). With boho decor, the colorful living spaces are welcoming and charming. The highlight of the home is the game area featuring a foosball table and old-school arcade games. Play a few board games or enjoy a nostalgic round of NBA Jam or Mortal Kombat.
This rental property is located in the trendy and lowkey Wicker Park area. You can stroll to unique shopping and dining from the home, and the nearby train stop is just a short walk away. This makes it convenient to enjoy the many downtown area attractions without worrying about traffic and parking.
One big happy family in Hilton Head
Hilton Head Island is a popular destination for many traveling families for its kid-friendly beaches and variety of attractions. Atlanta Parent lists the must-do adventures to add to your family's Hilton Head itinerary. Harbour Town is a great spot for all ages, and kiddos love the impressive lighthouse. Adventure Cove is perfect for golf lovers and those wanting to enjoy the enormous arcade. If your group has animal lovers, check out Lawton Stables for the petting zoo and equestrian activities for all ages.
This beach house rental offers plenty of space and tons to do, no matter the forecast. The property can sleep 16 guests in its six coastal-themed bedrooms (via Airbnb). Nine kids can sleep in the bunk room that's filled with plenty of colorful toys and activities. The large kitchen and dining area connect to the living room with plenty of seating so everyone can gather together. There's also a home 3D theater for a truly unique group movie night.
Outside there is a covered pool area with plenty of seating. The two-story deck is perfect for enjoying morning coffee or an evening cocktail. Or, pack up the toys and take the whole family to the beach, which is only a nine-minute walk away.
San Antonio for Western family fun
According to Metro Family Magazine, the Texas city of San Antonio has something to appeal to every member of the family. The downtown area is full of landmarks and attractions for history buffs. The San Antonio Zoo is a must-visit for animal lovers. And Sea World is an awesome park to explore for those fascinated with ocean life. The city even hosts a yearly Kidcation Week to attract families and promote kid-friendly events.
Staying at this modern property can take your San Antonio vacation to the next level. The impressive home sleeps 15 and has some truly unique decor and features (via Airbnb). The bright color scheme and playful touches make the home fun and welcoming. The two living rooms are great spots for spending time together, however, the blue-hued garage game room is where this property shines. Gather the family here and enjoy pool, darts, skeeball, or air hockey in the energizing space.
The home sits in a quiet neighborhood that's close to shops and restaurants. Visitors also have access to the community pool and playground. Plus, parking for up to five vehicles makes it easy to load up the family and make the quick drive to area attractions.
Family getaway in Ohio's Hocking Hills
As Midwest Living points out, the Hocking Hills region will make you feel like you've been transported to another world. The area is full of caves, waterfalls, and trails for the entire family to enjoy. There are canopy tours, ziplines, and canoe rides for the adventurous types. There's also putt-putt and mini-golf for more laid-back fun.
The Lodge at Harble Ridge is a fun retreat that 23 family members can enjoy (via Airbnb). With six bedrooms, flexible sleeping options, and lots of bunk beds, the home's perfect for multiple families. The warm wood-paneled living room is even stocked with kids' toys and has plenty of seating for family bonding time. Group meals are made easy in the open kitchen and spacious dining table. Plus, the huge basement lounge area has tons to do, including shuffleboard, foosball, pinball, and air hockey. Adults can kick back and enjoy a movie while kiddos enjoy the provided play kitchen.
Outside, enjoy the scenery and mild Ohio weather in the relaxing hot tub. The wrap-around two-story deck has plenty of seating to bask in the woodland views. You can also build a fire and relax on the fireside swings. The home sits on a shared property with a stocked pond, trails, and a natural playground. This means you can make the most of your adventure in nature without even leaving the grounds.
Group Gulf gathering in Orange Beach, Alabama
According to Visit the USA, Alabama has miles of gorgeous beaches along the Gulf of Mexico's clear blue waters. Here, Orange Beach is a family-friendly beach that also allows you to take advantage of the many attractions in neighboring Gulf Shores. There are tons of walking trails and nature spots for everyone in the family to enjoy. The area is also home to The Hangout, a huge beachside restaurant that features family-friendly live music and a foam pit (via Gulf Shores & Orange Beach Tourism).
Staying on the beach puts you steps away from the Gulf and gives you stunning sunset views. Playa Bella is a 10-bedroom home that sleeps 16 guests and has plenty of room for a large group (via Airbnb). The home has a beachy, airy vibe and spacious common areas for gathering. Eight kiddos can even have a vacation-long slumber party in the custom bunk room.
Head outside to enjoy the gulf air from one of the covered decks. You can also quickly get your toes in the sand with boardwalk beach access. The property features its own private pool for those not wanting to venture into the Gulf. Guests also have access to a zero-entry community pool, perfect for toddler travelers.
Torch Lake fun for the whole family
MLive points out that Torch Lake is "Michigan's own slice of the Caribbean." This crystal blue stunner is a unique body of water in the Northern United States. If your family enjoys boating, water skiing, or just lounging by the lake, this spot is a must-visit. Its sheer size makes it feel ocean-like, and has tons of awesome sandbars. Plus, the many public access points make enjoying the lake super convenient.
Brave Spirit is a jaw-dropping lakeside lodge that sleeps 14 guests (via Airbnb). Here, you'll find cozy finishes and wood-paneled walls. Guests will enjoy the National Park-themed bedrooms, including a bunk room. There are two well-equipped kitchens as well as a massive dining table to enjoy family meals. The two-story great room features space for everyone, ornate details, and beautiful views of the lake.
Of course, you can enjoy the lake and nearby attractions. However, the property itself has a ton to do, no matter what the weather. Enjoy the trio of pinball machines, air hockey, and shuffleboard tables in the game room. Get in a workout in the state-of-the-art fitness room before relaxing in the outdoor spa. Or, gather the whole family in the massive theater room for a cozy movie night.
Family fun in sunny San Diego
According to Forbes, San Diego is a wonderful vacation destination. The city is home to the famous San Diego Zoo as well as Balboa Park. The Old Town area is a blast from the past, full of shops and events for history buffs. And beach-lovers can take the short drive to La Jolla for sand, surf, and wildlife watching.
Sixteen family members can stay at Sunny Bayfront Villa for a fun beachside getaway (via Airbnb). The five-bedroom home has a casual, laid-back vibe and includes a bunk bed and toddler bed option for family-friendly sleeping arrangements. The newly renovated kitchen is full of modern conveniences. There are also gathering spaces scattered all over the unique property for family members to hang out. The private patio is perfect for grilling dinner or enjoying wine with water views.
This home has everything you need to enjoy the San Diego sun. Beach chairs and umbrellas are provided, and there are toys to keep the kids busy. There is even a paddleboard to test your balance on the water. The home is in the perfect spot to explore both the beach, the bay, and the eateries and shops on Mission Boulevard. You can also drive to all of San Diego's best attractions from the property's convenient location.
Stunning home in family-friendly Branson, Missouri
Tripster recommends Branson as a family-friendly destination for the abundance of activities and outdoor attractions. This Missouri town is home to fun shows and museums to fit nearly any interest. It also features Silver Dollar City, a thrilling amusement park for adventure seekers. Nature lovers will enjoy the many outdoorsy activities the Ozarks offer.
Your travel group can stay on the lake in this 16-guest vacation rental (via Airbnb). With five king bedrooms and a fun bunk room that sleeps nine, this property is fun for the whole family. The open concept kitchen, living, and dining rooms are perfect for large gatherings. There's also a downstairs game room perfect for playing poker, foosball, or air hockey.
The property is filled with amenities for endless fun. Guests enjoy a private passage to the indoor community pool. There's also an outdoor pool, basketball and pickleball courts, and playgrounds. Plus, with attractions nearby, you can enjoy shopping, dining, and the area's best shows within a quick drive.
Fun times for the whole family in Ft. Myers
Trip Savvy touts Ft. Myers for being laid back, down-to-earth, and kid-friendly. These characteristics give it all of the makings of an awesome beach getaway. Young family members will enjoy collecting seashells and indulging in delicious ice cream. And family members of all ages can enjoy watersports, mini-golf, and exploring the city's beachy version of Times Square. Plus, the white sand beaches and beautiful blue water make it a stunning beach escape.
Dancing Dolphins Beach Pad is an awesome spot for a group adventure. The blue, two-structure property sleeps 16 guests and has five spacious bedrooms (via Airbnb). The Kids Crew Game Room has a Pac-Man arcade game and several beds for the littlest guests to bunk up. Each structure has its own living room and kitchen, giving groups plenty of lounging and meal prep options.
Outside is a balcony with a beach view and a beautiful private pool. The property puts you just steps away from dipping your toes in the water and relaxing on the white sand. Your group can also venture to delicious restaurants and shopping venues within a short walking distance.