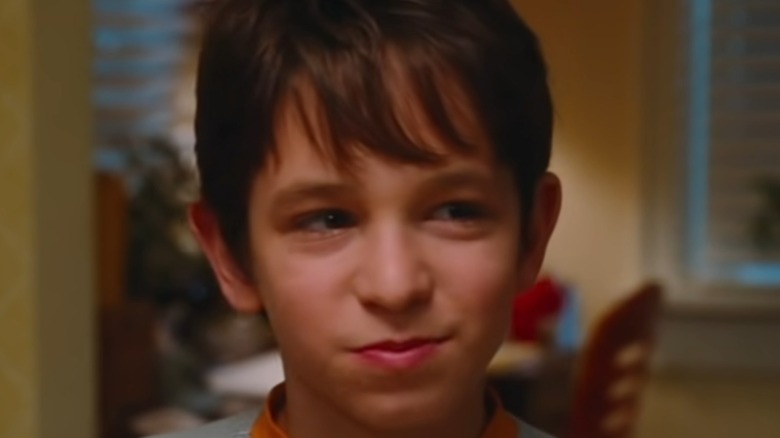 Children's cinema in Hollywood is not in good shape at the moment. You can get movies about a boy wizard fighting the greatest dark sorcerer of all time. Or a high-schooler falling in love with a vampire. Or a teen fighting other teens to the death in a battle royale. But the offerings are scarce when it comes to depicting the ordinary struggles of everyday school kids in the real world.
That is what makes the "Diary of a Wimpy Kid" franchise such a welcome break for audiences. Based on the best-selling book series of the same name by Jeff Kinney, the franchise began in 2010. Over the course of four live-action movies and an animated installment, audiences got to explore the world of Greg Heffley, an 11-year-old kid who has to deal with all sorts of challenges at school while also battling his own selfish impulses.
The "Diary of a Wimpy Kid" series is beloved by fans for its heartfelt look at school life, where the storylines were not dumbed down in an effort to appeal to the lowest common denominator. Let us take a look at some other children's films in the past two decades that take an honest look at the challenges of growing up and coming of age in modern times.
Captain Underpants: The First Epic Movie (2017)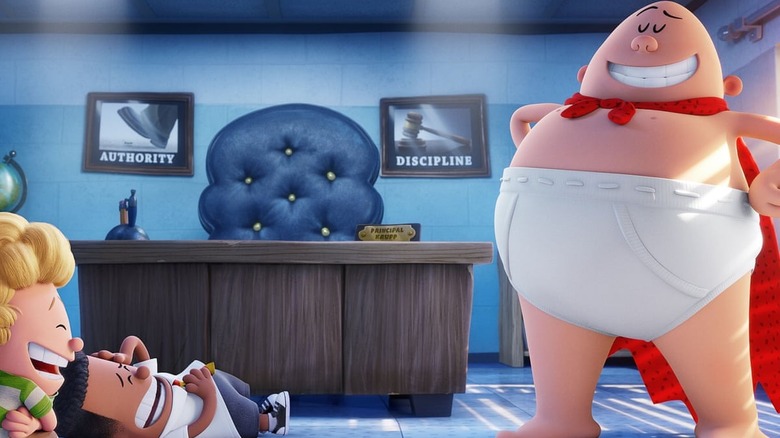 There was a time when superhero movies were largely considered the domain of child and teen audiences. Today that is no longer considered to be the case. But you still occasionally get superhero movies that aim squarely at the youngest demographic with excellent results. "Captain Underpants: The First Epic Movie" is one such film that mines superhero tropes to tell a joyful tale about school time friendships.
George Beard and Harold Hutchins are fourth graders, where they write comic books and play pranks on their teachers, particularly school principal Mr. Benjamin "Benny" Krupp. Tired of his constant efforts to separate them, George and Harold manage to hypnotize Krupp into thinking he is a superhero named Captain Underpants who saves the world on a daily basis — but, more importantly, leaves George and Harold alone.
With a frenetic pace and plenty of slapstick humor, "Captain Underpants" is aimed at the young fans of the book series the movie is based on. The imaginative storyline involving superheroes, mind control, and a nefarious attempt to rid the world of laughter make for a riveting viewing experience, even if the quick and non-stop pace of the story can leave audiences feeling a bit lost at times.
How to Eat Fried Worms (2006)
Before "Harry Potter" redefined what it meant for a children's book series to be successful, the genre was full of stories about ordinary children dealing with everyday problems in amusing ways. One such story was told in Thomas Rockwell's 1973 novel "How to Eat Fried Worms," which was adapted into a live-action movie of the same name in 2006.
The film follows the story of Billy Forrester, a kid new kid at school with a weak stomach. A chance encounter with the local bully places Billy in a fix, where he has to eat 10 worms before Saturday or he will have to put worms in his pants and march around the school. This sets Billy off on a quest to find the most palatable ways to eat the 10 worms without throwing up every time.
Of course, the real story of "How to Eat Fried Worms" goes deeper than that, with Billy learning to move past his fears and make friends at his new school. The simple storyline is told in a breezy and uncomplicated manner that should appeal particularly to younger viewers. "'[How to Eat Fried] Worms' has its share of kid-friendly gross-outs," noted Claudia Puig for USA Today (via Rotten Tomatoes), "but is actually a sweet-natured look at standing up to bullies."
Max Keeble's Big Move (2001)
High-spirited hijinks are a big part of any entertaining movie based on school life. Whether those hijinks involve covering up the fact that you're missing a day at school or throwing a big party while your parents are out of town, these kind of shenanigans are the life blood of the kind of school movie itch that "Max Keeble's Big Move" aims to scratch.
The titular Max Keeble is a kid who has just started middle school. He is having a miserable time thanks to the evil principal, school bullies, and even the ice cream man. Max's view of how to deal with his school situation gets flipped when he is told that his family will be moving to Chicago soon. Max vows to embark on a quest of vengeance against his tormentors at school, reasoning that he will be long gone before there can be any chance of retribution.
Moving at a brisk pace through the beats of its plot, "Max Keeble's Big Move" doesn't try to overshoot its modest goals of being an entertaining movie for youngsters who have yet to see "Ferris Bueller's Day Off." You also get to see Justin Berfield from "Malcolm in the Middle," and Josh Peck in a supporting role in the years before he blew up as a child star with "Drake and Josh."
Spy Kids (2001)
In 2001, while Britain was preparing to dominate the world of children's movies with "Harry Potter and the Philosopher's Stone," America was making its own attempt at a fresh children's movie along very different lines. "Spy Kids" was a film that took the most entertaining spy movie tropes of the era and wrapped them up in a surprisingly heartfelt family drama centered around young kids.
Carmen and Juni are tween siblings who lead a seemingly ordinary life where they go to school and watch their favorite shows. Their lives are turned upside down when their parents are kidnapped. Even more amazing is the revelation that Carmen and Juni's parents were former secret agents who are being held captive by the host of their favorite show, Fegan Floop. It now falls to Carmen and Juni to use their parents' spy resources to mount a rescue op and foil Floop's follies, ones that could lead to his assistant taking over the world.
With an impressive older cast that includes Antonio Banderas, Carla Gugino, Teri Hatcher, Cheech Marin, Danny Trejo, and Tony Shalhoub, "Spy Kids" knows how to get the most out of its premise, especially in the able hands of its writer-director Robert Rodriguez. The movie was successful enough to kick off an entire franchise, although none of the other entries were able to quite live up to the charm and energy of the original.
Judy Moody and the Not Bummer Summer (2011)
While good films made for children are rare, children's films focusing on female protagonists are even rarer. That is what makes "Judy Moody and the Not Bummer Summer" all the more special. The movie takes inspiration from Megan McDonald's bestselling series of books based around the popular character of "Judy Moody."
"Judy Moody and the Not Bummer Summer" starts with the introduction of the titular Judy, a spirited kid in elementary school about to embark on her summer vacation. Judy's social circle arranges a contest to see who can have the most exciting summer, to be measured in terms of "thrill points" that you can earn with new and daring activities. Judy's attempts to top her friends' "thrill point" scores get her mixed up in a number of hair-raising schemes, including a search for Bigfoot.
While some movies aimed at children also attempt to appeal to adults, "Judy Moody and the Not Bummer Summer" is right at home catering exclusively to the youngest audiences. Older crowds might find it a bit hard to bear the frenetic pace and childish humor. But the performances of the lead cast and the chemistry between Judy, her friends, and her aunt Opal make the movie worth watching for anyone feeling nostalgic for carefree summer days gone by.
Big Fat Liar (2002)
Every decade brings with it a fresh troupe of child actors who catch the public's eye, only to wind up in the news in the next couple of decades for all the wrong reasons because of how getting famous at such a young age has messed them up. For example, Amanda Bynes and Frankie Muniz have had a difficult time making the transition to grown actors, but the 2000s was their time to shine.
Fresh off the success of "Malcolm in the Middle" and "The Amanda Show," Bynes and Muniz were cast as the lead pair in the 2002 comedy feature "Big Fat Liar." The movie sees Muniz in the role of 14-year-old Jason, a slacker with a special talent for lying. Jason writes an essay that winds up in the hands of a Hollywood producer, who decides to make a movie out of the essay without crediting Jason in any way.
Now Jason must team up with his best friend Kaylee, played by Bynes, to go to L.A. and force the producer to recompense him for the essay. The admittedly basic premise of the movie is saved by its spirited main cast. Particularly Bynes and Muniz, who ably prove why they were the most in-demand child actors of that era, with Bynes winning the Kid's Choice Award for her role in the movie.
Middle School: The Worst Years of My Life (2016)
James Patterson is one of the most popular novelists in the world, known for writing heady action-thrillers that have sold millions of copies worldwide and been adapted on film and television. Starting from the 2000s, Patterson took a sharp detour from his usual topics to write about the travails of being a middle-schooler. The books were an instant hit, and were adapted into the 2016 film "Middle School: The Worst Years of My Life."
Rafael "Rafe" Khatchadorian is a middle school student who dreams of becoming an artist some day. But, right now, his life revolves around a hectic family life and a troubled stint at school, where the teachers are even worse than the bullies. Rafe plots with his imaginary best friend to end the tyranny of their principal through a series of pranks. But that brings Rafe and his entire class into the principal's crosshairs, threatening the very existence of their class in the run up to an important test.
Mixing live-action with animation techniques, "Middle School: The Worst Years of My Life" is an imaginative look into the inner workings of the mind of a middle-schooler. Film critic Marjorie Baumgarten found the movie reminiscent of the "John Hughes" era of high school films. "Deft filmmaking moves quickly past the film's implausibilities," Baumgarten wrote for The Austin Chronicle. "And particularly good performances by the cast's younger members help make the story credible."
Hoot (2006)
One thing children's movies and other youth-skewed cinema can do better than any other genre is infuse a sense of optimism and innocent naivety into the narrative without feeling the need to balance it out with cynicism brought about by a grown-up worldview. Case in point, 2006's "Hoot," based on Carl Hiaasen's best-selling novel of the same name.
A group of children in middle school discover that a local site for the construction of a new pancake restaurant lies in the middle of a habitat where a family of burrowing owls live. Naturally, the movie soon devolves into a war between the authorities who want to remove the owls and get on with the construction, and the children and their allies who are willing to go to any lengths to save the owls and their habitat.
With strong themes of companionship and eco-conscious living, "Hoot" finds a stellar lead cast with believable chemistry in Logan Lerman, Brie Larson, and Cody Linley as the main trio of friends. The aspirational message of the film was also praised by critics, with Ruthe Stein noting for the San Francisco Chronicle, "the film does nothing to dilute the save-the-Earth-and-every-creature-on-it message of Carl Hiaasen's ingeniously plotted award-winning children's book."
Angus, Thongs and Perfect Snogging (2008)
High school movies about male protagonists going on a quest to find romance before the end of the year are a dime-a-dozen. It is rarer to see the same story play out from the point of view of a female protagonist. Based on the young-adult novels by Louise Rennison, that is just what 2008's "Angus, Thongs and Perfect Snogging" aims to do.
The story revolves about 14-year-old boy-obsessed Georgia, who is insecure about her looks but still hopes to find a boyfriend before her 15th birthday party. Enter handsome fraternal twin brothers Robbie and Tom, with whom Georgia is utterly smitten — particularly Robbie. The only problem is Robbie is already dating the most popular girl at Georgia's school. Still, sparks fly between Robbie and Georgie as the latter tries to get close to him by concocting an elaborate web of lies, including one revolving around her "missing" pet cat Angus.
With a charming lead cast and able direction by filmmaker Gurinder Chadha of "Bend it like Beckham" fame, "Angus, Thongs and Perfect Snogging" is an absorbing look at UK school life from a feminine viewpoint — one that easily travels across different cultures to tell a relatable story about adolescent friendships and newfound crushes.
Alexander and the Terrible, Horrible, No Good, Very Bad Day (2014)
There was a time when A-list actors welcomed the chance to appear in kids and family-friendly movies, from Robin Williams in "Mrs. Doubtfire" to Jim Carrey in "The Grinch." The trend started to peter out by the early 2010s. But Steve Carell did take a stab at the genre with 2014's "Alexander and the Terrible, Horrible, No Good, Very Bad Day," based on Judith Viorst's 1972 book of the same name.
As the title suggests, the movie focuses on an unlucky day of epic proportions. The titular kid named Alexander has been going through a bad phase at school, which his family is oblivious to. Alexander wishes on his birthday that his family could also experience his run of back luck to empathize with his state. The wish comes true, and Alexander's family becomes trapped in a nightmarish day where things progressively go from bad to worse.
Buoyed by strong performances and Carell's star power, the low-budget "Alexander and the Terrible, Horrible, No Good, Very Bad Day" made healthy profits at the box office and received positive reviews from critics who felt the movie provided a good time for family audiences. "'Alexander' is a watchable, affable, pretty good, well-done kids' movie," wrote Katie Rife for The A.V. Club, further adding that the film is "buoyed by a humorous script and talented cast."