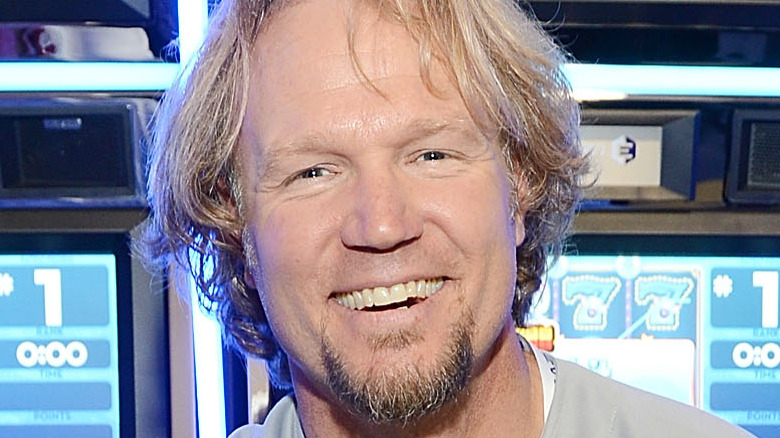 When Kody Brown introduced a TLC camera crew to his family, viewers were certainly in for a surprise. In that very first episode, dating all the way back to September 2010, Kody affectionately told the camera, "Let's go ahead and go home, and you can meet my family. They're special, you'll like them." Flash forward just a couple minutes into the introductory episode, and the reality of the advertising salesman's life was revealed. Kody was not only a married man, but a thrice married man, having unions with three different women comprising a polygamist marriage. Meri Brown, Janelle Brown, and Christine Brown similarly welcomed the camera crew into their Lehi, Utah home and thus began a journey that many of us have watched over the years — "Sister Wives."
The hit TLC show has documented the Brown family for years now, and has followed the patriarch of the family as he navigates relationships, parenting, moving, a pandemic, and everything in between. In an exclusive interview with The List back in March 2021, Kody told us that "Sister Wives" has changed his life for the better, but that hasn't stopped a myriad of changes from occurring, including where his plural family resides.
When Sister Wives first started airing, all the wives lived in the same house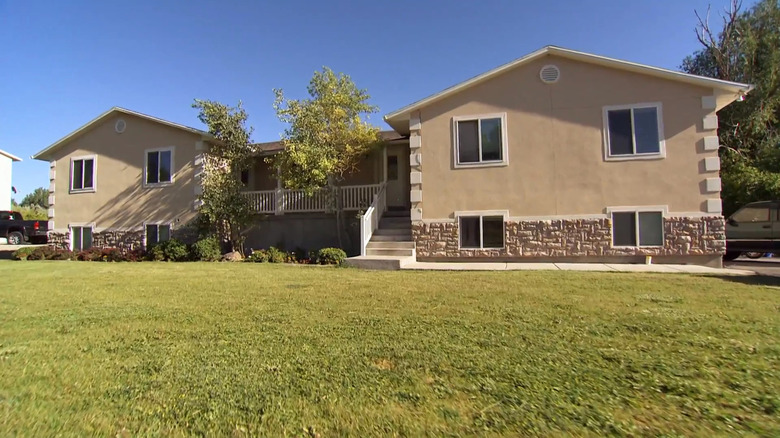 A lot of us consider moving in with our significant other to be a really big deal, but what about moving in with your partner and their significant others, too? When "Sister Wives" first made it to the air, Kody Brown had three wives — Meri Brown, Janelle Brown, and Christine Brown — and not only did they share a husband, but they also shared a house. Telling the camera that the "family functions as a whole," Janelle shared that living under one roof with Kody, his two other wives, and then-13 children was just how they went about their lives together.
So with all of those people in one house, did the Browns really function as one family? Kody certainly thought so. "We've always been one family so the children have always been siblings to one another," he said during a confessional on camera. "Once in a while, we actually manage to have dinner — I'd say about three times a week — we have meals together as the whole family," he continued.
The Utah home featured in Season 1 would continue to make it to the screen regularly, so here's all the info you need to know about it.
The original home was split into three separate living situations, one for each wife
While the idea of four married people and 13 children all living under one roof sounds incredibly overwhelming, the Brown family seemed to have it all figured out when they resided in Lehi, Utah. During Season 1, Episode 1 of "Sister Wives," Christine Brown gave viewers the rundown of the house, explaining that each wife had their own section to call home.
"We have three separate apartments in one big house, but they're all connected on the inside," Christine said, as a graphic showing the home's separation appeared on the screen. "I have the bottom right side, Meri has the top, and then Janelle has the whole left side."
Janelle Brown further explained during an episode testimonial that the home was actually built with a plural marriage in mind, making it the perfect place for the growing family (Christine was pregnant with her sixth child at the time Season 1 was filmed).
"This home is actually built by a polygamist, and this is probably typical of what you'll find in most polygamist families — separate living spaces, but interconnected," Janelle said. "We all have our own autonomy."
Where did Kody sleep?
Thinking of just how difficult it can be to have roommates, let alone a shared husband, it's probably for the best that Meri Brown, Janelle Brown, and Christine Brown all had their own spaces in their Lehi, Utah house to make their own. But it begs the question — given that he had three wives at the time, where did Kody Brown call home? Where did he sleep?
In the first episode of "Sister Wives," Kody can be seen walking from one area of the house to another, clearly indicating that he could come and go from each wife's area as he pleased. As far as sleeping arrangements were concerned, Meri shed some light on the situation during a confessional. "Christine and Janelle and I each have our own bedrooms, and Kody is welcome in each of those bedrooms alone," Meri said, with little interjections of giggles and awkward side-eye. "It's just how it is. We don't go weird."
For his part, Kody confessed that he simply rotated between the wives, sticking to a schedule. "I go through a rotation so that I can stay with each one of my wives the same amount of time, so everybody has time with me," he said.
Not all the sister wives were keen on the Utah living arrangement
When Kody Brown and his then-three wives were introduced to viewers, it appeared as though the four of them — plus all the kids — were one big happy family living under the same roof. And while each wife had their own area of the house to make their own, not all of them were thrilled with the set-up. Christine Brown, who occupied the bottom of the Lehi, Utah home (more or less the basement, and that'll be important to remember moving forward), wasn't jazzed about the arrangement, and as per InTouch Weekly, she reflected on living with her sister wives during Season 14 of the show.
"I would happily live next door to [my sister wives] for the rest of my life," Christine, Kody's third wife, confessed. "Absolutely. With them? No, no. Have you met them?" Yikes.
Christine doubled down on her thoughts about living apart from her sister wives, and tweeted that having her own space and separation allowed her to be a better mom. "I love my sister wives and I want to live next to them for the rest of my life," she reiterated, while making it clear that she needed her own place to call home.
An investigation into the family prompted the Browns to leave Utah, but it didn't come without strain
If you follow the "Sister Wives" clan, then you know that the Brown family didn't stay in Utah forever. In fact, after just one season on the air, Kody Brown, his then-four wives, and all their collective children moved out of the state, and it's not because they wanted a change of scenery. As it turns out, Kody, Meri Brown, Janelle Brown, Christine Brown, and Robyn Brown became the subjects of a state-led investigation, Brown v. Buhman, as their status as polygamists violated Utah state law.
"When the family became the subject of a TLC reality television show in 2010, the Lehi Police Department opened an investigation of the Browns for violating Utah's bigamy statute," the case brief reads, accessed via Lexis Nexis. "Under the aforementioned statute, a person is guilty of bigamy when, knowing he has a husband or wife or knowing the other person has a husband or wife, the person purports to marry another person or cohabits with another person."
So it was goodbye to the Utah house and hello to a new frontier, Nevada. Of their departure from the state, Meri simply said they were "basically … kicked out," per InTouch Weekly.
The Browns settled on living in Las Vegas, and each wife got a separate property
The circumstances surrounding their move from Utah weren't the best, but when the Browns settled on a new location to call home, they opted for Sin City. As noted by the Las Vegas Review Journal, the Brown family moved to Las Vegas in 2011 and initially rented homes in the Centennial High School area. While they were renting, the plural family worked with Pinnacle Homes to build four separate properties, all on the same block. They collectively rented their first Vegas addresses for about a year, and then moved into their respective properties.
Of their move to Vegas, Janelle Brown told the Review Journal, "It was all kind of secretive when we were moving (to Las Vegas), and we needed it to be on the down-low, and [realtor Mona Riekki] helped us." With Riekki's help — along with the customization of the homes thanks to Pinnacle — the Brown family moved to the gated community and settled down for the next phase of their personal and on-camera lives.
"These homes were already pre-designed … but they were willing to make a lot of the changes we wanted. … They're all a little bit different, based on our personal preferences," Janelle said of the new structures.
Inside Meri's Las Vegas home
While the Browns all lived under one roof in Utah, it looks as though Christine Brown's wish of having all separate houses came true. The family's Las Vegas living all took place in individual homes, located on the same block, and we're going to look into each one specifically. Let's start with Meri Brown, Kody Brown's first wife. As noted by The Sun, Meri bought her Sin City home for $447,017, and had a hand in designing the style and the floor plan. Specifically, she loved the wet bar and the kitchen, even saying that her design rivaled her other sister wives'.
"This here is the infamous wet bar! It's all about the counter space, it's not about the bar," Meri said during a tour of her home. "We actually use this a lot for entertainment, it just expands my kitchen out a lot to have the extra space." Commenting on the kitchen, Meri gushed, "I absolutely love the countertop that I picked out. I know Christine thinks hers is the best kitchen. But really it's not because mine is!"
Meri's home further boasted "an extra large bedroom," the result of an additional wall being ripped down to extend the space further.
Inside Christine's Las Vegas home
While the Browns' Las Vegas homes were designed by the same manufacturer, each wife got to spin the design in their own personal direction. For Christine Brown, she chose to focus on some bonus rooms that she and her six kids could take advantage of. The Las Vegas Review Journal noted that Christine's home featured a number of dens and office spaces on the first floor, as well as a "bonus room" off the kitchen. Christine turned said-space into a craft room, which makes a ton of sense given her bustling role as a parent.
Christine made her feelings very clear about living under one roof with her sister wives, so did the move to Las Vegas give her everything she was asking for? In a way, no, because she admitted to still feeling like the "basement wife," hinting at her former occupancy of the Utah home.
"Before family gatherings, I think about it a lot," Christine said, per People. "If it's at my house, then I know what to do to prepare for it, to try to make it so that everybody feels comfortable. But when I go into one of my sister wives' homes, I don't know how to feel safe, I don't know how to be me in their home."
Inside Janelle's Las Vegas home
We're moving around the Brown family's Las Vegas cul-de-sac, and next on the list is Janelle Brown's home. Like her sister wives, Janelle had the option to semi-customize her home, and it's clear that she prioritized her own personal space and bedroom (which, honestly, who among us wouldn't?). As the Las Vegas Review Journal noted, Janelle opted to have the master bedroom on the ground floor, and put all of her kids' bedrooms on the second floor. Where Christine Brown used the bonus room off the kitchen as a craft room, Janelle decided to transform it into a bedroom that opened out to the yard, certainly showing that she had more of an eye for the comfortable aspects of living. Realtor additionally noted that Janelle's home — at a whopping 4,238 square feet — boasted a massive kitchen with granite countertops.
Where Janelle's home certainly differed from her sister wives, though, was the lot space and the backyard. The Las Vegas Review Journal noted that Janelle's home was built on a corner lot, leaving space in the backyard for a pool to be built. She also had a number of fruit trees on her property, boasting persimmon, peach, fig, orange and apple trees as well as an herb and tomato garden.
Inside Robyn's Las Vegas home
Last, but certainly not least, is Robyn Brown's Las Vegas home. Now, Robyn is a little bit of a mixed bag when it comes to the "Sister Wives" crew, because a lot of viewers suspect that Robyn is Kody Brown's favorite wife (we'll get a little more into that later). And as far as her Sin City house is concerned, hers definitely took the cake. As noted by Realtor, Robyn's property featured the backyard that all the kids wanted to come to, as there was an in-ground trampoline, a play structure, a swing set, planter boxes, and of course, adult-centered outdoor spaces including a covered patio and a fire pit. To say it was the entertainment house of the four certainly seems like an understatement, and Kody's other wives were clued in to just how special Robyn's property was.
During her interview with the Las Vegas Review Journal, Janelle Brown admitted that of all the homes, Robyn's was the property that the whole family gravitated toward the most, especially given its outdoor space.
"Once we got the backyards put in, we spent a lot of time outdoors here. There's just great outdoor living here," Janelle said of her sister wife's home.
Despite having a cul-de-sac all their own, the Browns left Las Vegas
From what we found, it sounds like the Brown family's gated neighborhood in Las Vegas was the dream living scenario. The whole family was close in proximity, but each wife had their own household. So why leave, right?
Surprisingly, the family's time in Vegas came to a close in 2018, with Robyn Brown explaining that it was time for a "slower lifestyle" (via People). So where did the whole family pack up and move to? As Realtor noted, Kody Brown purchased a 2.42-acre lot in Coyote Pass, Arizona, just a short trip out of Flagstaff, with the intention of building homes on the property. "There's mountains, we'll be living at 7,000 feet elevation," Kody said of the property (per People). "Small town, quiet, beautiful college."
We're often obsessed with the why in circumstances like this — why did Kody move his entire family from a seemingly great block in Vegas to the middle of nowhere Arizona? Well, as noted by The U.S. Sun, some viewers of "Sister Wives" seem to think the move was motivated by Robyn's son's acceptance to Northern Arizona University, located in Flagstaff.
Despite the plans for Coyote Pass, Christine now lives back in Utah
So the Brown family was all set to settle down on the Coyote Pass property, right? Well as it turns out, plans didn't exactly pan out the way they were supposed to. As noted by Realtor, Christine and Kody Brown bought a lot on the pass property in 2018, dropping $300,000 on the space. Boasting "privacy and serenity" as well as "breathtaking views," the space sounded idyllic, but Kody and Christine's relationship took a turn for the worse.
During the Season 15 finale of "Sister Wives," Christine confessed that she was no longer committed to her relationship with Kody, revealing that they simply didn't have "enough" together. "The thing that I struggled with most is when I feel like I don't have a say or when I feel like I'm not as important or things like that," Christine told Us Weekly of the decision to leave Kody. "Anytime we've had major decisions, I go through a time where I'm like, 'Does my opinion really even matter here?'"
As far as where Christine is living now, Us Weekly confirmed via realty documents that Christine sold the Coyote Pass property, and is now living back in Utah in a duplex home.
Janelle and Meri are both in Flagstaff, for now
So where do Janelle Brown and Meri Brown live now, given that the Coyote Pass property has yet to break ground? According to The U.S. Sun, Meri lives in a rental property in Flagstaff, which sets her back about $4,500 a month. While the home has "beautiful" land and sits among a "peaceful natural forest," peaceful is the last word that can be used to describe her relationship with Kody Brown. Confessing on Instagram that they two are "estranged," Meri revealed that she and Kody are living life separately, writing, "I know where my relationship is, I'm not oblivious to that."
As for Janelle Brown, Kody's third wife also has a strained relationship with the patriarch. As per People, Kody confessed that he and Janelle "don't partner really well," and don't have an "attachment" to each other. "We're good friends, we get along well. It's more of a, like, just a committed relationship," he said.
So where does Janelle live these days? In June 2021, she updated followers on Instagram about her living situation, writing that she "seized an adventure" and decided to move out of her rental and into an RV on the Coyote Pass property.
Robyn and Kody reside in a five-bedroom home in Flagstaff
So Christine Brown is back in Utah, Janelle Brown lives in an RV, and Meri Brown doesn't have much of a relationship with Kody Brown anymore — so where does the patriarch live? As it turns out, Kody and Robyn Brown are closer than ever these days, and he even admitted that his fourth wife's house feels like his home, too.
"I've felt more and more and more like that was Janelle's house and it wasn't my house," Kody said of his second wife's living situation, per Us Weekly. "Robyn's house, as I have been there more, has made me feel like that's my house and my rules and my family. It makes me mad at myself all these years that I haven't been, what I would call, more patriarchal. More in charge."
With all of that said, here are some details on the home in question. As per the Daily Mail, Robyn and Kody closed escrow on a five-bedroom, four-bathroom house in Flagstaff that set them back $900,000. The home sits on multiple acres of land, has two master suites, a four-car garage, and a beautiful kitchen.