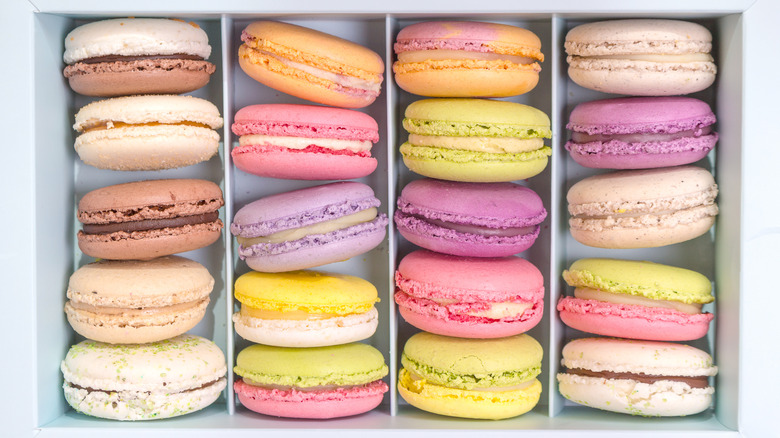 Arguably and almost inexplicably, it was the hyper-aesthetic reimagination of French absolutist monarchs in Sofia Coppola's 2007 "Marie Antoinette" that literally brought macarons back into the American mainstream via the silver screen (via Entertainment Weekly). Pastel-montages of powdered-face beauties surrounded by seemingly endless pastel mountains of macarons as "I Want Candy" blared was the stuff of dreams, Tumblr aesthetic, and indulgence. But, as declared by the New York Times and famous macaron-pâtissier Pierre Hermé, just like a Chanel suit, a good macaron is beyond trend and simply timeless.
While the definition of good is subjective, the history behind the macaron is surprisingly just as vague. For one, macarons didn't exist in pre-revolution France, so Marie Antoinette would unfortunately not have had any to chow down on, much less have dressing montages to. According to The Good Life France, macarons are almost certainly Italian in origin, and most likely arrived to France via royal marriage specifically through Catherine de Medici. Nuns were later known to bake macarons for sustenance, and began selling them by the 18th century to support themselves. Since then, macarons have taken France (and really, the world) by storm and brought a sweeter revolution. Though it may seem cut and dry what makes a macaron, there are seemingly endless flavors and ways of making macarons — a topic certainly worth delving into.
Flamin' hot Cheetos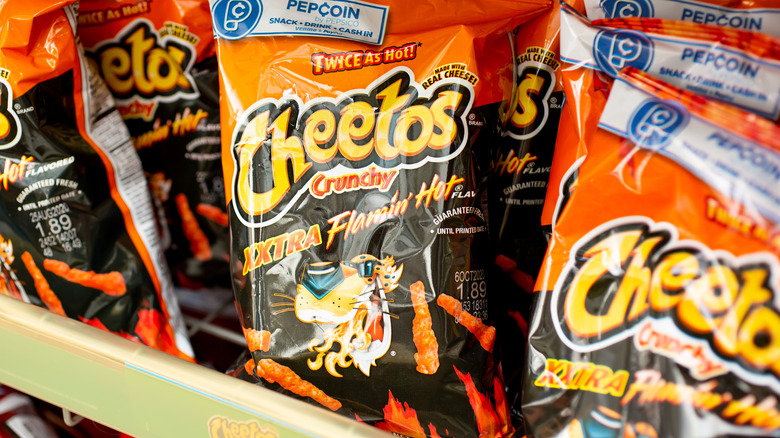 Apropos, it seems like the Flamin' Hot Cheetos flavor is floating everywhere and getting into everything: from macaroni and cheese to Funyons to Mountain Dew and even soap. Since the original making in the '90s, the hot snack has had a slow burn that has kindled to a raging fire. It is no surprise, but still somehow is a shock, that the Flamin' Hot macarons are a thing. Though first featured in 2017 on Pop Sugar in two now-deleted posts featuring a sweet, sour, and tangy Flamin' Hot Limón macarons, an alternative to the recipe has lived on through the cake blog Kara's Couture Cakes.
The blog takes a sweeter approach to the fiery snack. The confectionary uses a white chocolate for the ganache, which acts as a sweet balance to the bright main ingredient. The macaron shell also incorporates a bit of the fiery Cheetos and tops it off with a sizzling garnish as well. While this might get written off as something for hobby chefs (as redone by Delish), the ever-inventive Macaron Parlour featured a less sizzling Cheetos macaron. Sure, there is something of shock value to these macarons. But, for those who enjoy indulging, or are simply curious to the unknown, these might just be a winner.
Red velvet
There's nothing wrong with trends, but it does beg the question: Just because we can, should we? Clearly, given the above macaron, we're inclined to give it a shot. Red velvet has a longer tradition than one might first think, with reports of the red velvet cake first being sold around the 1930s (via The New York Times). Red velvet has long been critiqued as gimmicky, but considering it's been around for around 100 years at least, perhaps it's high time to give this flavor its laurels. The New York Times certainly did, when it described it as an American classic that sprung into a renewed popularity as a "post-9/11 comfort-food."
It's perhaps this intersection between tradition and trend that brought about the red velvet macaron. This brightly red macaron mimics the red velvet cake perfectly: a bright red-cacao outer shell that is contrasted perfectly by a bright-white milky center. It offers richness and a depth of flavor that is characteristic of red velvet cakes. Of course, the texture is very different from that of the typical red velvet cake, and as the red velvet cake trend is replaced with other flavors, these macarons are harder to find. Still, despite the waning trend, the red velvet macaron remains on the menu like at Macaron Queen, where it notably has a five-star rating. It seems trends come and go, but it does seem like there's a certain staying power to red velvet.
Bacon maple syrup
It seemed like the 2010s were bacon everything, and that syrup fits in with the sweet-savory combination that characterizes the American palate. The maple bacon macaron might just encapsulate it, but for those that love sweet and savory, this might be the perfect fusion cuisine. Perhaps, maple bacon is the new red velvet cake! One study (via Fona) reports that by 2019, bacon has only seen an increase in popularity across the board. Whether keto, indulgent, or even plant-based flavoring, the limelight keeps its eyes on the bacon.
The dessert section of the study is noteworthy. It observes that the complex and nuanced flavor adds to the otherwise mega-sweet world of confections. Bacon desserts probably are not as shocking as they once were, especially with the popular maple-bacon milkshake that swept the 2010s, reaching a crescendo in the mainstream at Jack in the Box (via Eater). As you might have been able to guess from the last few flavors, the macaron can act as a canvas for many different flavors and maple bacon makes itself at home with the French cookie. Maple bacon macarons are more than likely made with a rich buttercream, like the recipe from Jones' Dairy Farm. The recipe recommends mixing maple syrup into the buttercream and adding in crumbled dry-aged bacon to make for a rich taste. For all the glory with none of the work, Chattanoga-based macaron-maker Noogarons (is that enough of a tongue-twister?) offers an exquisitely over-the-top maple bacon macaron.
Chocolate
Decadence on decadence? Don't mind if we do. Honestly, what could ever be wrong with a chocolate French pastry? The proof is certainly in the pudding, and it's impossible to go to a macaron shop without finding having at least one chocolate macaron behind the display window. But the problem with French macarons is not so much the availability, but the ingredients. If and when the chocolate isn't rich enough, the intense chocolate tends to either be much too sweet or not as complex enough to do the dessert any justice. It's a simple recipe, but the devil is in the details, as the saying goes.
La Maison du Chocolat lives up to its name, and certainly takes charge as the house of chocolate. La Maison du Chocolat makes a signature single-source chocolate macaron in four different flavors: dark, milk, caramel, and the ever-seductively named passion chocolate. The Maison's macarons are the best of both worlds, the delicious and paradoxical soft-crunch of a macaron with the heavenly melt-in-your-mouth goodness of chocolate. The richness and intensity of the chocolates has been described by a Yelp reviewer as the best chocolate macaron around and a must for chocolate-lovers.
Chocolate coated macarons
Sofia Coppola and Kirsten Dunst might have literally brought the macaron back to the public, but they did so with bright confections provided by La Maison Ladurée, which first opened in 1860 and sold its first macaron in the 1930s (via Paris Insiders Guide). In her interview with Entertainment Weekly, Kirsten Dunst takes a look back and notes that she regrets not investing in Ladurée before the movie dropped, because of how much the tea salon popped off after the movie premiered. Nowadays, the ever-luxurious yet somewhat internationally obscure macaron manufacturer has burst into the common world.
Needless to say, there's a lot of tradition, culture, and now hype surrounding these somewhat simple treats. Ladurée prefers to lean more into tradition and tried-and-true before trend when it comes to flavors. However, there's still a little bit of room for experimentation, if only by a hair. Among their most indulgent flavors is the chocolate coated macaron, once available in milk-chocolate hazelnut and now dark-chocolate raspberry, a mouthful for a mouthful. These macarons may gild the lily, but in the best of ways. Despite the obvious indulgence, the site declares, somewhat dubiously, that the macarons are "delicately" coated in chocolate, as opposed to perhaps generously dunked as one might see in the American kitchen. For chocolate lovers who want to add a scrumptious extra layer to their macaron experience, look no further.
Ramune
For those who are unfamiliar with Ramune, it is an ultra-popular Japanese soda that is instantly recognizable by its bright blue color and tangy yet sweet lemon-lime flavor (via Candy Japan). To add to the unique experience, the fizzy lemonade from Japan comes in a long-necked bottled that uses a marble to activate the soda. It's no wonder why this soda has long been a favorite. Macarons have been trendy in the last decade in Japan, where they can be found in Starbucks and as children's toys (via Japan Style).
Of course, Japan is known for its particularly innovative cuisine — and macarons are no exception. Sparkling macarons bring together two loves into one fascinating dessert. Using the same tricks that give Poprocks their pop, SoraNews24 likens the macaron's subtle fizz to sparkling wine rather than dime-store candy. Who knows, maybe it's the romanticism of the macarons speaking! While some might not agree with the description or the execution, certainly the news outlet had a point in saying, "Being sophisticated doesn't mean being dour, though."
Almond
No, not English almond macaroons, which are a much denser and more classically cookie-like in nature (via Everyday Cooks). The French almond macaron is a buttercream concoction that incorporates almond essence into the outer shell, and usually opts for an almond-butteresque filling. It's a lot subtler than most macaron flavors, and certainly the "quietest" of all the macarons listed thus far. However, there is one occasion where almond macarons make a splash! Brightly colored almond macarons add a little zhuzh to any wedding reception as Jordan almonds stand-ins. As noted in Brides, Jordan almonds have long held symbolic merit in Italian and Greek weddings as a wish for a sweet, happy, and long life both for the newlyweds and their guests. Some believe the candy coating around the almond symbolizes the sweetness of love around a sometimes bitter life.
With Jordan almond macarons, of course, it's really just sweet on sweet. But the macaron can replicate the general structure of the almond party favor to a T, with its crunchy, subtle yet sweet outer shell and almond buttercream filling. The same pastry chef interviewed in Brides notes that the macaron can be a chic way for those who like the symbol of the Jordan almond, but not the look or texture to incorporate it into their wedding. While the traditional wedding Jordan almond is usually paler, the macaron versions offered at Olivia Macaron and Macaron Café offer bright and pastel options for the big day.
Mustard
Before you shudder, as StyleNest asserts, "it works!" The mustard adds a layer of depth and pep to the traditional treat, allegedly. But not just any mustard; the writer notes that there is only one real mustard that can do it well, and that's the French Maille mustard. Maille is a brand of Dijon mustard that is much bolder, more complex, and at times grittier than the much-loved yellow mustard.
Dijon is common in French cooking, and can be found as a vinaigrette, dressing, topping, and otherwise. But, in baking? Well … The macaron was, at least officially, the love child between the Maille brand and the francophone London rooftop restaurant, Coq d'Argent. What resulted in this (unholy?) union was what the online magazine describes as a lemon macaron with a bit of pep in its step and a ton of zest. With a lemon-infused white ganache, a hint of mustard, and garnished with mustard seed, the site's claim that this dessert is a "light way to finish the meal" is dubious at best. But its suggestion to pair it with a crisp Champagne? Fabulous.
Espresso
Coffee is a strong flavor with a heavenly aroma, so of course served up in a powerful yet creamy bite, there's nothing to complain about. A coffee- or espresso-flavored macaron is not a given in every macaron shop; it may be popular, but it's not a classic like, say, chocolate. But in this day in age, there's at least a place where you can order most things. New York's Macaron Café offers a freshly brewed macaron in a delightful café au lait in color and espresso in flavor. They whip up a rich buttercream filling that is infused with espresso and housed between an espresso-infused meringue shell. But just like coffee, espresso macarons are pretty versatile.
Those brave at heart and bold in the kitchen may prefer to take matters into their own hands and hammer out a few coffee macarons of their own. Recipes like that from Pies & Tacos go a bit more festive, and suggest swirling espresso and mocha frosting into a sort of black and tan macaron moment. The icing on the cake? A literal dab of icing topped with a chocolate dipped espresso bean. The only real qualm is that a coffee macaron is hard to enjoy with a nice cappuccino!
Olive oil and vanilla
Olive oil sprinkled with sea salt drizzled on top of a scoop of vanilla ice cream. While this might sound frightening or disgusting (or both), this has long been served in Italy as gelato con olio e sale. As described by the sea salt company Jersey Sea Salt, the combination of flavors is a delicate balancing act that works perfectly. The fruitiness of the extra virgin olive oil adds complexity to the sweet yet simple vanilla, and the chunky sea salt adds a level of brininess that brings out the natural flavors of both the vanilla and the olive oil. Which is argument enough that the olive oil and vanilla macaron has just as much potential to be amazing.
Macaron giants and visionaries like pâtissier Pierre Hermé have sought to translate this to the tiny macaron. It's a different experience that is hit or miss for most, but in any case worth looking into. Through a recipe from the confectioner himself, it's possible to pop the hood and look at exactly how this macaron works. For one, the olive oil is technically mixed into a white chocolate ganache to give the vanilla olive oil effect. It's imperative to use a good extra virgin olive oil that has floral notes and makes for a sweet edition. The natural almond flavor of the shell will add another dimension to the sandwich cookie. It's definitely peculiar, but — as the food blog assures — in a good way.
Fruity Pebbles
Bowls of Fruity Pebbles are the stuff of seemingly-endless Saturday mornings filled with cartoons, sticky hands, and simpler times. Why not delight the inner-child and treat the outer-adult with these gems? With brightly colored shells and buttercream fillings, they evoke all the fruity one-of-a-kind sweetness of the brightly colored cereal giant. Just one glance, and it feels like being beckoned back to the playground; there's an invitation here to frolic, to delight, to excite. Maybe it's aesthetic, nostalgia, or just the general adaptivity of that sweetly artificial flavor that makes Fruity Pebbles-flavored macarons especially popular. When phrased like that, it's probably all three.
The Miami-based Ma-ka-rohn doesn't shy away, in fact fully leans into and relies on the innovative. So, it's no surprise that their pink and green clouded Fruity Pebbles macaron is more than just eye candy, it's candy-candy! The Fruity Pebbles crunch center in the middle of a sweet Fruity Pebbles-buttercream ganache may not be anything you'd find in France, but there's something so wonderfully playful and delightful when it comes to this treat.
Watermelon
Watermelon sugar makes for great songs, and maybe just as great macarons. Though the macaron-visionaries at Ma-ka-rohn have retired their visionary Watermelon Sour Patch Kids, those who want a sweet and fruity macaron can still get through their own tools. The Pies & Tacos blog seems to have a macaron for every occasion and every taste. Their recipe can be made either with a ganache (which incorporates white chocolate) or buttercream (which is sweeter and of course a bit creamier). Either way, watermelon syrup is going to be the foundation for these sweet bites, giving the frosting a charming and summery pink hue.
Due to the watermelon's iconic look and shape, there's another visual element to these macarons. The Pies & Tacos recipe may be for those more comfortable, or patient, with macaron making. The outer-shell of the mac can be dyed and then laid down in a way that mimics a halved watermelon. A specialty edible marker can even add a few seeds to the watermelon slice. For those who are really committed to the look, the recipe even offers suggestions for triangular macarons that look like a cute watermelon slice. Surely, these would be a sweet companion to a summer tea or lemonade.
Blackcurrant
Blackcurrant is so popular in Europe that it's often the generic "purple" flavor in candy and sodas (via Business Insider). But the dark fruit lives in such obscurity in the States that most Americans can't even describe the berry's taste. This is mainly due to a nationwide, now reduced to a statewide, blackcurrant ban that was imposed as the blackcurrant plant posed threat to the in-high-demand white pine tree. While it is legal in some states, the blackcurrant still has not reached the mega-heights of fame that it enjoys overseas. But despite its troubles, trials, and obscurity, blackcurrant is worth getting to know, especially at the dessert table.
Of course, there's no better place to start than with Ladurée. Ladurée's blackcurrant macaron is so violet in color that one might first confuse it for a blackberry macaron, but this is something on its own. Compared to blackberry, blackcurrant is tangier in nature, a bit closer to raspberry in flavor, but with a unique earthy flavor, according to Thrive Cuisine. Fittingly, Ladurée incorporates violet into the violet macaron to lighten up the otherwise intense flavor.
Fatcaron
South Korea's fatcaron came to be out of demand for more bang for the proverbial buck. In short, for those looking for more, look no further. Fatcarons are theorized to have come out of the budding popularity of macarons in South Korea, according to The Straits Times. As French macaron giants Ladurée, Pierre Hermé, and Hugo & Victor sought to find market in South Korea, consumers found themselves looking for more, literally. Eventually, Ladurée and Hermé pulled out, but the macs stayed and took on their own form.
Korean pâtissiers like SomSom and the aptly named Merci Beaucoup began producing their own macarons, which were around two to three times larger than the classic macaron and with an exorbitant amount of filling. Many, including the owner of SomSom, find themselves cutting the macarons in thirds or fourths to enjoy. What's more is to further adjust to local taste, the macs are made less sweet than their French counterparts, and at times mixed with savory ingredients like truffle or even pizza toppings. It doesn't hurt that their unique ingredients and showy appearance make them particularly content-worthy. Just like many other macarons on this list, the fatcaron adapted to where it was taken and adopted cultural trends. It could be that fatcarons might well be on their way to taking the global stage, as evidenced by an article in Manchester's Finest that chronicled the debut of fatcarons in England.
Champagne
Decadence on decadence? That's decadent! Sure, Champagne macarons are certainly not for everyone, but those who lean towards the indulgent will not be disappointed! When baked, Champagne retains its light flair and pairs absurdly well with vanilla and citrus.
If taking to the kitchen yourself, there are a few things to take heed of. Just like baking with most boozy bevvies, a reduction should be made before baking with champagne. A recipe from Barley & Sage suggests boiling around half a cup of Champagne to 1/4 of a cup. Make sure to cool the reduction before adding it to the buttercream, lest the flavor and consistency be off. Those who are more into the eating than making should take a look at the macaron heralding from none other than Francophone Quebec. La Marguerite & Co. offers a Champagne buttercream macaron, providing the duality of a light and rich sparkling snack all in one. These macarons are particularly well-suited for larger crowds with food sensitivities, as they are not only dairy- and gluten-free, but also kosher pareve. The bakers add a final touch, literally, by incorporating a gold brush stroke on the mac's shell. Talk about nailing the landing.
Amaretto & dulce de leche
Another Francophone region with boozy macarons? Well, don't mind if we do! It should come as no surprise that Louisiana provides for some seriously yummy and creative macarons, or "macs" as they're lovingly referred to at La Bonne Vie in Lafayette. Their liqueur macaroons make for a non-alcoholic tipsy bite. According to one reviewer, not only are the macarons served up at La Bonne Vie the best around, but their booze-infused macs are not to miss.
Of all the delish choices on the menu, the extremely cross-culture Amaretto & dulce de leche macaron is certainly worth looking into. For those who are unfamiliar, Amaretto is an Italian liqueur that has a distinct almond-like taste with a slightly bitter edge. This lighter liqueur is then paired with the absurdly sweet and gooey South American dulce de leche (caramelized milk). What results is simply divine: an amaretto-infused buttercream filling with a dulce de leche core that is perfectly sandwiched between two almonds shells that shatter perfectly once bitten into (as another Yelp review says). Oh la-la! For anyone keeping track, that makes for a French-style dessert with Italian and South American twists, all served in the deep South of the United States. Forget about the cocktail, this is cosmopolitan!
Margarita
Now it's three-for-three on alcohol-adjacent or inspired macarons. There's just something about the collision of worlds that really makes for a thrilling dessert. Another boozy delight, margarita macarons like those concocted by food blog Mike Bakes NYC combine the sweet with the salty in these lime-green treats. While the baker suggests doing nothing different to the shell than adding a green food-dye, gel food-dye tends to perform best in making hand-made macs. It's really the filling that takes the lead in this recipe.
It's one of those things that doesn't feel necessary until you've heard about it, and then begin to wonder, "Where has this been all my life?" A mouth-watering tequila buttercream filling? Yes, please. The filling, which has a buttercream basis, uses lime zest, lime juice, and around 1 1/2 tbsp of tequila to reach the threshold of what can only be described as sweet, edgy, and refreshing all at once. Unlike the previously mentioned champagne macarons, margarita macs are much less finicky, and need no reduction before mixing all ingredients together. The results look slightly similar to a key lime pie, but the taste is undeniably magical. For those who would like to just simply recline and enjoy, the Michigan-based Le Bon Macaron's Cheers! Collection offers respite. Favoring lime curd over lime zest, their macaron is perhaps a bit milder than Mike's, but with a similar effect and that unmistakable color.
Cornbread
Another fusion mac, cornbread might first conjure up images of the Thanksgiving table, but that's exactly what self-proclaimed macanistas like Charlotte Bell want. Creative Loafing dives into what inspires the lifelong cook to turn towards American classics in a French format. At the auspicious crossroads of the Deep South and with formal training at Atlanta's Le Cordon Bleu culinary school, it all comes naturally to the chef.
Bell takes most of her inspiration from her grandmother, who brought even more life into the already lively Southern cuisine and to whom the name Lady Belle Macarons owes its legacy. Bell's love letter to Southern food and black cuisine via the macaron is, simply put, sheer magic. The once-signature flavor of cornbread and collard greens (which had a filling composed of homemade pimento cheese, sausage, and greens) is simply a culinary feat and not easy to make well. Though the Lady Belle Macarons site no longer lists cornbread among its available flavors, there are still plenty of ways to get your fix. Ma-ka-rohn, for example, offers cornbread macs in an all-around mouthwatering Thanksgiving mac-pack.
Thin Mints
Another American classic, but in a different way, Thin Mints macarons just make sense. Girl Scout Cookies have been a favorite practically since they debuted at the turn of the century. According to Time, Thin Mints were first introduced in the late 30s as Cooky-Mints. They have long been the Girl Scout cookie that's both cool and chocolatey at the same time, with a satisfying crunch to round everything out. Of course, when made into macaron form, Thin Mint macs retain that satisfying snap, while also giving into a creamy filling. Dana's Bakery of New Jersey gives the goods a new form. When thinking of Thin Mints, the cool, dark cookie may come to mind, but Thin Mints macarons remain decidedly playful. Their shell is mint, dyed a bright shamrock green to reflect its cool taste. The macaron's dark chocolate ganache is contrasted perfectly by this bright green exterior, and looks a lot more reminiscent of the famous cookie. Any way you cut it, though, this macaron is a new way of enjoying an old favorite.
London Fog
London Fog is a poetic name for a comforting drink. London Fog uses Lady Grey tea, which is slightly more floral and slightly more subtle than Earl Grey, and pairs it decadently with steamed milk and vanilla. Contrary to its name, the warm drink is not English, but Canadian. The latte was first brewed in Vancouver, where it trickled down to become a mainstay of the Pacific Northwest.
Even when served cold, London Fog is a winning combination. Honey B's of the metropolitan Denver area not only brings the Northwest down to the Southwest, but also adds a French twist. Their London Fog macaron is artisanal in nature, unassuming with its beige shell but striking with what seems like a bold paintbrush stroke of lavender and a slightly iridescent vanilla. Their recipe adds Earl Grey (instead of Lady Grey) to the sweet buttercream, presumably to maintain a recognizable flavor despite the heavier buttercream. The London Fog mac has additional notes of bergamot and vanilla to give it that real London Fog flavor. A twist of lavender only adds a fragrant landing to the whole delicious ordeal.
Luxemburgerli macaron
Similar to the fatcarons, though hilariously on the other side of the scale, Luxemburgerli were once known as Baiser de Mousse (or foam kiss) due to its small stature and airy nature (via Academic). Nowadays, the Luxemburgerli or Luxembourger macaron is another fortuitous transplant that took on a life of its own. Its lineage can actually be directly traced back to a baking contest held by the Zurich-based and still operational Café Sprüngli in the early to mid '70s.
The café also remains the top-seller of these even smaller bite-sized morsels, and still specializes in the tiny treats. New in Zürich notes that these petite desserts are a must-have, which makes it even better that the café regularly rotates assortments, flavors, and ingredients. True to Swiss form, the café uses all natural ingredients and no preserves, which means that these Luxemburgerli are like most macarons; best enjoyed in the moment. When it comes to choosing macarons, the site notes that five flavors tend to be preferred: chocolate, raspberry deluxe, bourbon vanilla, Fleur de sel, and Champagne gold. That seems as good a place as any to start. Sometimes it's bitter work, but in this case it's a sweet undertaking.
Blueberry cheesecake
Blueberry cheesecake has taken the macaron world by storm, and for good reason. The tanginess of the blueberry in communion with the sweet creaminess of cheesecake makes for a perfectly harmonized dessert. Suffice to say, blueberry cheesecake macarons are far from one-note, and there's a reason why many macaron-makers keep them in stock.
Trophy Cupcakes of Washington state offer a unique marbled blueberry cheesecake macaron made from Washington blueberries, which are unique to the state. Highbush blueberries grow in abundance in the Pacific Northwest all the way down to California, but Washington state remains the largest producer of blueberries in the United States (via Washivore). Trophy Cupcakes uses the traditional French method for making their macs, and while the mac shell is a dreamy and cloudy blue and white mixture visually, it remains very much the go-to almond shell of a macaron structurally. As always, it's the inside that really counts: creamcheese mixed with buttercream makes for an obscenely creamy and sweet combo, all of which is offset by a blueberry jam center that is just as sweet as it is tart. It's a macaron experience unique to the region and transcendent in appeal.
Blackberry cheesecake
Tangier, bolder, and darker in color, for some, the blackberry cheesecake is the preferred mode of travel. It really all comes down to taste, after all. North of Washington, into the interior of British-Columbia and Saskatchewan, is the French-style Duchess Bake Shop in Edmonton, Alberta. Of course, focusing on French-baked goods, macarons were a must-have for this bakery, and blackberry cheesecake seemed like the perfect addition to the menu. Their macarons are made with traditional French means, meaning with almond-flour meringue shell and a rich in-house filling. Their blackberry cheesecake, presumably a summer feature, is a pale purple beauty with a delicate shell and decadent filling. Different from the blueberry cheesecake macaron, the blackberry cheesecake macaron saves its special features for the outside: it has no jam center, but has a certain umami and fairy-like appearance with a smattering of sprinkles on its upper and lower shells. As one reviewer states, "It doesn't get any better than this. Get fat and go broke on macarons. It's worth it. You'll regret nothing."
Tonka bean
Tonka bean is a sweet and subtle flavor that does well by macarons, and is often featured among the classics. While loved by many people and Michelin star restaurants alike, tonka bean is actually illegal to purchase in the States (via The Atlantic). While The Atlantic somewhat haphazardly (and more so sensationally) describes the tonka bean as an ingredient so good, it "has to be illegal," it's really because tonka is poisonous in large doses (via the BBC). The spice was first banned in 1954, and yet the U.S. remains the biggest tonka importer.
The risk is apparently worth it, though. Tonka has an unbelievably sweet, yet not overwhelming flavor. Tonka's scent is even likened to a sweet vanilla ice cream. It is, in short, a heavy hitter of the dessert world. The hype surrounding it and the reported lengths chefs go to procure tonka sure don't hurt the hype surrounding the bean. Nonetheless, macarons thrive on walking the tight-rope between subtle and overwhelming, so the tonka bean is a match made in heaven. Vanilla macarons might get written off as unimaginative and borderline bland, but tonka bean macs simply have that extra oomph. The Duchess Bakeshop even has a bit of tonka bean powder covering their macaron. Given the popularity of tonka in the U.S., you might not need to drive all the way to Alberta to enjoy this flavor.
Key lime pie
The next flavor takes us all the way down South, just about as South as it gets, really. Key lime pie, as chronicled by Encyclopedia Britannica, must have a combination of condensed milk and, well, key lime. This combination was born from both the lack of refrigeration and abundance of citrus fruits in Florida. By the time cooling even became an option in more isolated parts of the Keys in the '30s, key lime had already sunken its claws into Florida cuisine.
A bite-sized bit of a beloved dessert, the key lime pie macaron is a tiny yet mighty variation of this once Florida-specific staple. While key lime can be found anywhere nowadays, the Vivian Bakery of Miami, Florida leans into regionalism and turns a staple back on its heel. Its key lime pie macaron is described as the elegance and daintiness of France fusing with the boldness of the Florida citrus. Fascinatingly, the key lime pie macaron functions in similar ways to its cake counterpart. For one, the pale green filling mimics the general shade one finds a key lime pie in. The tart key lime curd the bakery uses is paired with a white chocolate ganache, which balances out the more bitter aspects of the key lime in a similar way that condensed milk would. Of course, the chocolate adds an element of richness that otherwise wouldn't necessarily be found in a key lime pie.
Rose
A rose is a rose is a rose, or as the saying goes. The rose is ubiquitous in French culture, so why not also as a macaron? If and when preparing your own rose macarons at home, as Taste of Home suggests, make sure to buy food-grade rose water, as it is often used as skincare treatment as well. As noted by Pies & Tacos, rose can come off to some as "soap-like" in fragrance, but most rose macarons use a white chocolate ganache which balances out the rose's naturally strong flavor.
As the recipe notes, when using rose water, a little bit goes a long way. And it doesn't take much for the otherwise gentle flower to overpower the otherwise strong chocolate taste, like a sort of David and Goliath of the baking world. If you prefer your roses delivered, La Marguerite & Co. offers an unassuming, no thrills rose macaron, that leans into a sweet buttercream ganache. As the site notes, this isn't a dessert that hits you over the head. It's subtle, and meant to be enjoyed slowly, which is saying a lot for a bite-sized treat. There is something refreshing in the subtle, especially as it leaves room for bolder teas and coffees to join in on the fun.
Ube
Ube is bae, so to say. At first glance, it may look similar to the other purple starch, taro. But as Real Simple clarifies, ube is a purple root from the Philippines. In fact, the name ube translates to tuber in Tagalog. The biggest difference between the two is that taro is more often used in savory dishes, while ube is usually for sweets because of its slightly nutty and vanilla flavor. While many traditional Filipino desserts feature ube, it has recently taken to the global social media scene. All over Instagram, ube can be found shapeshifting from ice cream to mochi doughnuts and, of course, macarons.
While ube macarons have not made it to the macaron mainstream yet, there are still plenty of wonderful recipes for those who are curious and hungry. Food scientist Catherine Zhang's blog offers a particularly promising recipe. She suggests not overwhelming the already strong and creamy ube flavor, and to opt for a lighter buttercream filling in lieu of anything heavy or overwhelming.
There's no need to do more than necessary, and the recipe opts for an ube halaya (or jam) to flavor the macaron. If that's not available, seek out ube extract and pair it with icing sugar instead. Given ube's current rise in popularity and the macaron's general adaptabilty, it probably won't take long before ube macs are for the taking in different bakeries.
Matcha
Matcha is a tea unique to Japan, where it has long been harvested as a young tea-leaf and whisked into a startling green drink with a distinct sweet yet powdery taste. Despite the long history and tradition in Japan, matcha is just making waves in mainstream international cuisine, spreading its influence from matcha tea lattes at Starbucks to its increasing role in the TikTok "That-Girl" aesthetic, among others.
It comes then as no surprise then that matcha-green macs would begin to pop up. The aptly named Mac Lab Bakery boasts a matcha macaron that features matcha imported from Japan and a presumably buttercream filling. The Macaron Café has also hopped on board and added their own matcha macaron with delicate buttercream to the menu. The café describes the flavor aptly as "vegetal" — for people who appreciate matcha's unique and earthy flavor, it might also be the perfect alternative to other sweeter mac flavors.
Marshmallow
A sweet and light treat, of course the marshmallow makes for a great macaron! While a marshmallow ganache may give the most experienced of chefs a run for their money, patisseries like Ma-kah-rohn offer a bundled batch ready for the snacking. The marshmallow macaron is actually a toasted marshmallow macaron that seeks to recreate the crispy and roasted taste that a marshmallow gets when spending some time over the fire. This is a perfect choice in flavor, considering the crunch that gives into softness that all great macarons do. Which, come to think of it, isn't that different from eating a well-roasted marshmallow. A further note to the already enjoyable experience is the bright and deep blue shell that the toasted marshmallow mac is served in. From outside-in, the Ma-kah-rohn toasted marshmallow macaron is well thought-out, subversive, and most importantly, delicious.
Another take on the marshmallow macaron, Carissa Shaw's food blog suggests going the sweeter route and making a Peeps-marshmallow macaron. The recipe uses a Peeps coffee creamer to make the filling, and light mixes of food dye make for a pastel shell. This pastel mac leans into the expected into the best of ways.
Birthday cake
Birthday cake has been floating around in the form of Hershey Kisses, chocolate bars, and now macarons. But what is birthday cake flavor, anyway? As Vox lamented in 2018, it seems that birthday cake flavor has become synonymous with vanilla cake, frosting, and rainbow sprinkles. In short, Funfetti has become, at least brandwise, the collective birthday cake flavor.
For better or for worse, Funfetti is back more than ever, if it ever left. In an article from 2020, Salon declared that it came back a moment not too soon, as a literally over-the-top sweet relic of bygone days, and something that leaves a sweet taste in the mouth. It lays truly at the crossroads of nostalgia, aesthetic, and bold sweetness. La Magueritte & Co. leans into this aesthetic, and opts for its birthday cake macaron with white shell and rainbow sprinkles, naturally. Its white chocolate ganache and vanilla in an animal cracker-like pink adds to an almost sickingly sweet flavor not too off from a can of Funfetti frosting. As the site describes, this is a "happy and cheerful" macaron.
Violet and blueberry
It seems like blueberry often needs a partner to go to the ball, and violet makes for a surprisingly good dance partner. Its light floral taste lifts the otherwise hefty tanginess of the blueberry. Macarons have truly become a global phenomenon, and it might be hard to find a part of the world that hasn't taken a swing at the French concoction. La Belle Miette, or beautiful crumb, is a patisserie responsible for many visionary flavor combinations down under. The bakery doesn't only focus on unique flavor combinations, but also single sources its chocolates, opts for high-quality Australian butter, and uses fresh produce and ingredients to make a great mac experience from the inside out. In short, it's not just innovation but quality that is king with this beautiful crumb.
As noted above, the violet blueberry flavor is a citrus and floral macaron that's sure to be more refreshing than rich. As the site notes, the violet & blueberry macaron is one of the best-selling flavors, and for good reason. The macaron is much paler than one might expect, a robin's egg blue rather than the dark blue one might expect from a violet and blueberry macaron. The flavors never mix together per se, the ganache is lightly perfumed with violet, and a blueberry compote center acts as a rich and bold anchor to the whole she-bang. As one reviewer exclaims, the violet and blueberry are light and melt in your mouth; it's exquisite.
Caviar
A macaron so fierce that it debuted at an Oscar Party, French-leaning celebrity chef Thomas Keller took savory macarons to the next level (via People Magazine). He opted for macarons that switched ganache for crème fraiche and compote for caviar. The results? Sheer decadence. Those the macarons can't be found in the day-to-day with Keller's many gastronomical endeavors, there is room for ingenuity at home.
The Caviar Company encourages all-would-be hedonists to take fate (and caviar) into their own hands and make their own macarons for their own star-studded party. For an extra layer, its recipe suggests adding a teaspoon of Champagne, potentially a pink champagne, to the outer-shell to add a sweet yet subtle and refreshing twist to the macaron. Really, constructing the outer shell is the hardest part of making these macarons. Once you make it to the filling, it's easy sailing for this fishy macaron. Do beware that the cream cheese that the recipe calls for can be replaced with whichever cream of choice that pairs well with caviar. As noted in the recipe, be sure to serve these macarons immediately, as caviar is extremely perishable.
PB&J
A familiar face, if there ever was one. As Taste Atlas notes, peanut butter and jelly sandwiches have been in U.S. cuisine since at least the turn of the century, when the first written references to the sandwich first started popping up. Since then, the peanut butter and jelly sandwich has morphed from a staple in upscale dining served with pimento cheese or meat, to military rations in WWII, and then on to the stuff of school days and childhood. It is, simply put, all-American.
Turning back to its long history of adaptation and recontextualization, the PB&J fits perfectly into macarons, literally. The PB&J macaron is often served in between burgundy shells, with peanut butter buttercream and raspberry jam. Olivia Macaron added a slight twist to the tried and true by opting for a grape jelly instead. Instead of dolloping the jam in the middle of the ganache as so many macarons recipes are wont to do, the D.C. bakery instead prefers a perfect balance between the peanut butter and jelly, just as the sandwiches typically do. To really complete the sense of child-like revelry, the macaron is topped with joyful purple sprinkles. Playing off of the site's description, how could you not smile?
Earl Grey
Unlike the previously mentioned Lady Grey in London Fog, Earl Grey is bold and just as tasty. The real divide is an internal one: should salted or unsalted butter be used when enjoying these beauts? The Tipsy Macaron offers up the advice of using salted to give some extra depth to the sweet and silky macaron. For the buttercream filling, the food blog literally takes two bags of Early Grey and soaks it in the cold cream used for the buttercream filling for an hour or two. While the blog asserts that less is more when it comes to this recipe, those who want a bolder Earl Grey macaron can add a third (or fourth, if you're crazy) teabag to the cold cream. Fittingly, a U.K. confectionary offers up their own Earl Grey macaron. The self-proclaimed "quirky" take on an English classic uses unsalted butter and loose Earl Grey tea-leaves for its buttercream instead. Interestingly, both Earl Grey macarons, though slightly different in approach, opt for a more muted color for its shell.
Jasmine
Another cuppa in a mac, jasmine macarons are a quiet beauty. Jasmine is a sweet and floral flavor that can almost be looked at like the inverse of blueberry. Just like blueberry, it really needs a partner to bring out the best of it. However, unlike blueberry, which needs a lighter or creamier flavor to subdue it, jasmine needs a bolder flavor to highlight its strong suits. Jasmine's taste is best described as fresh and floral (via Goldmoon Tea). More often than not, jasmine is found singing the backup vocals to other flavors. Or for the optimist, jasmine is often found in perfect harmony with other flavors.
It's not uncommon to find jasmine with other fresh and complex flavors like bergamot, violet, or lychee. Another Aussie baker, Sweetly Mae-D, offers a teatime macaron that is to swoon for. Their lychee and jasmine tea macaron is infused with a rich white chocolate ganache that anchors the entire sandwich cookie. Pale pink shells literally seal the deal, and create a subtle, supple, and sensational treat.
Guava
On the other hand, there's nothing subtle about guava. Also known as guayaba, it is described tastewise as the love child of strawberry and pear (via Medmunch). Guava is native to Central and Southern Mexico, and according to a profile from Forbes, it has long been a staple in Latin American cooking. More often than not, the bold fruit is paired with cream to even out its edges.
Guava and cheese empanadas have long been a staple at the dessert table, and this same formula lends itself well to the macaron. Ever experimental, the Mac Lab takes to incorporating similar rhythms and confining it to the form and structure of the macaron. The bakery opts for using an in-house guava jam and pairs it with a buttercream filling. Combined, this makes for a bold and balanced mouthful. The pale pink shell mimics the beautiful pink flesh of the guava fruit. As noted in the Forbes article, one flavor company found guava to be one of the most sought-after flavors in 2022. There's a chance, then, that guava macarons might be more and more easy to come by.
Black sesame
Black sesame is a so-called flavor enhancer that, when used properly, brings out the best in sweet flavors and mellows out bolder flavors (via Umami Insider). Similar to matcha, black sesame originates from Japan and adds an earthy texture to whatever dish it graces.
Umami Insider compares black sesame to peanut butter. As the website notes, it's nothing new to incorporate black sesame into desserts, as it is often used as a filling or an ice-cream topping. It also addresses specific concerns and thoughts towards making macarons, which it surreptitiously refers to as "macronage". For one, it states that, similar to matcha, black sesame paste offers an extremely full flavor. The site suggests pairing the black sesame with an airier green tea buttercream frosting to achieve perfect pitch.
Sweetly Mae-D offers up a macaron that doesn't seek to water down the black sesame flavor. Instead, the Aussie baker pairs black sesame paste with buttercream filling, and sandwiches it between two black sesame shells.
Macaroon macarons
The ouroboros of macarons, the macaroon macaron from Verons of L.A. offers up a dessert in a dessert. Now, respectfully, what the what? Though the names and ingredients of macaroons and macarons are similar, the key difference is that macaroons are made of shredded coconut while macarons, as one might know by now, are made primarily from ground almonds.
Leaning into the general confusion, the Californian bakery sure does whip up a good treat, though. The macaron uses a vanilla buttercream mixed with toasted and raw coconut shreds, which also top the mac's top shell. The pale brown of the macaron shells contribute to the roasted coconut vibe, which is perhaps now why the macaron is referred to on the site as the toasted coconut macaron. That, and perhaps because it completely sidesteps the inevitable macaroon macaron versus macaron macaroon confusion. The icing on the cake when it comes to this macaron? It's completely plant-based.
Tiramisu
There's a lot going on in this small dessert, whose name literally translates to "pick me up" (via Taste Atlas). Of course, it's a splendid hodge-podge of cake, mascarpone, cake, cacao, and espresso, at times soaked in liquor. Tiramisu is a relatively younger dessert, and was reportedly first developed in the second half of the 20th century. In its 50 years on the global plate, tiramisu has taken off, and the young recipe quickly grew into one of the most popular desserts. Per Eater, tiramisu first gained foothold in the States around the '80s, when it really started taking off in areas with a lot of Italian-Americans like New York and New Jersey.
Tastewise notes a slight spike in tiramisu popularity, with an annual growth of around 18% and 6% growth in restaurants. By now, it should not be shocking that macaron manufacturers have taken inspiration from the dessert and sought to make it their own. Madamoiselle Macaron offers a macaron that is fundamentally similar to the Italian dessert, albeit with a slightly different texture. Dark rum, cacao, and mascarpone make for the macaron's filling, while instant coffee coats the shell to give a full tiramisu experience.
Crème brûlée
A similar European dessert that has made waves overseas, crème brûlée is a classic that balances sweet and creamy with salty perfectly. The food science website Food Crumbles asserts that the mechanics behind the perfection that is crème brûlée isn't that complex, at least not really. The essence of the dessert lies in utilizing its two main ingredients: eggs and sugar. At the end of the day, the dish should be thickened through eggs, and its sugar should be caramelized to give it the iconic crack. This perfect combination does well in other arenas, and ultimately transcends the initial form of the traditional French dish.
The case in point being, this golden ratio is probably why the ATL Macaroon Queen's tiramisu's macaron has such a stellar five-star writing. The macaron sticks to the same mechanics as créme brûlée; an egg custard buttercream is a sweet yet subtle filling, and caramel crystals add an extra crunch to the already über-crunchy caramel shell. As one satisfied reviewer commented, "I couldn't find anything wrong with the Crème brûlée Macron. The perfect bite, texture and the filling was absolutely stunning. Is there an incognito Parisienne baking Macrons in Atlanta????" It seems like not reinventing the wheel paid off majorly for this macaron.
Fried Oreo mookie
The previously mentioned Jersey-based Dana's Bakery has a few more tricks up its sleeves, mainly in the form of the "mookie" or macaron-cookie. The bakery's fried oreo mookie might come off as gimmicky, but really, the fried Oreo has been floating around the United States' many fairgrounds for a second. LA Weekly makes the case that the Oreo was first deep-fried by "Chicken" Charlie Boghosian, who made a name for himself by offering up different fried platters at carnivals.
What he struck was veritable gold, and the deep-fried Oreo has made a name for itself and found a home for itself in carnivals and at the boardwalk alike. Given New Jersey's extensive coast and free-wheeling boardwalks, of course the previously Jersey macaron-maker would pay homage to a down home delight. For those who can stomach it, the mookie offers a sort of turducken approach to the whole ordeal. Two crispy macaron shells cover the deep-fried crunch that gives into the soft Oreo center, all the while dusted with powdered sugar that feels reminiscent of funnel cakes. It's like bringing the fair home.
Pistachio
Another macaron classic, pistachios are probably what first comes to mind with Italian, specifically Sicilian, treats. But the pistachio remains a long-loved staple of major macaron makers like Ladurée. As one Trip Advisor review exclaims, "Pistachio macarons! We have visited this restaurant many times just for the pistachio macarons. They are the best ever …"
In this day and age, there's a sea of options, and on the other side of the spectrum is the McDonald's pistachio macaron. It's beautiful that we've come to a point when macarons are both so exclusive, and yet so available. They can truly be enjoyed in many different ways and through many different venues, all in the same city, in this case. In one comparative article from Delishably, a literal blind taste test isn't as cut and dry as one might think. One reviewer found the pistachio macaron from Ladurée to be too sweet, while another found the McMacaron to be too chewy. Ultimately, it really comes down to what the person would like to experience — and in this case, how much they can or are wiling to spend on it, too.
Umeboshi
Another unique flavor, umeboshi is still a bit more obscure abroad, but long heralded in Japan. Of course, ever turning towards fusion cuisine, pastry chef Sadaharu Aoki is up for the task of making world's collide. He brings artistry and perfection to classic macarons like pistachio, but shines when featuring flavors like umeboshi or salted plum.
An article from Eating Well describes umeboshi as a flavor bomb, whose bright hue and flavor adds a fascinating umami flavor to wherever it goes. While typically served on its own, as it already is salty and sweet on its own, Sadaharu was able to encapsulate it into the macaron format. One review with the New York Times notes that while Sadaharu make all his macaron concoctions well, the more non-traditional the flavor, the better the macaron, highlighting umeboshi as a perfect example of the confectioner's talents. There is certainly a draw to ingredients like umeboshi that work well with the relatively reserved macaron canvas.
Lemon
Lemon is a perfect match for the macaron — light yet powerful, with zest that adds a tang to the macaron shell. Though listed in the New York Times guide to the best macarons of Paris, Ladurée tragically doesn't offer their famous lemon macaron anymore. Well, as once said, nothing gold can stay … But, as life moves on, it also moves forward, and it's possible to find these sunny delights at many macaron establishments or take a swing at them on your own.
The ever versatile Olivia Macaron offers a lemon meringue macaron that uses a lemon cream with a dollop of lemon meringue to add a bright burst to the already radiant yellow macaron. A little bit goes a long with this macaron. If turning towards your own kitchen for lemon macarons, A Classic Twist offers a solid recipe. The food blog offers a creamier, somewhat subtler macaron that emphasizes a vanilla bean buttercream with lemon zest and just a hint of lemon. Whichever way it's served, the lemon macaron is bound to brighten.
Churro macaron ice cream sandwich
Sure, you can say it's stretching to classify the Confectionary's macaron ice cream sandwich among other macarons. But as evidenced by other flavors, the macaron is, if anything, shockingly versatile. The Confectionery, with roots in upstate New York but at home in the big city, is vegan both in conception and nature. Though some purists might turn their noses up at the thought of a frozen vegan macaron, maybe what they really should do is open their eyes.
The vegan strawberry crumble ice cream sandwich truly takes the cake. The macaron sandwich really stays closest to macaron in form. A scoop of churro-flavored ice cream, in this case, takes the place of the filling, all the while sprinkled with cinnamon. Together, it makes for a new form of the macaron. One Yelp reviewer suggests to try it (and not to share). For those looking for a more traditional experience of macarons while staying true to vegan palate and ethos, the confectionists have plenty of macarons to offer that are just as beautifully decorated and have received similarly raving reviews.
Lavender
A classic French flavor, lavender makes for a delightful macaron. Lavender is often floral and fragrant. As observed by The Greatist, there's a fine line between floral notes of lavender and feeling like you're inhaling a lavender eye-mask. Usually this line is buffered by cream, but those who find this too "soap-like" might be more delighted to balance out lavender with a bit of honey or lemon. It seems like at and for the moment, lavender honey seems to be the trend. Falling in line with this yet making it their own, the Mac Lab offers up a lavender honey macaron that achieves what they describe as the perfect balance between two flavors. This balance is made into a light whipped filling that comes in a gorgeous lavender purple. Ever the one for the visual, the lavender honey macaron has a soft purple outer shell that is accentuated with gold flakes to perfectly reflect the fusion and delicate dance of honey and lavender in this macaron.
Marie Antoinette
It is obligatory to say, let them eat cake! And macarons! There's no better, or grandiose place to start, than with the bluntly named Marie Antoinette macaron. Perhaps no other macaron house except La Maison Ladurée could get away with naming their macaron the Marie Antoinette, which is actually based off of their black tea of the same name (via Ladurée). The tea itself being named after the unforgettable Marie is not just a black tea, but rather one with decadent notes of rose, honey, and other notes of citrus.
Despite the large reputation and history surrounding it, the macaron has made a name for itself. While at one point the Marie Antoinette macaron was a much brighter affair in a bright pink with notes of citrus and honey, it has since cooled down into duck blue egg color, though nothing major has changed in recipe or structure. Though it's unclear why this color change happened, the taste persists. There's a reason why, despite the ever-rotating menu of the La Maison, this macaron is here to stay.
Caramel aux Fleur de sel
The sweetness of macarons with the vibrancy of salted caramel is really a wonder to behold, with its bold golden color and filling. But, in the interest of enjoyment and not of snobbery, there's reason to differentiate between salted caramel and Fleur aux caramel. Fleur de Sel is different from say table salt, partially because of texture and also because it's harvested from water, which leaves it with a "cleaner" and somewhat brinier flavor. The thick crystals are intended for sprinkling and enjoying. This is a solid blueprint for an amazing macaron. So in this sense, it really is no wonder that Fleur de Sel persists as one of the classic macaron flavors. That's not to say there isn't a certain amount of tweaking and preening that might go to this tale as old as time. When choosing to indulge in caramel aux Fleur de Sel, make sure to indulge correctly and informed. The salted caramel macaron offered by Ma-kah-rohn is really made with Fleur de sel.
Yuzu
Do you know yuzu? Yuzu is a citrus fruit that is commonly used in many different Asian cuisines, but most often in Japanese cuisine (via EatingWell). There's nothing about yuzu that is subtle. It looks like a bright yellow wrinkly orange. Its taste is, as described by the aforementioned site is a mix between bitter grapefruit, tangy lemon, and tangy orange. It smells of a zesty honeysuckle. In short, it truly is a complex and refreshing taste, one that already brought it from the Southeast Asian Peninsula to Japan. Now, per a profile from Google Arts & Culture, the citrus fruit is picking up steam and gaining international attention.
It should then come as no surprise that chef Sadaharu Aoki, who so gleefully and masterfully melds Japanese and French flavors together, mastered the yuzu macaron, which one reviewer surreptitiously describes as "fingerlicking good." The U.K. Sous Chef brand suggests marrying the bright and bold yuzu with the earthy and down-to-earth matcha to make for a beautiful and balanced yuza-matcha macaron.
Framboise (Raspberry)
A classic flavor, it doesn't get much more decadent than the raspberry macaron, which is filled with a rich raspberry confit, a star of many French desserts. It's a simple flavor, but that's really what makes the macaron framboise so perfect; there is no topping it. For anyone looking to get their start in macaron making, this might just be the place to start, as evidenced by Cooking with Belula. Though macarons are far from forgiving when it comes to baking, the raspberry jam bypasses the woes that can come with making macaron filling.
Besides its simplicity, raspberry plays really nicely with other flavors, and can be found with white chocolate, rose, dark chocolate, or even the aforementioned yuzu. This makes for a rich yet refreshing macaron for those who do want to perfect perfection. One face, many flavors. But for those looking for just a slight indulgence, the Mac Lab Bakery offers a twist by mixing their raspberry jam with a bit of butter to make for a bold and buttery macaron.