The following article references mental health struggles, alcoholism, suicide, and drug use.
While sports stars may seem like larger-than-life, untouchable superhumans, they are still mortals who experience personal, mental, and physical hardship.
Athlete autopsies often reveal surprising details of the physical toll a human body takes when they are at the top of their game. In recent years, American football has taken a great deal of flack for the prevalence of brain trauma found in deceased former players. The most common cause is chronic traumatic encephalopathy (CTE), or repeated head trauma that causes the brain to literally degrade over time. This condition has been linked to personality changes, violent tendencies, and death.
Over the years, a number of sports figures have died unexpectedly, and their autopsies try to get to the bottom of what may or may not have happened. Many of those examinations have produced upsetting, illuminating, and disturbing results.
Owen Thomas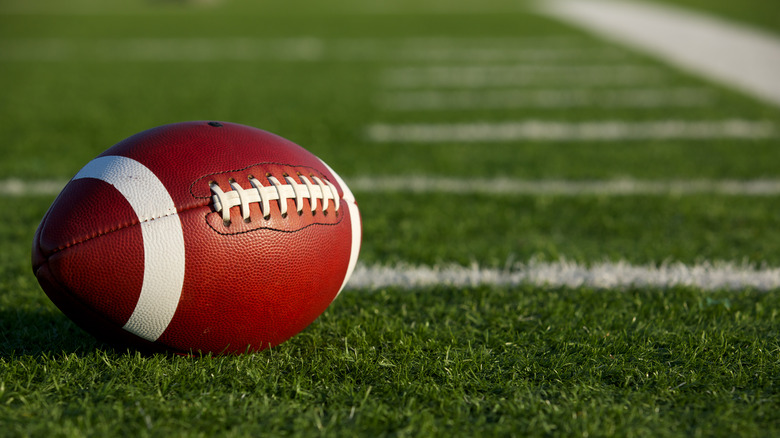 Owen Thomas was only 21 years old when he died by suicide. As the Concussion Legacy Foundation's website remembered, the University of Pennsylvania footballer was a hard-working student-athlete as well as a team captain of the Quakers. The obituary describes Thomas as "a gentle giant" and "a gentleman."
Thomas' promising academic and football career and life came to an end following what his family and friends described as "a sudden and uncharacteristic emotional collapse" (via The New York Times). Thomas' behavior leading up to his death, as well as the death itself, necessitated an autopsy and further analysis. Despite being only 21 at the time of his death, Thomas' brain was determined to have been damaged via "mild chronic traumatic encephalopathy."
CTE in a football player is becoming a common occurrence, but it's rarely documented in someone as young as Thomas. On top of that, as Sports Illustrated noted, he had no history of concussions or behavior commonly associated with the condition. When his autopsy revealed the presence of CTE, his mother told BU Today that she "knew there was a missing piece." She continued, "No one has given me even a hint of an explanation why Owen, at the drop of a hat, would kill himself. It's out of all proportion and totally out of his character."
If you or anyone you know is having suicidal thoughts, please call the National Suicide Prevention Lifeline​ at​ 1-800-273-TALK (8255)​.
Jimmy Hayes
Jimmy Hayes was a right wing for the Boston Bruins who died suddenly at the age of 31. He had been celebrating his son's second birthday with his wife and their infant son. Per The Boston Globe, he was found dead inside his home, and the news of his passing shocked the professional hockey community. Hayes had retired only two years prior but remained involved through his podcast "Missin Curfew," which he ran with his former teammates Scottie Upshall and Shane O'Brien.
The cause of Hayes' death was made clear through an autopsy, which was performed two days after his death. The toxicology report from that procedure determined that Hayes died from "acute intoxication due to the combined effects of fentanyl and cocaine."
Hayes had a history of drug use regarding pain medication but had gone through treatment before he died. The Boston Globe reported that his wife "was completely shocked," as she believed his death "had nothing to do with drugs." She further went on to say that he showed no signs of drug use at home. His father noticed some signs and attempted to help his son. Still, in the end, the 31-year-old retired hockey player's life ended via a combination of Fentanyl and cocaine.
If you or anyone you know is struggling with addiction issues, help is available. Visit the Substance Abuse and Mental Health Services Administration website or contact SAMHSA's National Helpline at 1-800-662-HELP (4357).
Aaron Hernandez
Aaron Hernandez was a tight end for the New England Patriots with one Super Bowl appearance under his belt before his career came to an abrupt end. In 2013, Hernandez shot and killed Odin Lloyd, a linebacker for the Boston Brands. As The Boston Globe reported at the time, the Patriots dropped Hernandez within 90 minutes of his arrest, and Hernandez became the primary suspect in the murder trial.
He was found guilty and sent to prison for life without the possibility of parole. Three years later, Hernandez committed suicide. Following his death, Hernandez's brain was found to be significantly affected by CTE. The head of Boston University's CTE Center described Hernandez's brain as "one of the most significant contributions to our work" due to the brain's condition and how well it benefited the study (via The Washington Post).
His brain was also described as "the severe end of the spectrum," and for his age, he was the worst case of CTE ever studied. Because the 27-year-old's brain was so damaged by CTE, researchers from Boston University noted that "his decision-making, judgment, and cognition" would've been impacted (via The Washington Post). Hernandez's CTE was at stage 3 out of 4. "We can't take the pathology and explain the behavior," McKee said (via The Boston Globe), "but we can say collectively that individuals with CTE of this severity have difficulty with impulse control, decision-making, aggression, often emotional volatility, and rage behavior."
If you or anyone you know is having suicidal thoughts, please call the National Suicide Prevention Lifeline​ at​ 1-800-273-TALK (8255)​.
Bruce Lee
If there was ever an athlete whose body was the epitome of physical perfection, it was Bruce Lee. The man was so toned and in such great shape, nobody could have imagined he'd die long before his time. Sadly, that's precisely what happened in mid-1973, after Lee collapsed while doing some dubbing work for "Enter The Dragon." He was rushed to the hospital and diagnosed with a cerebral edema. Treatment helped reduce the swelling, but two months later, the symptoms returned.
Lee died on July 20, 1973, and news of his passing shocked the world. An autopsy was conducted to see how the otherwise healthy man died. It was found that his brain had swollen by 13%. It was determined that after Lee took a painkiller called Equagesic, he had an allergic reaction to one of the components in the drug. The official documents indicated Lee's passing came from "death by misadventure," and the conspiracies that sprung up in the media ran rampant.
Theories have popped up over the years, trying to determine how he could have died so suddenly from an allergic reaction. Matthew Polly's biography "Bruce Lee: A Life" posits that Lee died from over-exertion and heat stroke, which wasn't well understood in 1973. Polly posited that because Lee had his underarm sweat glands removed in 1972, he overheated, resulting in heatstroke, which exacerbated the cerebral edema brought on by Equagesic. If that's true, Lee's death came about via a confluence of events that shouldn't have happened and were probably preventable.
Phillip Adams
Phillip Adams played football for several NFL outfits, including the San Francisco 49ers, the New England Patriots, and the Atlanta Falcons. His career was the culmination of years of playing the game, both in high school and college. The AP called him "a journeyman NFL player" while noting that his "career was cut short by injuries."
On April 7, 2021, Adams shot and killed six people. He committed suicide following a standoff with the police the next day. Following the horrific tragedy, Adams' father told NBC affiliate WCNC that he believed "football messed him up."
Per the AP, Adams' autopsy found that he had stage 2 CTE, with an "unusually severe" degradation in the frontal lobe. According to Dr. Ann McKee, who examined his brain, Adams' football career "definitely gave rise" to his condition. Dr. McKee further stated that there were signs Adams "was developing clear behavioral and cognitive issues," and "I don't think he snapped. It appeared to be a cumulative progressive impairment."
If you or anyone you know is having suicidal thoughts, please call the National Suicide Prevention Lifeline​ at​ 1-800-273-TALK (8255)​.
Glenn Foster Jr.
Glenn Foster Jr. was once a promising player for the New Orleans Saints, but his life came to a tragic end on December 6, 2021, while in police custody. He was arrested on December 4 for "reckless endangerment and resisting arrest" following a high-speed chase, which ended in a crash, according to Nola.com. He was taken in by the Pickens County Sheriff's Office and placed into a jail cell. The following day, the charges were changed to "simple assault and robbery," according to CBS affiliate 4WWL.
Foster died the next day while still in police custody. An autopsy was performed, and it found that the 31-year-old defensive lineman died from "neck compressions and strangulation," according to his legal team's statement (via ABC7). His death was further reported to not be from natural causes, indicating that he may have been strangled at some point while in custody.
Because Foster died in jail, Alabama state authorities began an investigation to determine the cause. Per The Washington Post, at the time of his death, Foster was being transported via police cruiser to a medical facility, where he arrived in an unresponsive state.
Stella Walsh
While her name may not be as well known today, Stella Walsh was a big deal athlete throughout much of the mid-20th century. Born Stanislawa Walasiewicz, the Polish-American track and field athlete was one of the most celebrated women's Olympic champions of her day. Her career earned numerous Olympic, World Championship, European Championship, and Women's World Games medals. Tragically, she was murdered during an armed robbery in an Ohio parking lot in December 1980.
The autopsy results showed that Walsh was intersex, and of course, that fact is not disturbing. What is disturbing, however, is that her legacy was called into question because of her sex. As Mental Floss wrote, "For the woman once regarded as the world's greatest female athlete, questions arose as to the legitimacy of her titles, and her integrity after a lifetime of living and competing as a woman." There was even talk of revoking all of the medals she'd earned over the course of her illustrious career.
In the autopsy report, the county coroner wrote, "Socially, culturally, and legally, Stella Walsh was accepted as a female for 69 years. She lived and died as a female" (via UPI). Ultimately, the International Olympic Committee (IOC) decided not to take away Walsh's medals.
Cullen Finnerty
Cullen Finnerty had a promising career ahead of him as a football quarterback, having been signed by the Baltimore Ravens as an undrafted free agent in 2007. Ultimately, that didn't work out, and he signed with the Denver Broncos, the Cineplexx Blue Devils, and finally, the Muskegon Thunder as the team's starting QB. He had years of playing ahead of him when he went on a fishing trip and never returned.
Finnerty was reported missing in May 2013. He'd been fishing on the Baldwin River in Michigan, and a search was conducted. Two days after his disappearance, he was found nearly a mile from his boat. There were no signs of trauma to his body, and an autopsy was conducted to try and determine what happened to the 30-year-old football player.
Finnerty's autopsy report was released a few months after his death. According to the AP (via ESPN), It indicated that he "died of pneumonia caused by inhaling his vomit after he became disoriented, possibly because of painkillers combined with having a degenerative brain disease." Though the report didn't conclusively indicate CTE as the cause of death, it was believed that Finnerty became disoriented through a combination of oxycodone and CTE, which was confirmed to be present at the time of his death. According to Boston University's Center for the Study of Traumatic Encephalopathy (via ESPN), Finnerty's CTE was moderate, and it "possibly affected his judgment, insight, and behavior."
Zyrees Oliver
Zyrees Oliver played football at his Georgia high school, and he was only 17 years old when he died following an unusual intoxication during practice. Oliver had complained of muscle cramping during practice, so he drank water and Gatorade in an effort to relieve his pain. While that might work to mitigate some of the effects of muscle cramping, the amount Oliver ingested proved to be fatal. According to CBS News, Oliver's Aunt Tammy Chavis said he drank two gallons of water and two gallons of Gatorade.
Oliver wasn't able to drive home from practice, so his mother picked him up and brought him to their house. That's when he collapsed, and he was taken to a hospital via helicopter. Oliver was unresponsive and became comatose. After five days without any brain activity, he was taken off life support, ending his life. The coroner's report (via CrossFit Journal) indicated that Oliver died from "dilutional hyponatremia," which essentially means that he took in too much water without balancing it out with electrolytes, resulting in what is called "water intoxication."
Water intoxication is incredibly rare, but sadly, it is not unheard of. In 2005, a fraternity initiation gone wrong ended the life of a student who, after drinking too much water, experienced "swelling of his brain and lungs," per NPR. In Oliver's case, his brain suffered massive swelling as a result of water intoxication.
Vincent Jackson
Vincent Jackson played 12 seasons in the NFL as a wide receiver for the San Diego Chargers (now Los Angeles Chargers) and Tampa Bay Buccaneers. He had a long and successful professional football career, but it all came to an end in February 2021, when he was found dead by a housekeeper in a hotel room near Brandon, Florida, per CNN. There were no signs of trauma to the body when he was found, and the room showed no indication of foul play.
The Hillsborough County sheriff's office reported Jackson's death was likely due to chronic alcoholism compounded by CTE. Because CTE can only be properly diagnosed by biopsying the brain, the diagnosis wasn't confirmed until after his death. The autopsy determined that Jackson died from complications related to alcoholism and stage 2 CTE. Despite the presence of CTE, the Hillsborough County Florida Medical Examiner came to the conclusion that Jackson's death was the result of chronic alcohol use, per ESPN.
When the coroner's report was finalized, Jackson's family donated his brain to Boston University's CTE Center for further study. The family spokesperson, Allison Gorrell, said to ESPN of the donation, "If anything can be learned from his death that might help someone else, Vincent would want that since he was passionate during his life about impacting others around him." Boston University's CTE Center is the leading research organization studying the condition with the goal of "detection during life, and methods of prevention and treatment."
If you or anyone you know is struggling with addiction issues, help is available. Visit the Substance Abuse and Mental Health Services Administration website or contact SAMHSA's National Helpline at 1-800-662-HELP (4357).
Mike Webster
Mike "Iron Mike" Webster was a member of the Pro Football Hall of Fame after being inducted in 1997. He took part in four Super Bowl victories over the course of his long career, and many have dubbed him the greatest center to ever play the game. In 2002, Webster had a heart attack, resulting in his death at the age of 50. Sadly, it's not unheard of for someone to die from a heart attack at 50, but his death became noteworthy for something else.
Webster's autopsy revealed significant CTE in his brain, and he became the first former NFL player to be diagnosed with the condition. This raised awareness that football can (and apparently often does) lead to significant damage to the brain over long periods of time. As the first former football player to be diagnosed with CTE, Webster became a symbol for the trauma NFL players often suffer, which has led to further studies and ongoing debates over player safety in the long term. As The Atlantic wrote, Webster's diagnosis "opened a new chapter in football history."
A few years before he died, Webster was diagnosed with brain damage due to repeated concussions throughout his career. He was the type of player who would play hurt, which likely had an impact on his health. A doctor familiar with Webster's case described him to ESPN as essentially "punch drunk," impacting his attention span, concentration, and focus, resulting in erratic behavior.
Ryan Shay
When most people think of a long-distance runner, they probably picture someone in excellent health. After all, it takes a great deal of mental and physical conditioning to competitively run for long distances. Unfortunately, someone can be in apparently perfect health while dealing with significant problems they may not know anything about, which is what happened to Ryan Shay. A professional long-distance runner with several USA championship titles, Shay dropped dead in 2007 in the middle of a run.
Shay was running in a US Olympic marathon trial in New York City, New York, when he collapsed after only a few miles, per Runner's World. He was quickly taken to the hospital, where he was pronounced dead. There was no apparent cause of death, so an autopsy was conducted. While it wasn't initially conclusive, there was an indication of a pre-existing enlarged heart. About five months after Shay's death, the New York Chief Medical Examiner's Office released a more conclusive finding to his father.
In that report, it was determined that Shay died from "cardiac arrhythmia due to cardiac hypertrophy with patchy fibrosis of undetermined etiology" (via Lets Run). In layman's terms, Shay had an irregular heartbeat caused by an enlarged heart. Additionally, Shay's heart had abnormal scar tissue. In short, Shay's heart failed him. The rest of his body was in peak condition, but his heart had problems, which he may or may not have been aware of before he ultimately succumbed to its failure.
Arielle Newman
Arielle Newman was the Notre Dame Academy track team captain in Staten Island, New York. She regularly ran cross country and won several awards for her accomplishments. Her mother found her dead in her bedroom on April 3, 2009.
For most people, a typical application of BenGay helps to soothe muscle aches and pain. Unfortunately, it's possible to use too much of the product. Newman had a lot of aches and pains, so she applied BenGay liberally to try and soothe the pain. Though it sounds strange, overusing the pain reliever resulted in an overdose of methyl salicylate, the active ingredient.
ABC News reported that Newman's cause of death was ultimately determined via her autopsy, which found toxic levels of methyl salicylate in her body. According to Dr. Lewis Maharam, BenGay contains salicylate, which is a type of aspirin. "So in order to get this type of result, you have to take a tremendous amount of this stuff and be rubbing it on day after day, morning, noon and night, go through cases of it to get a level that would be detrimental," Maharam said. Johnson & Johnson, the company that makes BenGay, issued a statement expressing sympathy while directing people to read the label to "ensure safe and proper use" (via The New York Times).
Zeke Upshaw
Zena Ray "Zeke" Upshaw was a professional basketball player who played for the Helios Suns, Basket Esch, and Grand Rapids Drive. While playing for the latter during a regular season game in 2018, he collapsed on the court. He was rushed to the hospital, and he died two days later. Upshaw was only 26 years old at the time of his death, which was caused by no apparent illness or trauma.
Because of this, there was a lot of speculation as to what happened to the young athlete. The Kent County medical examiner offered a preliminary determination to 24 Hour News 8 that Upshaw died from "sudden cardiac death." Dr. Stephen Cohle, the Kent County Medical Examiner, told the outlet that Upshaw had a "slightly enlarged" heart and saw "some cardiac abnormalities." The results were preliminary, and further clarification eventually came after his family filed a wrongful death lawsuit against the Detroit Pistons, the SSJ Group, and the NBA. According to ESPN, they ultimately settled in 2019.
Per the Detroit Free Press, it was found that a year before his death, Upshaw was diagnosed with hypertrophic cardiomyopathy (HCM), or a thickening of heart tissue. According to the American Heart Association, HCM affects more than half a million people nationwide and "36 percent of sudden cardiac deaths in young athletes" (via Detroit Free Press). Sadly, playing basketball with the condition "began a domino effect that eventually took his life."