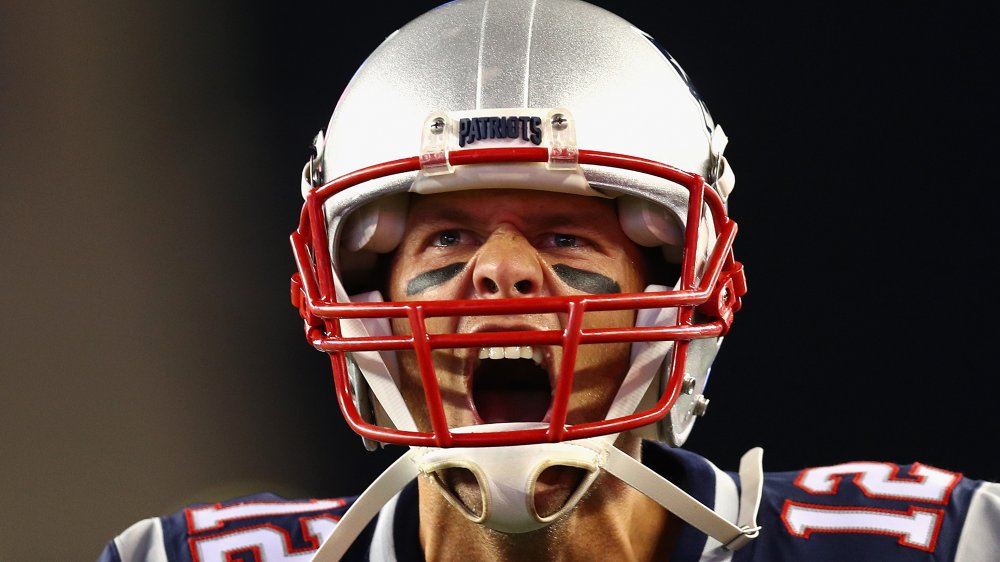 A nobody coming out of Michigan, Tom Brady was, as ESPN recalled on the 20th anniversary of the event, the 199th overall pick in the 2000 NFL Draft. By the time the New England Patriots selected him, every other team in the league had passed him over six times. Then on September 23, 2001, after an injury took out starting quarterback Drew Bledsoe in a game against the Buffalo Bills, Brady took the reins in his second season and never looked back.
Since that date, Brady has played in nine Super Bowls, winning six. He racked up three NFL MVP awards and a record four Super Bowl MVP awards. He is a 14x Pro Bowler and the only quarterback in NFL history to win 200 games. During his 20 years with the "evil empire" New England Patriots, the team never had a losing season, and at the time of this writing, Brady is second all-time in NFL passing yards and passing touchdowns. Clearly, he is a big deal in the sport of football.
That's going to get you a lot of fans, as well as the polar opposite, like a grandmother who made sure her obituary let everyone know "she HATED Tom Brady." When asked by an 8-year old fan on how he handles detractors, Brady replied, "We love 'em. We love 'em back. Because we don't hate back." Despite Brady's professions of love, here are a few celebrities who can't stand him anyway.
Terrell Suggs: 'I don't like him. He don't like me'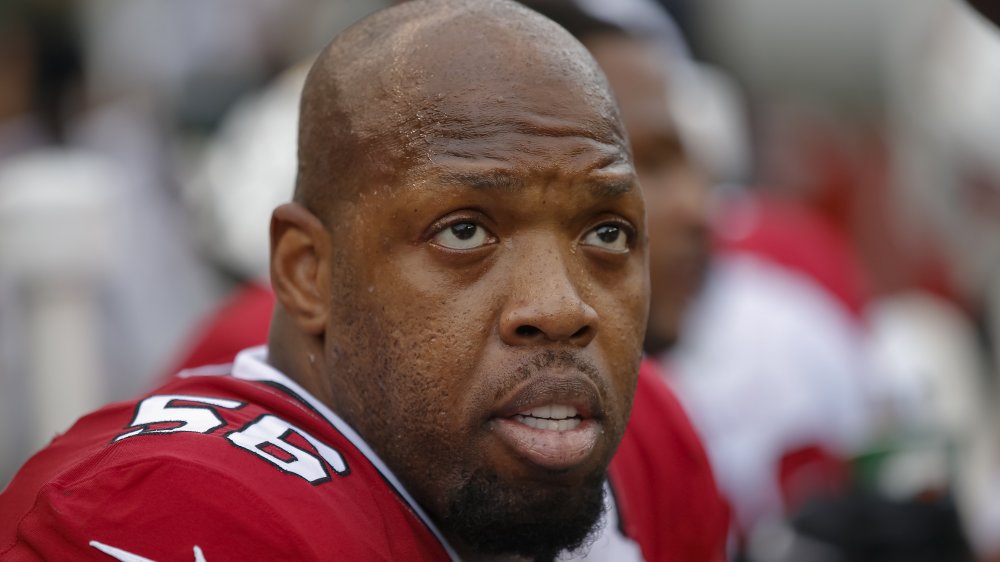 Kansas City Chiefs linebacker Terrell Suggs had some epic battles against Tom Brady and the Patriots while he was a member of the Baltimore Ravens. And he's never been one to sugarcoat his feelings about Boston's golden boy. "I don't think that's appropriate for camera," he once said (via the New York Post). "I don't like him. He don't like me. I don't like his hair. I don't like his smug attitude."
The first game of the 2008 season, Kansas City Chiefs safety Bernard Pollard hit Brady below the knee, resulting in Brady tearing his ACL and missing the rest of the season. Before that play, the hit was legal, but the following year, the NFL instituted what was dubbed "The Tom Brady Rule," prohibiting defensive players from hitting quarterbacks at or below the knee.
Suggs didn't appreciate that. "Years before, I hit Drew Brees and accidentally tore his knee up," Suggs told ESPN E:60 (via the New York Post). "No rule was made. Of all the quarterbacks that got their knees blown out when they got hit — Carson Palmer blew his knee out — but then one guy got hit and changed the whole rule for the NFL?" A valid point? We'll let you decide.
After the Ravens' 2010 overtime loss to the Patriots, Suggs had a few choice words about the team, to which Brady replied, "They talk a lot for beating us once in nine years."
Bridget Moynahan disdain for Tom Brady is understandable
In Dec. 2006, Tom Brady and actor Bridget Moynahan announced they "amicably" split after three years of dating. Brady and model Gisele Bündchen were an item later that month. Curiously enough, when Brady came up in a 2005 interview with the Boston Herald, Bündchen said, "He's cute, but if he has a girlfriend, he's gay to me. There are too many men in the world to go after a man who has a woman."
While Brady was moving on with his new model girlfriend, Moynahan announced in Feb. 2007 that she was "three months pregnant" with Brady's child. You do the math on that. "Privacy and consideration is appreciated at this time," the statement by her publicist said (via The Hollywood Reporter). While speaking on the BUILD stage in 2019 (via Yahoo!), she stated that she's "still working through" the aftermath of her announcement. "I had a public breakup and then I was pregnant and then I had a baby," she said. "And those moments were kind of stolen from me by the paparazzi, the tabloids, whatever."
During a 2020 interview with Howard Stern, Brady opened up about this situation, and well, he almost sounded regretful it ever happened. "It was very hard for my wife to think she fell in love with this guy, and now this guy's ex-girlfriend's pregnant," he said (via Blast). "And it was very challenging for my son's mom because she didn't envision that either."
Charles Woodson: 'Tom Brady owes me his house'
Charles Woodson is an NFL legend. During his storied 18 years in the league with the Oakland Raiders and Green Bay Packers, Woodson won the NFL Defensive Rookie of the Year, the NFL Defensive Player of the Year was selected to nine Pro Bowls, and won a Super Bowl in 2010. However, he blames Tom Brady for robbing him of a second Super Bowl back in 2002.
It happened in the infamous "Tuck Rule" game where Woodson stripped the ball from Brady late in the fourth quarter, but the fumble was overturned by officials due to an obscure rule. The call allowed the Patriots to beat the Oakland Raiders and advance to the 2002 Super Bowl to begin their near two-decade dynasty. In 2013, 29 of the 32 NFL teams voted to eliminate the Tuck Rule.
Woodson is still mad and seemingly always will be. "Let's just get this out of the way," Woodson said on the NFL Network (via Complex) in 2014. "If they make the correct call — which they did at first, then they overturned it — this (10)-game playoff streak that Tom Brady has? It never happened. Tom Brady owes me his house. I'm the reason why he's married to who he's married to. I'm a reason for a lot of that. Everything. Because they overturned that call."
Ray Lewis questions Tom Brady's legacy, too
Former Baltimore Ravens middle linebacker, two-time Super Bowl winner, MVP of Super Bowl XXXV, and current Hall of Famer Ray Lewis thinks Tom Brady's legacy is tainted due to the Tuck Rule. "The only reason we know — I'm just being honest! — the only reason we know who Tom Brady is [is] because of a tuck rule! There's no such thing as a tuck rule! If the ball is in your hand, and I knock it out your hand, whether it's going backwards, forwards, lateral, sideways, however it's coming out, that's a freaking fumble!" he said on Stephen A. Smith's SiriusXM radio show in 2015 (via The Washington Post).
"But guess what we created? We created a freaking tuck rule!" he continued. "They don't go to that championship game — they don't go to that championship game if that tuck rule if that ball is not called a tuck! That's a fumble!"
Lewis wasn't done. "Charles Woodson made that man clearly fumble the ball and they named it the tuck rule, something that we've never heard in today's game," he said. "So now you've got to ask yourself: When did the legacy really start?"
Richard Sherman didn't hold back on Tom Brady
In 2012, Tom Brady was a 13-year veteran and three-time Super Bowl winner. Richard Sherman was a candid cornerback in his second year with the upstart Seattle Seahawks. Their feud began on October 14th of that year when the two teams met after coming off playoff seasons the year before.
"I kept saying I'm going to get that next time. Every TV timeout, I went up and said it right to [Brady]: 'Please keep trying me. I'm going to take it from you.' That was when they were winning. He just gave me that look and said, 'Oh, I'll see you after the game," Sherman said during the postgame interview after the Seahawks pulled out the victory (via Yahoo! News). "Well, I made sure I saw him after the game." And see Brady he did. As a dejected Brady walked off the field, a photographer snapped Sherman letting some postgame trash talk rip. Sherman tweeted out that pic with the caption: "You mad bro?"
Sherman has no regrets, claiming the taunting was warranted. "I think people somehow get a skewed view of Tom Brady, that he's just a clean-cut, does everything right, never says a bad word to anyone," Sherman said (via Daily Mail). "We know him to be otherwise." Brady response? "My dad taught me at a young age to play with class and respect," he said (via ESPN), "and certainly I have a lot of respect for the Seahawks." Backhanded compliment much?
Did Tom Brady have beef with Obama?
In 2015, the New England Patriots were accused of deflating footballs during the AFC Championship Game against the Indianapolis Colts. The NFL's investigation into this and the scandal that ensued was dubbed "Deflategate." Tom Brady almost took his four-game suspension to the Supreme Court, but ultimately decided to call off the appeals process. Obviously, this was a touchy subject for Brady and the Patriots organization.
However, prior to the Super Bowl, Obama's White House Press Secretary Josh Earnest took a jab at Brady over his public relations skills (or lack thereof) when the Deflategate story broke. "The one thing I can tell you is that for years it's been clear that there was no risk that I was going to take Tom Brady's job as quarterback of the New England Patriots, but I can tell you that as of today it's pretty clear that there's no risk of him taking my job either," Earnest said during his daily briefing.
After the Patriots won Super Bowl XLIX, Brady skipped the visit to the White House visit citing a "family commitment." During the event, Obama doubled down on the jokes. It wasn't received well. "I usually tell a lot of jokes at these events," he said (via CNN). "But with the Patriots in town, I was worried that 11 out of 12 of them would fall flat. (groans, laughter) All right, all right. That whole story got blown a little out of proportion." Zing!
A psychology professor explains the Tom Brady hate
As of March 20, 2020, Tom Brady was no longer a Patriot: He signed a two-year, fully guaranteed $50 million contract with the Tampa Bay Buccaneers with up to $9 million more incentives at the age of 42. Chances are that Brady won't be able to replicate the success he had with the Patriots, but it would be unwise to count him out. We bring all this up to say that people will have to hate Brady for at least two more years.
Marc Sestir, an assistant professor of psychology at the University of Central Arkansas, wants to let you know the Brady hate is totally normal. "You look at our sports narratives, the popular movies that we like," he told KTHV in 2019, "the movies like Hoosiers, and Rudy, and Remember the Titans, and that sort of stuff. And, it's always about scrappy underdogs, like, overcoming the odds and beating the team that is really, strongly favored."
With controversies like Deflategate, Sestir posits that people convince themselves that Brady and the Patriots are successful because they are cheating. "And that's not necessarily a fair evaluation, but it's a really easy thing for people to hook onto," he explains, "to continue to root against that favored team and for the underdog." He says most of the hate can be chalked up to "good, old fashioned envy." He added: "Tom Brady leads a life that a lot of people would dream of."