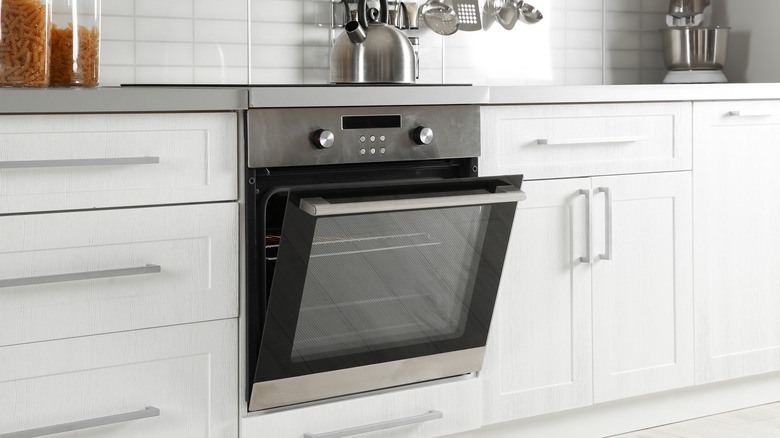 An oven is a staple appliance in the average kitchen. Used for cooking, defrosting, baking, and more, it has evolved over the years and now has even more features, as well as bells and whistles. Choosing an oven can seem like an impossible endeavor, especially given how many are available today. Is a traditional oven with a stove on top better suited for your needs, or would you prefer a separate wall unit?
According to How Stuff Works, when buying an oven, you should first decide whether you want gas or electric. It is, by far, the most important decision you'll make when starting the process. Beyond that, you have more options to consider. Do you want something that's going to match your kitchen aesthetic? Or do you want an appliance that is traditional in design, but works wonders? Not taking the time to think about this could lead you to buy an oven that doesn't fit your needs. That's why it's a good idea to avoid these common mistakes people make when buying an oven.
Choosing between gas or electric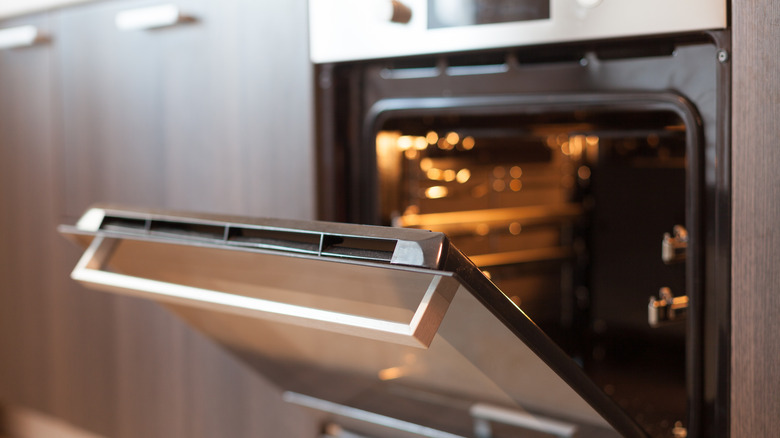 As mentioned earlier, the first decision you want to make is whether to buy gas or electric. They're essentially your two main options when buying an oven. It is possible to buy a gas-powered oven with an electric-powered cooktop, but to save energy and shopping time, you'll want to go for one that uses the same power source. Knowing the pros and cons of each will help you narrow down your choices. MasterClass reports that three major differences between gas and electric ovens are availability, costs, and safety.
Gas-powered ovens require a gas line to your kitchen, making electric ovens more accessible to those without gas lines. However, electric ovens use more power than gas ovens, making the latter more energy efficient. Finally, gas-powered ovens bring more fire hazards into the home since you're working with an open flame. They also run the risk of a gas leak. But, electric ovens take longer to preheat. What you choose comes down to your personal preferences, though you can make a faster decision by considering what type of power source you currently have in your kitchen.
Mistake: not getting the right measurements
Once you know whether you're getting a gas or an electric oven, the next thing you want to make sure you do is get the right size. One of the most common mistakes people make when buying ovens is not getting the right measurements, which requires another trip to the store, not to mention the hassle of being without an oven for a few days while you sort everything out.
That's why it's important to get the right measurements to ensure your new oven will fit. When measuring your current oven, Home Depot suggests focusing on the height, the width, and the depth. Don't assume the same style and brand will fit as manufacturers are constantly upgrading old models. That may mean their current style, even if it looks just like your old one, won't fit because they may have adjusted the measurements. Even an inch off can make all the difference when buying an oven.
Mistake: not getting one with enough shelving positions
What you use your oven for depends greatly on how you position the shelves. That's why you'll want to consider going for one with a variety of rack positions. It may not seem like a big deal, but having the option to set the racks at different heights is important, especially if you tend to cook a lot of different dishes.
The average setting of oven racks is ideal for many types of cooking, like roasting vegetables, or cooking a chicken. But baking requires a different setup. The position of the racks can mean burning the cookies you bake. And according to Real Simple, oven rack positions still trip up seasoned cooks, so don't think you're alone in figuring out the best order. Even if you're going to do just essential cooking, and not experiment too much with your culinary skills, you still want to choose an oven that has three to four different rack positions. The more variety you have to work with, the more you'll use it.
Mistake: going for the trendy option
One of the most popular rooms people often remodel is their kitchen. Since the kitchen is one of the most high-traffic areas in the home, people want it to feel comfy, yet functional. And yes, you want your appliances to look good with your new kitchen design. But, choosing a trendy oven over a standard one could leave you with an appliance you don't like using.
It's important to note that buying a modern oven that is sleek in design will cost more. The decision comes down to whether or not you want an affordable standard appliance that will last or one that looks good but may not have everything you need. Bentwood Kitchens says you should always test a stylized oven before buying, and some stores will offer a chef demonstration. This shows you the appliance in action and helps you make a sound decision over whether style or substance is your better option.
Mistake: not researching your options
There are so many more choices available to the modern consumer when it comes to kitchen appliances, especially ovens. This can make shopping for one an overwhelming experience. One of the best things you can do when preparing to shop for an oven is to research your options. This will become easier once you decide whether you want gas or electric, but even then you'll have many choices.
There are several ways you can do research. You can start by reading lists of the most popular ovens, like the ones from Digital Trends. If you see any you like, do a bit more research into that appliance by checking its features, reading customer reviews, and bringing any questions to a professional. You can ask family or friends about their oven to see what they love or don't love about it. Gather as much information as you can so when you go to the store to see physical options, you have an idea of what you're looking for.
Mistake: not trusting the pros
No matter how prepared you are when shopping for a new oven, you should always talk to a professional. There will come a time when you've done all the research you can do on your own. That's the time to go into the store and speak with a sales associate. Their job is to know all the specs and features of each appliance. If you have a specific list of wants, they'll be able to give you a few options.
There are a couple of main features you want to consider when buying an oven, as reported by How Stuff Works, but you may not know which one will best suit your needs. Do you think a dual oven will be better for you? Is there really a difference between glass and non-glass oven doors? What about installation? Trust the pros when shopping for an oven. Don't be afraid to ask for their opinion and see what they have to offer. They want to help you make the best decision possible. They could end up showing you options you never thought of before, so don't ignore them.
Choosing between a stand-alone or wall oven
Besides choosing whether you want gas or electric, you also have the option to pick between a stand-alone oven or a wall unit. Depending on the space you have to work with, it's important to know which one will be better for you. Both have pros and cons when it comes to saving space, so definitely take the time to do your research. If you're completely overhauling your kitchen, this is the perfect time to read up on the differences between them.
Modernize reports that space, budget, and lifestyle should be considered when you're choosing between the two. For example, a wall unit will be more expensive and take away cabinet space. However, if you have chronic back pain and tend to be physically limited in your movements, wall units can benefit your health. If you're not redesigning your kitchen and are simply looking to replace an old oven, getting the same style is your better bet. This will ensure you have a space for it, and you won't need to spend money on additional costs like removing cabinet space to install a wall unit.
Mistake: not checking all the details
Like most kitchen appliances, ovens come with different specs and details — way more than your parents or grandparents had access to. This can make the buying process longer than you'd like, and with that comes anxiety and stress. This is why you want to take the time to create a list of what you want your oven to do. Not only will this help you narrow down your choices, but it'll make for a smoother buying process.
What kind of features do you need to research? According to Armature Coil, the main specs you want to focus on include the size of the appliance, temperature settings, air flow, and customization. Is there anything you need your oven to do that might require some additional costs? Customizations can range from adjusting the dimensions of the appliance, adding features it otherwise wouldn't have, or getting it in a style or color that isn't readily available. That's why it's a good idea to have a list of features you may or may not want before going into the stores.
Mistake: ignoring maintenance costs
Ovens, like any other kitchen appliance, can have expensive maintenance costs. Knowing this ahead of time will allow you to start budgeting for those times when you might need to bring in a professional to fix a problem. Depending on what you need to be repaired, costs can vary. Angi reports that the average cost of an oven repair is $350. Again, that number can go up or down depending on what it is you need fixing.
When buying an oven, talk to the professional to see if they offer a warranty plan. Many manufacturers will include warranties to give the consumer peace of mind knowing that if something goes wrong with the appliance, they can schedule service through the company itself. Still, it's important to research these costs as it will help you know what you might need to pay when the time comes. You can also ask the sales associate what average maintenance costs are. If they don't know, go and do your own research. Having as much information as you can about service and repair costs will help you make a more sound decision.
Mistake: not considering how often you'll use it
If you want to buy the best oven for your needs, really consider how much you'll use it. Some people don't use their oven that often, so buying one with a ton of features probably isn't their best option. Like all kitchen appliances, ovens can be used every single day, or they can be used once a week or less.
Food52 reports that ovens can be used for more than just roasting vegetables or baking cookies. You can use the broiler setting to preheat it faster. This is particularly helpful for those who may often forget to preheat the oven. Feel like your home could use a fresh scent of something? You can roast some herbs and let the aroma fill your home. Need some extra storage space? Use the racks to store excess pans or bakeware — just make sure to remove them before preheating. Ovens have way more uses than some think they do. A little creativity can go a long way to ensure your oven is worth every penny.
Deciding on a self-cleaning feature
Many appliances nowadays, especially kitchen appliances, are being made to make cleaning easier for the consumer. That's why when you begin shopping around for a new oven, you might see some with a self-cleaning feature. This feature is pretty basic, meaning there isn't a lot you have to do. You simply select the self-cleaning option, and you let the appliance do its job. But the self-clean takes a few hours, so make sure you won't need the oven during that time. Even with the self-cleaning feature becoming more available, Oven Clean reports that self-cleaning ovens are not as safe as you might think.
Because of the elongated process, there are higher risks of fire and carbon monoxide poisoning. This feature can release dangerous fumes which could harm children, pets, and anyone with asthma or respiratory issues. This isn't to say that running a self-cleaning cycle every so often is a bad thing. Sometimes, though, a good old-fashioned scrubbing can keep your oven looking good as new. And remember: Just because your oven has certain features, doesn't mean you need to use them.
Mistake: thinking the drawer is only for storage
We mentioned before that you could store extra pots and pans inside of your oven, but there is another option you can look into. Some ovens on the market come with a drawer on the bottom. Many people mistake this for storage and use it to keep excess pans, but that bottom oven drawer has many more uses than you think, according to The Kitchn blog.
The bottom drawer's options vary depending on whether the oven is gas or electric. If it's a gas oven, the drawer can serve as a broiler. If you need the main oven space for something large, you can use the drawer to roast vegetables. Others use the drawer for warming purposes. This is a great feature if the main dish isn't finished and you need to keep any side dishes warm. While many people will use the drawer for storage, it's definitely an interesting feature to look into adding to your new oven.
Mistake: buying the first one you like
Realizing how many choices you have can lead to analysis paralysis and trick you into buying the first one you like. While impulse buying is fine for certain items, it's important not to impulse buy kitchen appliances, especially ovens. This is an appliance you may get a ton of use out of, so it's vital you get one that checks off as many boxes as possible.
According to American Home Shield, buying the right oven can make all the difference in your kitchen. This is why you want to take the time to evaluate your options. You want your oven to last a long time, so picking the best one, not the first one, is a good guideline to follow. You can help ease the anxiety by asking questions, doing your own research, and writing down the features you know you want. The more you have prepared, the easier it'll be to shop and you'll pick the best one for you.
Mistake: not installing it properly
Of all the mistakes people make when buying ovens, not installing it properly is right at the top. While it is possible to install an oven yourself, it's always better to let the professionals do it, even if it costs a little extra. One of the main reasons is because most people neglect the size and weight of the appliance. Appliance City reports that installing an oven requires a lot of lifting, shifting, and movement. Since ovens tend to run on the heavier side of appliances, handling it yourself leads to a higher chance of damaging the unit or yourself.
Ovens are expensive enough, and though it may cost a little extra to get it installed by professionals, you'll sleep better knowing it is done and done right. If you aren't comfortable dealing with gas or electric lines, installing it yourself can quickly become overwhelming and dangerous. But if you are adamant about installing it yourself, be sure to do as much research beforehand. Get the proper tools and ask for help. When in doubt, however, it's always best to get it professionally installed.