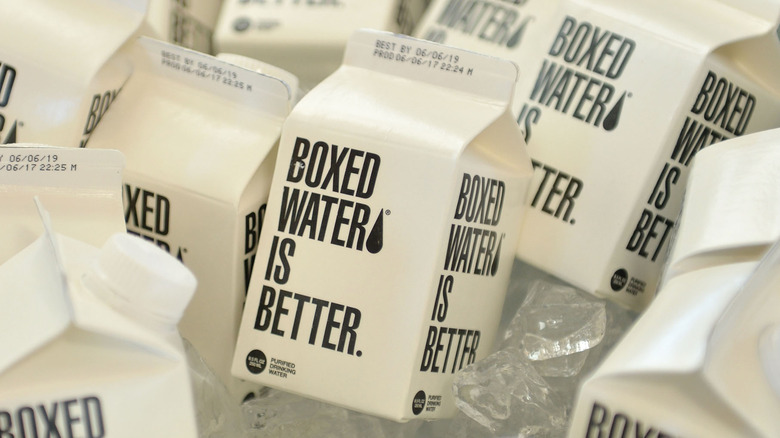 Since 1973, bottled water has been packaged almost exclusively in plastic, per National Geographic. When Du Pont patented plastic water bottles, the way we consume water on the go was seemingly irrevocably changed. But in 2009, a new company came along trying to change that.
Inspired by the unsustainability and reported health hazards of plastic bottles, Benjamin Gott founded Boxed Water Is Better, a company that sells water packaged in a paper box. A company out of Holland, Michigan, Boxed Water can now be found in stores and shipped across the country and around the world, making it accessible to those who can afford it.
Packaging water in a box may seem like a silly idea — we all know how flimsy paper straws are — but Boxed Water has generated millions in revenue and has been lauded for its impact on the environment as an alternative to plastic bottles. The company is continually gaining traction, and there's a lot to learn about their brand. Let's get into it.
It was the first brand to box water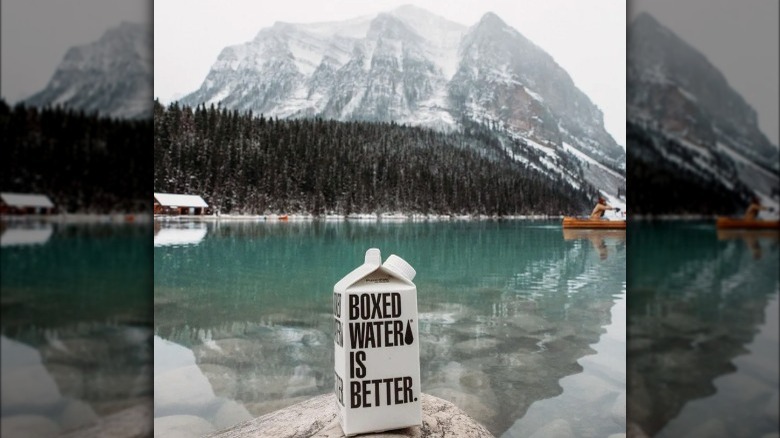 Boxed Water was founded in 2009, and it became the first company to sell water packaged in a box, hopeful it could act as an alternative to the harmful environmental impact of plastic water bottles.
According to a study conducted by the company, Boxed Water has proven it's better for the environment than its aluminum and plastic packaging counterparts in three areas: ozone depletion, global warming, and acidification. Per its findings, plastic has a major impact on global warming, smog, and fossil fuel depletion, while boxed water has a much smaller impact thanks to its packaging. Boxed Water is made from 92% plant-based material including paper and plant-based plastic.
Other brands have followed suit, per Boxed Water's blog, packaging their water in paper, too, like Flow Water and Jaden Smith's company Just Water.
Boxed Water also tries to decrease its carbon footprint by sourcing water as locally as possible. Per its website, all consumers west of the Mississippi River are drinking water from the Wasatch National Forest, while consumers east of the Mississippi River are drinking water from Lake Michigan.
Boxed Water plants trees
Never discount the impact of a tree. Trees are great for air quality, water quality, the climate, our overall health, and a variety of other things, according to the National Wildlife Federation. And Boxed Water must know the great impact trees have. It's dedicated to not only lowering its waste, but planting more trees — and it has done so through a pledge.
A few years ago, the company vowed to plant one tree for every social media post made in its honor. Its goal was to plant 1 million trees by 2020, and on April 23, 2020, it announced that it had reached that goal. "We are humbled and happy to announce the planting of our one-millionth tree, a big milestone in our ever-evolving mission to give back to the planet," CEO Daryn Kuipers told Global News Wire of its accomplishment.
To help reach its goal, the company teamed up with Free People, a clothing brand, to bolster its tree-planting statistics by planting five trees instead of one for every post made for the #BetterPlanet campaign.
It occasionally releases limited-edition flavors
Not everyone likes the taste of water, and Boxed Water knows that, which is why over the years it's occasionally released limited-edition flavors. In 2021, the company released a variety of fruit-flavored waters and tweaked the packaging to reflect the change in taste, adding fruits and color to its standard black and white cartons.
The packaging caught consumers' eyes, and its flavors sold out quickly. Following the success of the limited-edition launch, Boxed Water brought back its flavors, per BevNET, so that customers could again purchase cucumber, lemon, grapefruit, or blackberry-flavored water. The company's blog also noted that all four flavors can be purchased at once with the variety pack.
The blog also noted that Boxed Water added flavors to its water repertoire to entice people to drink water, as those who don't like the taste can struggle to stay hydrated. And while it is good to stay hydrated, doing so through flavored water can come at a cost to other parts of your body, like your teeth. As The Washington Post points out, the acid in these drinks can wreak havoc on your enamel. Drinker beware.
It's the official water of Alaska Airlines
Boxed Water has a huge reach, and it is proving to be exceptional at partnering with big-name brands. In 2021, Alaska Airlines announced that it would cease providing passengers with complimentary bottles of water on flights and instead continue its practice with Boxed Water.
"In order to reduce our waste footprint — and ultimately our carbon footprint — we need to actually eliminate single-use plastic. And the biggest offender is plastic water bottles," Alaska Airlines employee Todd Traynor-Corey told Executive Traveller. The airline first introduced its new water to business class flights, and the cartons of water eventually made their way to economy flights as well.
Alaska Airlines isn't the only business that has started partnering with Boxed Water. As it noted on its Instagram account, Boxed Water has also collaborated with Hotel Erwin in Venice Beach, California to supply boxes of water to guests.
Also in the area, Boxed Water has made a concerted effort to clean the beaches on the coast of California. "We are thrilled to continue our efforts in hosting beach cleanups and other events that contribute to a more sustainable future," Chief Revenue Officer Rob Koenen said of its partnership with Ocean Blue Project (via Cision).
It's sponsored music festivals
There is plastic waste everywhere, and it tends to increase at major events that yield high numbers of people, such as music festivals. The BBC dug into this issue, noting that music festivals, such as Coachella and Stagecoach, create an estimated 100 tons of solid waste each day. And this waste consists of lots of items, like wristbands, clothes, and toiletries, but much of the trash problem comes from food and drinks. As the article pointed out, the Glastonbury festival sold over 1 million plastic bottles during its 2017 event.
To combat this problem, one that has been in existence far longer than 2019 when the article was published, Boxed Water partnered with two large music festivals in the United States, Lollapalooza and Austin City Limits festival, to become the exclusive water sponsor of both events in 2013, as Ocean Blue notes.
Both events boast large numbers. The Austin City Limits festival hosted an estimated 75,000 fans per day for six days, per Austin American-Statesman, and over 385,000 people total attended Lollapalooza, per Block Club Chicago, both in 2021.
Kanye West is a fan of Boxed Water
Boxed Water has become popular among many consumers, and it's even made its way into the world of celebrity. The brand shared on its Instagram account a photo of model Bella Hadid drinking a carton of its water, but another more famous name has also shared his love for the brand: Kanye West.
The rapper, according to Western Herald, asked the company's founder, Benjamin Gott, to collaborate. "You can see incredible people that he surrounds himself with. It's certainly something I do as well, but you don't see me hanging out with many people from the bottled water industry. I try to have tons of different influences," Gott said about West.
Though West and Boxed Water never officially collaborated, West is reportedly partnering with another big brand in the food and drink industry — McDonald's. In a since-deleted Instagram post, the designer stated that he'd be working with Naoto Fukasawa to "reimagine McDonald's packaging," as reported by Complex. We'll be waiting to see if this comes to fruition.
It isn't meant to replace water bottles
Though Boxed Water reports that it's better for the environment than plastic or aluminum single-use water bottles, it does not claim to be better than reusable water bottles. Although the cartons can be refilled, the company acknowledges that the best option for the environment is to use a reusable water bottle, and that boxed water is only intended to be used if you can't use your water bottle for some reason.
"In our culture it's too easy to have convenient water and convenient products in general. It's still always better to have refillable water containers, but if you need to buy one instead, this makes a statement," CEO Daryn Kuipers told Food Republic.
The CEO is correct. It is better for the environment to use a reusable water bottle instead of a single-use option. As Oceana points out, reducing the amount of plastic bottles that we use can help marine life, and as MIT notes, using a reusable water bottle has a lower environmental impact than single-use water bottles.
In addition to helping the environment, switching to a reusable water bottle, particularly one that isn't made of plastic, may be good for your health, as well. Reusable water bottles are a win-win.
Its actual sustainability has been questioned
The majority of Boxed Water's marketing is based on its goodness for the planet, as it claims to be better than plastic and aluminum in every aspect regarding sustainability. And while it has conducted studies of its own to prove its efficacy in positively impacting the environment, other researchers are not so sure that it's as environmentally friendly as we have been led to believe.
Fast Company has noted that there are some concerns with its sustainability claims. It's noted that with advances in recycling plants and practices, more people have access to what's required to recycle the type of plastic that is classically used for water bottles, and that many cartons still end in landfills, beaches, and the ocean. "To me, it's a little bit ludicrous to put your water in a carton and claim that that is more sustainable than putting it in a plastic bottle which is, in fact, more readily recyclable," Natural Resources Defense Council senior resource specialist Darby Hoover stated.
Boxed Water's health impact has also been questioned. Food Network reviewed bottled water versus boxed water and named bottled water the champion, noting that there aren't studies to show that boxed water is actually better for your health.
Boxed Water an award-winning company
Despite facing criticism from some, Boxed Water is garnering major applause from others, like Good Housekeeping. The company was named the winner of the Good Housekeeping 2021 Sustainable Innovation Awards, an honor given by the magazine to brands it admires for their endeavor in helping the planet.
"We are honored to receive this acknowledgment. We shocked the packaged water category more than a decade ago with a clear mission to serve as a sustainable option to single-use plastic bottles, and we have continued to innovate ever since," Boxed Water's CEO Daryn Kuipers told Cision of winning the award.
Boxed Water has also been honored with a Shorty Award – "the first award show to honor the best creators on social media," its website reads. The brand won in 2021 for its campaign promoting its new flavors. The brand noted that the campaign didn't just win it an award, but also helped its sales increase by 45% that year.
Back in 2012, BevNET named Boxed Water the winner of its Best Packaging Design award. If drinking award-winning beverages is at all important to you, perhaps Boxed Water should become your go-to, when you're not using a reusable water bottle, that is.