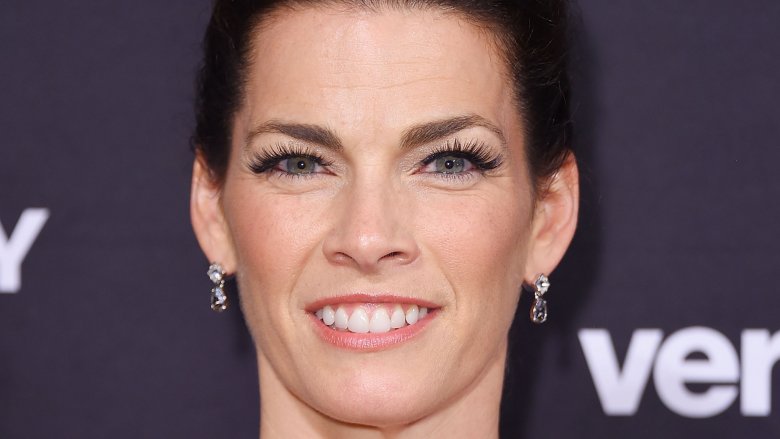 It's been more than 20 years since the infamous attack on Olympic figure skating star Nancy Kerrigan, but her dramatic story is making headlines anew following the release of the critically-acclaimed film I, Tonya. The movie stars Caitlin Carver as Kerrigan and Margot Robbie as rival skater Tonya Harding–who was banned for life from the U.S. Figure Skating Association in 1994 for her role in the attack on Kerrigan.
I, Tonya isn't the first time the story of Harding's ex-husband reportedly hiring a man to club Kerrigan in the knee after a practice session has been recreated for the screen. In 2014, ESPN released a documentary called The Price of Gold and NBC broadcast a TV movie titled Nancy & Tonya. While the rest of the world resurrects this scandal, Kerrigan has skirted the spotlight and remained notoriously silent. Why is she so quiet, and what has she been up to? Let's find out.
She retired from competitive ice skating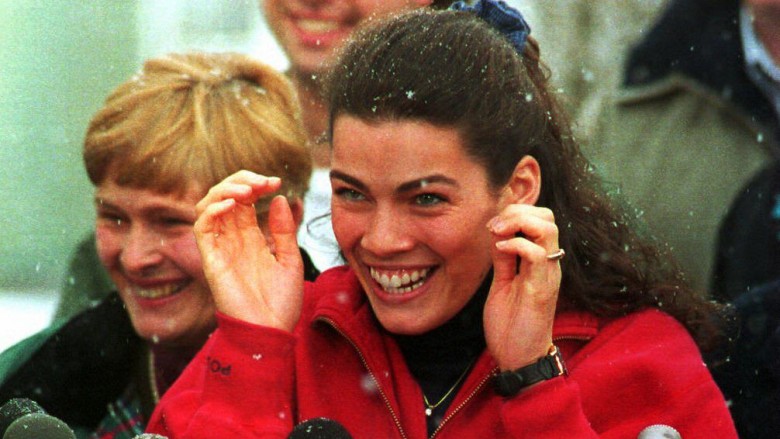 Following her silver medal at the 1994 Winter Olympics in Lillehammer–won a mere seven weeks after the attack on her knee–Kerrigan retired from competitive ice skating at the age of 25. Her graceful athleticism and Vera Wang costumes made an indelible impression on the sport, and she earned millions of dollars in endorsements, thanks in part to her manager (and later husband) Jeff Solomon. In other words, Kerrigan went out on a high note.
The spotlight has been harsh to her
Though many now categorize the Kerrigan verus Harding era as a classic battle of good versus evil, it was Kerrigan who faced intense backlash following her knee injury and Olympic glory.
The Olympian was heavily scrutinized for relatively benign comments made in the presence of hot mics. In one instance, during a Disney World parade, she was overheard saying, "This is so corny. This is so dumb. I hate it. This is the most corny thing I've ever done," which…is probably true. Regardless, the emotional whiplash of being a media darling recast as a graceless diva seemed to drive Kerrigan away from the spotlight.
People wanted to kill her
Kerrigan reportedly received death threats during the '94 Olympic Games, prompting her to get out of won before the closing ceremony, but according to UPI, some fans didn't believe the threats were real. Some attributed Kerrigan's early exit to "multi-million dollar media contract with Disney," noting that she showed up to a parade at Disney World "while her teammates attended closing ceremonies."
Kerrigan opened up to Daily Mail in 2013, insisting that on top of the crushing weight of the media scrutiny, she was, indeed, receiving death threats. She even claims she was asked to leave Lillehammer by the King of Norway via a message that deemed her "a security risk."
She didn't do well on Dancing With the Stars
Kerrigan took on the most high-profile gig she's had since her Olympic days by competing on Dancing With the Stars in 2017. Unfortunately, she wasn't the champion on the ballroom floor that she once was on the ice. The skater was eliminated in week seven, which saddled Kerrigan with the unpleasant distinction of being the only former figure skater to have competed on the reality show to not make it into the top five, according to NBC Sports.
Kerrigan took the hit on the chin, telling Good Morning America (via NBC Sports), "I want to keep going and learn more, but I knew every week there's always that chance. I don't know. It's just part of the game, I guess."
She still performs on a much smaller scale
Though she hasn't skated competitively in a long time, Kerrigan hasn't hung up the skates. She has performed in shows such as Halloween on Ice and the awkwardly-named Musselman's Apple Sauce Family Skating Tribute as recently as 2016. "I still do some things here and there, but I'm mainly the driver for the kids at home, so it's a little limited," she told Parade.
Speaking with NBC Sports in December 2015, after an unusually hectic slate of shows, Kerrigan said, "I've done shows for the last bunch of years, different shows here or there, maybe one or two or five, depends, but I haven't done a tour. Just sort of one-off things. Why? Because I'm a mom, and I have three kids."
Sensing a theme here? You should, because Kerrigan's focus for the past two decades has been squarely on her family.
Her kids are her top priority
As of this writing, Kerrigan's kids are 19, 12, and 9 years old, and outside of her very selective figure skating performances, they are her world. During an emotional segment on Dancing With the Stars (via People), she opened up about her heartbreaking journey to grow her family. Kerrigan revealed that she suffered six miscarriages in the eight years following the birth of her firstborn son, Matthew.
"I always thought I'd have three kids by the time I was 30," Kerrigan told People, explaing that she relied on in vitro fertilization to conceive her second and third children, Brian and Nicole.
Kerrigan said ice-skating takes a backseat to "being with my kids after school and asking them how their day was."
Her brother was jailed following her dad's death
Kerrigan suffered a huge personal setback in 2010 when her brother, Mark Kerrigan, was incarcerated in connection to the death of her father, Daniel Kerrigan. According to the New York Daily News, Mark was found guilty of assault and battery following a physical altercation with Daniel. Mark allegedly put his hands around Daniel's neck, triggering a fatal heart attack. Mark reportedly avoided a conviction on the much more serious charge of involuntary manslaughter.
The ordeal obviously took a toll on Nancy, who defended her brother on Today (via the Daily Mail): "He shouldn't have been charged. My dad had a heart attack, and that's that." Since the verdict, she said her family has "done the same thing we've always done, take things one thing at a time, and you get through it, and life's challenging and hard and we stick together, and, you know, move on."
She's giving back
Nancy is a spokesperson for the Foundation Fighting Blindness and raises money for the vision-impaired through the Nancy Kerrigan Foundation. Her charitable work is personal–Nancy's mother, Brenda, is blind.
In addition, Kerrigan helped produce a documentary about eating disorders in sports titled Why Don't You Lose 5 Pounds? In an interview with ABC News, Kerrigan said she struggled with anorexia throughout the 1994 Winter Olympics. "My world was completely out of control…it was crazy," she said, noting that she wasn't even aware that she dropped 15 pounds ahead of the Games.