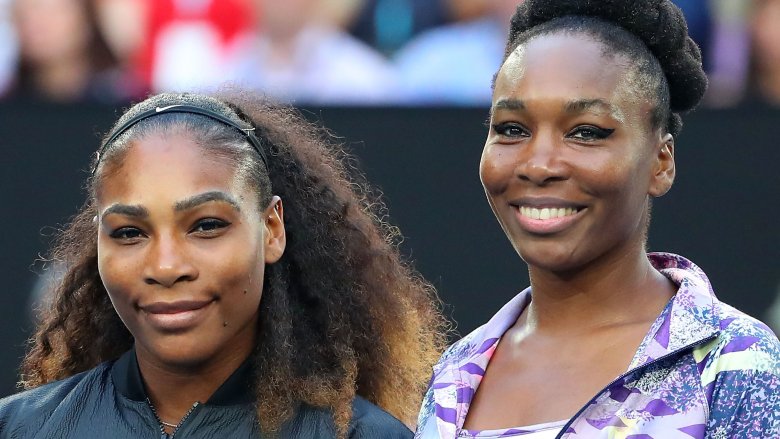 Few athletes are as iconic and as revered as the Williams sisters, Venus and Serena. The sisters have become synonymous with tennis, winning tournament after tournament, raking in countless trophies, and setting unbelievable records along the way. But did you know that the tennis legends are actually two of five sisters? That's right: Growing up, Venus and Serena were raised alongside three other siblings — Yetunde, Isha, and Lyndrea Price — who actually helped them practice and achieve their lofty sports goals.
The Price women share the same mom, Oracene Price, with Venus and Serena Williams, but they have a different dad. Yetunde, Isha, and Lyndrea's father was Yusef Rasheed, who passed away when they were kids.
While most Williams fans don't know much about these mysterious siblings who chose to remain behind the scenes, a little investigative work revealed some fascinating facts about the lives of the champs' half-sisters. Read on to learn all about the Williams sisters' other siblings who no one ever talks about!
The Price sisters were raised by Venus and Serena's dad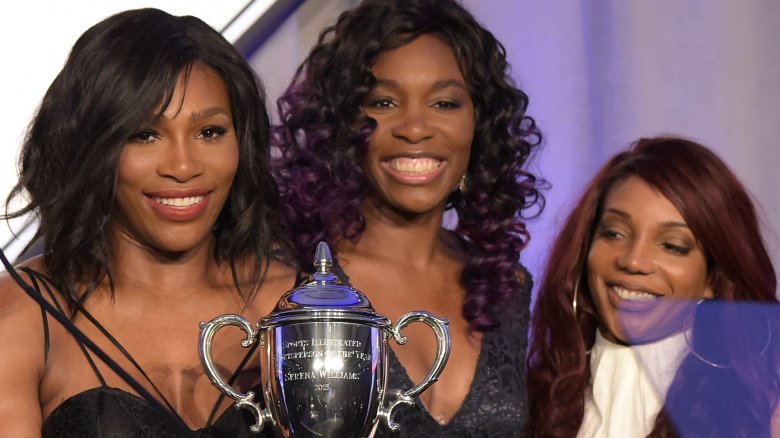 Yetunde (a nurse), Isha (a lawyer) and Lyndrea (a singer and actress) lost their father, Yusef Rasheed, at a young age (via The Guardian). In 1979, their mother, Oracene, met Richard Williams, and they were married a year later, not long after welcoming their first daughter together, Venus. A year after that, in 1981, they had Serena, and the rest is history.
All along, Richard helped raise Oracene's three girls from her relationship with Rasheed as if they were his own. The family spent most of their free time together, all working towards the common goal of turning Venus and Serena into tennis prodigies.
The girls were also subjected to tough love from their stepdad. According to The New York Times, Richard admitted to raising his daughters "as if they were living in the '50s" and enforced "old-fashioned values" on them, which were instilled in him by his sharecropper father.
Their childhood wasn't 'normal'
The story of the sisters' childhood reads like a movie script. In the '80s, Richard Williams decided that his two daughters, Venus and Serena Williams, would become professional tennis players after watching Romanian tennis champ Virginia Ruzici take home $40,000 on TV. He began teaching the girls himself, and, as Isha Price revealed to the The New York Times, her stepdad always made sure to involve her and sisters Yetunde and Lyndrea in all the hubbub. The girls were charged with handling the tennis balls for their two half-sisters, feeding them into the ball machine, and then picking them up.
"It wasn't until I got to college that I realized that our lives weren't what other people considered normal," Isha stated, recalling a strict 10 p.m. bedtime that was imposed until they turned 18 and their lack of friends.
Instead of hanging out with their peers, the five sisters spent most of their young lives together, sleeping in one room with just four beds. Serena, being the youngest, regularly switched bunks, but it was clear that she had a favorite, as Isha noted that young Serena "looked up to Venus so much she was Venus."
Isha snubbed Venus at the Australian Open final
Following her defeat at the 2017 Australian Open Women's Singles final, Venus (who incidentally lost to her younger sister, Serena) delivered a sweet thank you speech that quickly turned awkward because of Isha Price. Or, rather, because of her unexpected absence.
"I'm so happy to be able to play in front of you all tonight," she started, before thanking her team and congratulating Serena, declaring, "I'm enormously proud of you — you mean the world to me." She then turned around and asked, "Sister Isha, where are you?"
Realizing that her other sibling wasn't out in the audience, she gasped, "Oh dang, she didn't come?" Yikes! As the audience laughed, she tried to recover, quipping, "I get it. It is too hard. I get it. Isha, I love you."
Following the cringe-worthy incident, Australian tennis player Rennae Stubbs clarified the situation for a local paper, saying, "Isha went back to the hotel and she watched it on television. … She didn't want to be around it. She said as soon as it was over she was going to be back here."
Yetunde and Serena were super close
Speaking with People in 2007, Serena admitted that speaking about her sister Yetunde Price's death was "still hard for [her] to talk about." She went on to reveal just how strong their bond was, telling the outlet, "I don't think I ever really grieved the right way … Yetunde and I were so close; she changed my diapers."
As the magazine reported, Price was a mother of three, a nurse, the co-owner of a hair salon, and Serena and Venus' occasional assistant. In addition to keeping track of their schedules, she also traveled with her sisters to various events, including Wimbledon, but she ultimately preferred to keep away from the spotlight. In an official statement following Yetunde's passing, the family stated, "She was personal assistant, confidant and advisor to her sisters and her death leaves a void that can never be filled."
In 2016, the sisters opened the Yetunde Price Resource Center in Compton in her honor, which aims to help families and children affected by trauma. "We definitely wanted to honor our sister's memory because she was a great sister, she was our oldest sister and obviously she meant a lot to us," Serena told the Los Angeles Times. "And it meant a lot to us, to myself and to Venus and my other sisters as well, Isha and Lyndrea, that we've been wanting to do something for years in memory of her, especially the way it happened, a violent crime."
Lyndrea worked hard to get out of her sisters' shadows
Take a look at Lyndrea Price's Instagram account and you'll quickly notice that her feed, as well as her bio, have nothing to do with tennis. That's because she's worked hard to step out of her famous sisters' shadows and build a successful career of her own in the field she's most passionate about — fashion.
According to her LinkedIn profile, she studied information systems at Howard University, and started her career working as a product placement supervisor for New Regency films. She then became a fashion stylist for various brands, including Beats by Dre, and worked with a slew of magazines, such as Essence and People, as well as with the costume departments of different TV studios.
After a decade in the fashion industry, she founded LP Enterprises and began working as a brand developer, helping new labels come to life. According to her Insta bio, she's a "fashion creative production stylist." She has helped launch numerous brands, including LDA by Lanre Da Silva Ajayi, menswear line Beta Unit, and Ember Lynn Designs — a high-end, plus-size label.
Serena calls her sisters 'vital' to her life
In January 2018, Serena Williams took to Instagram to pen a heartfelt note to the women in her family, including her mom and, of course, all of the Williams sisters.
"They are so prominent strong and vital to my life," she began, captioning a photo of herself taken for Vogue magazine, which showed the tennis legend lounging around in pajamas and cozying up to the fierce ladies in her life.
"My mom raised five women (one passed) and three grandchildren. I love this photo because we have a close bond. This is what keeps me humble. They are not afraid to tell me anything. After all, I am the youngest of five," she joked. Serena then expressed her happiness that her daughter, Alexis Olympia, whom she shares with husband Alexis Ohanian, will grow up surrounded by strong women like Serena's mom, sisters, and in-laws. "Alll women! Coincidence? I think it not. She will fit right in," she wrote.
Oldest sister Yetunde was tragically killed
The Williams family experienced tragedy on Sept. 14, 2003 when Yetunde Price, Venus and Serena's oldest sister, was killed by a bullet that reportedly went through the window of her car and hit her in the back of the head.
Price's fiancé, Rolland Wormley, was driving the car and recalled details of the crime to the Los Angeles Times, saying (via People), "I see the back window is shattered. I look to the right and said, 'Baby, are you all right?' I look at [Price] and there was blood everywhere." Price, who was just 31, was taken to hospital and pronounced dead.
The details surrounding the fatal shooting are shrouded in uncertainty. Some witnesses claimed that an altercation between the two parties occurred prior to the shooting. Prosecutors argued that it was a gang-related murder, and The Guardian reported that Yetunde didn't receive immediate medical attention because "her companion, a known criminal, drove her away from the scene."
The drama continued during sentencing. Robert Edward Maxfield, an alleged member of the notorious Southside Crips, was unsuccessfully tried for murder twice before eventually pleading "no contest" to voluntary manslaughter, a lesser charge. He was finally sentenced in 2006 to 15 years in prison. In March 2018, he achieved parole, was freed, and was then arrested a week later for violating the terms of his release.