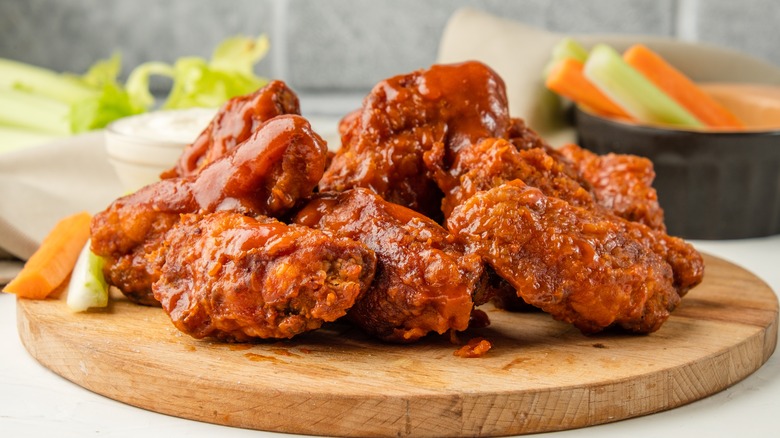 We may receive a commission on purchases made from links.
Buffalo wings may have started as a popular bar food, but it didn't take long for the spicy flavor to set the world on fire. Once Buffalo wing-flavored treats started popping up in the snack world, fans who love the blazing hot sauce tang were able to find it on everything from crackers to popcorn.
The original formula for Buffalo sauce was a blend of butter, cayenne pepper, and hot sauce, created in 1964 by owners of the Anchor Bar in Buffalo, New York to jazz up a mistaken order of chicken wings. The result was an accidental success that diners ate up — pun intended. By the mid-80s, the Buffalo wings culinary craze had made its way across the U.S. (via Time). And once the fiery Buffalo flavor became a staple in American culture, it was only a matter of time before food makers seized their opportunity.
Though many Buffalo wing-flavored treats have come and gone, there are still many found on store shelves to help fans get their fill. Here are the best snacks you can find at the grocery store when the craving strikes.
Buffalo Wing Cheez-It crackers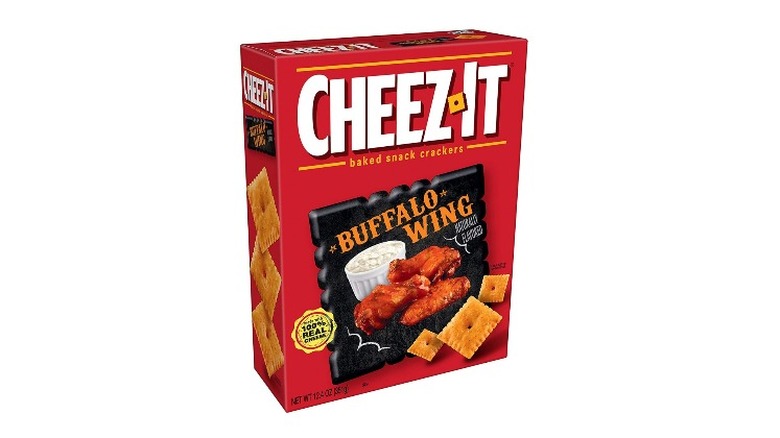 The crunchy orange squares got a kick of spice when Buffalo Wing Cheez-Its hit the market. Brought to the snack world as a football-themed promo in 2017, the fiery Cheez-It variant added a bar bites element that was a natural fit for its cheesy base. The product helped expand the company's line of offerings to include other fun diner menu flavors like cheeseburger, nachos, and pizza. Who needs take-out when Cheez-It has everything handled?
While other Buffalo wing-flavored snacks may aim for the peppery bullseye, Cheez-It adds bleu cheese coolness into the mix for balance. According to food blog The Impulsive Buy, when compared side by side, other Buffalo wing-flavored snacks "didn't capture the bleu cheese flavor as well as Cheez-It." One Reddit user went the whole nine yards and declared, "'Buffalo Wing' is the best Cheez-It flavor." Because this popular little cracker makes a great mix-in for other snack blends, a bowlful with pretzel sticks, peanuts, and potato chips makes for an excellent quartet to set out at a party, no matter who shows up to enjoy them. In fact, if no one shows up at all, that's more Buffalo wing goodness for you!
Chick N' Skin Buffalo Wing Fried Chicken Skins
These crispy snacks are actual chicken skins dusted with Buffalo wing flavor, giving snackers one of the tastiest experiences around. Not only do discerning Buffalo wing fans receive a dose of cayenne pepper, vinegar, and tomato powder to whet their flaming appetites from Chick N' Skin's Buffalo Wing Fried Chicken Skins, but they also receive it on the crispy goodness of the best part of the chicken wing. It's like real Buffalo wings — but you didn't have to cook them! The snack world is capable of miracles.
There is some concern among readers on Reddit that the maltodextrin, a filler and preservative that isn't the healthiest thing on the ingredient list, might disqualify these tasty crisps from being a fully keto-friendly food. Logic would suggest that eating anything from the snack food aisle isn't the right direction to take any eating plan in, even keto. Considering that the rest of the ingredients are delicious, taste should be the only factor when choosing Chick N' Skin snacks to calm your Buffalo wing cravings.
Buffalo Wing Pretzel Crisps
From the more gourmet end of the Buffalo wing snack spectrum comes these spicy, and practically two-dimensional, pretzel chips. Pretzel Crisps resemble small pretzels pressed flat under a steamroller. The result is a crispier snack that retains all the best qualities of a pretzel; they're salty, and have a distinctive snap that even potato chips can't provide. A generous dusting of Buffalo wing seasoning kindle just the right amount of fire for the taste buds, imparting a sharp and salty chicken wing flavor with each crisp.
One Reddit commenter was particularly happy to find these satisfying snacks on shelves at a grocery store: "I ate an entire bag today. I feel a little sick but it was so, so good." It's always a great day when you find a snack so delicious you don't mind feeling gross for eating too much. Enjoy these to your heart's content!
PopCorners Buffalo-Flavored Flex crisps
Not only are there chips made of popcorn, but there are chips made of popcorn covered in Buffalo dust, with a clever brand name that winks and nods at their unique hexagonal shape. What's more, Buffalo-flavored PopCorners Flex crisps are not fried, making them a guilt-free delight with 10 grams of protein and a healthier snack choice than your average chips. No wonder the label touts them as being "energy-packed." The description alone is enough to set a snack lover's pulse racing!
Food blog Sean's Skillet notes that these puffed wonders "have a great zing and are awesome by themselves or with a creamy dip." Heat-seekers will love that he also calls out their fiery nature, stating that "after 5 or 6 in a row the heat builds to a pretty respectable tingle." If you're going for an energy-packed snack, you might as well choose one that packs the power of an atomic reaction … at least as far as snacks go.
Snyder's Hot Buffalo Wing Pretzel Pieces
Prepare for dirty fingers and a scorched tongue when you dive into Snyder's Hot Buffalo Wing Pieces. These heat-throwing pretzel nuggets are what happens when you reach the end of the bag and find nothing but broken bits and leftover seasoning. And that happens to be a very good thing. Because the bits at the bottom of the bag are the ones that collect the most Buffalo wing dust, and in this respect, Snyder's comes through in a major way. And as for the heat index, well … if your mouth isn't on fire by the time the bag is empty, you need another round.
For snackers with special dietary needs, there's a gluten-free version to enjoy, too. And as a Reddit fan called out, "These are addicting and I had no idea they were vegan." Buffalo wing snackers of all stripes, rejoice! Snyder's has your fix dialed into the mix, no matter what your dietary considerations might be.
Buffalo Ranch Popchips Ridges
Add the heat of Buffalo powder to the lighter-than-air texture of a popcorn-based chip, and you get Fiery Buffalo Popchips Ridges, a snack that Buffalo lovers will have a hard time putting down. They're easy to eat with a nutrition profile that has half the fat of regular chips, in a crispy treat that is every bit as addictive. Popchips are also gluten-free and pressure-heated instead of being fried, which makes the addition of Buffalo flavoring just one more temptation in a long list of wins.
There's also a Buffalo Ranch version that caused a bit of controversy over at Reddit. A commenter wondered if he was allowed an at-fault divorce because his wife brought these treats into the house. After trying them, he admitted, "They did have a decent Buffalo flavor, at least." So while they may cause wary snackers to glimpse them with suspicion, a taste is all it takes to win over the crowd.
Buffalo Ranch Pringles
Pringles, those geometrically perfect parabolas of chip-styled snacks, get a flaming flavor boost from Buffalo dust with a soothing buttermilk cool-down in this Buffalo Ranch version. However, they aren't the only Pringles variant that throws heat.
There's a whole Scorchin' line dedicated to bringing spice with BBQ, Cheddar, and Chili Lime. But while those toss a little pepper into another flavor profile, Buffalo Ranch devotes itself to the real deal Buffalo wings experience. A little hot, a little cool, and a whole lot delicious. And the fact that the flavor dust makes only a modest mess on your fingers just makes these popular sweet and spicy treats all the more attractive.
And talk about popular! These kicky potato crisps hold a nearly four-and-a-half out of five-star average with over 400 reviews on Influenster. One reviewer points out that they strike the right flavor balance: "Not too spicy not too mild … just right!" When a Buffalo wing-flavored snack gets it just right, you want the world to know.
Lay's Buffalo Wings with Ranch Stax
Not to be outdone by a competitor, Lay's offers its own scooped potato crisp of the Buffalo ranch persuasion. Stax Buffalo Wings with Ranch chips are a near copycat of Pringles' Buffalo Ranch crisps, a bold move on the part of the potato chip colossus. This doesn't seem to deter shoppers with a Buffalo obsession from choosing them from grocery shelves, however. Some snackers even prefer Stax to Pringles in general, for accuracy of flavor and for seasoning volume. As for the Buffalo version of Stax, a comment left on Influenster rather nicely sums up the temptation these chips presents: "I ate the whole canister in one sitting. I'm so ashamed. But, also satisfied." It's an apt reaction, and one that others undoubtedly can relate to.
One reviewer on Reddit has noticed that "Buffalo wing and ranch [Lay's] Stax have the same flavor," which leads to the idea that the seasoning may present differently depending on the version of potato chip they flavor. All it really means is that fans of Buffalo flavors have more options to please their palate, and that's something to celebrate.
Great Lakes Kettle Cooked Buffalo Wing Potato Chips
Skin-on potato chips pack extra texture onto an already crispy snack food. With the addition of Buffalo wing flavoring, Great Lakes creates a kettle chip that brings to mind a Buffalo-flavored baked potato. The brand's seasoning blend incorporates Frank's RedHot Cayenne Pepper Sauce, a beloved figure on the Buffalo wing scene and a staple in chef's fridges around the U.S. Authenticity like this gives the Great Lakes Kettle Cooked Buffalo Wing Potato Chips an edge in the race for Buffalo snack dominance. When a devoted customer pleads in their review, "Please, please, please produce more of these and send to Costco and [Sam's] Club, we have a group look out for this flavor," you know you've done something right.
If that isn't dedication enough, another devoted reviewer on Amazon calls them out as a favorite, saying emphatically, "My chip soulmate. Took me 42 years but I finally found 'The One.'" Snack love doesn't always happen quickly, but when you know, you know.
Virginia Diner Buffalo Wing Snack Mix
Virginia Diner throws a sweet twist into the fire with their Buffalo Wing Snack Mix, a daring combination of butter toasted peanuts and almonds with guacamole bites and Everything Seasoning sesame sticks tossed in for good measure. The results give new complexity to the Buffalo blend for snackers. Buffalo purists can also enjoy a can of Spicy Buffalo Peanuts, with a seasoning the company describes as "mild 'n zesty." Either of these superior snacking options add a dash of gourmet style to your Buffalo noshes and would probably do well as one grand mix tossed together like a crunchy gumbo, minus the shrimp and sausage.
Thoughtful reviews on Amazon give high grades to this unique snack blend. One shopper said of the flavor, "It is very fresh, not too spicy, and absolutely delicious." Knowing you can scale the quality of your Buffalo snacks to match the tone of your snacking occasion gives you a sense of freedom you didn't know was missing from your life. But oh, how you'll appreciate it once you have it.
Kernel Season's Buffalo Wing Popcorn Seasoning
If you've ever wanted to make your own Buffalo-flavored snacks but didn't know where to find the Buffalo dust, you're in luck. Kernel Season's Buffalo Wing Popcorn Seasoning comes to the rescue! This fiery seasoning adds spark to a bowl of fluffy kernels to heat up movie night or snack time to just the right temperature. But why stop there? Add this blend to homemade potato chips or introduce it to your party mix whenever the spirit moves you.
And because Kernel Season's has all its bases covered, why not pick up a shaker of Kernel Season's ranch-flavored powder and make your own Buffalo ranch formula? You can turn anything into a Buffalo wing-flavored snack, from baked potatoes to pizza rolls to pita chips, in just two shakes. When you have the power to control the fire in your Buffalo snacks — with a little ranch razzle-dazzle thrown in for good measure — you'll be living your best life.