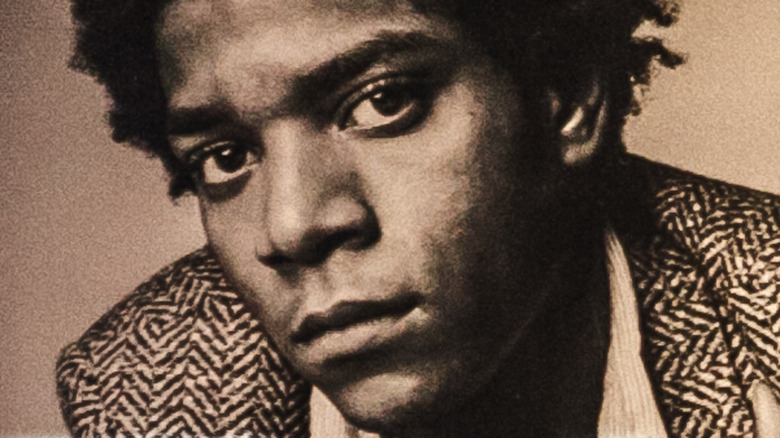 An original Jean-Michel Basquiat painting titled "Untitled" is among the top-selling paintings in American history, selling for $110.5 million in 2017 (per Art News). The work of art was created in 1982, and Basquiat's early 1980s paintings are considered to be some of his finest creations. Jean-Michel Basquiat spent lots of time with other up-and-coming artists in the 1980s, including a then-unknown singer named Madonna.
According to Jennifer Clement's 2000 book "Widow Basquiat: A Love Story," excerpted in Vulture in 2014, Basquiat was attracted to men and women, whom he often met at clubs. He reportedly loved sex, and often sought out beautiful men and women to spend time with. But what attracted him most wasn't just how people looked, but instead, he loved to date intelligent people who had interesting world views. Basquiat dated lots of people, but one of the most exceptional people he was ever in a relationship with was Madonna, before she became an internationally known singer-songwriter.
Madonna and Basquiat in Manhattan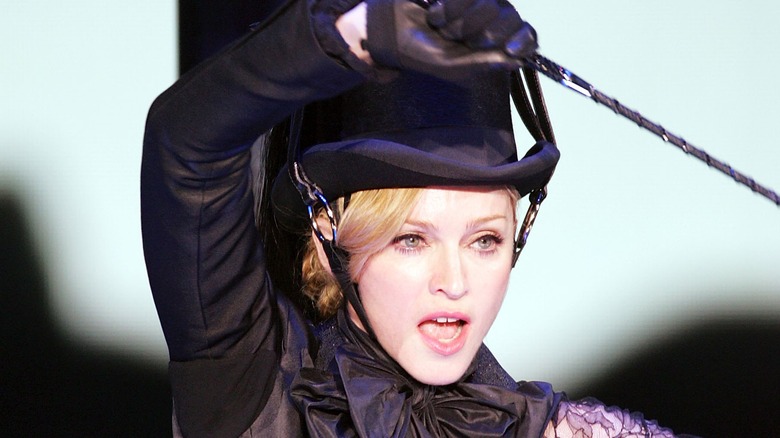 Jean-Michel Basquiat met Madonna in 1982, and they soon began dating (per Art Sheep). The two explored Manhattan together, attending art events and hanging out with other creatives. When Basquiat first began dating Madonna, he already knew she was special, per Interview Magazine. He invited Madonna to live with him in Los Angeles in a house he shared with his art dealer, Larry Gagosian. When Basquiat told Gagosian about this new love interest, Basquiat said, "Her name is Madonna and she's going to be huge."
Madonna, Basquiat, and the numerous art assistants and friends who frequented the loft had a happy lifestyle together. Madonna liked to do yoga and go running every day. She would chat on the phone with her friends, and she took to driving Basquiat and Gagosian around when Gagosian lost his license. Interview Magazine reports that when Madonna has talked about their day-to-day life together, she said that, of course, there was lots of time spent creating art.
Painting in the middle of the night
Madonna recounted how as they laid in bed together at night, sometimes Basquiat would feel called to start painting, according to another article from Interview Magazine. Sometimes, Madonna would wake up in the early hours of the morning to find her boyfriend working on a painting. Madonna described how Basquiat would be in a trance-like state as he painted at 4 a.m., and added that she admired his ability to work anytime creativity struck. W Magazine reports that Basquiat also made special paintings just for Madonna.
Talking with Interview Magazine, Madonna recalled that it was important for Basquiat to make his art available to anyone who wanted to look at it. He and fellow artist Keith Haring liked to utilize public spaces for their graffiti art, and were especially fond of subway cars and public wall spaces. Basquiat once told her that he enjoyed how music was universally accessible, since it came out of the radio.
Basquiat's drug use and partying
Generous to a fault, per Interview Magazine, Basquiat apparently felt a bit awkward about his success, and loved to give away his belongings to his friends. He constantly brought people over to his loft apartment to hang out or help out with his paintings, and he and Keith Haring would hire people off the street to help stretch canvases for them.
Since he was often low on cash but desperate to make art, Basquiat would also paint on random objects he found outside (via The Guardian). By the time he met Madonna in 1982, Basquiat was partying hard, and he could use "hills of cocaine." At the same time, in his professional life, he was sharing gallery space with other great artists of our time, like Andy Warhol and Nan Goldin. Vulture reports one of Basquiat's ex-partners recalls that he "always did drugs and never stopped." Reportedly, his drugs of choice were often cocaine and marijuana. It was Basquiat's continuous drug habit that caused Madonna to break off their relationship (per Art Sheep).
If you or anyone you know is struggling with addiction issues, help is available. Visit the Substance Abuse and Mental Health Services Administration website or contact SAMHSA's National Helpline at 1-800-662-HELP (4357).
Madonna's reason for the breakup
At that time in his life, Jean-Michel Basquiat was using heroin (per Art Sheep). Madonna reportedly hated that he used the opioid. But he didn't want to stop, and Madonna chose to end the relationship.
In the aftermath of the breakup, Basquiat made Madonna return every painting he had created for her, per W Magazine. Then, he took black paint and completely covered up the artworks. Tragically, the legendary artist Jean-Michel Basquiat would die from a heroin overdose in 1988, at just 27 years old (per Art Sheep).
Even though Basquiat died many years ago now, Madonna keeps his memory alive with posts on social media from time to time. In 2015, Madonna was criticized for a promotional social media post that included Basquiat, along with other deceased celebrities, wrapped in wires (per Art Net). This plug for her "Rebel Hearts" album was received poorly, and was called an example of cultural appropriation. Madonna apologized for the post.
Visiting Basquiat's famous paintings
Madonna visited a Basquiat art gallery in 2017, and brought two of her children, Stella and Estere, to check out the artwork too, according to W Magazine. In an Instagram post, Madonna wrote Basquiat's initials, adding a heart next to it. In another post, she wrote, "My Past meets My Present!!" and added, "#legend." She reminisced about the late artist again in 2018, with another Instagram post of the two of them covered with pink hearts, set to the song "Best Friend" by 50 Cent.
Per Art Net, there are just a few photos of Madonna and Basquiat, evidence of the few months that the rising stars were dating. But even though he died many years ago, Jean-Michel Basquiat continues to be one of the most popular artists of the 2020s; his art was featured in "King Pleasure," an April 2022 exhibit presented by his family in West Chelsea, New York, at RXR's Starrett-Lehigh Building (per Forbes).