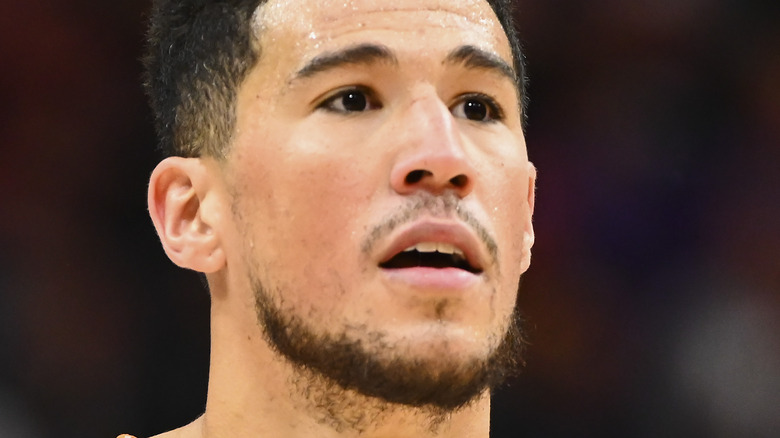 Whether or not you're a hardcore sports fan, you've surely heard of NBA stars like Michael Jordan, Dennis Rodman, and of course, the late, great Kobe Bryant. Through the years, these legends (and many more), have broken barriers, set records, and achieved remarkable success in their individual careers. And even though it sometimes feels as though we have seen the best there is, it appears the NBA is only just getting started with great talents — one of which is 25-year-old Devin Booker.
After playing college basketball for a year, Booker was drafted into the 2015 NBA Draft by the Phoenix Suns and has since proven himself a force to be reckoned with. So much so that when Booker was initially not named to be a part of the all-star team in 2021, the decision drew reactions from several NBA stars, including King James himself — Lebron James. "Devin Booker is the most disrespected player in our league!!! Simple as that," James tweeted at the time.
But outside of his successful career, Booker has been further thrown into the spotlight, thanks in part to his association with America's first reality family, the Kardashian/Jenner clan. So who really is Devin Booker, and what interesting pieces are there to him? Oh, there are plenty!
He has made NBA history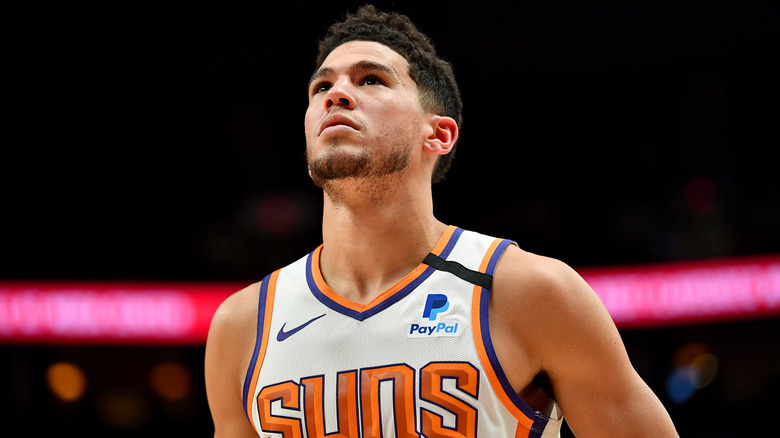 Devin Booker made his NBA debut at 18; his first game took place on October 28, 2015, only two days before his 19th birthday. And even though they ended up losing the game, it was an unequivocally memorable day for him. But this was only the beginning.
In 2017, Booker became the sixth player in NBA history to score 70 points in a game that saw the Phoenix Suns battle it out against the Boston Celtics. Per The Guardian, this put him side by side with NBA greats like Kobe Bryant, Wilt Chamberlain, David Thompson, Elgin Baylor, and David Robinson. Two years later, he was back at it, making history as the youngest player in NBA history to record consecutive 50-point games, as reported by Sky Sports. At the time, Booker was only 22.
At 25, Booker is still going just as hard. In May 2022, he made a career-first record after making the All-NBA first team alongside Giannis Antetokounmpo, Luka Dončić, Nikola Jokić, and Jayson Tatum, per AZ Central. With many more years to go in the NBA, it is clearly safe to say that this star athlete will keep winning.
Devin Booker's dad was a basketball player, too
Devin Booker might be running the court now, but once upon a time, it was his father Melvin Booker calling all the shots. An excellent teenage basketball player, Melvin's skills apparently spoke for him, eventually landing him a deal to play for the University of Missouri, per The Guardian. During his time on the team, Melvin racked up several achievements that included leading the team to an undefeated record of 14-0, being named the 1994 Big Eight Conference Player of the Year, and subsequently getting inducted into the athletics Hall of Fame at the University of Missouri.
Notably, despite his rather impressive achievements as a college basketball player, Melvin did not make the 1994 NBA draft. He later played for the Houston Rockets, Denver Nuggets, and Golden State Warriors (via NBA). Melvin also has a fair share of international experience, having played in Italy, Turkey, and Russia.
But despite never making it to the major NBA league, Melvin was rather instrumental in getting Devin getting to where he is today. From teaching him the essence of hard work to providing unwavering support, Devin Booker owes a lot of his success to his father, and his dad must be pretty proud, too.
He has a close relationship with his sister
Devin Booker grew up in Michigan with two half-siblings. His little sister, Mya Powell, suffers from DiGeorge syndrome — a rare genetic chromosomal deletion that may inhibit developmental and intellectual abilities. Mya and Devin have a close bond, one that has continued to inspire him through the years. The basketball star is proud of his sibling, who is a Special Olympics athlete. Booker became a Special Olympics Global Ambassador in 2020 and reflected on his experiences for the organization: "I've celebrated the accomplishments and witnessed the challenges my sister Mya has experienced as a person with intellectual disabilities," he said. "She motivates me every day, and I'm humbled to be part of Special Olympics…"
In a 2021 inside look with the NBA (via Facebook), Booker praised Mya for her growth over the years. "Growing up, she's always been a shy person. Meeting new people was tough for her at first, but it's something that she's working on and I can tell that she has gotten better. To have somebody in your corner like my sister, I don't know if I'd be here without her." The NBA star clearly loves his little sis and appreciates her support.
Devin Booker has an Olympic gold medal
Ahead of the Tokyo 2020 Summer Olympic Games, Bleacher Report noted Devin Booker's commitment to playing for the United States men's national basketball team. Although Booker's debut appearance at the Games ended in a loss, the 6-foot-5 guard had a relatively remarkable run at the Olympics. "It's honestly an honor to be able to represent this country and put on the uniform that many greats have worn before me and represented this country to the highest degree," Booker told the press (via SB Nation).
Not only did Booker and his other teammates represent the country; they absolutely brought it home! In their final game against France, team USA recorded a 87-82 win, landing them a gold medal. With Booker scoring two free throws and playing a total of 22 minutes in the final game, he was clearly integral to the team's eventual success. And no doubt, this was a dream come true, as Booker had previously opened up to the media about wanting a gold medal. "For my NBA career, I don't think it goes hand-in-hand," he admitted (via SB Nation). "But personally, it's something that everybody wants … it's a really big deal."
Booker was apparently not the only one aware of how big of a deal the victory was. He was in a relationship with Kendall Jenner at the time, and Jenner took to Instagram with a congratulatory Story celebrating her beau's win (via E! News).
He's very interested in wine
When he is not shooting hoops and making new records, Devin Booker is tending to a rather interesting hobby — he loves his wines! The NBA star told AZ Central in April 2022 of his passion for the drink and how it heightened after a trip to Napa Valley. "Just learned the wine-making process and everything that goes into it, understanding the farming behind it. It's always been an interest of mine," Booker shared.
But even though 21 is the legal age for drinking, Booker has apparently been having a glass of wine since he was 19 or 20. It should therefore not be a surprise that Booker knows more about wines than some people do. In fact, if you're ever wondering what wine to pair with your food, he has the perfect breakdown. "If you're eating a fish, you want a lighter wine," he offered. The connoisseur added, "You're eating a steak, a chicken, something heavier, you want a more full-bodied wine. Darker. Dark purple. You can see it in the glass."
Wine is obviously a favorite luxury in this athlete's life. Speaking to GQ in 2019, Booker showed off a wine drop stopper he got in Napa as one of the 10 things he cannot live without.
He was in a relationship with Kendall Jenner
Devin Booker and Kendall Jenner first sparked relationship rumors in April 2020 after they were spotted taking a road trip to Sedona in the athlete's car. A source close to the pair, however, insisted that there was nothing more than a friendship going on. "Kendall and friends have a small social circle amongst the group," the insider told TMZ. "… Devin is a friend and is part of the small group. They took a road trip for some much-needed air."
And although Jenner and Booker were spotted together throughout 2020, per Cosmopolitan, it was not until Valentine's Day in 2021 that they became Instagram-official. Of course, by this time, things had gotten pretty serious between the two, as an insider told ET, "Kendall was ready to take her relationship with Devin to a more public level and get rid of any unnecessary speculation in the media." And boy, did she take it public!
In the months that followed, Jenner and Booker continued to serve us some serious #relationshipgoals vibes with their subtle yet adorable public display of affection. "This is the happiest Kendall has been in a relationship," a source told E! News before adding, "It's getting more and more serious." Sadly, things ended up taking an unexpected turn, as the couple is now reportedly broken up, Us Weekly reported.
Devin Booker is an ambassador for the Special Olympics
A truly impressive athlete, Devin Booker is more than committed to ensuring that his impact is felt off the court just as much as it is felt on the court. Since 2015, Booker has been actively working with Special Olympics Arizona. Per the Special Olympics website, in 2016, Booker served as "an honorary coach for the fifth NBA Cares Special Olympics Unified Basketball Game" and has since continued to support the initiative in his own ways. Taking his support a little further, in 2019, Booker announced Special Olympics Arizona as one of the foundations that would benefit from his Devin Booker Starting 5 initiative — a program that gives youth-focused non-profit organizations across Arizona annual $500,000 donations for five years.
It was therefore hardly shocking when, in 2020, the Special Olympics announced Booker as their newest global ambassador. "I am really excited about it," Booker admitted to ESPN. "I have always dibbled and dabbled in partnering with them." By signing him as an ambassador, Special Olympics will continue to work with Booker on how best to help people living with disabilities in social situations. "I think the timing is perfect in giving information on how this can affect other people," he said during the coronavirus pandemic.
He seems to have dated Jordyn Woods
His relationship with Kendall Jenner might have garnered a lot of attention, but long before he dated the supermodel, Devin Booker was with Jordyn Woods — yes, that Jordyn Woods (Kylie Jenner's ex-best friend). Woods and Booker first sparked rumors after they were spotted together in May 2018. Per TMZ, the pair was on a double date with — wait for it — Kendall Jenner and her then rumored boyfriend Ben Simmons.
A few months after the double date, it appeared that Woods and Booker were indeed an item. "They're in love," an insider told MTO News. "I'm not going to say that they're getting married because it's still early, but they're definitely a couple." The romance was short-lived, though, as Us Weekly confirmed in early 2019 that Woods was no longer with Booker prior to her infamous kiss with Tristan Thompson.
Despite being at the center of a cheating scandal, it must have hurt just as much for Woods seeing her ex and former friend together. Shortly after Booker was spotted with Jenner, Woods reportedly shared and deleted a tweet that read, "haha good morning," followed by a trio of trash can emojis (via MTV News).
Devin Booker has an impressive net worth
Devin Booker's successful career came with a big bag! Following his draft into the NBA in 2015, Booker signed a four-year contract with the Phoenix Suns reported to be worth about $10 million, per AZ Central. Three years later, Booker snagged the biggest contract in the Suns' history after signing "a five-year, $158 million maximum contract extension," ESPN reported. This boosted the athlete's earnings, bringing his current estimated net worth to a total of $30 million.
In addition to his earnings from the NBA, like many other athletes, Booker also makes bank from endorsement deals and investments. According to Forbes, the NBA star has worked with companies including Overtime, Buzzer, and Go Puff, a consumer goods delivery company. Booker reportedly also makes about $8 million yearly from his deals with the "Call of Duty" game and Nike, and he is the majority owner and ambassador of coconut water COCO5. The hoops star works with a business partner and advisor to invest strategically with purpose, which explains his involvement in a special hotel designed with athletes in mind. He's even been able to take financial advice from Magic Johnson!
"I'm worried about life after basketball and building businesses that will be here once the ball stops rolling," Booker said to Forbes. Only in his 20s, Booker is making the most of his success, and we absolutely love to see it!