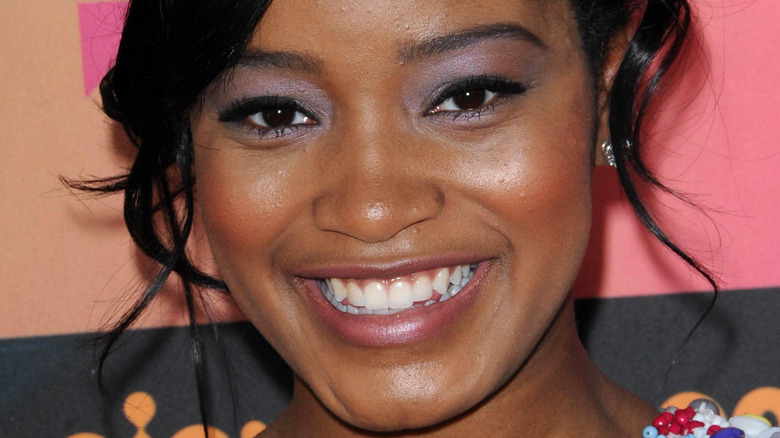 We may receive a commission on purchases made from links.
This article includes mentions of sexual assault and child sexual abuse.
Keke Palmer rose to fame after starring in the 2006 film "Akeelah and the Bee," and she has since accomplished a lot over the course of her career. The multitalented star has dabbled in music and fashion and even owns her own record label. During a 2018 interview with Billboard, the actor and musician spoke about making the unexpected career move of starting a record label. "For me, I've been in and out of the music system since I was 12 when I signed my first record deal," Palmer explained. "It's about empowering myself. I always felt exploited. It really depressed me for a while as an artist." The former child star has been open about much of this hardship over the years.
Despite various challenges, the actor is achieving her career goals. In 2022, Palmer explained to People that she is inspired by business-smart celebrity icons. "We got a dash of Oprah in there," she told the magazine. "We got a dash of Queen Latifah. We got a dash of Ron Howard. We got a dash of Jordan Peele. I'm trying to just hodgepodge it all. A little Dick Clark too. Maybe a little Desi Arnaz. Tyler Perry for sure. A little Walt Disney as well."
In the actor's book, "I Don't Belong to You," she talks about her humble beginnings and how the hardships she's dealt with landed her where she is today. Let's look at the tragic details about Keke Palmer that she has been willing to share over the years.
Keke Palmer was diagnosed with PCOS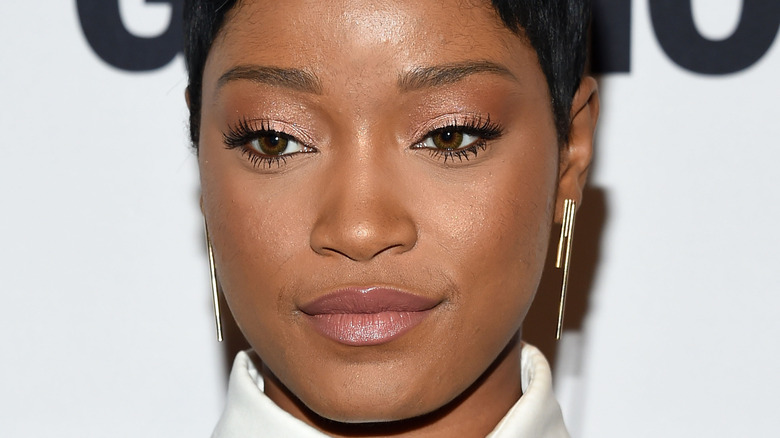 Keke Palmer is among the many people who suffer from polycystic ovary syndrome (PCOS). According to Johns Hopkins Medicine, PCOS causes ovaries to "produce an abnormal amount of androgens." This hormone imbalance can result in a number of symptoms, including ovarian cysts, infertility, acne, and more. Palmer took to Instagram to share that her hormonal acne led her to discover she had PCOS. She shared photos of her makeup-free face in a post that detailed her journey. "Poly Cystic Ovarian Syndrome has been attacking me from the inside out my entire life and I had no idea," the business owner wrote in the caption of the post.
Palmer went on to explain that she had to take her health into her own hands in order to receive a proper diagnosis. "I tried EVERYTHING," the actor penned. "I did Accutane TWICE. People say drink water, have a better diet, but I did all that, I ate all the 'right' things, my blood tests were fine. But it took ME taking a personal look into my family that has a history of diabetes and obesity, to understand what was ACTUALLY happening with me." She also empathized with others who've been diagnosed with PCOS, which prompted commenters to share their own stories.
A fan made Keke Palmer uncomfortable
Celebrities often have odd encounters with fans, but Keke Palmer detailed an experience that was particularly unsettling in 2022. "No means no, even when it doesn't pertain to sex," Palmer tweeted. "I was at the bar the other day and this girl asked me three times for a picture and I told her three times nicely that I did not want [to] take one with her. She still preceded to film me against my will.." Concerned fans flooded the star's replies. Many users touched on the topic of fans invading stars' privacy. One person wrote in part: "Can we please stop this? EVERYONE has a right to privacy. Even celebrities. it's so warped right now people really believe they are entitled to you, when your not on the clock."
When celebrities call out fans' behavior, they are often met with criticism. Although many spectators may have thought Palmer had the right to critique the invasive fan, she feared that she could have received backlash. "If I went off on her I would've been wrong, so I just nervously laughed while my privacy was invaded upon," she wrote in a reply to her original tweet. The actor continued the conversation on Instagram, writing in part, "Creating boundaries can sometimes be so difficult but when you people please or always try to avoid conflict, you let yourself down every time…" Palmer previously told The New York Times that, under the pressure of fans wanting photos, "It got to the point where I stopped going places."
The actor experienced 'sexual intimidation' on set with Trey Songz
Musician Trey Songz faced sexual assault allegations in February 2022 (one case was dropped in April, per People), and it turns out that Keke Palmer may have tried to warn the world about the star's alleged behavior. In 2017, Palmer took to Twitter to reveal that she was filmed and featured in Songz's "Pick Up the Phone" music video without her consent. "Just cause you give someone food and alcohol and throw in a little sexual intimidation doesn't mean they will buckle," Palmer said in a since-deleted tweet (via Billboard). The situation was so upsetting that Palmer had to hide in a closet. "Yet, you still disrespected me as a young women, whom you've known since she was TWELVE. YOU STILL, defied my wishes and in turn showed your lack of respect for a brand that took me fourteen years to build and put me in the video against my wishes," she said.
Songz responded to Palmer's tweets, and unfortunately for the actor, he failed to take accountability for his alleged actions. "Babygirl buggin. Point blank period. Got my number, coulda called, saw the cameras and the lights, heard action," the musician tweeted. Songz went on to insist that Palmer reach out to him using his phone number rather than through Twitter, so it seems he didn't appreciate the social media backlash. However, Palmer told Larry King that she had given a clear "no" to the video's producer, assistant, and to Songz himself.
If you or anyone you know has been a victim of sexual assault, help is available. Visit the Rape, Abuse & Incest National Network website or contact RAINN's National Helpline at 1-800-656-HOPE (4673).
Keke Palmer was abused by an older cousin
Keke Palmer opened up about her dark childhood in her memoir, "I Don't Belong to You: Quiet the Noise and Find Your Voice." In the book, she revealed that she was molested by a female cousin as a child. She explained in a 2017 interview with Vibe that living in poverty meant she didn't have access to the resources needed to process the abuse. "I mean, but this is the problem in these poor communities. If you were in Beverly f***ing Hills, your parents would have put you in therapy and you would have gotten a bunch of Xanax and nobody would have heard about the sh*t," Palmer said. "That's not what happens in the 'hood."
She went on to detail the cycle of abuse that existed within her family. When asked about her older cousin, Palmer said: "Yeah, she was older. But she was molested, too. And her mother molested my mom when my mom was younger. So that's what I'm trying to tell you. This is the sh*t that goes on…" In that same interview, the actor was brought to tears recalling the events, so it seems that she is still in the process of healing. She wrote in her book that it took a long time to understand how she had been affected by the abuse.
If you or anyone you know has been a victim of sexual assault, help is available. Visit the Rape, Abuse & Incest National Network website or contact RAINN's National Helpline at 1-800-656-HOPE (4673).
The Scream Queens star grew up in poverty
Unlike many of her peers, Keke Palmer was not born into fame or wealth. Palmer spoke on her humble upbringing in her memoir, "I Don't Belong to You." Both of her parents worked to support the family, but it took time for them to get back on their feet and out of subsidized housing. Palmer explained that her mother worked as a teacher while her father, who had studied communications, worked in a factory. Her parents' hard work eventually paid off, and the family was able to escape poverty. "He had finally worked his way up into the front office — a goal he had had the whole time," the star wrote, referring to her father's success. "After seven years, he had gotten the big promotion he wanted at his job and that enabled him to own our first home!"
This was the start of Palmer's journey to fame. She wrote that her family was eventually able to relocate to California, where she focused on auditioning for acting roles. It looks like the star's parents made the right decision, because their daughter now has an estimated net worth of $7.5 million and a long list of accolades, including her impressive filmography, her Primetime Emmy win, and six NAACP Image awards. Though she has experienced depression and anxiety on her journey, Palmer uses her platform to empower young people. "I came from the 'hood, and that's the beautiful thing, and I don't want to hide that from other little girls that are from the hood," she told Dr. Oz.
If you or someone you know is struggling with mental health, please contact the Crisis Text Line by texting HOME to 741741, call the National Alliance on Mental Illness helpline at 1-800-950-NAMI (6264), or visit the National Institute of Mental Health website.