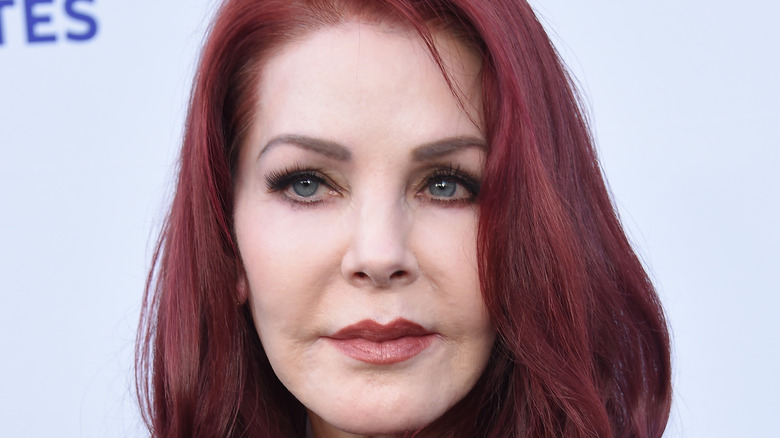 Priscilla Presley is famous for being the woman who married Elvis Presley when she was only 21 years old. However, the story of Elvis and Priscilla goes back at least seven years before the couple married when the 24-year-old singer met a 14-year-old American girl living in Germany. One thing led to another, and somehow the two eventually built a life together in Memphis, Tennessee.
The pair divorced after just six years of marriage, and it was then that Priscilla began to carve out a life for herself. This included having relationships, giving birth to a son, trying out her skills at acting by landing roles in both the television show "Dallas" and the "Naked Gun" movies (via IMDb), and rebuilding the estate that Elvis left behind when he died in 1977.
There's much more to this woman's story than her famous ex-husband. Here's a look at a few things you might not know about Priscilla Presley.
Priscilla Presley was only 14 when she met Elvis Presley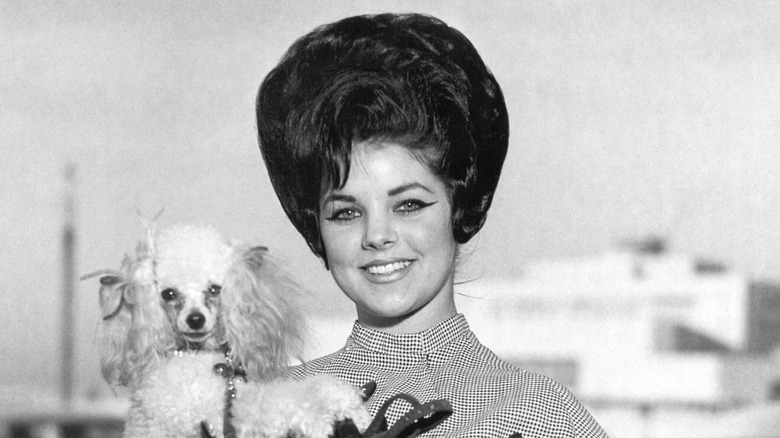 It might be hard to fathom these days, but Priscilla Beaulieu was only 14 years old when she was first introduced to Elvis Presley. Priscilla, in 2012, told The Guardian that a married couple who were friends of her family took her to meet the singer while he was stationed in Europe. She said, "It was the equivalent of a 14-year-old today being given the chance to meet Justin Bieber."
Priscilla also shared that her father wasn't very fond of the fact that Elvis asked to see Priscilla a second and a third time. While their second visit was "innocent," she explained, recalling that the two listened to records together. When Elvis asked for a third visit, Priscilla said her father was curious about the international musician's motives. Despite having several visits, Priscilla also admitted that no one, including herself, thought things between her and Elvis would go the way they did.
Priscilla Presley moved into Graceland 3 years later
The iconic duo stayed in touch in the years that followed their meeting, with some sources describing their relationship as "dating on and off" (via Distractify). While the exact nature of their relationship wasn't completely clear, things escalated when Elvis persuaded Priscilla to leave Europe to finish her last year of high school in Memphis, Tennessee — and to live at his home, Graceland, with his father and stepmother.
Priscilla told Ladies Home Journal in 1973 (via Distractify) that while she didn't know exactly what intentions Elvis had when he moved her to Graceland, she completely trusted him. As she said, "I believed that he cared for me and that he wouldn't have taken the responsibility of pulling me out of school and putting me into another if he wasn't making some commitment." She added that Elvis assured her parents he would protect her, which ostensibly convinced them to allow Priscilla to go.
Priscilla Presley and Elvis Presley were only married for 6 years
Priscilla and Elvis Presley's actual marriage only lasted for a little over a half-decade. Priscilla in March 2022 said that from the beginning of their marriage, people were spreading rumors about why they got married (via the Daily Mail).
Priscilla added that the earliest part of their marriage was especially tough. As she said, "The beginning [of the marriage] was very difficult, but I knew what I was in for because I saw it at a very young age." Eventually, she said she learned to ignore tabloids and added the two made the best of what they had together. Their daughter, Lisa Marie Presley, was born nine months after the day the two married.
In her 1985 memoir "Elvis and Me," Priscilla revealed that giving birth to their daughter brought her intimate life with her husband to a halt. As she writes, "[Elvis] had mentioned to me before we were married that he had never been able to make love to a woman who had a child" (via Showbiz Cheat Sheet). Eventually, Priscilla filed for divorce from Elvis, citing her need to become her own person.
Elvis was in a relationship when he met Priscilla Presley
Since he was 24 years old and already famous worldwide as a performer, it's probably not too much of a surprise that Elvis Presley was in a relationship with someone else when he met 14-year-old Priscilla Beaulieu. Elvis began dating actress Anita Wood in 1957, and the relationship was pretty serious. As Anita later told The Daily Express, "He swore he loved me, how we would get married, how there was so no one else, how I need to stay true to him and remain and wait for him. How he was afraid I would not."
Wood also says she wasn't allowed to visit Elvis while he was in Germany, and the two were still together when Elvis returned to the United States in 1960. By then, Wood had heard rumors about Priscilla, though she says Elvis told her repeatedly it was nothing to be worried about. Wood eventually confronted Elvis about the nature of his relationship with Priscilla, and the singer asked her to keep Priscilla a secret because he believed he'd get in trouble over the relationship with the young girl.
Priscilla Presley's parents didn't like Elvis Presley at first
When Priscilla Presley first asked her parents if she could meet with music icon Elvis Presley, they were both said to be very against the idea. While speaking to Closer in 2017, Priscilla revealed that she was aware that it would be a "battle" to convince them, saying, "My father said, 'Absolutely not!' My mother said, 'I won't let you walk across the street to see Elvis Presley!'"
Priscilla's father was said to have demanded that Elvis come to their home to meet him face to face, which the singer did in full and flashy Elvis garb. Priscilla said that after that meeting, Elvis and her father ended up speaking for nearly two hours. Eventually, both of her parents changed their tune about the singer and acquiesced to Priscilla's plan to move to Memphis, Tennessee, and live at Graceland with Elvis and his family.
Priscilla Presley had an affair while married to Elvis Presley
In "Elvis and Me," Priscilla Presley alleged that her ex-husband had affairs during their marriage. Despite that, the singer reportedly became incredibly angry when he discovered that Priscilla had an affair of her own. Priscilla said that she began dating fitness instructor Mike Stone while still married to Elvis and added that her husband had a big reaction when he found out.
The pair's friend, author Chris Hutchins, backed up this claim in an interview with The Daily Express. In fact, Hutchins revealed that Elvis was so angry he wanted to have Stone killed and even went as far as ordering someone on his team to carry out the wish. Hutchins said, "It later emerged that Elvis had ordered one of his entourage to hire a hitman to blow Stone's head off." The deed was never fulfilled, however. "Fortunately, wiser counsel had prevailed," Hutchins added.
Priscilla Presley has a son
While many people know that Elvis and Priscilla Presley are parents to singer Lisa Marie Presley, it turns out that Priscilla also has a son. Her son, Navarone Garibaldi, was born in March 1987 when she was in a relationship with film producer Marco Garibaldi. Priscilla once told The Guardian that her son was a free spirit intent on not trying to ride the coattails of his famous relations. She said, "He wants to do his own thing and I'm really proud of him. He doesn't want to step into the spotlight, and he's always been that way. He's not riding on Elvis and he's not riding on Lisa."
Many people didn't know about Navarone until February 2022, when he married Elisa Achilli in Switzerland and Priscilla attended the wedding. Per the Daily Mail, Navarone was head over heels for his new wife. He told People, "I never thought I would find a counterpart that is so understanding and supportive. She makes everything we do effortless, and I can't imagine life without her."
Priscilla Presley had an acting career
Priscilla Presley once said she divorced her famous ex in part so that she could get out and explore the world, and she definitely made good on that vow, going on to enjoy an acting career that included roles in several high-profile movies.
In 1978, Presley took on a role in the television series "Dallas." A friend of Presley's later told Closer that the time period was very enjoyable for the actress and explained, "Those were great years for her. She loved Larry Hagman, Patrick Duffy … all of the cast really. She learned a lot too. Those were magical years for television and 'Dallas' was a very special time for her."
The friend also told the publication that Presley's decision to star in the "Naked Gun" movies was a surprise to many and added that fans still stop the actress to discuss the films.
Priscilla Presley saved Elvis Presley's fortune after his death
When Elvis Presley unexpectedly died in 1977, his net worth was a surprising $5 million — much lower than most people would expect and much lower than what he earned in his lifetime (via Showbiz Cheat Sheet). His estate was left to his daughter, grandmother, and father. After the deaths of his father and grandmother, Lisa Marie Presley was left as the sole beneficiary of Elvis' estate. Priscilla served as executor of Elvis' estate until Lisa Marie's 25th birthday. During that time, she devised a plan to rebuild the late singer's fortune, giving her daughter an extremely comfortable lifestyle and future. While some pressed Priscilla to sell Graceland for liquidation purposes, she opted to turn the home into a tourist attraction with the help of Jack Soden (per The Vintage News). She also worked to buy surrounding properties around Graceland, making sure they became stores that sold Elvis merchandise, and eventually rebuilt Elvis' estate into a massive fortune.
Priscilla Presley had custody of Lisa Marie Presley's daughters
Priscilla Presley's daughter Lisa Marie Presley is a mom to four children: Benjamin Keough, who passed away in July 2020; Riley Keough, and twins Finley Aaron Love Lockwood and Harper Vivienne Ann Lockwood. Lisa Marie ended up locked in an incredibly difficult custody battle with her ex-husband Michael Lockwood for quite some time, and her mom even had custody of Finley and Harper as that battle dragged on.
In 2017, Priscilla revealed to ABC News that the twins had been living with her for some time. As she explained, "It's still a very family-oriented environment for them. They've been with me for — it'll be over nine months. They're great. They're doing wonderful. They're living a great life. They see both their parents and we'll see what happens." At the time, the California Department of Children and Family Services was involved in the care of the twins. The move came after Lisa Marie filed claims of sexual misconduct against Lockwood.
Priscilla Presley was a strict mom with Lisa Marie Presley
Lisa Marie Presley has admitted that as a parent, her father, Elvis Presley, was a lot of fun. However, she has also spoken about her worries concerning her famous father, mainly that as a child she felt like she needed to protect him and keep him safe (via ABC News).
Priscilla Presley previously admitted that when it came to parenting Lisa Marie, she was often put into the role of being the one who set the rules. As she told The Guardian, "I was the disciplinarian and there were times when Lisa didn't like it but you can't live life without boundaries. I was very subtle and very calm, and she knows this now." Priscilla added in the interview that Lisa Marie was only four years old when her parents divorced, so she worked hard to ensure her daughter understood that everyone could still get along.
Priscilla Presley didn't approve of her daughter's marriage to Michael Jackson
While speaking to ABC News, Lisa Marie Presley admitted that she knew her mother didn't much care for Michael Jackson ahead of her 1994 marriage to the megawatt pop star. Lisa Marie explained that Priscilla believed Jackson might have been marrying her daughter partly to distract the public from his own scandals at the time.
However, Priscilla later told The Guardian that her concerns about Lisa Marie's marriage to Jackson were much more rooted in her own experiences with Lisa Marie's father, Elvis Presley. As she said at the time, "It's true she grew up in Graceland and then lived with Michael Jackson in Neverland and Michael was like a child and just wanted to have fun all the time. How do you not gravitate to that? But it's not the real world." Priscilla also admitted in the same interview that while it might have been appropriate for her to keep her thoughts to herself, she did not. As she said, "the right thing to do would have been to bite my tongue, but I didn't bite my tongue."