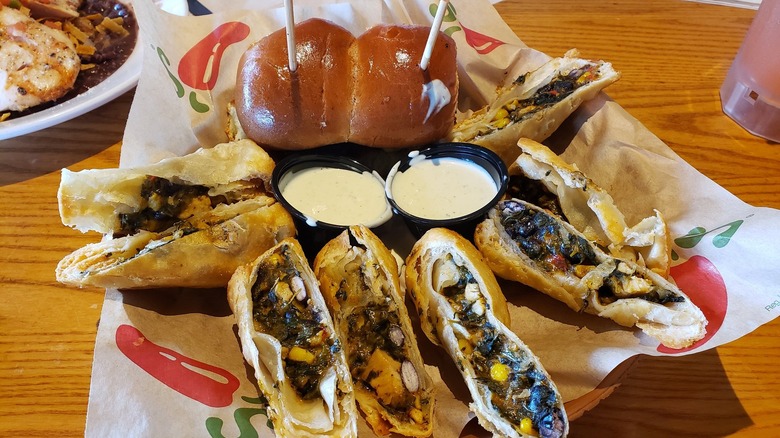 Few restaurant chains scream "Southwestern comfort food" more than Chili's. There's a little bit of everything at Chili's, from large, juicy hamburgers to fajitas and Caribbean-style salad, so even the most pickiest of eaters will likely find something they enjoy at Chili's, even if it's just the delicious molten cake. The restaurant's fried entrees and sides may not be the healthiest foods out there, but upon taking a bite of many of these menu items, it can be hard to resist dipping them into an assortment of various sauces. Chili's might not be the most popular or currently well-off restaurant chain, but it's one that's found a permanent place in many people's hearts.
When you first sit down at a Chili's, you'll be met with a menu including a good amount of appetizers to start with as you wait for your main course. The portions at Chili's are admittedly huge, which is surprising for the price that it sells many of its food and beverages at. Because of this, you may find yourself turning to some of the appetizers as your main dish. While some of them are amazing enough to satisfy as a full meal, others are borderline awful, and items you might want to stay away from. There are loads of options to choose from, so let's check out Chili's current appetizers ranked from worst to best.
12. Southwestern Eggrolls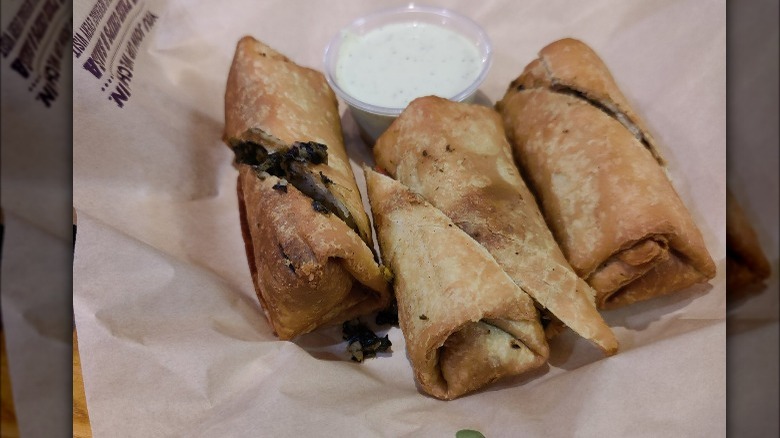 The first Chili's appetizer on this list, and one that we feel leans more towards the "avoid" category is the Southwestern egg rolls. This appetizer consists of six egg rolls made up of flour tortillas loaded with chicken, cheese, red peppers, black beans, spinach, and corn (via Chili's). It's also served with a small bit of avocado ranch to dip the egg rolls into. All of these ingredients sound like something you'd find in a burrito or taco, not eggrolls. This appetizer attempts to combine two comfort foods into one, which sounds good on paper, but in practice with Chili's, it results in a not-so-pleasant way to start off your meal.
Egg rolls are great when made at Chinese-American restaurants, or in the comfort of your own home, but we have to say that Chili's missed the nail when concocting this appetizer. These egg rolls are oily, so even though there are loads of veggies in this dish, it still feels super unhealthy, which is not a good feeling to have with your appetizer. Furthermore, the spinach that's added to the egg rolls just feels like it comes out of nowhere, and doesn't belong in the rolls. This might not just be the worst appetizer at Chili's, but the worst dish on the entire menu, so we recommend steering clear of them.
11. White Spinach Queso
Savory dips are a common thing to find at parties or get-togethers, whether it's salsa, guacamole, queso, or anything in between. As the name suggests, dips are perfect for chips, crackers, or whatever you like to dip into your sauces. Chili's White Spinach Queso is a cheesy spinach dip made with cilantro, guacamole, and pico. It's also served with a decent helping of tortilla chips and salsa, so you can dip your chips into the spinach queso, as well as the classic Chili's salsa. However, this appetizer may not be worthy of its $9 price tag … no matter how much cheese is involved. (via Chili's).
Overpriced items are a common thing for restaurants, so for this item to rank so lowly, there's got to be something else going on with this dip. And if you suspected that was the case, you'd be right, but in the sense that there isn't really anything going on with this dip, other than the fact that it's a simple spinach dip with a little bit of pico and guacamole. This combination isn't enough to make you gag, but it's rather strange, and tries to hide the fact that it's pretty much just spinach dip. That makes this dip not entirely unappetizing, but each bite you take of this, unless you really like spinach dip, may leave you feeling a little bit disappointed.
10. Skillet Queso
This next appetizer is something that actually tastes edible, but has a few qualities that rank it much lower than other Chili's appetizers. The Skillet Queso is a cheesy chip dip made up of cheese and beef, and is served along with the restaurant's salsa dip and a side of tortilla chips. This queso was a dip that didn't resemble traditional queso that closely, but we could certainly see why some people might enjoy this appetizer. However, the Skillet Queso just didn't sit right with us, and it looks like a watered-down bowl of brown chili.
First of all, the "queso" wasn't very cheesy, and the beef part of this dip was much more prevalent. For something given a name that means "cheese" in Spanish, we'd expect something with a lot more cheese. Furthermore, it's super salty, making it somewhat good, but in the grand scheme of things, nearly impossible to finish. One review on TripAdvisor notes that when they went to a Chili's and ordered this appetizer, they were unable to finish it due to the saltiness of the dish. If you like SUPER salty things, and the lack of a good amount of cheese doesn't disappoint you, then, and only then, might you favor this appetizer.
9. Classic Nachos (classic, beef, or chicken)
If chips and dip are a common appetizer to find at some restaurants, nachos are a cheesy step up from the classic dish. Unless you have a cheese allergy, then you can't go wrong with throwing a helpful serving of melted cheese on top of some salty, freshly made tortilla chips. Chili's Classic Nachos come in three different variations: Classic, Chicken, or Beef. Regardless of which meat (or meatless being the classic) kind of these nachos that you get, each is topped with loads of shredded cheese, along with black beans, sour cream, pico, and jalapeños. The Skillet Queso is also a part of this appetizer option, and though it's not our favorite, the flavors of the other ingredients help balance that out.
We like the fact that you have options with these nachos. The meatier options of these nachos are our favorites, as the extra meat buries the extremely salty skillet queso topping a bit better. You can still taste the saltiness of the queso, which isn't the best, but the cheese and all the other ingredients do a solid job at blending the queso into the nachos, and make for a relatively decent dish. If you do get these nachos, we suggest seeing if you can get them without the skillet queso, because other than that, these nachos were something that we wouldn't mind having again.
8. Chips and salsa
From this point on, we get into appetizers that actually taste really good, but may have an aspect here or there that ranks them a little lower or higher than other dishes. This next appetizer serves as the base for all of the other dishes on this list — it's simple, yet effective in getting its job done, serving as the perfect appetizer at not just a Chili's restaurant, but any Mexican-themed restaurant that features chips and salsa as a starter dish. Chili's take on chips and salsa is a large bowl of thin tostada chips, served with a smaller bowl of salsa.
There's nothing much to be said about this appetizer other than it serves its purpose. The chips are pretty standard: nicely salted, light, and crispy, tasting like pretty much any solid restaurant tortilla chips out there. Chili's salsa is just about perfect. It's smooth, and has a slight kick that isn't overwhelming, and makes the entire dip incredible. If you're ever at the point where you're looking over the Chili's appetizer menu, and can't settle on a solid option, going for the chips and salsa is a safe, simple, yet absolutely delicious bet, and will suffice in tiding you over until your main course arrives — if you can make them last that long.
7. Bone-in wings
When you think about wings, you generally picture them to be a full on entree item, not an appetizer. And yet, here we are, with Chili's Bone-in wings. This appetizer comes with celery and a dipping sauce. The wings are tossed in a sauce of your choosing, ranging from BBQ, Buffalo, or Honey-Chipotle styled wings. When we say that we're surprised that this is on the appetizer menu, we don't mean that in necessarily bad regard. These wings are super filling, and each different kind of wing flavor brings a unique, tasteful experience to the table. The different flavor options are a nice bonus, unlike some of the other appetizers that you can't really customize.
The side of celery is a nice addition, as well, providing a light, and much more refreshing aspect to this appetizer. The one problem we have with this appetizer is that it's not exactly an appetizer. This dish is filling enough, and has the amount of calories (1,060) that a typical restaurant entree would have. If you ordered this as an entree, we could see it working out, and it would be a delicious meal. However, as an appetizer, you'd find your stomach full before you even order your main dish, so it might not be the first thing you want to order off the Chili's menu.
6. Guacamole
What's better than a bowl of fresh guacamole? Among all of the other things you can dip your chips into, this avocado-based option is one that really can't be beat. A filling, fresh, and delicious dip, if a restaurant's menu has chips and salsa, then it's missing something if it doesn't have a guacamole option on its menu. Fortunately, Chili's does have this available, with its Fresh Guacamole appetizer. As the "fresh" in the name suggests, this dip is made daily, and is served with the restaurant's incredible salsa and tostada chips to use with the green, creamy guacamole.
Not only is the guacamole made fresh, but the taste reflects that, as well. It comes in a bowl as large as the ones that contain the salsa (via TripAdvisor), and it costs almost double what a regular bowl of chips and salsa does at Chili's, so it's a little more on the pricey side, but unlike the Spinach Queso, you know what you're getting out of this dip. It's a solid appetizer, and arguably worth the price, if you are a sucker for good guacamole. It isn't overly filling to the point that you'll be unable to have a main dish after the fact, and we could easily see ourselves sharing a serving of chips with this fresh guacamole.
5. Boneless wings
The next entry on this list is Chili's boneless wings. These are essentially just like their bone-in variety, and also come tossed in your choice of sauce either BBQ, Buffalo, or Honey-Chipotle style. This appetizer also comes with a dipping sauce, and celery. The only major difference between this appetizer and the bone-in wings is that the boneless wings, as the name suggests, don't have any bones. Because of this, everything we said about the Bone-In Wings can be applied to the boneless version, from the flavor to the heaviness of this appetizer that could easily work as an entree, as well.
The lack of bones in these wings makes them much easier to simply pop in your mouth and enjoy. Other than that, all of the delicious attributes of the bone-In wings are applicable to this dish: the different sauces are super flavorful, and the celery is a fresh, healthy, and welcome addition. These wings are quite filling, though, so if you plan on ordering this dish, you may want to do so as an entree as opposed to an appetizer. If you do so, you'll be met with a satisfying, sauce-coated, and entirely delicious set of wings – we just don't suggest you have these as an appetizer, unless you plan to share them.
4. Texas Cheese Fries
If you've ever ordered a juicy cheeseburger from McDonalds, or a similar item from Wendy's or Five Guys, then you know that an order from any of these establishments just isn't complete without an order of fries to go along with them. Since Chili's does have a surprisingly decent-sized burger list, the same can be said about this restaurant, as well. Fortunately, its menu does feature a serving of fries in the form of the Texas Cheese Fries appetizer. You can either get a half or full plate of these fried potato slices, and depending on how hungry you are, you could easily eat several handfuls of these before your entree arrives.
These fries come covered with cheese, jalapenos, green onions, and shredded bits of bacon. It also comes with a side of Chili's ranch dressing, so there's a bit of everything going on with these fries. The jalapenos give this dish a nice hot kick, and the addition of bacon makes the fries all the more flavorful. While we wish the taste of the actual fries had been a little more prevalent, overall, this dish could make either for a good appetizer to share with friends or family, as well as a great entree.
3. Crispy Cheddar Bites
What's better than a fresh batch of cheese curds? They may squeak when you bite into them, but that's just part of the food's charm, and the fried little bites of Wisconsin Cheese are absolutely heavenly when done right. Chili's Crispy Cheddar Bites are essentially cheese curds, and are made with fried Wisconsin cheese with an outer coating of spices. This appetizer also comes with an ancho-chile ranch to dip the cheddar bites into, to add a bit of a herby flavoring to the dairy-based delights. If you like cheese curds, then you'll most definitely enjoy Chili's Cheddar Bites.
The chili spices that cover the bites pair nicely with the creamy cheese, and give the entire thing a spicy jolt. The ranch dressing tastes fresh as well, making for an overall great appetizer. Reviews for these curds are pretty positive, as well, with one Chili's guest noting that the cheddar bites "… Were the best I have had since leaving Wisconsin" (via TripAdvisor). Overall, if you like cheddar, and you love a hot batch of cheese curds, then you'll love this appetizer.
2. Triple Dipper
This next appetizer doesn't just come with one, but three different appetizers. The Triple Dipper isn't a set dish, but an appetizer that allows you to select three of Chili's existing appetizers, and serve them all in one bowl with some dipping sauces. You can order any of Chili's available appetizers with this option, along with some of the restaurant's "Big Bites," which are miniature versions of the chain's cheeseburgers – which aren't listed as an appetizer, but certainly add a whole lot more to this pre-entree offering. This extra option alone makes this appetizer a great one to order, and all the more enticing to get, and split with friends or family.
We likely would not get this to eat on our own, as a good appetizer doesn't need to be too heavy to enjoy to its fullest. With this, however, you could get many of the great appetizers that Chili's has, so long as it's listed on the location's website and menu. You can make sure there's a little something for everyone if you are a group eating out with this appetizer, so it's perfect for larger parties or families. The Triple Dipper also isn't a whole lot more expensive than some of the other appetizers, so for about $16, you could get a few your favorite Chili's appetizers.
1. Fried pickles
At the top of the appetizer list, we have Chili's fried pickles. These are slices of fried pickles served with a small bowl of Chili's housemade ranch or its avocado ranch dressing. The pickles are a little oily, but rather light, like chips, though with a less firm, more fried texture. This appetizer, while fried, is much lighter than some of the other offerings Chili's has, and is a classic, delicious take on the fried Southern food. Like tostada or tortilla chips, we could easily see ourselves popping a few of these into our mouths, and finishing them off in 10 minutes without even realizing it.
The tangy, salty flavor of the pickles pairs wonderfully with the bready, fried coating, and when you dip them in one of the ranch dressings, you get a flavorful, herby addition to the appetizer. Because it isn't as heavy as the nachos, wings, or eggrolls, these feel like one of the closest appetizers Chili's has to perfection, and we could only see someone disliking it if they didn't enjoy pickles. If you like fried food, and you enjoy pickles, then you will absolutely adore this appetizer. Even if you've never tried fried pickles before, we highly suggest you try out this dish, as it's the perfect way to introduce yourself to the delicious bar food.