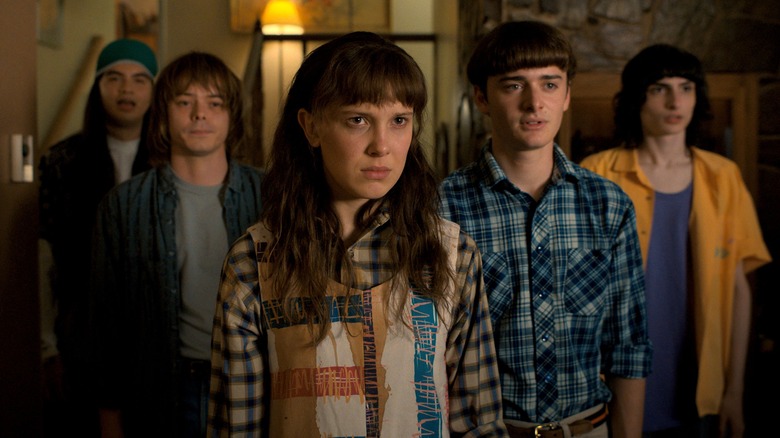 For proof that Netflix's "Stranger Things" changes lives, look no further than Kate Bush. When the now 63-year-old singer-songwriter topped the Billboard charts in June of 2022, the Duffer Brothers show was the catalyst: "Running Up That Hill" was featured in the season 4 episode "Dear Billy" and became a TikTok trend and likely Gen Z touchstone, as well as Bush's first top 10 hit — and it all happened 37 years after the song's debut.
There's no understating that level of influence. "Stranger Things" is a game-changer for viewers, pop culture as a whole, and those who make the show soar. That's especially true for the younger members of the show's cast, who went from unknowns to household names thanks to "Stranger Things." Each actor has had their life shaped or reshaped by the 1980s-set smash hit in ways that are equal parts endearing, moving, and surprising. Here's how.
For Sadie Sink, playing Max inspires confidence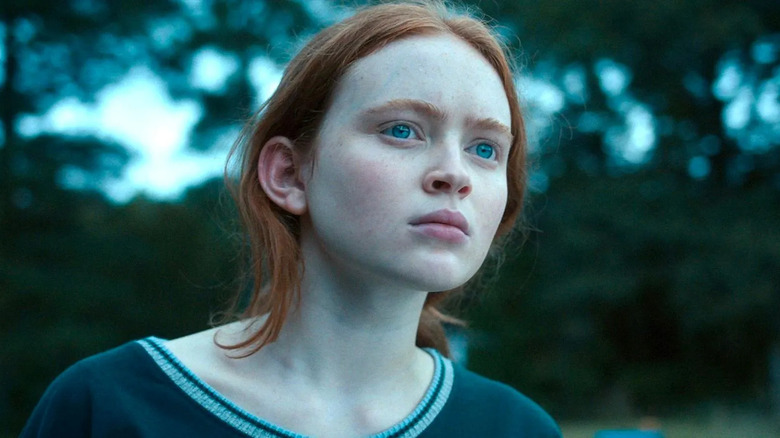 Max Mayfield doesn't lack confidence. Minutes after we meet her in "Stranger Things" season 2, a fight with her brother becomes a dangerous game of chicken with oncoming traffic. Max, notably, doesn't blink.
However, Sadie Sink, who plays Max on "Stranger Things," isn't quite so unflappable. "Self-belief is obviously such an important thing and people preach about it all the time, but it's a lot harder in practice," Sink admitted in a Glamour UK cover story. "Playing Max, who is such an outspoken and bold character, has helped build my confidence up."
That confidence has catapulted Sink from the set of the Netflix show to a number of high-profile projects. The first is the second installment of Leigh Janek's "Fear Street" trilogy, which premiered in the summer of 2021 to massive acclaim. That project was arguably an appetizer for her role as Taylor Swift's cipher in the video for Swift's "All Too Well (10 Minute Version)," which adds visual components to the musician's seminal breakup anthem.
That appearance, plus "Stranger Things," would be enough to make Sink a Gen Z icon, but she isn't resting on her laurels. The actress recently wrapped Darren Aronofsky's "The Whale," which Sink calls "the best experience I've ever had on a film set." Sink may still be young, but she's already amassed a body of work to match the conviction that Max has inspired in her.
Stranger Things taught Millie Bobby Brown to care for others
It's impossible to pick one breakout "Stranger Things" star; almost every single member of its cast has gone on to be unqualified successes. If you had to choose one, however, it'd probably be Millie Bobby Brown, who became a household name overnight thanks to her portrayal of the Eggo-adoring Eleven (or, as her friends call her, "El").
To hear Brown tell it, though, adopting Eleven's signature look was frightening. In W Magazine, Brown said, "The shaved head was a big deal. On the one hand it was cool. When you're bald, rain feels like a head massage." It wasn't all good, though. "People would laugh at me, without knowing whether I was or wasn't sick. It was hurtful," Brown said.
However, by enduring that pain, Brown claims that she became much more empathetic. "In the end, being bald was the best thing I ever did — being different changed my life. I wanted to embrace my baldness and, hopefully, inspire people. And, now, that's become my message to the world." Her advocacy work has certainly borne that out. Brown's physical transformation into El transformed her spirit, and both she and the world are better for it.
Caleb McLaughlin is using Lucas as the blueprint for his future
Caleb McLaughlin's time as Lucas on "Stranger Things" has become a North Star for the actor's future projects. Speaking to Teen Vogue, McLaughlin noted that Lucas is an atypical Black character, especially in a genre project. "[People] can see a young, dark-skinned Black actor that is doing good," he says. "I'm not trying to sound like I'm cocky or anything, but it's like, 'Wow! He's fighting Demogorgons! He's not the villain. He's not in a bad light. I can do that too.'"
McLaughlin took on similarly archetypal roles in last year's heavily-streamed Netflix drama "Concrete Cowboy" and Steven Soderbergh's progressively-minded basketball drama "High Flying Bird." What's more, McLaughlin seems committed to building his reputation via similar productions in the future. He'll do that "by being in charge of the projects he chooses," as he told Teen Vogue, "and not letting the projects choose him." That discerning eye isn't one that young actors always develop, and helping McLaughlin nurture that quality is a point in favor of both "Stranger Things" and the talent that creates it.
Stranger Things helped Gaten Matarazzo raise awareness of CCD
Gaten Matarazzo has used "Stranger Things" not only as an opportunity to spread the word about cleidocranial dysplasia (CCD), which he's had since birth, but to make Dustin a spokesperson for it, too. That's exceptional on both fronts.
Matarazzo isn't the first young star to live with a long-term medical issue, but the Connecticut-born actor is remarkably open about CCD. When speaking to Esquire, Matarazzo said that the "Stranger Things" creators, Matt and Ross Duffer, made CCD a fundamental part of Dustin's character — he regularly talks about his condition on screen, often by poking fun. "The segues into it are so natural," Matarazzo says. "It makes me emotional thinking about how weirdly accurate they bring it up every season. There's always a little reference in a weird little joking manner. It's the way I would joke about it with my friends."
That's a remarkably mature approach for both Matarazzo and the "Stranger Things" team to have, and it's translated into real-world results. The actor used his platform to successfully launch a charity t-shirt for the CCD Smiles charity, and was a keynote speaker at the organization's first national conference. If you'd like to learn more about CCD and Gaten's work to raise awareness of it, you can do so here. It's what he and Dustin would want.
Natalia Dyer's Stranger Things popularity made her question the platform fame provides
Natalia Dyer's time in the spotlight has made her hyper-thoughtful about her role as an actor and public persona. Speaking to Cosmopolitan, Dyer explained why she wanted to take off-type roles in projects like "Velvet Buzzsaw" and "Yes, God, Yes," and why she posts infrequently on social media: "[Social media's] role in our society is evolving so much, and I don't know if we're evolving as fast as it," she says. "In some ways, I'm very grateful to have a platform and fans that care about what you have to say. But I also think there's a lot of pressure to say things, and in a lot of ways I feel underqualified."
Dyer also worries about social media having a negative impact on her career. "I also wonder if being too overexposed could limit my ability to do what I do well. As an actor, I want to be able to try and fail at things," she says. "I have moments where it feels right to engage and talk about something, but in a lot of ways it's about trying to absorb and listen and grow as a human before I throw out my ideas and opinions."
In an age where the pressure to say something publicly can spectacularly backfire, Dyer's "Stranger Things"-inspired thoughtfulness — and her willingness to call out reductive takes about the show — is a welcome and empathetic respite.
Stranger Things has made Charlie Heaton value his privacy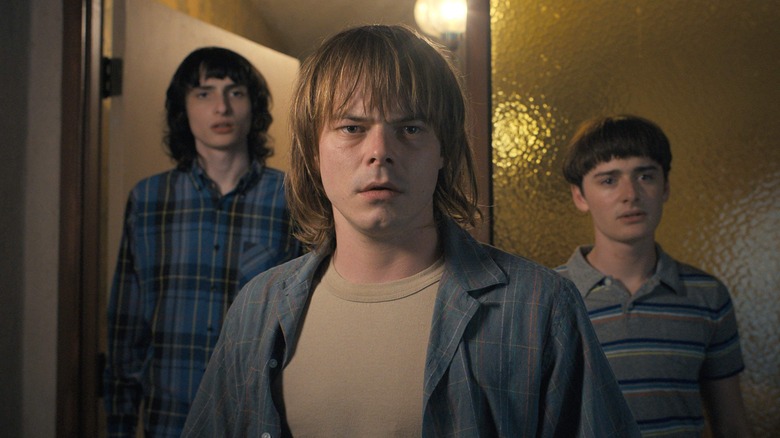 An altered relationship with social media and the public has also been part of Charlie Heaton's recent life. The British thespian's sudden acceleration from indie musician to famous heartthrob has made him a more private person; in a conversation with GQ UK, Heaton describes the digital age as unsettling.
"I don't think you can say, 'I wanna be an actor and 'I don't wanna be recognized' in the same voice — because you do," Heaton says. However, as the star of one of the most popular shows on the planet, Heaton admits that adjusting to his sudden fame was hard, and that he finds posting on social media to be quite difficult as a result.
There is a degree to which Heaton's response to his popularity feels part and parcel with the rest of the "Stranger Things" cast. However, given that Heaton's highest-profile role outside of "Stranger Things" was that of the loner Cannonball in "New Mutants," and that his "Stranger Things" character, Jonathan, has evolved into a mostly-isolated stoner, Heaton's relationship to the spotlight seems to be one of his most notable traits. At the very least, we should consider ourselves lucky that Heaton's using his experience to make great art.
Finn Wolfhard imagines a life without Stranger Things
The sudden rise of "Stranger Things" led Finn Wolfhard, who plays Mike Wheeler on the series, to consider his life choices from the preternaturally young age of 14. His conclusions? Well, they're summed up pretty well in the incredibly illuminating Washington Post feature "Finn Wolfhard Doesn't Really Want to Be Famous."
In the piece, Wolfhard admits that it's more or less impossible to be a regular kid when you have a "Stranger Things"-level of fame, and that his relationships with his non-showbusiness friends have suffered as a result. "In my head, I couldn't let loose in any certain way. I thought that if I would have gone with a friend to a party, my career would have been over," he said. "You're afraid that someone can see you as a 14-year-old at a party with a beer in your hand, and it can all go away."
Reading between the lines, it becomes clear that, when Wolfhard is on-set, it's really the only time that he can relax and be normal. As such, it's no wonder that he's devoted his brief but meaningful career to playing ordinary kids thrust into world-changing circumstances (after to "Stranger Things," Wolfhard is probably best known for "It" and "Ghostbusters: Afterlife"). In some ways, taking on unspeakable evils feels easier than hanging out with other teens. That's the sort of experience that shapes a person forever.
Stranger Things allowed Noah Schnapp to become an entrepreneur
When "Stranger Things" debuted, Noah Schnapp was one of the youngest cast members, but he's pushing himself into the pretty grown-up world of entrepreneurship. Speaking to Digital Trends, Schnapp described how the Netflix series gave him the opportunity to develop and a platform from which to launch TBH, a vegan, sustainability-focused snack line that features a Nutella-inspired hazelnut spread as its signature product.
Acting is, of course, still Schnapp's favorite pastime. "I love what I do so much. It's my number one passion," he said. That said, it was embracing his interests that made Schnapp decide to start his own business. "I was looking into so many different things and taking inspiration from my passions," he said. "It's always been my passion to, honestly, open a restaurant. To have a snack brand, this is just like it."
TBH isn't the only business Schnapp is involved with, either. He's also an adviser for the Roll app, which he thinks should appeal directly to "Stranger Things" viewers: "My fans always want to see what I'm doing and keep up with me, and I think this is the perfect place to do it." Will Byers' journey to the Upside Down taught him that life is precious and not to be wasted. Schnapp has clearly learned the same lesson.
Stranger Things informed Joe Keery's surprising career decisions
There's a theme that develops when you read interviews with the "Stranger Things" cast. Aside from Winona Ryder and (possibly) David Harbour, every actor who joined the show was a relatively fresh face. Joe Kerry, who plays the perfectly-coifed Steve Harrington, has purposefully turned his association with the bully-turned-hero as fuel to subvert audiences' expectations.
Just look at his last few years: Keery was the surprise main character of 2021's "Free Guy," (directed by "Stranger Things" mainstay Shawn Levy), played an evil rideshare driver in the comedy-horror film "Spree," and made electro funk pop under the name Djo. Speaking to GQ, Keery claimed that, as far as his music was concerned, "I just mostly wanted to confuse people so that they would critique the music without me involved, I guess, or listen to it without me involved. That's always the most rewarding, honestly, when people are like, 'What? Oh, I didn't know that was you.'"
Basically, "Stranger Things" made Keery's career, but it is now both dictating the off-kilter course of it and shaping his other creative impulses. That is indeed a lasting impact.
Maya Hawke has come into her own as an artist thanks to Stranger Things
On paper, Maya Hawke seems like someone who had it all figured out from the jump. Her parents, Ethan Hawke and Uma Thurman, are practically Hollywood royalty. Her high school, Brooklyn's Saint Ann's School, puts a major emphasis on the arts, and she studied at the Royal Academy of Dramatic Arts in London and the Stella Adler Studio of Acting during her summers. In 2017, she dropped out of Juilliard in order to take a role in PBS' adaptation of "Little Women."
However, while speaking to Cultured, Hawke admitted, "I have a confidence defense mechanism, that's hiding a little insecurity." Part of her self-doubt, she says, is due to her family — "I was excited to get enough credits under my belt that being a celebrity kid was only a piece of the larger picture and not the whole picture" — and some of it comes from just how many eyeballs "Stranger Things" attracts. "I crossed my fingers that I wouldn't fail in front of the fans." Thankfully, she didn't, and Robin has been fully embraced by "Stranger Things" die-hards.
"Stranger Things" also afforded Hawke the opportunity to explore her love of music. Because the show has so many characters, she explained, there are long stretches of time when she isn't needed on set. "It was the nature of being like, 'Wow, I'm in Atlanta, I've worked two days this week, what am I going to do with my darn self?' … If it wasn't for 'Stranger Things' I probably wouldn't have made a record, much less two."
Because of "Stranger Things," we've seen Hawke establish herself as a creative tour de force who stands well outside of her parents' shadow; watching her do so in real-time has been one of the show's biggest pleasures.