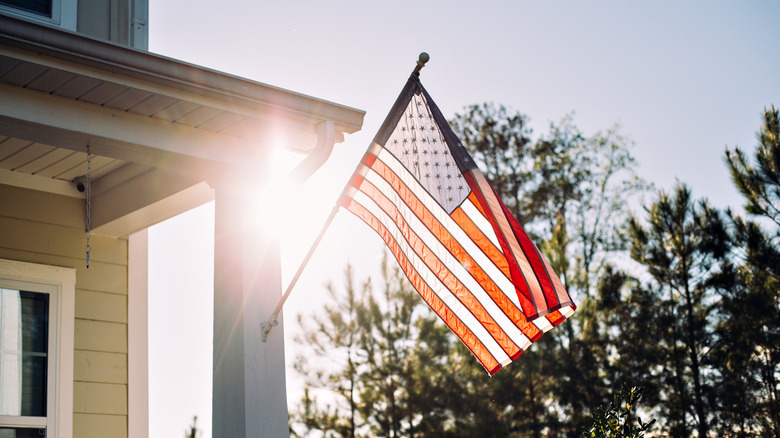 The Fourth of July is a festive holiday that lands at the peak of summer. It's a celebration of American Independence that, as Reader's Digest points out, is marked by parades, fireworks, and plenty of cookouts. Decking out your home with patriotic decor is an awesome way to add spirit to this fun occasion.
Whether hosting a big bash or simply hanging out at home, adding a little red, white, and blue provides brightness to your space. You can also boost curb appeal and add a patriotic, welcoming vibe to your exterior. Just as decorating for any holiday boosts your mood, adding Fourth of July decor creates a fun, festive feel. Here are some great ways to add some Fourth of July spirit to your home. From creative to kid-friendly, these touches are sure to add a patriotic vibe. Your Americana-themed decor will make this Independence Day the most festive yet.
Create a patriotic porch for curb appeal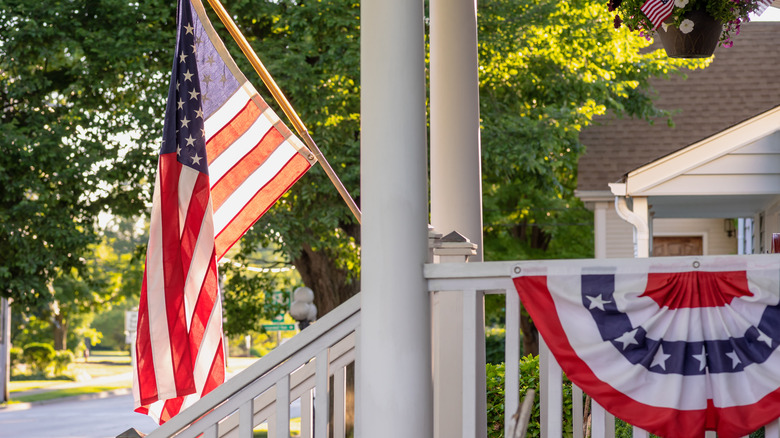 Your front porch is the first impression many people get of your home. It's also an awesome opportunity to show off your patriotism. Display red, white, and blue decor to boost curb appeal and add a classic American feel to your home's exterior. Nothing says "American" like proudly displaying stars and stripes on the front of your home. However, as Home Depot outlines, there are some pretty clear guidelines for displaying Old Glory. First, make sure the flag doesn't graze the ground. This includes landscaping like shrubs and trees, as well as the floor of your porch. It's also important to either take your flag down each night or ensure you have a light source to illuminate it after dark. Add coordinating buntings to round out the look.
To create a look that wows, use other decor items in the same shades of red, white, and blue. Look for navy pillows with a star pattern or classic red and white checkered ones to add to porch furniture. Dress your door with a fun wreath that adds to your American theme. Patriotic colors combined with burlap accents create a rustic look, while one with metallic accents can add a little sparkle to your entry.
Setting up a fun Independence Day tablescape
The areas where you serve food and eat are another opportunity to add festive decor. Whether hosting a formal Fourth of July dinner party or casual cookout, you can create a fun tablescape to wow your guests. Putting some thought and effort into your tablescape can create a cohesive look to elevate any meal. Make sure to plan it well ahead of your event and do a mock set up to make adjustments.
According to the experts at QC Event School, your first step should be determining your color palette. Sure, you can stick with the traditional red, white, and blue. But don't be afraid to mix it up and throw your own patriotic spin on your color scheme. Adding a splash of teal brightens up classic Fourth of July color schemes. Or, try a sophisticated look in monochromatic shades of blues or reds. Even if you opt for disposable dishes, a thoughtful plan can make an attractive tablescape.
Then, select larger items like plates and serving platters. Build your look around these items using coordinating napkins, cutlery, and drinkware. A centerpiece is a perfect way to add a focal point. If you'd like to go with a floral option, red and white daisies look cute in a blue container. You can also opt for a fun combo of playful pinwheels and miniature flags. Or, line the center of the table with glass containers of red, white, and blue candy for an adorable, sweet treat.
Kid-friendly Fourth of July decor for play spaces
Younger family members adore holidays. Don't let the adults have all of the festive fun. Decorate kids' rooms and play spaces with American cheer. You can even allow them to choose decorations or make some of their own patriotic creations. It's simple to fill spaces with kid-friendly holiday decor. Hang an American flag above their beds or swap their bedding for a red, white, and blue-themed set. Toss some bright striped pillows or hang a patriotic banner for a festive touch. Add a stack of age-appropriate books on landmarks, presidents, or moments in the nation's history for an educational display.
Help kids craft their own decor for a creative twist. For little kids, Play Ideas suggests using a fringed-cut toilet paper roll as a stamp for painted fireworks. You can also use red, white, and blue paper strips to help them create a classic paper chain. Older kiddos can paint wooden USA letter blocks or decorate mason jars to fill with festive flowers. Help them display their creations in their play space for patriotic touches they can be proud of.
Patriotic patio details that wow
Creating a patriotic patio gives you an outdoor entertaining space that's as comfy as it is stylish. Adding splashes of color creates a cheerful vibe that looks great on the Fourth and year-round as well. From small additions to major projects, you can style a patio that pops. Spruce up your patio decor with outdoor textiles. A red or blue area rug brings order to your patio and gives you a foundation for your decor. Plus, it can be a stylish look year for all seasons. Use the color in your rug to add coordinating throw pillows. Look for modern navy stripes or classic red ikat patterns for looks that extend beyond July. Add a few decor items like LED lanterns or yard stakes to enhance the overall look.
If you really want to make a statement, consider creating a patriotic patio furniture set. Take an old metal table and chairs or repurposed bench and give them a refresh. According to wikiHow, you can start by removing loose or chipping paint and any rust with a wire brush. Then, clean the furniture with soap and water and rust remover if needed. Dry it and place it in the shade when the forecast is precipitation free. Use high-quality rust-resistant spray paint in red or blue — or both! Apply a few coats according to the manufacturer's directions and allow to dry. Place your new furniture on your patio for a new DIY look you can be proud of.
Add fun touches to bathroom decor
When guests visit, they often end up using your restrooms. However, these spaces are often overlooked when it comes to decor, especially seasonal options. Make your bathrooms stand out by adding fun American-theme touches that are low effort and budget-friendly. For example, use textiles to add splashes of color to your restrooms. Place a stack of red and blue hand towels in your powder room or switch out your typical neutral bath towels with patriotic-hued ones in full baths. In fact, The Bath Doctor suggests having a set of coordinating towels, shower curtains, window curtains, and rugs on hand that match your Fourth of July theme. This can be a good strategy for other holidays as well. Just keep each set in a garment bag or small bin in your linen closet to make seasonal rotation quick and easy.
There are other ways to add to your bathroom vibe that appeals to all senses. Switch out your candles for scents like Bath and Body Works Firecracker, a popular fave for its classic summer scent (via Bustle). Hand soaps in scents like watermelon are all about nostalgic summer vibes. Fill an Americana-themed soap dispenser with your favorite to create a fun atmosphere.
Decor that adds a personal touch
Spruce up your walls with seasonal touches for a unique impact. This gives you a chance to display personal items and mementos. Plus, rotating wall decor may not be as tedious and difficult as you think. Use your photos from previous Fourth of July celebrations for one-of-a-kind wall art. Have them printed in grayscale and frame them in coordinating red, white, and blue frames for a cohesive yet colorful display. Or use the holiday as an opportunity to display a piece of America with a special meaning. Honor any veterans in your family by displaying their burial flags. If you haven't inherited one, you might be eligible to request one following the process outlined by Veteran's Affairs.
Regularly rotating your wall decor is simple and damage-free with items like Command Strips. These can be used to hang various weight items and then come off your walls cleanly when the holiday is over (via Command). You can also dedicate an entryway or hall table to display seasonal items. Simply add fun accent pieces for each holiday and rotate them when needed. Look for an option with storage drawers or a cabinet to easily stash items when not in use.
Fourth of July party decorations that wow
If you are hosting a Fourth of July celebration, choose decor to create a festive and fun atmosphere. First, select a theme, then gather items and prep your party space for patriotic fun. Look for easy ways to add decor to your space that makes a big impact.
Of course, the main theme of Independence Day is American decor. But you can put your own twist on it to blend with your home's typical decor. If you have classically styled spaces, add traditional American party decor like buntings and pennants. Maybe your home has a farmhouse vibe. Look for rustic-themed Fourth of July decorations with burlap accents and galvanized steel to stay true to your current theme. Whimsical decor like red, white, and blue pinwheels and pom pom garlands look adorable in boho-styled spaces.
When decorating, look for ways to make a statement. A balloon arch is a pretty cost-effective way to make a space party-ready. Coordinating tablecloths make dining and serving tables pop. Evite suggests using a few yards of fabric from the craft store for a polished look that's also more budget-friendly than buying cloth tablecloths. Add a fun centerpiece to each to add to the theme.
Use food and drink as decorative accents
The food and drink you serve are another chance to enhance your theme. Look for ways to make it fit your color scheme and add to your decor. Set up a food bar, serve festive drinks, and add sweet treats that your guests will love. Few things are more American than a classic hot dog. Set up a hot dog bar so guests can top theirs with their favorite condiments and toppings. Provide the obvious items like ketchup and mustard but include creative choices like crushed chips and coleslaw. Use red and white checkered trays to add to the classic theme, and serve strawberries, watermelon, and blueberries for colorful sides. Red, white, and blue frosted cupcakes or cookies make a perfect dessert for all ages.
A fun drink bar is a surefire way to make your party a win. Food Network recommends using mini fruit kabobs as colorful stirrers and freezing fruity, colored ice cubes. You can stir berry puree and spirulina powder into the water before freezing it in ice cube trays for patriotic-hued chillers. Set your garnishes out with a drink dispenser with your favorite cocktail or lemonade recipe and welcome guests to help themselves.
Add patriotic colors to your cooking space
Brighten up your kitchen with patriotic accents. Adding a little red, white, and blue pops of color makes the kitchen welcoming and adds to the vibe. Plus, it will put you in a festive mood when prepping Fourth of July dishes. For example, cute, Americana dish towels are an awesome way to add to your theme. Or, invest in some high-quality red ones that you can also use for Valentine's Day and the Christmas season. Add a colorful runner to your island or a tablecloth to your breakfast table for a patriotic pop. You can also create a simple centerpiece with a bowl of decorative orbs or a vase of flowers in red, white, and blue hues.
Stock up on colorful kitchen gadgets and utensils that are pretty enough to put on display. Food52 suggests using a blue enamel colander filled with berries to brighten your counter. Or, buy some scarlet-hued cooking utensils and place them next to your stove in a stylish crock. A glass jar filled with layered red, white, and blue M&Ms or jelly beans is a colorful and sweet treat.
Use lighting to brighten your decor
When decorating for the holidays, make sure your lighting is on point. Add red, white, and blue lights to both indoor and outdoor spaces to make your Fourth of July decor shine. Plus, well-thought-out illumination provides both safety and function. Brighten the inside of your home with smart LED bulbs that can be easily adjusted for every holiday and occasion. BlissLights suggests ones that link to a smartphone app for easy color and brightness settings. Some options even allow you to pre-set your color schemes. That way, you can switch your lights to patriotic hues with the touch of a button. These come in string versions for under cabinets as well as bulbs that fit standard lamps and light fixtures.
Create a fun environment in outdoor spaces with twinkling lights. String them above your pato for soft mood illumination. Use spotlights to highlight outdoor decor like flags and banners. Solar-powered yard stakes can add decorative touches that light the way down paths and to porches.
Use flowers for a festive touch
Flowers do a ton to add curb appeal to your home. They also bring a colorful natural touch to indoor spaces. Look for blooms in patriotic colors to add fun florals to your Fourth of July decor. Creating containers is an awesome way to add flowers everywhere, from porches and patios. Even though true blue flowers are rare, Home Depot suggests some fun floral combinations that look patriotic when combined. Fill a pot with red salvia, white begonias, and violet-blue ageratums for long-lasting blooms. You can also combine red and white blooms in a blue container.
Inside, red gerbera daisies look adorable in a blue basket or galvanized tub. Or, grab small matching red, white, and blue containers and fill them with succulents for a modern look. Bouquets of cut flowers in patriotic colors can brighten dark spaces like bathrooms. Red, white, and blue look great, but you can also use sunflowers for a classic American touch.
Look for decor that can double for holidays
As eHow points out, between Memorial Day, Independence Day, and Labor Day, the summer is full of red, white, and blue-themed holidays. But when shopping for Fourth of July decor, look for items that can serve double duty for other holiday seasons throughout the year. This will allow you to stretch your decorating budget and invest in higher-quality items. You'll also have fewer seasonal items taking up precious storage space.
Of course, red is a popular color for the Fourth of July, but it's also a staple for Christmas and Valentine's Day. You can use everything from cloth napkins to centerpieces for these holidays. Just make sure to purchase solid items or subtle patterns like pinstripes that can blend into multiple decor schemes. Consider keeping a bin dedicated to red items to pull out for these occasions.
When purchasing bigger-ticket decor items like glass serving pieces and wreaths, consider going neutral to get the most use out of them. White fits right into your Fourth of July color scheme, but silver and gold options can also work too. That way, you can use these items for Thanksgiving, Christmas, and even birthday parties throughout the year.
Budget-friendly Fourth of July decor ideas
Creating a fantastic Fourth of July decor scheme doesn't need to cost a fortune. Get your hands dirty with a few easy DIY decor projects. Or, shop smartly to find some amazing decor steals and deals. Take a cue from Prudent Penny Pincher and create your own decor. Coat old cans in red or blue spray paint for colorful utensil holders or rustic vases. Grab some American-colored card stock and scissors to make your own garland. Or, create a fun wreath with yarn or painted clothespins. They also suggest stocking up on dollar store bandanas to create your own placemats or tablecloths.
In order to get some great buys, check out late July sales when retailers are clearing out the Independence Day decor for fall inventory. Second-hand and thrift stores can also be a good place for awesome finds. Or, browse garage sales for unwanted decor items. Consumer Reports suggests either shopping sales early in the morning or late in the evening. And, don't be afraid to negotiate for the best deal.
Store your decor properly for years of use
Storing your seasonal decor when it's not in use is the best way to keep it in great shape. It's also important to keep it organized to simplify packing and unpacking. Stock up on storage bins and a label maker to organize your system. Follow these steps that organizing expert Lorraine Brock tells D Magazine. First, she suggests designating a specific time to take your decor down. Then, thoroughly dust everything before putting it away. Invest in high-quality storage bins and label each one with the contents. Use clear bags to keep small items organized and visible.
Another great strategy is to take photos of your decor when it's still set up. This allows you to replicate the same look year after year effortlessly. You'll also have a good reference when shopping for next year's Fourth of July decor. Even if you haven't set it up yet for the year, you can use your photos to get a good idea of what items you can purchase to add to your look. It also prevents you from accidentally purchasing duplicate items that you already own