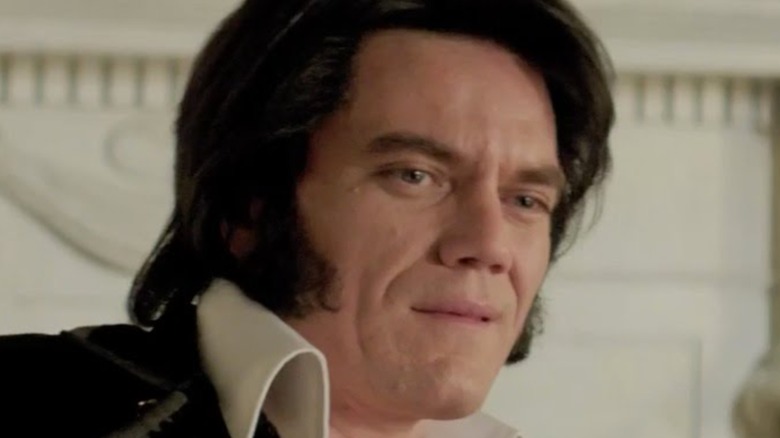 The hair. The lips. The hips. The pout and the swivel and the husky good ole boy voice. From the moment that Elvis Presley burst onto the scene as an 18-year-old truck driver turned musical icon, people have been doing imitations of him. Elvis impersonators have lived, thrived, and sung in all corners of the world for well over half a century. Even his friend and fellow icon Johnny Cash got in on the act in 1959, pretending to throw his back out from all those hip gyrations.
But depictions of Elvis in film or on television were a rarer thing. Comedian Andy Kaufman famously deployed a surprisingly good impression of The King in his routines in the 1970s, but narrative works about Presley were not big business until after his death in 1977. In the decades since, there have been a wide variety of films about Elvis, everything from straight biographies to alternate histories to supernatural comedies. Any actor who dares to play Presley has big sideburns to fill, and like The King's own expansive filmography, the quality can vary widely and wildly. Now, with Austin Butler joining the ranks in Baz Luhrmann's biopic "Elvis," here is a list of movie and television Elvises, ranked from worst to best.
Blake Rayne, The Identical (2014)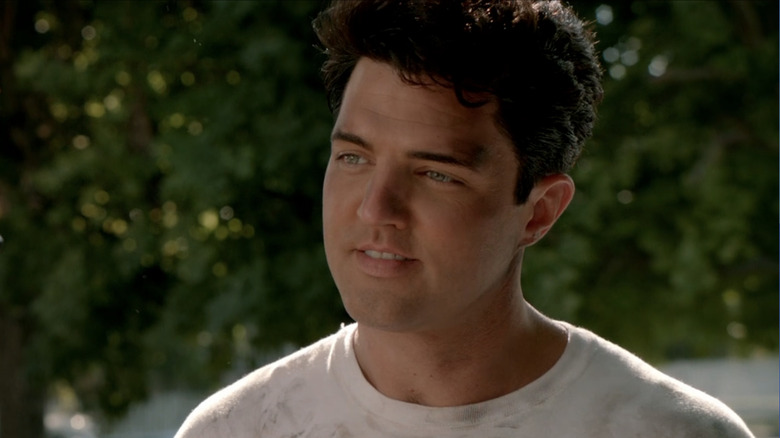 First-time actor Blake Rayne doesn't actually give the worst performance on this list; however, he takes the bottom slot by virtue of the fact that he isn't technically playing Elvis. In real life, Presley's twin brother Jesse died during childbirth, but what the dreadful 2014 faith-based drama "The Identical" presupposes is … maybe he didn't? The film follows the life of this long-lost twin, given up for adoption to a kindly Southern pastor (Ray Liotta) and his wife (Ashley Judd). As a young man, he tries to follow the spiritual path of his father, but can't help but yearn to sing secular music. All the while, people are amazed at how much he looks like a certain hip-swiveling musical firebrand.
The film was the first production of Christian film company City of Peace, and it's unclear whether they attempted to secure the rights to Elvis' name and music and were denied, or if the film was always intended to take place in an alternate universe. Either way, Rayne actually plays '50s rock and roll singer "Drexel Hemsley" and his identical twin, Ryan Wade, and the songs performed throughout are not even Elvis knock-offs, but uniformly terrible generic approximations of '50s and '60s rock. Rayne, an Elvis impersonator making his film debut, is kept afloat by his solid impression and his massively overqualified co-stars, including Joe Pantoliano and Seth Green.
Don Johnson, Elvis and the Beauty Queen (1981)
The bargain-basement 1981 television movie "Elvis and the Beauty Queen" is based on the real-life story of Linda Thompson, a model and former Miss Tennessee who had a relationship with Presley for several years following his 1972 divorce from wife Priscilla. Future "Remington Steele" star Stepanie Zimbalist plays the virginal Thompson opposite future "Miami Vice" star Don Johnson as Presley, all scarves and sunglasses and the widest collars you've ever seen. Their relationship feels like heaven at first, but soon Thompson has to contend with Presley's philandering, his increasing reliance on prescription drugs and the violent mood swings that accompany them, and the amorous advances of Presley's new piano player (Rick Lenz).
Presley had such an imitable voice that impressions of him have been a party trick for decades, so on one hand it makes a certain amount of sense that Johnson wouldn't put on a hacky Elvis voice for what is meant to be a dramatic, realistic performance. But in the absence of such a key element to Presley's image, Johnson doesn't really add anything else; instead, the film just feels like we're watching Don Johnson dressed up as Elvis. Years later, Chicago Tribune writer Bob Greene suggested that NBC could rescue the flagging ratings of "Miami Vice" by airing "Elvis and the Beauty Queen" and calling it a special two-hour episode.
Dale Midkiff, Elvis and Me (1988)
At the very least, the 1988 ABC miniseries "Elvis and Me" got the rights to Presely's music, which would already put it above the first two entries. Based on Priscilla Presley's tell-all book of the same name, the TV special chronicles the tumultuous relationship between Elvis and Priscilla, from their courtship when she was an teenager living in Germany with her parents, to her trying to keep their marriage afloat amongst The King's infidelities, drug use, and myriad personal demons.
Like "Elvis and the Beauty Queen," the film keeps Elvis at something of a distance, seeing him through the eyes of the woman who loves him but can't keep living with him. Dale Midkiff, who would star in Mary Lambert's "Pet Semetary" a year later, gets Presley's voice and cadence better than Johnson attempted, and does reasonably well with aging him from his 1950s heyday to his bloated Vegas years. But his face is oddly frozen in place, with little attempt to emulate Presley's expressions, and like so many actors on this list, he is thoroughly defeated by a succession of terrible, Halloween store-quality Elvis wigs. The film is more of a showcase for Susan Walters as Priscilla, who bears a striking resemblance to her real life counterpart, making a kind of feminist parable out of her journey from a cloistered teen to a woman strong enough to leave the only man she'll ever love.
Peter Dobson, Protecting the King (2007)
2007's "Protecting the King" is a surprising film. Written, directed, and narrated by D. Edward Stanley, Presley's step-brother and a member of his entourage, it tells the story of those final years, as young David (Matt Barr) goes on tour with his much older step-brother (Peter Dobson), first as just a hanger-on, but then as a bodyguard while The King slips further into narcotic-fueled paranoia. Considering that the film was made by a primary source — one who presumably has a lot of wild, stranger-than-fiction tales of Elvis in Vegas and on tour his entourage (aka the Memphis Mafia) — it's surprising what a flat, generic story it turns out to be. It's filled with sub-"Entourage" visions of celebrity hedonism, guns, drugs, and anonymous women looking to have a good time, broken up by the occasional scene where Elvis reads the Bible or somehow predicts the exact day he's going to die.
This was not Dobson's first time playing Elvis; in Robert Zemeckis' shameless Boomer revue "Forrest Gump" he plays a young, out-of-focus Presley staying at the Gumps' boarding house — although the voice of the character would be provided by another actor who will appear later on this list. In "Protecting the King," his job mostly consists of either pulling a gun on his step-brother or getting thoroughly upstaged by a terrible pair of fake sideburns.
Rob Youngblood, Elvis and the Colonel: The Untold Story (1993)
Baz Luhrmann's Elvis biopic focuses on the unusual relationship between Presley and his manager/handler/Svengali Colonel Tom Parker. Luhrmann and screenwriter Craig Pearce got beaten to the punch 29 years earlier, however, by the 1993 NBC television movie "Elvis and the Colonel: The Untold Story." Starring Beau Bridges as the Dutch circus promoter who discovers an endlessly talented young man and proceeds to bleed him dry, the film hits the major moments of Parker and Presley's manipulative history, from the Colonel taking advantage of Elvis' fragile state of mind after the death of his mother, to orchestrating Elvis and Priscilla's Las Vegas wedding, to the 1980 investigation that showed that Parker had been mishandling The King's finances from Day One.
Bridges, sporting a series of hats and bowties that seem to shrink with every scene, brings his usual excellence to undeserving material and makes the entire thing almost compelling. Former actor and current lifestyle blogger Rob Youngblood, on the other hand, brings little to the role of Elvis other than a handsome face covered in increasingly large fake sideburns. The film also has Youngblood narrate the film as Elvis from beyond the grave, adding little to the film other than a silly supernatural twist at the very end.
Michael St. Gerard, Elvis (1990)
Two years after "Elvis and Me," ABC attempted another trip aboard the Elvis train with a series focused on Presley's early days, simply titled "Elvis." Executive Produced by Priscilla and with the cooperation of the Presley estate and several surviving family members and associates of The King (per UPI), the series aired in half-hour installments (rare at the time for a drama series) and intended to delve into the nitty gritty of Elvis' rise to stardom, his relationship with his parents and bandmates, and father figures like Sam Phillips and Colonel Tom Parker. As in "Protecting the King," one would hope that a production made by so many people close to the man himself would have some sort of insight into his psyche — or at least some good stories — but once again, one would be wrong.
Star Michael St. Gerard looked the part, certainly, dark-haired and pouty, but is rendered dramatically inert here, either by the dull-as-dishwasher scripts or his own inability to rouse any of the passion that made fans want to throw themselves at The King's feet. Oddly enough, St. Gerard made something of a cottage industry out of playing Elvis; in the year before the series, he had appeared as Elvis in the Jerry Lee Lewis biopic "Great Balls of Fire!" starring Dennis Quaid, as well as the civil rights drama "Heart of Dixie" starring Ally Sheedy. A few years later, he would play Presley again in an episode of "Quantum Leap" before leaving Hollywood behind entirely and becoming an Evangelical minister in New York City.
David Keith, Heartbreak Hotel (1988)
Considering the incredible influence Presley had on American culture during his brief career, and the amount of space that he still takes up in our collective psyche, it's a little surprising that so few films have used Elvis in a purely fictional context. "The Identical" was an exception, and in 1988 writer-director Chris Columbus made the self-described "Rock and Roll Fantasy" "Heartbreak Hotel." When his mother (Tuesday Weld) is laid up in the hospital after a bad car accident, teenage rocker Johnny (Charlie Schlatter) and his band steal his mom's pink Cadillac and kidnap Elvis (David Keith) in the hopes that he will be able to cheer up Johnny's mother, or perhaps that they will fall in love. Presley takes getting chloroformed and driven across state lines in stride, and by the end he and Johnny are fighting locals at the town diner and blowing the roof off the high school talent show.
Befitting the "fantasy" label, Elvis isn't so much a flesh and blood person as he is a rock and roll wish-fulfilling genie. The film takes place in 1972, and Keith is effective as a version of Presley slightly gone to seed and in need of a new lease on life just like everyone else in the film — even though the film dresses him in the style of Elvis' '50s era, rather than the jumpsuits and capes he was favoring by the Nixon Administration. Keith could have been even better in a more grounded film, but Columbus' shamelessness knows no bounds, and by the end he is (literally) jetting away while Johnny's family looks on in awe, as if this were the end of a rockabilly remake of "ET: The Extra-Terrestrial."
Rick Peters, Elvis Meets Nixon (1997)
One of the most surreal intersections of politics and pop culture happened on December 21, 1970, when Elvis Presley visited President Richard Nixon at the White House in the hopes of becoming deputized as a federal narcotics agent. Presley, though no stranger to illegal substances, was reportedly disturbed by the youth drug culture of the day and wished to lend his support and influence to the war on drugs. A photo was taken of the two men, and Presley was presented with his very own badge. There's no world where this encounter is anything but hilarious, or at least that's what "Rock and Roll High School" director Allan Arkush must have thought when he helmed the 1997 Showtime mockumentary "Elvis Meets Nixon."
"Hosted" by Dick Cavett as himself, what's most surprising about the film is how straight it plays the facts of the meeting, finding its humor not so much in exaggerating the events or characters, but skewering the documentary format itself, as when real-life journalist Edwin Newman describes Presley's state of mind in 1970, only to admit that he only knows that because of a book he read. Longtime television actor Rick Peters doesn't much look like Elvis, but embodies The King's swagger and charisma better than most, even from underneath yet another terrible wig.
Michael Shannon, Elvis & Nixon (2016)
Apparently, the story of Presley and Nixon's White House meeting was so nice they told it twice. Nearly 20 years after Allan Arkush's low-budget mockumentary take aired on Showtime, a much more tony version of the story was produced by Amazon Studios in 2016 as "Elvis & Nixon," featuring Kevin Spacey as Nixon and Michael Shannon as Presley. Director Liza Johnson keeps the pace up with a jazzy score and heist movie energy, as Presley guilelessly gets on a plane and arranges a meeting with the White House, while Nixon's advisors (Colin Hanks and Evan Peters) scramble to make the meeting happen. Whereas in Arkush's film the titular encounter between the president and The King is little more than a button at the end of the story, here the meeting takes up the final half hour of the film, with Spacey's full-body transformation into Nixon clashing with Shannon's minimalist-to-the-point-of-nonexistent impersonation of Elvis.
The film's placement on this list is tricky, and not just because of the distaste audiences today might feel toward Spacey. Michael Shannon is arguably the finest actor here, but he is so miscast as Elvis that it feels like an intentional choice. His gaunt face and Midwestern rasp bear no resemblance to Presley, and the only time he channels the singer's signature physicality is in an Oval Office karate demonstration with Memphis Mafia member Sonny West (Johnny Knoxville). But at the same time, there is something admirable in Shannon's commitment to the character as a man first and an icon second.
Tyler Hilton, Walk the Line (2005)
The 2005 Johnny Cash biopic "Walk the Line" doesn't feature Elvis as a character very much. Though he and Cash both got their starts at Sun Records in Memphis and touring the Southern circuit together along with Carl Perkins, Jerry Lee Lewis, and others, their stories diverge at a certain point. Until then, though, Elvis serves as a potent symbol in the James Mangold-directed film. Cash (Joaquin Phoenix) first sees Elvis on the street in Memphis and follows him to the Sun Records studio, until owner Sam Phillips slams the door shut in Cash's face. Later, as Cash's career begins to take off and they're booked together on the same tour, he tries amphetamines for the first time on Elvis' recommendation. And as Johnny cheats on his wife backstage with a local woman (credited as "Lissome Girl"), the sound of Presley singing "That's All Right Mama" creeps up in the sound mix — specifically, the line "Son, that gal you're fooling with/She ain't no good for you."
Actor and singer-songwriter Tyler Hilton plays Presley and performs his own songs, a rarity for Elvises on film. Vocally he doesn't sound very much like Presley, but he has a good voice, and his natural confidence and charisma as a musician makes him a fine substitute. It makes sense why the crowds in the film would treat him like he's Elvis, and why Phoenix's Cash would respect and be intimidated by him.
Harvey Keitel, Finding Graceland (1998)
Rumors and beliefs that Elvis had faked his death became widespread, either seriously or in jest, almost immediately after his sudden death in 1977 at age 42. But despite this, there are hardly any films or television shows in the "Elvis Lives!" genre. One of the few is David Winkler's 1998 road trip indie dramedy "Finding Graceland." Almost a spiritual sequel to "Heartbreak Hotel," the film stars Jonathan Schaech of "That Thing You Do!" as Byron, a grieving young widower who gives a ride to an older man (Harvey Keitel) who claims to be Elvis. He's trying to make his way to Graceland in time to attend a party in honor of his "death." Along the way, as often happens in films like this, the two strangers share adventures and life lessons, as Byron opens up about his wife's (Gretchen Mol) death and perhaps finds new love with a beautiful Marilyn Monroe impersonator played by Bridget Fonda.
The film never really doubts that Keitel's character thinks he's Elvis; he isn't a con artist or a compulsive liar. The question is whether he is delusional, or if it's at all possible that he actually is The King. Like Michael Shannon in "Elvis & Nixon," Keitel seems wildly miscast at first, looking or sounding nothing like Presley, and probably about a foot shorter. But there's a twinkle in his eye, and a sense of fun in his performance that feels of a piece with Presley's own screen persona. Whether or not he really is Elvis, he's good company; why would you want to spoil that by knowing one way or another?
Bruce Campbell, Bubba Ho-Tep (2002)
The most notable "Elvis Lives!" film is the 2002 horror-comedy "Bubba Ho-Tep," directed by schlockmeister Don Coscarelli, in which an aged Elvis (Bruce Campbell) and John F. Kennedy (Ossie Davis) do battle with a resurrected Egyptian mummy terrorizing the east Texas retirement home where they live. Why, you might be wondering, are these two famously dead midcentury icons still alive and living together? Well, Elvis switched identities with one of his impersonators in order to escape the pressures of being The King back in the mid-'70s, only to get waylaid by an injury and a years-long coma. Kennedy, meanwhile, survived his 1963 assassination attempt but was hidden away in a power grab by Lyndon Johnson — and the CIA changed his appearance to look African American.
At least one of these men may not be who he says he is, but the film mostly takes Elvis (known at the nursing home as "Sebastian") at his word that he is the real deal. Like Rick Peters in "Elvis Meets Nixon," Campbell is freed by the film's comedic tone to play Presley as a swaggering cartoon, which in a way feels more realistic than some of the more dramatic, low-key performances on this list. The film itself is undercooked padded out to hit its already slim running time, at times refreshingly forthright about the indignities of old age, but just as often playing old people falling down for laughs.
Drake Milligan, Sun Records (2017)
One of the most popular depictions of Elvis in the last 20 years has not been on film, but on stage. The mega-popular jukebox musical "Million Dollar Quartet" tells the story of a day in 1956 when Presley, Johnny Cash, Jerry Lee Lewis, and Carl Perkins all happened to be at Sun Records at the same time. The show has was a hit on Broadway and has toured the country for years, and in 2017 writers Colin Escot and Floyd Mutrux adapted and expanded the show into the CMT miniseries "Sun Records." Placing Sun Records owner Sam Phillips (Chad Michael Murray) at the center of the narrative, the series spirals out to touch on just about every notable musician who stepped through his doors — not just the stage show's titular quartet but also blues musicians and early rockers like Ike Turner and Howlin' Wolf.
Musician and Elvis impersonator Drake Milligan plays Presley as a high schooler swept up into the burgeoning world of rock and roll; thus far the series is his only acting credit other than a 2014 short film where he also played Elvis. He's been a contestant on both "American Idol" and "America's Got Talent" (per Good Housekeeping), and above all he has the moves, the look, and the sound of Presley down to a science. The series is a handsome gloss on those rough-and-tumble years, and asks little of Milligan other than to be handsome and glossy in return.
Jack White, Walk Hard: The Dewey Cox Story (2007)
In all the decades of actors playing Elvis on screen, it apparently never occurred to anyone to cast an actual rock star in the role until Jack White's one-scene cameo in the vastly underrated 2007 parody "Walk Hard: The Dewey Cox Story." John C. Reilly plays the eponymous Dewey, a rock music prodigy whose journey from small-town Alabama to the heights of stardom makes a stop at nearly every genre of 20th century American music. Though specifically parodying the recent hits "Ray" and "Walk the Line," the film's palette is expansive enough to indict the entire biopic genre, with its inane dialogue, often ridiculous era-signifying costumes, and obvious cameos from famous people playing other famous people.
White appears in a scene taking place in the 1950s, showing up just long enough to aggressively mumble a karate-based threat to Dewey for the crime of talking to him. Perhaps before White there was never a rock star with the improbable combination of having a passable Elvis impersonation, looking just enough like him to suspend disbelief, and being a big enough fan to lovingly skewer The King's persona. His vision of Elvis is somewhat out of time, with '50s swagger mixing with the narcotized punchiness of his later years. For a film that has Jack Black and Paul Rudd as an endlessly bickering Paul McCartney and John Lennon, White's moment as The King is a scene-stealing standout.
Nicolas Cage, Tiny Elvis (Saturday Night Live)
He's Elvis. He's very small. He spends his days marveling at how much bigger everyone and everything is than he. That's the premise and single joke of "Tiny Elvis," a 1992 "Saturday Night Live" sketch from Nicolas Cage's first (and to date, only) time as host. Cage has long been an avowed Elvis fan, and many of his early roles, from "Rumble Fish" to "Raising Arizona" to "Wild at Heart," are played at a certain rockabilly pitch. (To say nothing of his brief, tumultuous marriage to Presley's daughter Lisa Marie in the 2000s.) The film he was hosting "SNL" to promote, romantic comedy "Honeymoon in Vegas," even sports a climax with Cage taking part in a skydiving stunt with the Flying Elvi.
The sketch has two scenes that follow the same pattern: Elvis sits around with Memphis Mafia members Sonny and Red West (Rob Schneider and Kevin Nealon) delighting in how huge everything is, but when one of them takes it too far and calls him "cute" due to his size, Elvis flies into a rage. On one hand, the sketch is little more than a vehicle for Cage's above-average Elvis impersonation and some impressive-for-live-TV blue screen work. But in pairing Tiny E with his obsequious entourage members, it lands a satirical shot at the way Elvis was coddled and enabled by those around him, as they laugh along at his inane observations, constantly stroking his ego, unable to say no for fear of getting kicked off the ride for good.
Jonathan Rhys-Myers, Elvis (2005 miniseries)
With so many British actors playing our Bat- and Spider-Men these days, it's a little surprising that only one Elvis on this list hails from across the pond. Irish actor Jonathan Rhys-Myers donned the sequins and sideburns in the CBS 2005 miniseries "Elvis," which covers The King's early days in Memphis up through his 1968 "Comeback Special." That concert works here as a natural climax that allows Presley to go out on top in a way he didn't in real life, and also spares the whisper-thin Rhys-Myers the indignity of wearing a fat suit.
Backed by a solid supporting cast that includes Randy Quaid as a more sympathetic Colonel Tom than we saw in "Elvis and the Colonel," Camryn Manheim as his beloved mother Gladys, and Robert Patrick as father Vernon (the same year as the played Johnny Cash's father in "Walk the Line"), Rhys-Myers makes for an intense, live-wire Presley in his private moments, though a less-than-convincing singer on stage; the miniseries makes the odd choice to have him lip sync to the studio recordings of Elvis' songs, even when he's meant to be performing live. The series and Rhys-Myers are refreshingly unafraid to show Presley as unsympathetic and even something of a weirdo, especially concerning his affair with Ann-Margaret (Rose McGowan) on the set of "Viva Las Vegas" and his somewhat unseemly relationship with his mother.
Shawn Klush, Vinyl (2016)
The short-lived HBO rock and roll series "Vinyl" was perhaps above all a failure of imagination. Set in 1971 New York City, it follows bad boy record executive Richie Finestra (Bobby Cannavale) as he hustles everyone in his life on behalf of his beloved label, the fictional American Century. Considering that it was executive produced by Mick Jagger and Martin Scorsese, it's all the more disappointing how often the series falls back on tired clichés, as Richie seems to pontificate on the power of music in every single episode while going through sub-"Mad Men" domestic drama and historical ironies at every turn.
One episode, however, breaks the mold. In "The King and I," Richie and his second-in-command Zak (Ray Romano) hear a rumor that Elvis is considering leaving his longtime record label, RCA-Victor. They take a plane to Las Vegas to have a meeting with Presley in an effort to get him to sign with American Century. Richie dreams of pairing Elvis with a fiery young punk band he's just signed, and Elvis seems inspired by the idea, but at the end Colonel Tom says no, and Presley won't go against him. In addition to bearing a striking physical resemblance, professional impersonator Shawn Klush gives a surprisingly tender one-scene performance as The King in an era that is too-often played for laughs or drug-fueled drama, trapped in a gilded cage above the Vegas strip, unable to break free.
Austin Butler, Elvis (2022)
In 2019 it was announced that Austin Butler, a former Nickelodeon and Disney Channel heartthrob recently seen getting mauled to death by Brad Pitt's dog in "Once Upon a Time…In Hollywood," was cast as Elvis in "Moulin Rouge!" director Baz Luhrmann's dizzying, gaudy biopic of The King. Nearly three years later, after a lengthy pandemic-induced delay, the film premiered to rapturous applause at the 2022 Cannes Film Festival. Butler was in attendance, escorting Priscilla Presley on the red carpet — an oddly Freudian, not-appropriate-but-also-not-inappropriate image that feels as true to Presley as anything else.
Butler, more than nearly every other actor on this list, put in the work to become Elvis. He does his own singing, dancing, and guitar playing in the film, pushing his body and mind so much that once production on the film concluded, he had to be hospitalized for days. In return, Luhrmann's camera worships him from head to toe, especially in the parts of the film detailing Presley's 1950s heyday when he was young, beautiful, and dangerous.
The screenplay covers The King's entire life and beyond, perhaps biting off more than it can chew; as good as Butler is and as much effort as his is clearly giving, Presley's hedonistic final years don't fit him quite as well as the pink-suited mama's boy of his early years. And like many actors before him, playing Elvis seems to have left a mark; it's been months since filming completed, but you can still hear it in his voice.
Kurt Russell, Elvis (1979)
The best Elvis was the first Elvis. In 1979, just two years after Presley's death, ABC aired the miniseries "Elvis." Covering Presley's early days through his Army stint, his movie career, and up through his comeback special and the triumphant early Vegas days, the film covers more or less the same era as the 2005 miniseries would, giving The King the happy ending that his real life denied. What sets the 1979 miniseries apart from its decades-later counterpart or any of the other films on this list are two things: The patient, painterly filmmaking of John Carpenter (at the time hot off the success of his revolutionary horror film "Halloween"), and the megawatt charisma of Kurt Russell in the title role. This was Carpenter and Russell's first time working together, but it would not be the last.
What's most remarkable about Russell's performance here is the way that he manages to make a full character out of Presley while also working in all of the famous "Elvis impersonation" tics: the voice, the pout, the swivel. Even his sideburns look good, which would have been enough alone to put him at the top of the rankings. Perhaps he picked up some mojo when he had appeared as a child actor in Presley's 1962 film "It Happened at the World's Fair." 15 years later Russell would return to the role, providing the voice to Peter Dobson's body in "Forrest Gump," and would wink at it in 2001's other Vegas-set heist movie, "3000 Miles to Graceland."