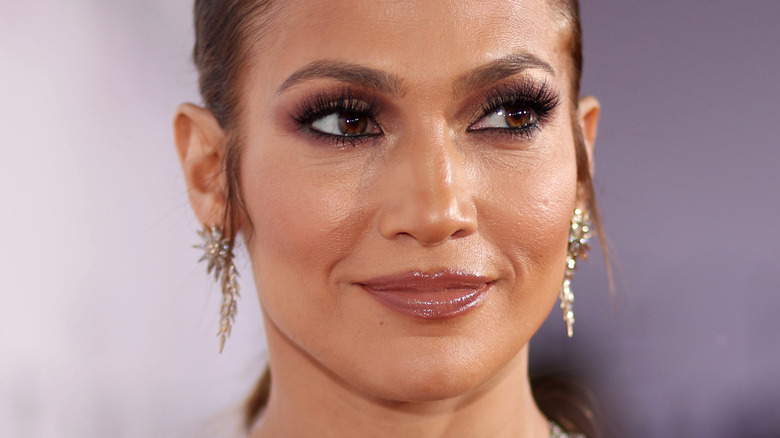 Jennifer Lopez and Marc Anthony tied the knot in a top-secret ceremony in Los Angeles on June 5, 2004, and although they called it quits a decade later, their relationship yielded two wonderful kids. On February 22, 2008, a press release announced that Lopez had given birth to twins. According to the songstress' manager, Simon Fields, "The couple's 5.7 pound daughter was born first, followed by a 6.0 pound son." The babies' names were eventually confirmed to be Emme Maribel Muñiz and Maximilian David Muñiz.
Over the years, Emme and Max have made occasional appearances on their parents' Instagram accounts, but it wasn't until they turned 10 that they began making headlines on their own, especially Emme. With a passion for the arts and a penchant for singing, J.Lo's daughter seems to be setting herself up to follow in her mother's footsteps. Here is the untold truth of Emme Maribel Muñiz.
The origin of Emme's name has been disputed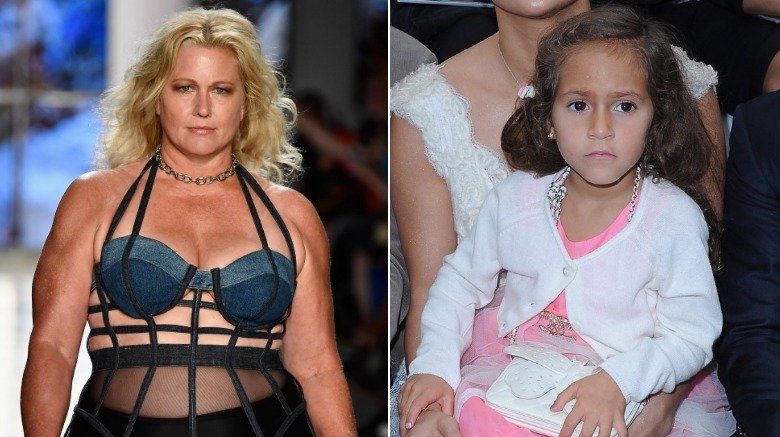 Before Emme Maribel Muñiz was introduced to the world in 2008, the name Emme was largely unknown and mainly used as a nickname rather than a given name. According to Name Berry, the moniker is an "American invented name" whose meaning is "universal," but not everyone agrees. Pregnancy and parenting website Bounty reports that Emme is actually of German origin and that the name is a "variant of the name Erma, which originated as a short form of any of the various names containing the element 'erm' or 'irm meaning 'strength.'" The site goes on to note that Emme "may also be the pet or short form of the name Emmeline."
What everyone can agree on, however, is that before Lopez dubbed her daughter Emme, the biggest celeb using the name was American model Melissa Owens Miller (pictured left). Better known as just Emme, the host of "Fashion Emergency" made People magazine's 50 Most Beautiful People list in 1994 and 1999.
J.Lo's daughter sang before she could talk
According to her loving parents, Emme was born to sing. Speaking with Entertainment Tonight in May 2019, Jennifer Lopez recalled just how young her daughter was when she first caught the singing bug. "It's natural. Emme could always sing," the proud mama said. "I remember when she was in the crib, when she was a baby, she used to be humming, like, really humming to herself." J.Lo said Emme's dad wasn't surprised one bit. "And Marc [Anthony] would say, 'She's singing, it feels good to her, it feels good to her soul and to her body,' because he was like that. I was like, 'You think she's singing?' And he was like, 'Yeah, yeah.' And he was right…"
As for who Emme sounds like now that she's older and able to belt out full songs, Lopez didn't hesitate to give credit to her ex-husband. "She's got her daddy's voice," she declared. "She's amazing."
At age 10, Emme Maribel Muñiz wrote a book
Jennifer Lopez's entrepreneurial spirit seems to be rubbing off on her daughter who, at just 10 years old, had her very first set of business meetings. That's right: She wasn't just tagging along with Mom — it was her meeting.
As it turns out, Emme not only loves music but also storytelling. So much so that she penned her own children's book, titled "Lord Help Me!," and in June 2018, J.Lo's daughter met with publishers to pitch her idea. Lopez took to Instagram Stories (via People) to share Emme's impressive accomplishment, uploading a snap of her little one hugging a binder showing the potential book's cover. "It's a very special day. Emme and I are off to our very first book publishers meeting for an idea Emme had for a book. We're excited — we have three meetings today," Lopez said.
Making the whole thing even more impressive was the fact that Emme got renowned Spanish children's book illustrator Ana Martin-Larranaga to dream up the accompanying images, including the cover, which depicts a young girl (who looks a bit like her) smiling up toward the sky and praying.
J.Lo's daughter graced the stage like a pro … at age 11
Singing in front of a sold-out arena filled with 20,000 screaming fans could be intimidating for even the most seasoned star, but when you're Emme Maribel Muñiz, you carry yourself like a pro. Case in point: She performed a duet with her mom to help kick off J.Lo's "It's My Party" tour in Los Angeles in June 2019.
The seeds for the idea were planted in May 2019, when Lopez shared a video of her daughter belting out an impressive rendition of Alicia Keys' "If I Ain't Got You." Visibly impressed, J.Lo gushed, "We should have her come out and do something on tour. Want to put a little piece in this show? We'll see; We'll check it out. You don't have to."
Emme was apparently all about it. The 11-year-old joined her mom onstage to perform "Limitless" together, and she crushed it. Recalling the special yet nerve-wracking moment, Lopez told Entertainment Tonight, "I'm just looking at her and I'm just hoping and praying it all goes well. I got choked up and she was fine." Emme's stage presence should have come as no surprise because in her proud mama's words: Emme "has it in her blood. She has the lion heart."
Singing makes Emme feel 'accomplished'
Not only does Emme have music in her blood, but performing makes her feel accomplished. Following their impressive duet at the "It's My Party" tour kickoff, Jennifer Lopez shared a behind-the-scenes video of her daughter explaining what it felt like to take to the stage with her mom. "When I was little, I used to be really shy singing in front of people," Emme said. "But not anymore because in school I have, like, singing stuff. I was in a play, so I've done this before." The little one added, "But not like this."
Emme's secret? Not looking at the crowd. "Usually, the light's too bright in my eye so I can't see anybody so that's good. I just look at Mom," she said. The clip also captures a magical backstage moment after the duet. "It just feels like I've accomplished something — you see all the people that are cheering you on," she gushed.
Dad Marc Anthony also opened up about how much his daughter loves music, telling iHeart Radio, "I asked Emme, 'Why do you sing?' And she said because she feels good.' It's the best response."
J.Lo's daughter understands the harsh realities of showbiz
It's clear that Emme Maribel Muñiz has a penchant for singing, so Jennifer Lopez is already preparing her for the harsh realities of showbiz, telling Entertainment Tonight that she's prepared to give her daughter "as much counsel and advice as I can." The A-list lifestyle includes plenty of challenges. "It's a lot of scrutiny and you really put yourself out there in a way," J.Lo said. "And now, in this age of social media, where people can be so brutal and mean at times, I don't want her to put herself any more out there than she is. They're not on social media yet." Lopez is also quick to offer up amazing pep talks. On the night of their duet, she told Emme: "So proud of you. Even if you didn't go out there, I'd be so proud of you. But for what? Everything that you are. It's true."
This mama's approach seems to be working. Not only was Emme brave enough to slay her live performance, but she also pushed her way into a starring role in one of her mom's music videos. "When she wanted to do the 'Limitless' video, I was very, very wary of letting her do it," Lopez told Entertainment Tonight. "But she was like, 'Please mom, don't pick another little girl. Pick me. I can do it.' And she did. She was amazing."
Emme could inherit a fortune
Whether she goes on to become a huge superstar or not, Emme Maribel Muñiz stands to become a multi-millionaire one day, with a possible inheritance of $220 million. As of July 2019, mom Jennifer Lopez's fortune was estimated to be about $400 million, according to Celebrity Net Worth. Over the years, Lopez has made a killing with numerous projects, including music, movies, tours, fragrances, and TV roles. In the early 2000s, her clothing and fragrances were reportedly bringing in $325 million per year and, in 2018, Paper dubbed one of her early fragrances, Glow, "the best celebrity perfume of all time." J.Lo also hit the jackpot with her Las Vegas residency, which kicked off in 2016 and grossed $97.5 million, according to Billboard.
Dad Marc Anthony's 30 million album sales and $80 million estimated net worth are nothing to scoff at either. Needless to say, if Emme and Max's parents share their riches with their kids, these siblings will certainly have a nice little cushion to pad their dreams.
People were big fans of J.Lo's daughter, Emme, before she was even born
Celebrity news sites often shell out big bucks for exclusive A-list baby photos, but no one knew just how much they'd be willing to drop on newborn snaps until the arrival of Emme Maribel Muñiz and her brother, Maximilian David Muñiz, in February 2008. Jennifer Lopez and Marc Anthony's twins set a major record before they were even born, reportedly earning their parents a cool $6 million. According to Lainey Gossip, People and OK! Magazine agreed to shell out $6 million for the exclusive first photos of Emme and Max, making those images the most expensive celeb baby photos ever sold.
The twins didn't hold onto that No. 1 spot for long. They were soon dethroned by another pair of high-profile twins. When Brad Pitt and Angelina Jolie welcomed Vivienne Marcheline and Knox Leon in July 2008, Forbes reported that Brangelina sold their newborn pics to People and Hello! for between $11 and $15 million, bumping Emme and Max to the runner-up spot, which they still held as of July 2019.
OK! Editor in Chief Sarah Ivens told People that publications are willing to pay top dollar for newborn snaps because that's what readers want to see. "Part of the reason that the demand is so huge — and everyone is so excited about it — is because it's such a nice antidote to all the other celebrity news that's going on at the moment," she said.
She was 'the symbol of the American dream' during Super Bowl LIV
When Jennifer Lopez and Shakira were announced as Super Bowl LIV's halftime show performers, the proud Latinas and devoted mamas quickly made it clear that their mission would be to inspire Latinas of all ages. Enter Emme Maribel Muñiz.
At just 11 years old, the talented young Emme stole the show, belting out a medley of "Let's Get Loud" and Bruce Springsteen's "Born in the USA". But it wasn't just her vocal abilities that deserved praise — her very appearance at the Super Bowl sent an important message to the world. "She will be performing on stage as the symbol of the American dream," a source explained to Page Six prior to the show.
Lopez herself shared a similar sentiment before taking to the stage, telling reporters [via New York Post], "When I think of my daughter, when I think of all the little girls in the world, to be able to […] see that two Latinas [are] doing this in this country at this time, it's just very empowering for us."
Emme's relationship with Marc Anthony
Jennifer Lopez and Marc Anthony may have gotten divorced in 2014, but they've remained incredibly close. In fact, they've totally nailed the art of co-parenting. In 2017, Lopez told "Live with Kelly and Ryan" that's because they're still best friends, and they always prioritize their twins. As she explained, they make sure that Max and Emme get to spend quality time with both of them, separately and as a family.
Even so, Anthony (who's a dad of five) confessed to CBS' Sunday Morning in 2016 that he wonders if focusing so much on his career was worth it and said he worries that he wasn't the most present dad. "What I would have done to have been a stay-at-home dad, and you know, witnessed every second of everything," he mused. According to Emme, though, he needn't worry because he's a great dad. As she told Entertainment Tonight in 2020, he's a "loving father" with a great sense of humor. She gushed, "He cares about all of us a lot, and he's just a good person."
It appears Lopez agrees, as she's made it a point to publicly celebrate her ex every time Father's Day rolls around. In 2019, she posted a series of photos of Anthony and the twins to Instagram, and the singer also celebrated Anthony's parenting skills on Father's Day 2020 and in 2021 as well.
Emme's relationship with Alex Rodriquez
Jennifer Lopez and Alex Rodriguez called off their engagement in April 2021, but while their relationship didn't last, their approach to raising a blended family remains inspirational. Prior to the split, J.Lo and Marc Anthony's twins reportedly spent plenty of time with A-Rod's daughters. Lopez told People that all four children are the best of friends. "I was so loving to [Rodriguez's] kids and he was so loving and accepting of mine, and they embraced each other right away," she said.
As a result, Emme had two loving father figures in her life. After she performed with her mom for the first time in Los Angeles, she ran backstage and into Rodriguez's arms for a huge bear hug. She's also a regular staple on his Instagram feed, and when she had a dance recital, both Rodriguez and Anthony were in attendance. The two men got along so well, in fact, that Rodriguez was spotted sitting between Lopez and Anthony during a music recital at Max's school.
Emme's relationship with Ben Affleck
Jennifer Lopez and Ben Affleck were one of the hottest couples of the early 2000s before they broke our hearts by calling off their engagement in 2004. Eighteen years later, however, they're engaged again, and Lopez told People she's confident things will be different this time. "We're older now, we're smarter, we have more experience, we're at different places in our lives, we have kids now, and we have to be very conscious of those things," she explained. The singer also shared that their main goal is to "really live our lives in a way we can be proud of and our kids can be proud of."
Like in her past relationships, Lopez is putting her kids first, and Affleck is totally on board. He's already developed a special bond with Emme, who's repeatedly been spotted spending time with Bennifer, from Los Angeles to The Hamptons. Most notably, the pair made the internet laugh when they teamed up to convince Lopez to get a Devon Rex cat, which worked. Jump to Father's Day 2022, and Lopez praised her new beau for being "the most caring, loving, affectionate, consistent and selfless Daddy ever." She later added in her On the JLo newsletter (via People) that she appreciates how he's stepped up to be a "consistent, loving, and selfless father" to his kids as well as hers, underscoring the fact that he is "without obligation to mine" but that he still puts them first.
J.Lo introduced Emme using gender-neutral pronouns
In June 2022, Jennifer Lopez took fans by surprise when she invited a very special duet partner to perform with her at the L.A. Dodgers Blue Diamond Gala: Emme. A beautiful rendition of Christina Perri's "A Thousand Years" followed, but it wasn't just the incredible vocals that got people talking. Rather, the Internet was instantly set abuzz when Lopez introduced the 14-year-old using gender-neutral pronouns. A video posted to TikTok showed the singer teasing Emme's arrival by saying, "I ask them to sing with me all the time but they won't, so this is a very special occasion." She then joked, "They're very, very busy. Booked. And pricey, [but] they're worth every single penny because they're my favorite duet partner of all time."
Folks on Twitter were instantly supportive, with one writing, "This moment between Jennifer and Emme was so touching and beautiful." Meanwhile, another fan noted how the meaning behind the song's lyrics paired with Lopez's introduction and the fact that Emme used a rainbow-color mic was truly powerful. They tweeted, "The message behind this is so strong and I'm so happy that my idol is such an amazing person!!!" However, some did question the authenticity of Lopez's words, with one critic tweeting, "Simply characters with props to push narratives."
Emme inherited a special talent from her great-grandmother
By now, we all know that Emme is an incredible singer, but she has another impressive talent we bet you didn't know about. Sitting down on "Live with Kelly and Ryan" in 2017, Jennifer Lopez revealed that the then-9-year-old Emme (whom she calls Lulu) had inherited a special gift from her great-grandmother, a professional seamstress. "She's taken to sewing [and] she's been doing it for a couple years," Lopez said. Showing off one of Emme's most impressive creations to date, the singer shared a photo of herself in an emerald green dress with a high-low seam and enthused, "She gave it to me for Christmas […] and, by the way, it fits beautiful. Honestly, I'm not saying it 'cause she's my daughter. It fit me perfect," she gushed.
Lopez shared more about Emme's hidden talent on "Late Night with Seth Meyers," telling the late night host (via Daily Mail) that her mom's mom actually passed away while she was pregnant with Max and Emme and so, "I feel like her spirit, her soul is with Emme." Revealing that Emme became "obsessed" with sewing when she was just 6 years old, Lopez told viewers that her kiddo is now a pro at using a sewing machine and can make anything from pillows to stuffed animals, dresses, Halloween costumes, and more.