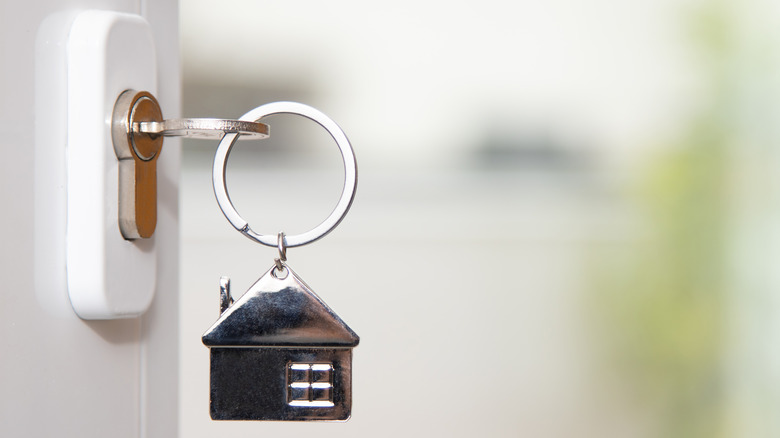 For many people, the dream of owning a vacation home is an ultimate life goal. Owning a little piece of one of your favorite destinations can give you a place to escape and recharge. As U.S. News & World Report points out, a vacation home can earn you extra income, allow you to enjoy longer vacations, and boost your quality of life. You can host friends and family and loan your property to loved ones. And, with the popularity of vacation rentals, you may be able to rent out your vacation home for a profit.
Achieving this bucket list item is a big deal. However, closing on your new vacation property is just the beginning. You'll need to furnish and decorate your house to truly create a home away from home. Depending on your goals and purposes for the property, there's a lot to consider. Here are all of the tips and tricks you need for furnishing and decorating your new paradise.
Choosing a theme for your vacation home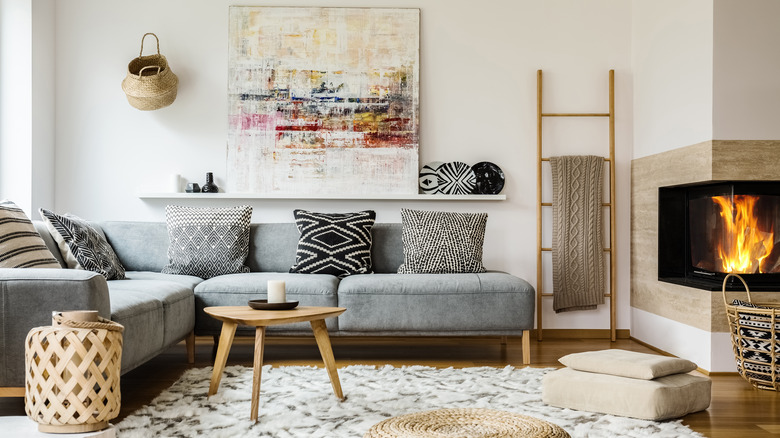 First things first, you'll need to choose a theme for your vacation home's décor. What type of vibe do you want to create? Thinking about this will help drive the formality of the space. Maybe you want to focus on opulence and luxury, with high-end finishes and a formal feel. Or, perhaps a casual, laid-back vibe is your ideal. Aim to create an informal space with fuss-free furnishings intended for relaxation. Of course, if you are looking to land somewhere in between, you can integrate comfort and glamour for a unique combination.
When choosing a style for your theme, consider the timelessness of your options. According to interior designer Bobby Berk, many people are drawn to a combination of styles, and tastes are constantly changing. It's not uncommon to see homeowners blend styles like farmhouse and coastal, or glam and industrial. Look for major furniture pieces in classic and neutral styles so they can evolve with tastes over time. Focus on basic shapes and fabrics that can blend seamlessly into a variety of styles from traditional to boho. Then, play with easier-to-swap items like textiles and wall art to create an overall vibe. As your style evolves, you can switch these items out to fit your most current taste preferences.
Narrow down a color scheme
When selecting a color scheme for your vacation home, think about the style and formality that you've already decided on. Either way, sticking to neutral colors can give you the ultimate blank slate. Choose classic white, grey, or cream shades for most of your wall paint. Look for flexible flooring options like mid-toned hardwoods or neutral-hued carpets. When investing in major furniture pieces, choose neutral woods and fabrics in greys and tans that can fit into multiple color schemes.
J.Ellen Design recommends using an online color generator to find your ideal color scheme. These tools allow you to visualize your colors and find combinations that complement each other for a stunning look. If you are looking to create a serene beachy vibe, feature monochromatic blue hues to play off the ocean. For a rustic cabin look, think forest-inspired shades like browns and greens. If your vacation home is in an urban setting, bold colors can add to the dynamic vibe. Once you've landed on a color scheme, add colors in ways that are easy to switch out, but still make a splash. Paint an accent wall a fun hue, or add coordinating textiles to living spaces and bedrooms. Wall art, area rugs, and window treatments are all easy ways to add color and interest to neutral spaces.
Use your vacation home's area for local inspiration
The location of your new home away from home can be an awesome way to inspire your décor. Think about the cultural influences in the area that you can respectfully pay homage to in your interior design. Adding locally-inspired items that reflect this adds interest and shows your commitment to learning about your new home's community.
One of the best ways to do this is by sourcing items from local makers and artisans. Sue Layman Designs points out the many benefits of purchasing local products. These items are often hand crafted and one-of-a-kind, giving you a truly unique piece to add to your home. Finding fun places like markets and street fairs in your new vacation community can help you explore your new locale. By spending your home décor dollars locally, you are investing in the local economy and supporting small local businesses. Your new locally-sourced collection will fill your vacation home with interesting and statement-making conversation pieces.
Be mindful of maintenance when furnishing your property
The last thing you want to do is spend countless hours cleaning and maintaining your vacation home's furnishings. Even if you employ a cleaning crew, selecting items that are easier to clean will allow them to look great and last longer. Look for low-maintenance items that are easy to keep in great shape. Décor made of materials like metal and acrylic is simpler to clean and more durable than delicate glass items. This is especially important if you plan to rent out your vacation home. You want to be sure that your furnishings are damage-resistant and accident-proof.
When choosing upholstered furniture like sofas and armchairs, be mindful of the fabric you select. According to Chelsea Cleaning, synthetic microfibers are the easiest to keep clean. They also tout cotton and linen fabrics for their superior stain resistance. These experts say leather is the easiest material to maintain. Fabrics should be regularly cleaned according to their care instructions. You also might want to consider having a stain-resistant treatment applied that works for your choice.
Invest in durability for long-term use
It might be tempting to score a great deal on vacation home furnishings. However, you might find that a too-good-to-be-true price will leave you shopping for replacement pieces in no time. Investing a little more for quality, durable furniture can be worth it in the long run. Plus, you want it to be able to stand up to the rigors of visiting family or a revolving door of renters.
Remember, your home is meant to be an escape. Don't ruin the experience with cheap, uncomfortable furniture. "I think a sofa is important to spend some money on because you end up spending a lot of time on it," interior designer Natascha Folens told The Washington Post. This same logic can be applied to other purchases as well. Mattresses, dining chairs, and outdoor furniture will likely see a lot of use. Invest the time and money in pieces that are durable, sturdy, and comfortable.
Consider the climate when styling a vacation home
Your vacation home might be in an entirely different climate than your main residence. Keep the typical weather in mind when you are designing your space. If you are decorating a home in a tropical or desert climate, focus on cooling aspects and elements of design. Hang stylish blackout curtains to block out the blazing sun. Use cool surfaces like granite, and lightweight fabrics like linen, to beat the heat. Add plenty of ceiling fans to your space. Fans should be rotating counterclockwise to make your rooms feel as cool as possible, according to Lauren Urbanek of the Center for Energy Efficiency Standards, Climate & Clean Energy Program at the Natural Resources Defense Council (via NBC News).
If your vacation home is in a colder climate, add elements that create a warm vibe. A fireplace is an awesome focal point that can warm a space with comforting flames. If your property doesn't have a fireplace, you can buy an electric option in a variety of styles with multiple heat settings (via Portable Fireplace). Fill your space with plenty of throws in cozy fabrics, such as velvet and faux fur, for stylish ways to keep warm. Wood accents create character and charm, while LED candles can create a warm — and safe — atmosphere.
Add a personal touch
Adding a personal touch to your vacation property's décor makes it all yours. This adds your own unique style and personalized items make it a true home away from home. Custom touches like monogrammed towels and toiletry items are functional, but also feel luxurious. Framed family photos and personalized welcome signs show off your identity. Add a bulletin or magnet board to easily rotate photos both from home and your new vacation spot.
Aht Interiors tells the story of how they integrated a sentimental piece of artwork into a client's second home. The new vacation property owners had numerous treasured pieces of art from their home state that they wanted to display in their new space. The designers created a layout with the art in mind to make a truly dynamic display. This is a great strategy to apply to your own vacation home. Adding personal touches that tie your original home into your new destination property will instantly make it feel more familiar and comforting.
Keep décor flexible if renting is a plan
If you plan to rent your property to vacationers, some careful planning is needed to store certain items. First, you want to make sure your most precious and personal items are kept safe, especially if your renters include children and four-legged guests. You'll also want to create a more neutral vibe for those staying at your property. Staring at photos of your family and using your embroidered washcloths can give your renters an unwelcoming feeling. It's important to fill your spaces with personal items you love; however, it's also important to have a plan for these items during rental periods.
Rented points out that an owner's closet is an important part of a vacation home owner's plan. This should be a small hall, linen closet, or even a shed or garage, that can be locked. Try to provide renters with adequate storage space while having enough room to secure items that you don't want renters to have access to. This way, you can stow away personal and sentimental items, yet easily pull them back out when it's your time at the property.
Maintain a small seasonal stash
Depending on the times that you plan to visit your vacation property, it's a good idea to have a small seasonal decoration stash to add a festive vibe. Even a wreath and a few strings of lights can brighten up your vacation home for the holidays. Or, think about décor that isn't holiday-related, like summer-themed yard ornaments and fall foliage-adorned flags, that can stretch for a whole season. Having these on hand also allows you to create a welcoming feel for renters that visit during these times. It adds a special, thoughtful touch to a sometimes sterile renting experience.
Store your seasonal items in a way that's compact, organized, and easy to access. The Cleaning Authority suggests grouping your items by their specific holiday and using space-saving storage containers of the same dimensions. Label each bin with its contents so you can easily swap out décor as the seasons and holidays change.
Choose functional décor and furniture items
When browsing for furnishings for your vacation home, keep function at the forefront of your mind. You might have a smaller space than you are used to in your main home, meaning that each inch of storage space counts. It's also important to look for items that are highly functional with a small footprint. Nesting coffee tables, for example, are an awesome way to make the most of your area while being able to expand table space.
Coaster highlights the benefits of multifunction furniture for any size space. These pieces can be budget-friendly and fit multiple purposes, allowing you to maximize your budget and create flexible spaces. Storage ottomans provide a relaxing place to kick your feet up, but can also be used for storage. A bookcase can be used to store your favorite vacation reads, but adding a few decorative baskets gives remotes and other small items a home. And look for coffee tables with built-in drawers, ideal for stashing magazines, coasters, and small kids' toys.
Keep size and scale in mind
When it comes to decorating, "go big or go home" is not the magic mantra. Instead, carefully evaluate your space, and don't overfill it with too-big items. At best, your new vacation home will feel more cramped than relaxing. At worst, you'll sacrifice function, and could even create safety concerns. Filling your rooms slowly and patiently, then taking a step back to evaluate the remaining space, will give you orderly rooms that are decorated to scale.
Vibrant Living by Blakely recommends taking measurements of your rooms and current furnishings with you while shopping. Add them to a Google Doc or other automatically syncing app to update them as you fill your space. Make sure you have adequate space to move comfortably around the furniture set up in the room. A good rule of thumb is 36 inches of space for major walkways and 24 inches in minor ones. Before you invest in a piece of furniture, use painter's tape to create an outline of the dimensions on the floor. Move around it so you can get an idea of what it will look and feel like existing in the space.
Add flexible seating and sleeping items
Creating a vacation home for hosting or renting is all about accommodating guests. This includes having plenty of seating and lounge space. Stock up on high-quality folding or stacking chairs to easily increase dining spaces. Adding items like floor pillows, poufs, and bean bag chairs creates additional lounging spots. Make sure you are also mindful of your exterior living spaces, and purchase flexible outdoor seating options too.
You'll also likely need to accommodate extra overnight guests as well. Add a dual-purpose sofa bed to your living area, or an extra space in a bedroom. Circle Furniture suggests looking for high-performance fabric options that are comfortable and fit well in your space when unfolded. You can also stock up on high-quality air mattresses with integrated pumps for easy inflation (via CNET). Or, add a Murphy bed to your vacation home's office or dining room to instantly fold down an additional sleeping space. Don't forget to stock up on dedicated pillows and extra bed linens for each of your additional sleeping options.
Don't skimp on curb appeal
When decorating your new vacation home, give it the potential for a stellar first impression. Look for ways to refresh your front porch or patio for stunning curb appeal. Use paint in one of the accent shades from your color scheme to make an instant statement with your front door. Kline Home Exteriors suggests going with bold hues of yellow or red, or more subdued navy or hunter green. Clean up the trim, shutters, and any other outdoor surfaces, and apply a fresh coat of paint where necessary. When adding interior window treatments, be mindful of their outdoor appearance. A mismatched curtain look can be an instant curb appeal killer.
Landscaping can be tricky to maintain when you are considering a home that you don't live in full time. Concrete sculptures, limestone urns, benches and statuaries, stone pieces, or simple boulders are some of the alternatives to living scenery, landscaping expert Daniel McCurry told Real Homes. If you still want a touch of florals or greenery, consider adding a high-quality and realistic-looking wreath to your front door. This allows you to have a live-looking display year-round with zero maintenance requirements (via Today).
Create stunning outdoor spaces
If your property has one or more outdoor spaces, take it as an opportunity to create additional living spaces. These spots allow you to enjoy the climate of your vacation home, and it gives you even more spaces to gather. Style them while thinking of them as an extension of your interior design. As interior designer Scott Shrader told The New York Times, "I always start inside the house and work my way out," with the goal of achieving "an effortless flow from inside to outside." Maintaining this mindset while decorating will give you seamlessly married interior and exterior spaces on your property.
First, think about the function you would like your outdoor spot to serve. Maybe you want a spot for cozy outdoor dining. Or, would you love a space to lounge in the sun? If you host tons of gatherings, you likely need an area that's designed for a group. Furnish your outdoor spaces with this function in mind, keeping with the same interior rules of size and scale. Then, add some style to your outdoor furniture. Outdoor area rugs add tons of color and provide a focal point. Complementary throw pillows create a polished and comfy vibe. Don't forget to add some exterior lighting to illuminate your outdoor space after sunset.