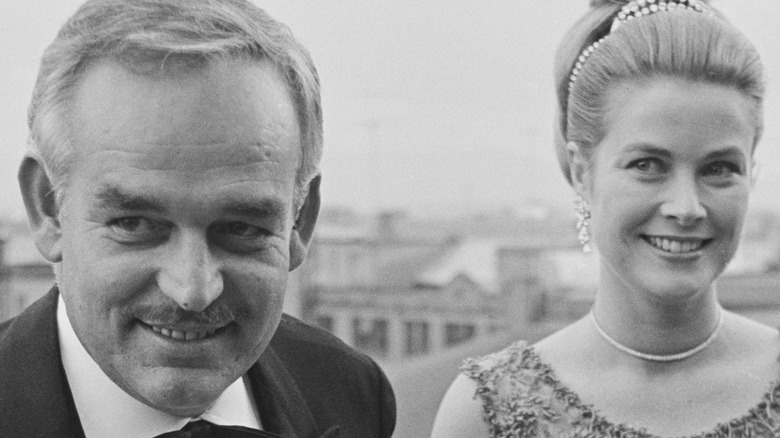 In many ways, Grace Kelly was the epitome of 1950s Hollywood glamour. With her iconic blonde hair and doll-like features, it's no wonder she became one of Alfred Hitchcock's muses in her early career. However, her career was relatively short-lived. After starring in films like "Dial M For Murder," "Rear Window," "To Catch a Thief" and "High Society" in the mid-1950s, Kelly gave up acting to marry Prince Rainier III of Monaco (via Biography). She left Hollywood and began her royal duties alongside her new husband.
While her story may sound like a real-life fairytale, Kelly wasn't always happy in Monaco. At first, she felt homesick and out of place, and later, she began to reflect on her lost career. Still, many accounts claim she and Rainier were a happy couple. However, other sources claim that Rainier wasn't always the caring husband he appeared to be. Here are some of the things you probably never knew about Grace Kelly and Prince Rainier III's 26-year marriage, which ended when Kelly was tragically killed in a 1982 car accident.
Grace Kelly and Prince Rainier III didn't quite meet by chance
Grace Kelly was a star on the cusp of a brilliant career when, on May 4, 1955, she met Prince Rainier III. As it turns out, the meeting was partially arranged by another actress, Olivia de Hallivand. The star and the couple's son, Prince Albert, later explained to People that de Hallivand was on a train to Cannes with her husband, Pierre Galante, editor of a Parisian paper. When the couple heard that Kelly was also on the train, Galante thought it would be great if the pair met.
Kelly agreed to a meeting before stepping off the train. However, the following day — the day of the meeting — didn't exactly go to plan. Kelly slept in, then, after showering, discovered Cannes had no electricity due to a strike. She swept her damp hair up into a bun, decorated it with flowers and pulled on a wrinkled gown. Rainier was also held up, so she was given a tour of the palace before he arrived. The prince showed her the estate's gardens and private zoo. "The atmosphere changed," Prince Albert said. "The couple relaxed." On the drive back, Kelly reportedly said he was "charming."
Rumor has it, Prince Rainier III married a Hollywood actress to save Monaco
While Prince Rainier III was undoubtedly charmed by Grace Kelly when they met, reports suggest that the prince was already looking for a Hollywood bride. In the '50s, Monaco wasn't exactly doing well. Tourism was low and, according to the Express, Rainier's advisors had allegedly suggested he should marry a Hollywood actress to "save Monaco."
In fact, according to The Telegraph, Rainier's friend, Aristotle Onassis, first suggested Marilyn Monroe as a suitable wife for the prince. And Monroe was allegedly convinced she could win Rainier's heart. "Give me two days alone with him," she reportedly said, "and of course, he'll want to marry me." However, she apparently wasn't interested in the match. Nevertheless, she was thrilled for Kelly when she tied the knot with Rainier. "I'm SO happy you found a way out of this business," Monroe allegedly wrote in a telegram on the day of her wedding (via Vanity Fair).
Grace Kelly reportedly married the prince to escape Hollywood
While Prince Rainier III of Monaco may have been searching for a high-profile wife to resurrect his country's economy, it seems that Grace Kelly was also searching for a way to escape Hollywood (via Vogue). Even in the early stages of her career, Kelly experienced many of the downsides of life in the spotlight.
For one thing, she was hounded and mistreated by the press. After winning an Oscar for "The Country Girl," Kelly's personal life was under constant scrutiny — especially her relationships with co-stars Clark Gable and Gary Cooper. She was also grossly underpaid. In "To Catch a Thief," for instance, she received a mere $5,000 while her co-star, Cary Grant, was paid $18,750. She was also paid only $750 a week for "Mogambo," while Gable was paid $5,000 a week.
According to Vogue, all of this meant that Kelly was eager to find a way out of Hollywood — and Rainier seemed like the perfect option.
Grace Kelly had to give up her savings for a dowry to marry Prince Rainier III
As the documentary "Grace Kelly: The Missing Millions" revealed, Grace Kelly didn't only have to give up her acting career to marry Prince Rainier III — she also had to give up a significant amount of money. Apparently, the actress was asked to pay a staggering $2 million dowry prior to the wedding (via Vogue). Kelly amassed the sum from her own savings and that of her parents.
According to royal commentator Wesley Kerr, Kelly's father was initially enraged by the request. "My daughter Grace doesn't have to pay anyone to marry her!'" he reportedly said (via Express).
Despite marrying into royalty, Kelly actually lost money in the end. All she had to her name at the time of her death was $10,000 and a small cottage in Ireland, which she had inherited from her grandfather. "What is so poignant about Grace Kelly's story is that she had to pay to become a princess," Godfrey told Insider. "Most people think of it as a fairy tale, going from Hollywood and suddenly being whisked off to a lot of wealth."
For a time, the royal couple corresponded solely through letters
After their initial meeting in 1955, Prince Rainier III and Grace Kelly kept in touch while keeping their affair as private as possible. This meant sending each other letters (via Monaco Tribune).
After seven months, Rainier came to the United States where he stayed in Kelly's family's Philadelphia home. It was here that the pair's relationship really took off. According to Kelly's close friend Judith Balaban Quine, "[They were] away from all public focus, walking in the woods, driving through the mountains and talking about life and values — and they fell in love" (via Yahoo).
For Kelly, it was this visit that showed her what life with the Prince would be like. "Everything was perfect," she once said (via Independent). "When I was with him, I was happy wherever we were, and I was happy with whatever we were doing." Rainier proposed during his trip and the engagement was announced at a press conference at the Kelly family home.
Grace Kelly was engaged to another man before marrying the prince
As it turns out, Prince Rainier III wasn't the only man in Grace Kelly's life in 1955. According to Livingly, Kelly was already engaged to fashion designer Oleg Cassini when she met the Prince. Apparently, Kelly's parents' disapproval meant that Rainier was the obvious choice. "Neither of her parents liked me," Cassini once said. "She kept seeing me despite her family's opposition, even suggesting we get married right away. She told me to find a priest who would marry us." Then, Kelly got sick and their plans were delayed. By the time she had recovered, Cassini believed that "her parents had talked her out of it." He went on, saying, "I didn't see her again until she called to tell me she was engaged to Prince Rainier."
According to the biography "Once Upon a Time: Behind the Fairy Tale of Princess," Kelly sometimes reflected on what life with Cassini may have been like (via Livingly). "Do you realize if my mother hadn't been so difficult about Oleg Cassini, I probably would have married him?" she allegedly said. "How many wonderful roles I might have played by now? That one decision [to marry Prince Rainier] changed my entire future."
The royal couple found their extravagant two-day wedding overwhelming
Grace Kelly and Prince Rainier III's wedding took place in April 1956. And, as you can imagine, the royal wedding was an extravagant event. As their son Prince Albert later told People, "It was such an incredible affair, and it's left such a mark on people." The celebrations began when Kelly traveled from New York to Monaco along with 50 family members and six bridesmaids. Upon her arrival, there were eight days of celebrations, culminating in a two-day wedding.
For the royal couple, though, the wedding proved to be overwhelming. "It wasn't fun and in the middle of the turmoil, Grace kept saying, 'Maybe we should run off to a small chapel somewhere in the mountains and finish getting married there,'" Rainier once told his biographer Jeffrey Robinson (via People). "I wish we had, because there was no way either she or I could really enjoy what was happening."
Becoming a princess and moving to Monaco was a difficult transition for Grace Kelly
For Grace Kelly, life in Monaco wasn't always a dream come true. In fact, after first moving away, she was homesick. According to the book "Once Upon a Time: Behind the Fairy Tale of Princess Grace and Prince Rainier" by J. Randy Taraborrelli, the prince once remarked, "It would have been better if she'd spent some time here with her parents before we married. Looking back, I was also probably too impatient that she should fit in and feel at ease."
According to biographer Wendy Leigh, Kelly wasn't just homesick though. In her book, "True Grace: The Life and Times of an American Princess," Leigh alleged that Rainier was repeatedly unfaithful and had three mistresses within months of their marriage (via Daily Mail). "Grace was humiliated and she was extremely unhappy," Leigh told the Daily Mail. "She was surrounded by decadence and Rainier's disreputable friends."
As Grace Kelly began to settle into life in Monaco, she was overtaken by a craving for privacy. She soon realized that life as a princess meant being constantly on display. "The one thing that she would talk about was time," biographer Jay Jorgensen told Closer Weekly. "She would say that she [wanted privacy] a little bit [with her husband] and just wanted to be alone with him for a while."
Prince Rainier's parents' separation made him eager to keep his family together no matter what
Some reports claim Grace Kelly wanted to get back to her career in Hollywood and potentially even get a divorce. Although the idea of marrying a prince may have seemed wonderful on paper, a friend of Kelly's, Judith Balaban Quine, said the princess eventually became disillusioned. "[Rainier] was her prince on a white charger and he was going to rescue her from all this," she began (via Independent). "He could not possibly have known that what he was taking her from was what made her the very person he loved. She did not know it either."
Nevertheless, as Rainier revealed in a 1974 interview, he was passionate about keeping his marriage intact. He was motivated, as he explained, by his own parents' marriage. "I think the experience of my parents' separation when I was only six has subconsciously made me very much want my own marriage to succeed," he confessed. He continued, saying, "We try to turn differences into jokes, and not give them more importance than they should have." Sounds like this royal couple learned how to get past their arguments as a team.
Grace Kelly and Prince Rainier III took a hands-on approach to raising their children
Grace Kelly and Prince Rainier III didn't simply let governesses and nannies raise their children. No, they were eager to be very hands-on and give them as normal a life as possible. "It is difficult for the children," Kelly told Image in 1979. "They are different whether they like it or not and, of course, they used to hate being different. When they went to school here in Monaco they wanted to be like all the other children."
Because the children were part of the royal family, Kelly felt she needed to be less lenient than she would have liked. "I have had to be a little sterner than the average mother," she said. "But of course, discipline must be tempered with humour." She was also sure to make sure her children felt loved.
Prince Rainier III never fully recovered from his wife's tragic death
In 1982, Grace Kelly was killed in a tragic car crash. Princess Stéphanie, Prince Rainier III and Kelly's daughter, was also in the vehicle and was left with numerous injuries, including broken ribs. The shocking and sudden death of the princess left the family devastated. During an interview with Graham Bensinger, Kelly's son, Prince Albert, opened up about the aftermath of the tragedy (via Daily Mail).
Stéphanie struggled to accept that she hadn't been able to save her mom. "Well, it took a very long time for her to recover from this and it was a very painful recollection for her, and it took a number of years for her to come to terms with that," Albert said. As for his father, he never really came to terms with his wife's death. "It was pretty obvious that he was deeply affected and he wasn't quite the same man as he was before the accident," he said. "It always takes a while for you to recover thanks to your other family members, to your friends, to the people who are dear to you and provide comfort."