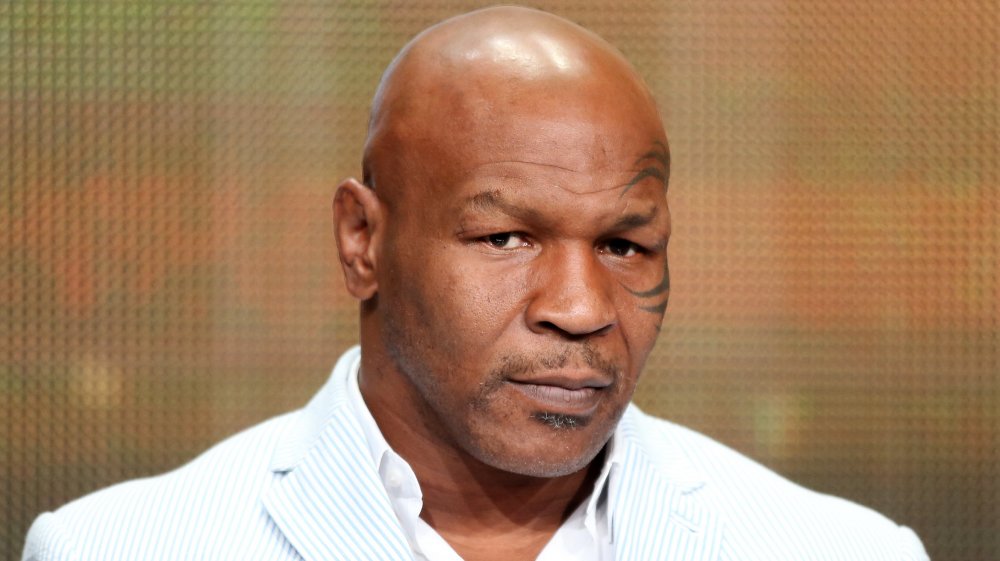 Mike Tyson made history on Nov. 22, 1986 at the age of 20 when he was crowned boxing's youngest heavyweight champion of the world. With all the attention on the sport's new king, Tyson's life did a complete 180. He was no longer living amongst underprivileged families in seedy neighborhoods in his native New York.
Pummeling the competition with his powerhouse uppercuts amassed him a fortune, and he didn't hesitate to blow it all on frivolous purchases, including $140,000 on two Bengal tigers and $2 million on a bathtub for his ex-wife, actress Robin Givens. "I don't care about money and stuff like that. If I cared about money, I'd be in a loony bin by now and would have done something ridiculous," he once said.
Those who know Tyson's history are probably rolling their eyes at that last statement because his boxing career was shrouded by nothing but "ridiculous" actions and manic behavior, including the time he bit off part of his opponent's ear, a violent road rage incident, and a rape charge that landed him behind bars for three years.
But despite his flaws, many are quick to offer up a dose of sympathy for the shrill-voiced athlete, especially when considering his traumatic upbringing. Brace yourself for the 1-2-3 combination of sadness, violence, and utter dysfunction that is the tragic real-life story of "Iron" Mike Tyson.
Addiction started tragically early for Mike Tyson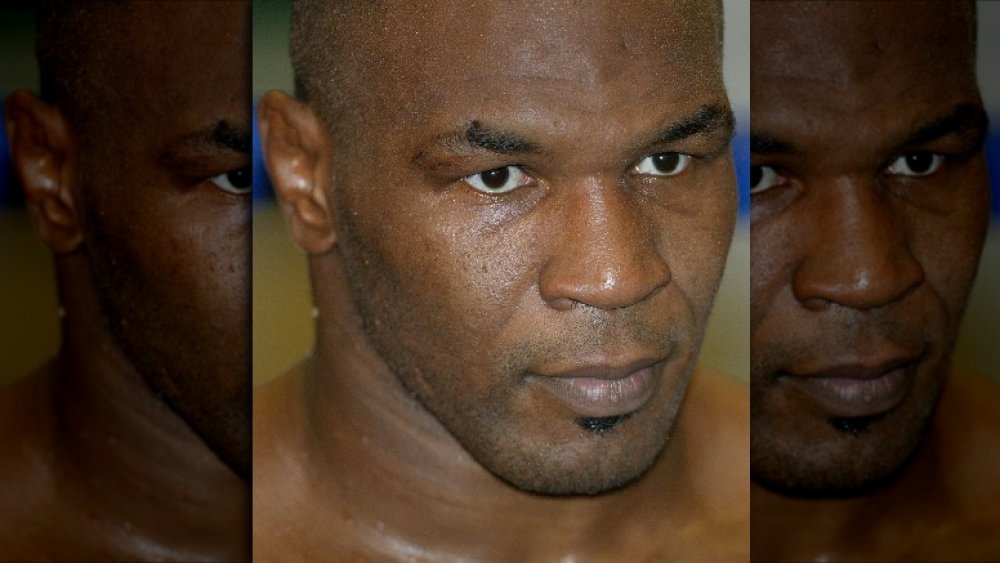 Before becoming a trained boxer, racking up titles in the WBC, WBA, and IBF, Mike Tyson lived with his mom and sister in Bedford-Stuyvesant, N.Y. And he was less than a year old when his vices began to take shape. "My mother would feed me liquor and drugs to get me to sleep," he told DNA India.
When his first boxing manager, trainer, and legal guardian, Cus D'Amato, died in 1985, Tyson was pushed to the point of no return. It was then that he began abusing drugs and alcohol to battle the grief, as he told Oprah Winfrey during a candid interview.
Later, while on Howard Stern's SiriusXM radio show, Tyson attempted to explain his addiction. "Think of it like this. Think about you're starving, you're absolutely famished. And that drug — heroin, cocaine — that's food," he said. Though he said he was "clean," he added, "This is a constant fight. Eventually that dark entity's going to knock on the door."
Dropping out of school was the start of Mike Tyson's downward spiral
Mike Tyson's behavioral issues began at an early age, as reported by People. For instance, in the eighth grade, he assaulted a teacher. Because of his behavior, he spent most of his time in special education classrooms before eventually dropping out of school entirely (via The Washington Post).
It wasn't until he was locked up behind bars and sentenced to ten years at the Indiana Youth Center after being convicted of raping a beauty queen that he finally had an incentive to obtain his General Equivalency Diploma. He was given a deal: If he passed the GED exam, they would shave three months off of his sentence, the New York Daily News revealed (via The Washington Post).
He ended up flunking the GED exam, but Tyson wound up getting released after three years for good behavior and was placed on probation, as reported by the The Washington Post.
Mike Tyson was a 'full-blown cokehead'
Mike Tyson first tried cocaine at the age of 11 and continued to abuse the illicit drug for many years. During his heyday, the dynamic pugilist was unmatched and unstoppable, and, little did we know, he was high on drugs most of the time.
So how did he manage to pass the sport's mandatory drug tests before his bouts? "I had to use my whizzer, which was a fake penis where you put in someone's clean urine to pass your drug test," he wrote in his biography, Undisputed Truth (via The Telegraph).
He went on to describe himself as a "full-blown cokehead" in his memoir, and he confessed that, during his June 2000 matchup against Lou Savarese, he had used "blow" and "pot" beforehand. He also confessed to using cocaine before a televised press conference with his opponent Lennox Lewis in January 2002, which led to an onstage brawl between the rival camps. Tyson ended the press conference by repeatedly grabbing his, ahem, package and hurling violent threats at a member of the press.
A traumatic assault
Mike Tyson told Opie Radio that he was 7 years old when an "old man" snatched him off the street and sexually assaulted him. Tyson said it was a one-time incident and he was able to escape from his attacker by running away. He didn't report the crime to anyone, and he never saw the man again. He kept the traumatic incident a secret for many years, telling the radio hosts, "It was nobody's business to know."
During the revealing and heartbreaking interview, one would assume the once-electrifying athlete hadn't fully come to terms with the assault. He stated he wasn't sure if the incident drastically changed him or not, but the memory of that frightening day would stay with him always. "I don't always remember … maybe I do, but I don't," he said, "I'm not embarrassed or ashamed of anything from that perspective."
Who was Mike Tyson's father?
In his one-man show, Mike Tyson: Undisputed Truth (via Buffalo News), the boxer stated he wasn't exactly sure who his real father was. A man named Purcell Tyson is listed on his birth certificate, but he knew Jimmy "Curly" Kirkpatrick as his father. "Curly was a pimp. Purcell was a humble Jamaican cab driver. I so desperately wanted to be the son of a pimp … because, in my neighborhood, that carries weight," he said during his show.
Nonetheless, Kirkpatrick would abandon Tyson when he was just 2 years old, according to DNA India. He eventually reappeared in 1991 — at the height of Tyson's boxing glory days. "He was always trying to explain what happened between him and my mother, but I wasn't interested," he told Playboy magazine (via ESPN). "By that time, I'd been through a relationship and had children and realized that people just don't get along sometimes. And sometimes kids suffer. It just happens. I always loved my father. I never held anything against him."
Kirkpatrick would eventually die from a heart attack in 1992 while Tyson was behind bars for the aforementioned rape charge. He was said to be "distraught and upset" over Kirkpatrick's passing, though he didn't ask for permission to briefly leave the facility so he could attend his dad's funeral, the Los Angeles Times reported.
Mike Tyson came from a 'dysfunctional household'
Describing his upbringing, the former heavyweight champion told TRACE magazine (via ESPN), "I came from a dysfunctional household," before describing some of the harrowing incidents that shaped his formative years. "Crazy s**t, like your mother's boyfriend trying to [molest] your sister. Or your mother getting [beaten up by her boyfriend] and as soon as the guy brings back some liquor and cigarettes, they're best friends again. You know what I mean? You never forget that kind of stuff," he said.
He went into greater detail about his traumatic childhood and an incident with a man his mom was involved with in an interview with The Guardian. "Eddie knocked out [my mom's] gold tooth and me and Denise [his sister] are screaming. But my mother's real slick. She puts on a pot of boiling water," Tyson said. "The next thing I know she's pouring boiling water over Eddie. He was screaming, his back and face covered in blisters."
He could still remember giving the man a quarter to help comfort him after his sister popped his blisters with a sterilized needle. He said the man used the money to buy alcohol for Tyson's mom. "He rewarded her for it. That's why I was so sexually dysfunctional," he said.
Back-to-back tragedies
Although his trainer Cus D'Amato became his legal guardian, Mike Tyson reconnected with his mom, Lorna Tyson, later in life. At that point, her health was declining as she was dying of cancer.
ESPN reported that Mike went to visit her in the hospital. Upon walking in, he saw flies buzzing all around her hospital room, pulled the covers over his ill mother, and left. "Never went back again," he told the publication. "I just partied every night."
Sadly, no one even bothered to call him when his mom died in 1981, and tragedy would soon come knocking again in 1990 when his sister, Denise Anderson, died of apparent cardiac arrest at the age of 24, The New York Times reported.
Let's recap: Mike lost his mother in 1981, his beloved trainer in 1985, his sister in 1990, and his father in 1992. Sadly, his dad's death wouldn't be the last time he lost someone close to him.
The unexpected death of Mike Tyson's 4-year-old daughter
In 2009, Mike Tyson's 4-year-old daughter Exodus was found dead in the Phoenix, Ariz. home she lived in with her mom and older brother. The child had reportedly been strangled by a cord connected to the family's treadmill, according to CNN.
Following his daughter's passing, Tyson told Oprah Winfrey he wasn't sure of what really happened on that fateful day, but, if he were to find out the truth, he could certainly point fingers at someone. "And if there's somebody to blame for it," he said, "there will be a problem."
The former boxer later shared on The Ellen DeGeneres Show that he really wanted to raise hell when he rushed to the hospital upon hearing the news. "Once I got [to the hospital] and saw other people there with either children who already died or were dying, they were handling it with dignity and I didn't want to be the psycho parent up there. I wanted to handle it with dignity, as well," he told the talk show host.
Mike Tyson said goodbye to his $400 million fortune
The Washington Post reported that the millions of dollars Mike Tyson earned during his career were spent on a bunch of lavish purchases, including six homes — one of which was a Connecticut estate with 61 rooms and 38 baths. He even splurged on Mercedes-Benz cars for his bodyguards and plopped down $410,000 on a birthday party for his then-wife, Robin Givens.
By 2003, Tyson had squandered his fortune, close to $400 million, and was forced to file for bankruptcy. He was in debt to the IRS, the British tax authorities, and a baby mama who was owed $51,949 in child support. The boxer's debt totaled more than $27 million, according to The New York Times.
"I have been in financial distress since 1998," he said at the time in an affidavit. "Since that time, although my fight income, various asset sales and litigation recoveries have enabled me to pay a lot of my debt, I am still unable to pay my bills."
Being bullied had a 'profound effect' on Mike Tyson
Two things that stand out about the erratic former athlete are his high-pitched voice and his lisp. As an adult, Mike Tyson's learned to embrace his speech impediment, and he even sold shirts that poked fun at himself. For example, one shirt read, "Thuns out guns out."
But as a child, the bullying was no laughing matter. Even after joining a street gang at the age of 12, his fellow gang members called him "Fairy Boy" because of his lisp, the BBC reported.
He later told GQ that, as a kid, the bullying became more than he could handle. "I was abused any way a human being could be abused as a kid. I've been bullied all the time; It had a profound effect on me. I wish it didn't but it's had a real profound effect," he said. "Being bullied, you contract a really disgusting terminal cancer in you. It's something you never forget."
The sad reason behind Mike Tyson's face tattoo
Mike Tyson popped up in 2003 with a massive tattoo on the side of his face. At the time, his behavior was becoming increasingly erratic, so most people attributed the new facial ink to his odd antics. It wasn't until a 2014 interview with The Guardian that he explained the true reason behind his body art. "I just hated myself then," he said. "I literally wanted to deface myself."
Initially, he wanted the tattoo artist to cover his face in stars. When the artist refused and suggested a Maori tribal design instead, Tyson rolled with it.
Even though he got inked during a low point in his life, he still has no regrets. "It looks awesome. That tattoo is me," he said. "In the beginning, some people were scared by it. But the bikers would shout out: 'Oh, that's beautiful man, great ink!'"
An alleged suicide attempt
During Mike Tyson and actress Robin Givens' ill-fated marriage, their relationship became the source of tabloid fodder. With rumors of alleged abuse, Tyson later admitted in the book Fire and Fear: The Inside Story of Mike Tyson that Givens was the recipient of the "best punch" he'd ever thrown in his entire life (via the Los Angeles Times).
Another alleged argument during the then-couple's one-year marriage occurred in 1988 when Givens chose to hang out at the U.S. Open instead of spending time with Tyson at his Upstate New York training site. Sources shared with the Daily News that Tyson allegedly told Givens, "I'm going to go out and kill myself" (via the Los Angeles Times).
Tyson later suffered a concussion and amnesia when he crashed his car into a tree outside a friend's home. When Givens showed up at his hospital room, sources said he reportedly told her, "I told you I'd do it. And as soon as I get out of here, I'll do it again."
If you or someone you know is having suicidal thoughts, please call the National Suicide Prevention Lifeline at 1-800-273-TALK (8255) or text HOME to the Crisis Text Line at 741741.
The trauma of their childhood was too much for the Tyson boys
While Mike Tyson chose a life of sports, jail, and rampant violence, his older brother, Rodney, chose a life in the medical field and became a surgical assistant. "I was used to living in a slum, in a condemned building. But my brother never talks about that. It must affect him," Tyson told The Guardian about his sibling.
When Tyson penned his memoir, Rodney didn't even bother to read the book. "He's just so far away from that world," Tyson said as an excuse, although he revealed he wasn't quite sure why his brother would avoid reading a story they both lived.
As for their relationship as brothers? It's practically non-existent. When he was asked how often they see each other, Tyson responded, "Not much. It's the really sad part about my family. We don't have a close connection. Too many demons, too much pain."