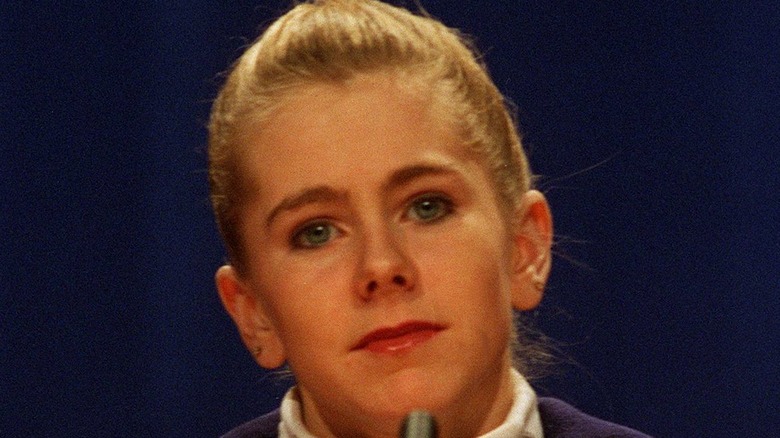 There are many ways in which an Olympic athlete could take things too far. Sure, you could mention any one of the many instances of cheating (doping cases included) throughout the 120-plus years of the modern Olympics, but they're seriously a dime a dozen. You could also note that Ryan Lochte and three other U.S. Olympic swimmers lied about getting robbed at gunpoint when they were actually throwing drunken tantrums at a gas station restroom. But putting all talk about Olympic spirit and PR nightmares aside, that sounds like a scene from a college fraternity movie where the actor playing the frat president is 32 years old. And let's not get started on events where the referees may have been favoring the hometown heroes or may have been on the take in some other way — take note that we're discussing Olympic athletes, not officials.
If you really want to talk about Olympians getting out of line, you'll need to get a bit creative. Yes, we're going to be talking about cheating scandals, but we shall focus on some of the most blatant and unique. We're going to look back on athletes who resorted to violence before or during the Games, may it be against their fellow competitors or against the officials. And we aren't going to exclusively focus on the Summer Olympics either — if that photo above wasn't enough of a spoiler. That all said, let's revisit some of those infamous Olympic athletes who went too far.
Fred Lorz predated Rosie Ruiz's Boston Marathon shenanigans by decades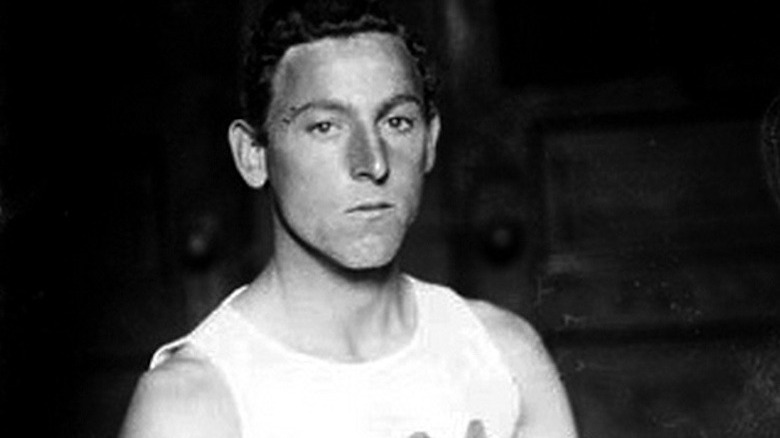 As documented by Smithsonian Magazine, the marathon at the 1904 Olympics in St. Louis was all sorts of bizarre, and much of it was thanks to one Fred Lorz, who dealt with severe stomach cramps once he reached the nine-mile mark. Tough luck, but nothing unusual, right? Wrong. Instead of graciously bowing out with almost two-thirds of the race remaining, Lorz hitched a ride in his coach's car (via History), waving at his fellow competitors as he rode for the next 11 miles before he started running again. You read that right — he was essentially the male Rosie Ruiz almost eight decades before the fact, but he took a shortcut in a totally different way than the woman who "won" the 1980 Boston Marathon.
Despite being ordered off the course at one point, Lorz kept on running until the finish line, where he was declared the winner. The joy over the fact an American had "won" was short-lived, however, as someone openly accused Lorz of cheating. But even as the crowd was booing him for his dishonesty, he explained that the whole thing was a joke and that he had no plans of accepting the gold medal anyway.
Ultimately, it was another American runner, Thomas Hicks, who ended up winning the marathon, albeit with the aid of strychnine. This marked the first documented instance in which an athlete used performance-enhancing drugs in the Olympics, though at that time, such substances were perfectly legal.
The 'Blood in the Water' incident of 1956
For the uninitiated, the water polo match between Hungary and the USSR at the 1956 Melbourne Olympics may look like two teams getting violent with each other simply because of one player's unsportsmanlike behavior. However, there were very serious geopolitical implications at play ahead of the match, as explained by Britannica; the Olympics were held shortly after a violent uprising against the pro-Soviet government in Hungary, so tensions between both nations were at an all-time high.
Given this backdrop, the Hungary vs. USSR match was especially intense and players from both sides were noticeably chippy and aggressive. Things really went off the rails with Hungary enjoying a comfortable 4-0 lead in the closing minutes of the game. At that point, Soviet player Valentin Prokopov head-butted Hungary's Ervin Zador, causing the latter to bleed from a cut under his right eye. A massive brawl instantly broke out in the swimming pool, with some Hungarian fans going as far as to leave the stands and confront the Soviet team. Riot police had to intervene in order to break things up, and the match was called in favor of Hungary — which eventually won the gold.
The incident — dubbed as "Blood in the Water" — left a lasting mark on Hungary's water polo players, including Zador, who was one of several Hungarian Olympians to defect to the U.S. soon after Melbourne, per Sports Illustrated.
Tonya Harding takes a fierce rivalry to the next level
It was an incident so scandalous that almost 25 years after it happened, we got a movie about it, with Harley Quinn and Bucky Barnes playing the lead roles. In the early 1990s, American figure skaters Tonya Harding and Nancy Kerrigan had a fierce rivalry on the ice, though it was only in 1994 when one of these women — you should know who it is by now — went too far. On January 6 of that year, less than two months before the Winter Olympics in Lillehammer, Norway, Kerrigan was clubbed in the right knee with a metal baton while she practiced at Detroit's Cobo Arena. As noted by Biography, it was later revealed that the attacker and his uncle, who drove the getaway car, were both hired by Harding's then-husband, Jeff Gillooly, and her bodyguard, Shawn Eckardt.
With her top rival out of the way, Harding won gold at the 1994 U.S. Figure Skating Championships and earned an Olympic spot; Kerrigan was also offered a spot despite the fact the attack left her injured and unable to compete at the event. Meanwhile, Gillooly and Eckardt both confessed to helping orchestrate the crime, and as it became clearer that Harding was also involved, she only finished eighth at Lillehammer, with many fans suggesting that her subpar finish was "karma." (Kerrigan ended up with a silver medal.)
After Harding pleaded guilty to the charge of conspiracy to hinder prosecution, she was banned from competition for life by the U.S. Figure Skating Association and her 1994 national championship victory was revoked.
This taekwondo athlete got banned for attacking a referee
Bad guys in wrestling have it easy. Attack an official, get suspended and/or fined in storyline, return a week or two later for more in-ring cheating and referee-baiting. But if you're an actual martial artist competing in the obviously non-scripted Olympics, the punishment is far more severe. Just ask Cuban taekwondo athlete Angel Matos, who won the gold medal in the men's over-80 kg (176 pounds) division at the 2000 Sydney Olympics (as pictured above) but found himself in boiling hot water eight years later at Beijing after taking a page from the pro wrestling heel playbook.
As reported by The New York Times, Matos was disqualified from his bronze medal match at the 2008 Games after he took too long to return from an injury timeout. Upset over what he felt was an unfair decision, Matos pushed one of the judges and ran toward the referee, kicking him in the face. He then spat on the mat before he was escorted out of the arena.
Following the match, the World Taekwondo Federation announced that Matos and his coach, Leodis Gonzalez, were both banned for life from all of the organization's sanctioned competitions. Furthermore, all of Matos' records from the 2008 Games were immediately expunged for his "strong violation of the spirit of taekwondo and the Olympic Games."
Tanking comes to the Olympics
In sports leagues that have annual rookie drafts, tanking has become a commonplace — and very controversial — practice. It entails doing everything short of deliberately losing games in order to finish the season with a poor enough record — and a good enough chance to end up with the top draft selection. The 2012 London Olympics saw another, more blatant form of tanking take place, and it involved four women's badminton doubles teams who tried to game the system in their favor by losing on purpose.
How, pray tell, was that possible? Without getting too much into the complex details, the four teams — two from China, one from Indonesia, and one from South Korea — were disqualified for allegedly throwing their matches so that they could face easier opponents in the tournament's later rounds. The audience quickly caught on to what was happening; fans booed and jeered the players for their subpar performances, which often involved serving the shuttlecock toward the net (via CNN). Officials also seemed to notice something fishy was going on, as they gave multiple warnings to the athletes involved in the scandal.
To nobody's surprise, the tank-a-palooza at London led to significant rule changes ahead of the 2016 Games in Rio de Janeiro, with countries now limited to fielding no more than two pairs in badminton doubles, down from a maximum of three, according to Sports Illustrated.