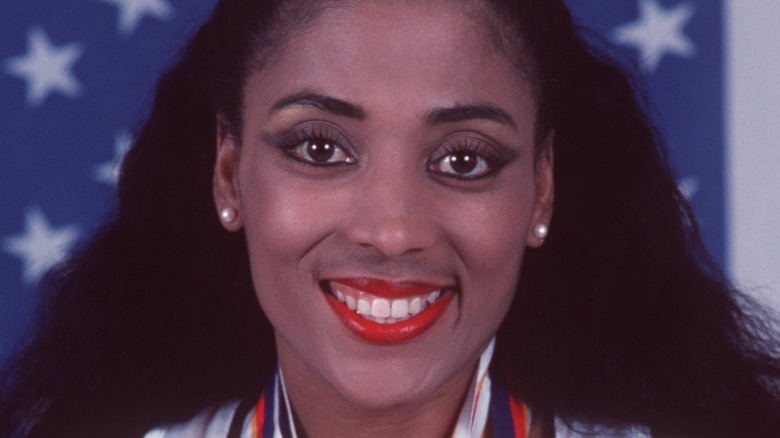 Competing at the Olympics (let alone winning a coveted gold, silver, or bronze medal) brings an athlete a certain kind of immortality. Only a tiny percentage of people who ever walk the earth have the talent, drive, temerity, and training to make it to and then succeed at the quadrennial Olympic Games. After that, they belong to the ages — they're not only a successful sportsperson but an Olympian, evoking the Greek history and mythology with which the modern games are deeply intertwined.
But such immortality is not actual immortality, unfortunately. While Olympic-level athletes have conquered their bodies and pushed themselves to the absolute physical limits of the human form, these athletes are still people, and people tend to die, no matter who they are. Here are some athletes who made headlines and had their own dreams come true when they competed in the Olympics and died without the fanfare they most likely deserved.
Leon Spinks medaled in Montreal and then beat Muhammad Ali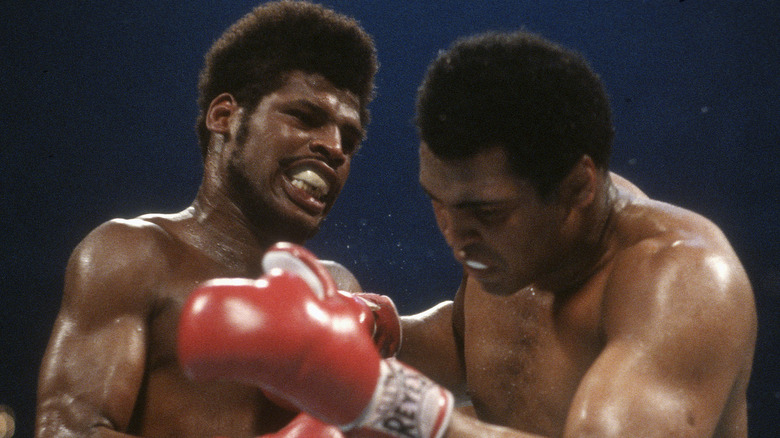 Obviously, he was a good enough boxer to make it onto the U.S. Olympic team for the 1976 games in Montreal, but Leon Spinks became an overnight sensation when he rose from obscurity to take home the gold medal in the light-heavyweight division that summer, according to The New York Times. (His brother, Michael Spinks, who'd contend for a title against Mike Tyson in 1988, won gold in the middleweight class at the '76 Olympics.)
One of the breakout stars of the Olympics, Leon Spinks turned pro soon after and fought in only seven professional bouts — winning six of them and battling to one draw — before major promoter Bob Arum set him up to fight the legendary Muhammad Ali in Las Vegas in February 1978. In one of the greatest upsets in sports history, Spinks beat Ali, then lost to him in a rematch later that year. He retired from boxing in 1995.
In December 2019, Spinks' family announced that the former boxer was undergoing treatment for cancer, which had originated in the prostate and spread to the bladder. Spinks died in February 2021 in Nevada at the age of 67.
Rafer Johnson was a decathlon champion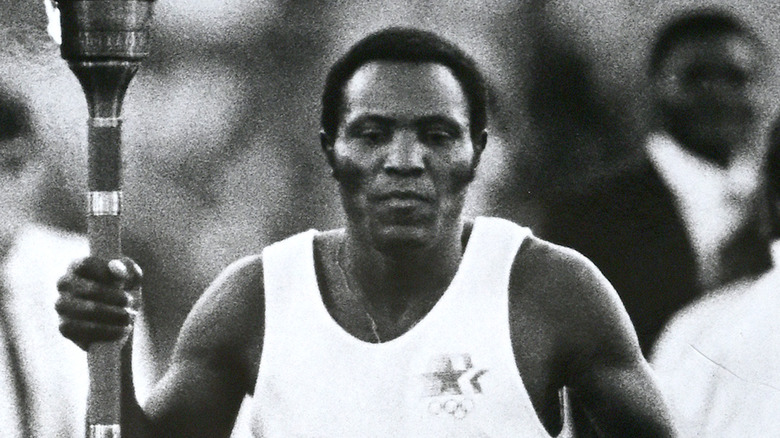 Winning the decathlon is such a complete and varied display of strength, speed, and agility that whoever wins it at the Olympic level earns the unofficial title of "World's Greatest Athlete." Because of that, Rafer Johnson was once the undisputed greatest athlete on the planet. According to the Associated Press, Johnson won the American national championship in the event in 1956, the same year he won a silver medal for the decathlon at the Summer Olympics in Melbourne, Australia.
Four years later, he was so prominent, and hopes were so high for Johnson that he was Team USA's flag bearer in the opening ceremonies for the 1960 Summer Olympics in Rome, where he'd win the gold medal in decathlon. In one final and profound display of what Johnson meant to the Games, he lit the Olympic cauldron at the 1984 Summer Olympics in Los Angeles, symbolically giving the go-ahead for the event to proceed. Johnson even helped form the Special Olympics, both the overarching organization and the California chapter. In 1998, ESPN named him one of the 100 Top North American Athletes of the century.
According to a friend of the family, Johnson died at home in Sherman Oaks, California, in December 2020. He was 86.
K.C. Jones was a basketball legend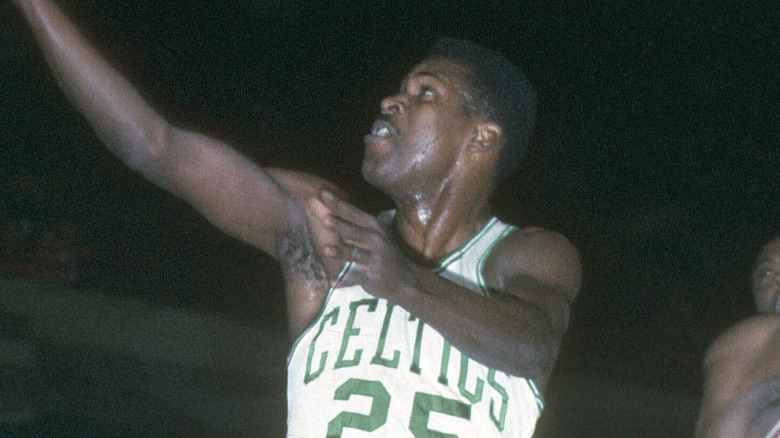 No matter what level of basketball, or his role in the organization, K.C. Jones had a knack for winning championships. An inductee into the Naismith Memorial Basketball Hall of Fame, Jones played in the NBA from 1958 to 1967, and in those nine seasons, all of them for the Boston Celtics, he helped win eight championships. As a coach, he won three more titles, one as an assistant for the Los Angeles Lakers and two as a head coach in the 1980s for the Celtics, according to ESPN.
Jones was a master of amateur hoops, too. He helped lead the University of San Francisco to national championships in 1955 and 1956, and shortly after that second one, he won a gold medal when he played for the U.S. basketball team at the Summer Olympics in Melbourne, Australia. Jones is one of just eight people to win an NCAA title, an NBA ring, and an Olympic gold medal.
In December 2020, Jones' family (via US Day News) announced that the athlete, who had been treated for Alzheimer's disease over the previous few years, had died. Jones was 88.
Florence Griffith-Joyner was one of the fastest women on Earth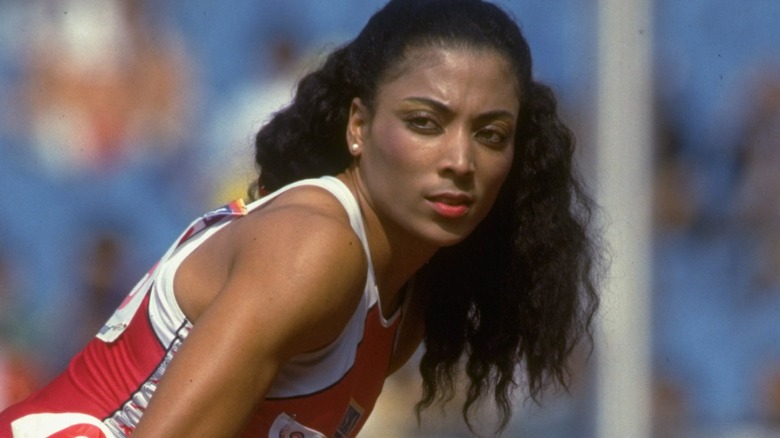 At age 19, according to her Olympics bio, Florence Griffith quit a promising career as a sprinter to get a job as a bank teller, which is where running coach Bob Kersee discovered her and brought her back into UCLA, and the school's track and field department. By age 24, Griffith was competing in the 1984 Summer Olympics in Los Angeles, winning a silver medal in the 200-meters (as well as a lot of media attention for her extra-long and elaborately painted fingernails). She'd also pick up the nickname "FloJo" after marrying Olympic triple-jumper Al Joyner and going by Florence Griffith-Joyner.
FloJo solidified her legend at the next games, the 1988 Summer Olympics in Seoul, South Korea. She won three gold medals, including the 100-meters and 200-meters events for which she set long-standing world records, plus another first-place finish in the 4×100 relay and a second-place result in the 4×400 relay.
According to the Chicago Tribune, Griffith-Joyner died in her Mission Viejo, California, home in September 1998. The Orange County coroner ruled that she suffered a seizure related to epilepsy, which then caused her to suffocate. FloJo was 38 years old.
Lee Evans set records on the track and protested on the medals stand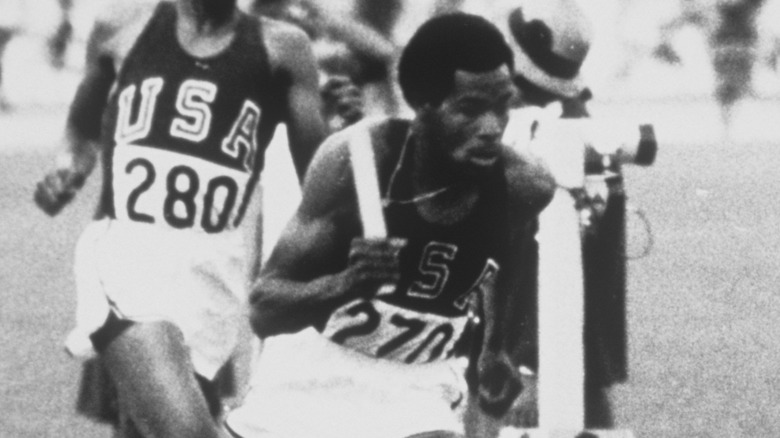 Lee Evans made Olympics and sports history in under a minute. At the 1968 Summer Games in Mexico City, according to the Los Angeles Times, he became the first person to run the 400-meters in less than 44 seconds. Evans' track teammates Tommie Smith and John Carlos famously raised their fists, the Black Power salute, on the medals stand after proving victorious in their events and were sent home for it. Warned by officials to not try anything similar, Evans took the medals podium wearing a black beret — like those worn by the countercultural revolutionary group the Black Panthers. He also gave the Black Power salute but remained in Mexico City, where he then led the 4×400-meters relay team to a gold medal and record-setting time of 2:56.16.
Evans also won five national championships in the 400-meters and was inducted into the U.S. Olympic Hall of Fame, coached track at several colleges, and served as director of athletics for the Special Olympics.
In recent years, Evans had moved to Nigeria to work as a high school track coach. In May 2021, he suffered a stroke and died a week later. He was 74.
Mike Pavelich and Bob Suter were part of the 'Miracle on Ice'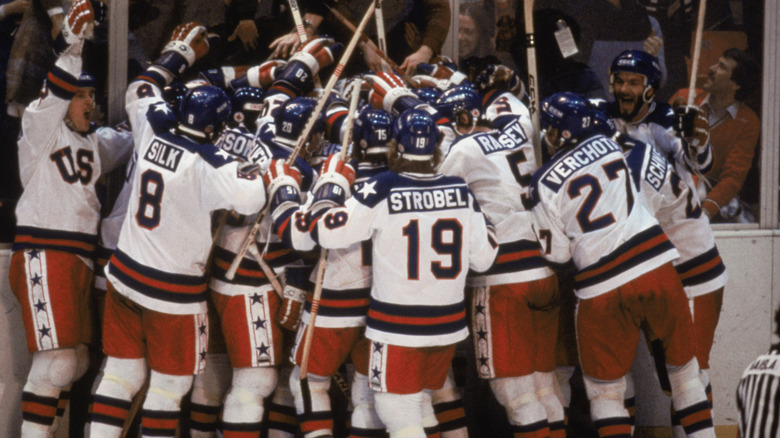 The United States men's hockey team's victory over the Soviet Union squad in 1980 was so improbable that it became known as the "Miracle on Ice." That's in part due to the deliriously excited call from sportscaster Al Michaels rhetorically asking "Do you believe in miracles?" and partly because the U.S.S.R. had won four gold medals in hockey, the last in 1976. Team USA beat team U.S.S.R. 4 to 3, then went on to defeat Finland to win the gold medal themselves.
Defenseman Bob Suter was a crucial part of that collective, joining the Olympics team after leading the University of Wisconsin to a 1977 national championship. Suter went on to be drafted into the NHL but never made it past the junior hockey farm-team level and eventually became a scout for the Minnesota Wild. According to The Hockey News, he died in September 2014 at age 57, reportedly of a heart attack.
Mark Pavelich notched an assist on the goal that boosted the U.S. over the U.S.S.R., according to The Guardian. The University of Minnesota Duluth All-American went on to play in the NHL, but struggled personally in the 2010s. He sold his gold medal for $250,000 in 2014 and in 2019 was charged with felony assault for attacking a neighbor, although a judge ruled he wasn't capable of standing trial because of mental illness issues. Pavelich's body was discovered in March 2021, and a medical examiner ruled that the cause of death was suicide by asphyxiation. He was 63.
If you or someone you know is struggling with mental health, please contact the Crisis Text Line by texting HOME to 741741, call the National Alliance on Mental Illness helpline at 1-800-950-NAMI (6264), or visit the National Institute of Mental Health website.
If you or anyone you know is having suicidal thoughts, please call the National Suicide Prevention Lifeline​ at​ 1-800-273-TALK (8255)​.
Wilma Rudolph set new standards in sprinting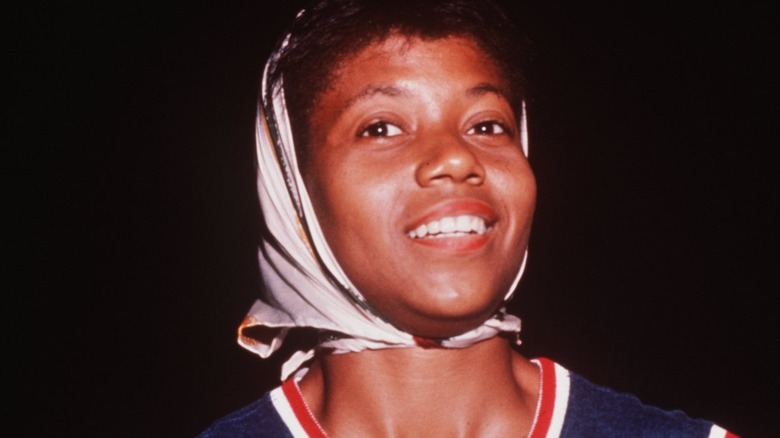 The toast of the 1960 Summer Olympics in Rome: American sprinter Wilma Rudolph. She walked away from the Games with the title and nickname "the fastest woman in the world," according to ESPN, and with good reason. Rudolph won three gold medals during a single Olympics, the first American woman to ever do that, and she did it while running about as fast as anyone had to that point in history.
In a semifinal for the 100-meters, she tied the world record of 11.3 seconds, and in a heat for the 200-meters, Rudolph set a new benchmark, requiring just 23.2 seconds to cross the finish line. Rudolph also helped the 4×100 relay team take gold with a time of 44.5 seconds, just shy of the 44.4 second record which the team set in a run-up heat. Rudolph was just 20 years old when she accomplished all this — and she'd won a bronze medal as part of the relay team at the 1956 Summer Olympics in Melbourne, too.
After her own Olympic feats, Rudolph coached other Games-bound runners and served as a track coach at DePauw University. She died tragically and relatively young, however. In 1994, Rudolph died in Nashville from the effects of brain cancer. She was 54.
Kelly Catlin dominated track cycling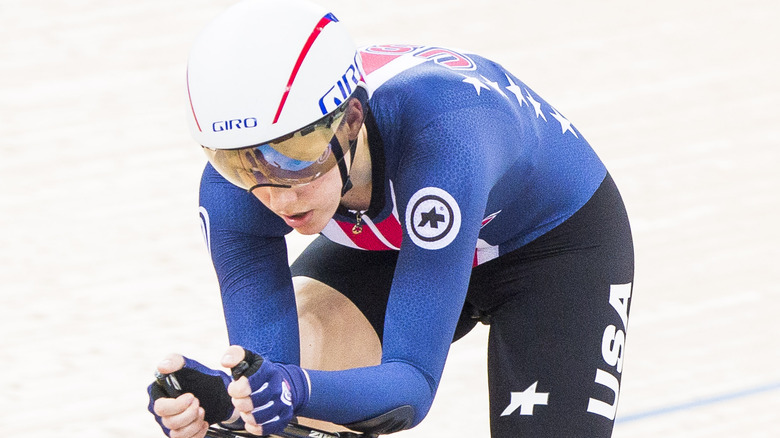 In the Olympic cycling event called team pursuit, two teams of riders speed around a velodrome, a curved and banked indoor track. One of the best to ever participate in team pursuit: Minnesota native Kelly Catlin. According to the StarTribune, she took up cycling at age 17 because a bike was the only exercise she could handle after suffering painful shin splints from running track and playing soccer. Amazingly, four years later, Catlin was cycling at the Summer Olympics in Rio de Janeiro, where she won a silver medal to go along with three straight world championships, according to NPR.
Catlin suffered from physical and mental health problems in the years after her major sports accomplishments. In two separate accidents in late 2018, she broke her arm and suffered a concussion. Her coaches urged her to withdraw from the 2019 Track Cycling World Championships to focus on her health, following a suicide attempt. On March 7, 2019, Catlin committed suicide, according to her family. She was 23.
If you or someone you know is struggling with mental health, please contact the Crisis Text Line by texting HOME to 741741, call the National Alliance on Mental Illness helpline at 1-800-950-NAMI (6264), or visit the National Institute of Mental Health website.
If you or anyone you know is having suicidal thoughts, please call the National Suicide Prevention Lifeline​ at​ 1-800-273-TALK (8255)​.
Lam Jones ran track and played pro football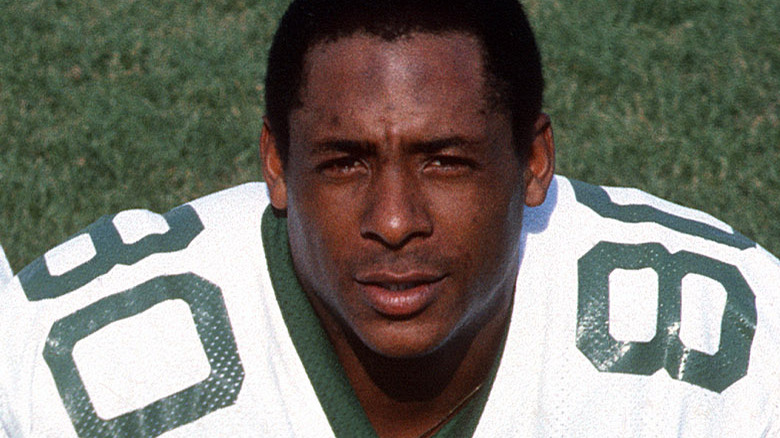 Because he grew up in Lampasas, Texas, according to USA Today, coaches called Johnny Jones "Lam," a word that also means "on the run," suitable for one of the fastest men on the planet in the 1970s. At age 18, Jones landed a spot on the U.S. track and field team and competed in the 1976 Summer Olympics in Montreal. As part of the 4×100-meter relay squad, per ESPN, Jones won a gold medal. (He also competed in the 100-meters, where he finished in a respectable sixth place.)
Jones was among the rare athletes to find success in two disciplines. Applying his running skills and abilities to professional team sports, he joined the New York Jets after the team drafted him with the second pick in the 1980 draft — he was a standout in the late '70s for the University of Texas, following his successful Olympics quest. Jones ran fast and caught long passes as a wide receiver for five NFL seasons.
In March 2019, the University of Texas announced that Jones, who had been diagnosed with cancer some years earlier, had died. He was 60 years old.
Milkha Singh was a pioneer in Indian athletics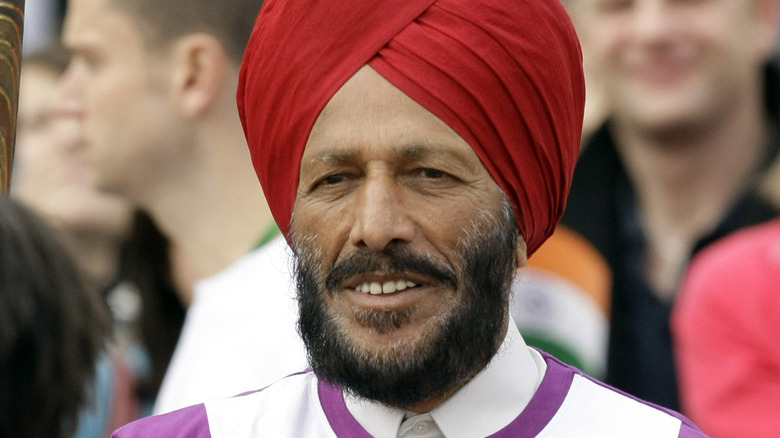 Mid-century Indian track star Milkha Singh was popularly known as "The Flying Sikh." An adherent of the faith (who grew up under persecution for his beliefs, according to the BBC, in the wake of the India-Pakistan partition drawn largely on religious lines), he was so fast, it was as if he could soar.
At the 1958 Asian Games in Tokyo (an Olympics precursor), Singh won two gold medals, including one in the men's 400-meters. A month later, he ran for India at the Commonwealth Games, a mini-Olympics for countries part of or formerly part of the British empire. In the 440-yards event, Singh took first place, securing the first-ever medal for India in that sporting spectacle. Two years later, he became the first man from India to make it to an Olympic final when he ran in the 400-meters at the 1960 Summer Olympics in Rome. Singh came in fourth place during an amazing race in which the first four guys across the finish line all broke the world record, according to USA Today. He returned to the Olympics in 1964 as part of India's 4×400 relay team.
In June 2021, Singh was one of the celebs who died of complications related to the COVID-19 virus, a few days after his wife, former Indian national volleyball team captain Nirmal Kaur's death. Singh was 91 years old.
Swimmer John Konrads charmed Australia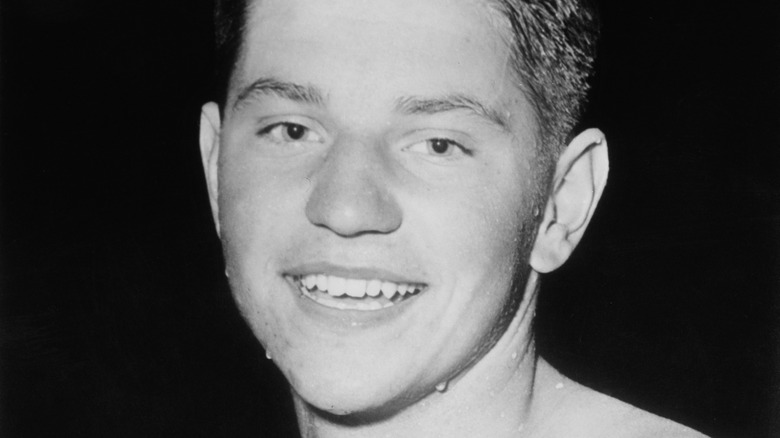 Swimming is considered a major sport in Australia, and the nation has produced many champions over the decades, including brother and sister John and Ilsa Konrads, affectionately nicknamed "The Konrads Kids," according to The New York Times.
At the 1958 Commonwealth Games, John took home three gold medals, and Ilsa won first place in the 440-yard freestyle. That was merely a warmup for the 1960 Summer Olympics in Rome. At just 18-years-old, John Konrads won bronze medals in the individual 400-meter freestyle and for swimming with the 4×200 freestyle relay team, not to mention a gold medal in the 1,500-meter event. Meanwhile, 16-year-old Ilsa earned a silver medal as part of Australia's women's freestyle relay squad. By virtue of winning more medals, John Konrads briefly became the very face of swimming and the Games, with The New York Times dubbing him "the wonder boy of the 1960 Olympics." Both Konrads siblings were inducted into the International Swimming Hall of Fame in 1971.
In April 2001, according to Sport Australia Hall of Fame, John Konrads died after a long illness. The swimmer was 78.
Sarah Tait was an elite Olympic rower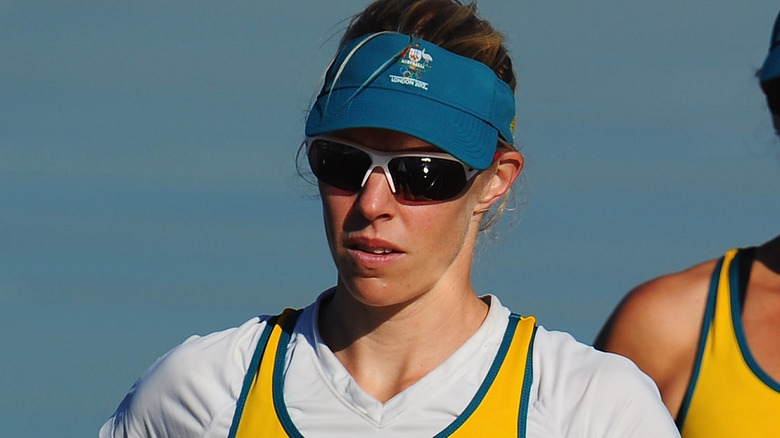 Sarah Tait was among the most accomplished athletes to ever participate in the tough and competitive world of international-level rowing. In 2004, she was part of the eight-woman rowing team for her home nation of Australia at that year's Summer Olympics in Athens and captained the same squad at the 2008 Summer Olympics in Beijing. In both instances, the Australian crew finished in sixth place.
According to The Guardian, Tait fared well at the World Rowing Championships, winning a gold and silver medal at the event in 2005 and a bronze in 2011. Finally, at the 2012 Summer Olympics in London, as part of a two-person rowing crew event with Kate Hornsey, Tait captured a silver medal.
In February 2014, Tait had to step away from the sport in order to focus on treating cervical cancer, facing a diagnosis she had received in March 2013. Tait died in March 2016 at the age of 33.