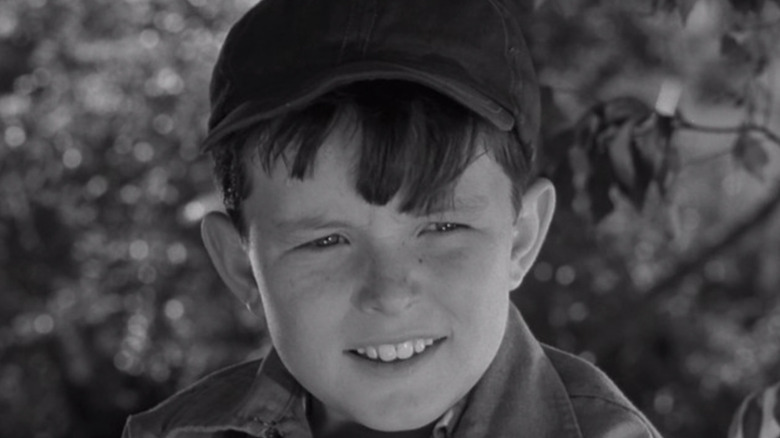 "Ward, I'm worried about the Beaver." No, there's not an actual beaver involved. "The Beaver" is simply the nickname for Theodore Cleaver, the main character of the 1957-1963 family sitcom "Leave It to Beaver." The nickname is derived from Beaver's older brother, Wally, being unable to pronounce "Theodore" correctly at the time of Beaver's birth. Whenever Beaver's mom, June (the late Barbara Billingsley), went to her husband, Ward (played by the late Hugh Beaumont), with concerns about their son, viewers knew they were in for some sort of "golly, gee" predicament poor Beaver had inevitably gotten himself into — and that dear old Dad would have to fix.
We can look back on "Leave It to Beaver" as a quintessential image of mid-20th-century aesthetics — the good, which changed television forever, and the cringe, which wasn't OK then and isn't now. On the one hand, the show's sitcom format was foundational for the genre in a way countless other shows have emulated since. On the other hand, its rosy-tinted, picture-perfect suburban America was a filtered view, one in which its citizens were overwhelmingly white and gender roles were unwaveringly rigid.
With "Leave It to Beaver" airing in the infancy of television itself, many decades have passed and much of its adult cast has unfortunately passed away. However, since the show focused so prominently on children, many of its cast members were quite young at the time the show aired and are still alive today. Let's take a look at who's still around from the show.
Jerry Mathers (Theodore Beaver Cleaver)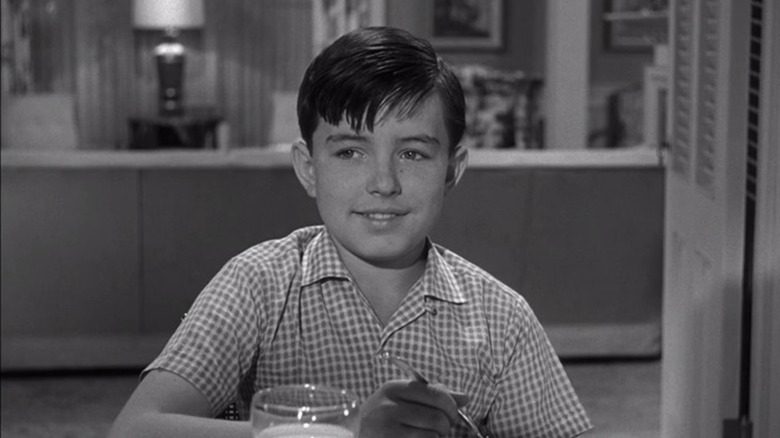 "…and Jerry Mathers as the Beaver," the sitcom's radio-esque announcer concluded every episode's introduction. Born in 1948, Mathers grew from age 9 to 15 before viewers' eyes over the course of the six seasons "Leave It to Beaver" aired. Audiences saw the Beaver go from facing typical childhood problems, like being forced to wear undesirable clothing sent by a frumpy aunt, to teenager problems, like asking out girls. No matter the scale of the issue, every predicament felt like the end of the world in Beaver's eyes, but it usually wasn't anything that couldn't be solved by a good heart-to-heart with one of his supportive family members.
Mathers hasn't been shy in returning to the role of Beaver Cleaver over the years. He reprised the character in the 1983 made-for-TV movie "Still the Beaver" and in a 1984-1989 revival series, "The New Leave It to Beaver," which depicted Beaver as a dad navigating parenthood and reunited many of the original show's cast members. Seemingly always game for anything "Beaver"-related, Mathers, along with his former co-star, Tony Dow, and none other than Donald Duck also encouraged citizens of the '80s to register to vote in what will be the most bizarre video you watch all day. Mathers has appeared occasionally in movies and in guest roles on various TV series here and there, but after all this time he's still most known for the character that kickstarted his career, Theodore Cleaver.
Tony Dow (Wally Cleaver)
Beaver was close with his older brother, Wally, played by Tony Dow. Wally was always there whenever his brother needed advice, a cover-up story to tell their parents to keep him out of trouble, or protection from the mischief of the local bullies, including Wally's trickster pal, Eddie Haskell (played by the late Ken Osmond). Dow was born in 1945 and is still alive today.
Dow readily returned to the franchise for its later incarnations, including the TV movie "Still the Beaver" and the follow-up series "The New Leave It to Beaver" in the '80s. Dow even appeared as a parodied version of Wally in the Zucker brothers' 1977 movie "Kentucky Fried." Still, being defined as Wally Cleaver was something Dow resented for a while. Speaking to "CBS Sunday Morning" in January 2022, Dow said, "It's sad to be famous at 12 years old … and then you grow up and become a real person and nothing's happened for you." Dow continued, "I felt that way probably from the time I was 20 maybe until I was 40. Then at 40, I realized how great the show was, how appreciative I should be for being in that show."
While today Dow spends much of his time creating burlwood and bronze sculptures, he's tried his hand at other creative endeavors over the years, including visual effects work on the 1996 "Doctor Who" movie and directing an episode of "Star Trek: Deep Space 9."
Rusty Stevens (Larry Mondello)
Whenever Larry Mondello came around the Cleaver household, his arrival could only mean one thing: trouble. Unlike Wally's best friend, Eddie, who instigated conflict intentionally, Beaver's best friend, Larry, seldom meant to cause problems, but simply never saw the error in his ways. He'd inevitably wind up causing some sort of ruckus and usually dragged Beaver into the mess by association. Drilling a hole in the garage, peer-pressuring Beaver into smoking Ward's pipe, attending the fair with money stolen from Larry's mom… Larry was just bad news, even if he pleaded innocent every time, and never really learned his lesson. Larry only appeared in the series for the first three seasons but was a frequently recurring character within those first few years.
The actor who played Larry, Robert "Rusty" Stevens, was born in 1948 and is still alive today. Stevens' acting work mostly stuck to the era surrounding "Leave It to Beaver." He appeared in guest roles on various other shows of the '50s and '60s, including "Shirley Temple's Storybook" and "My Three Sons," among others. Beyond the '60s, his only and most recent acting credits are reprising his role as Larry for the made-for-TV movie "Still the Beaver" and two episodes of "The New Leave It to Beaver" in the '80s.
Stephen Talbot (Gilbert Bates)
With Beaver's friend and frequent mischief accomplice Larry Mondello absent from the second half of the series, the "Leave It to Beaver" crew needed someone new to initiate the narratives of Beaver's typical misunderstandings and mix-ups. That character was Gilbert, who mostly appeared in later seasons of the show. Gilbert was a little wiser than the oblivious Larry, but not as much of a disruptor as Wally's friend, Eddie. He landed somewhere in between; he genuinely didn't want to cause any harm in any given scenario, but was willing to bail and throw you under the bus if things go sideways. Since he appeared in the back half of the sitcom's run, Gilbert often accompanied Beaver in some of his more mature misadventures, like persuading Beaver to spend his birthday money on a car, as compared to the boyish predicaments of earlier seasons.
An actor named Stephen Talbot portrayed Gilbert. Talbot, born in 1949, has since gone on to have a prolific career not just as an actor, but as a writer, producer, and director, especially of documentaries. His long list of filmmaking credits includes the series "Frontline" and "Still I Rise."
Jeri Weil (Judy Hensler)
School was something of an obstacle course for Beaver Cleaver. The boy constantly faced problems, whether struggling to keep up with curricula, crushing on his teacher, or finding himself victim to the bullying behavior of Judy Hensler, a classmate. If we were to compare "Leave It to Beaver" to another vintage franchise, the "Peanuts" gang, Beaver was something of a Charlie Brown — continually the butt of jokes, often stemming from his own innocent yet damaging mistakes — while Judy was the equivalent of Lucy, taking every opportunity to socially shame a fellow peer, often behind an angelic facade.
Judy was portrayed by Jeri Weil, born in 1948 and still living at the time of this writing. Weil had appeared in the occasional movie and television show prior to "Leave It to Beaver," but would mostly leave acting behind after her final appearance in season four. The one exception was when she reprised her role as Judy for a 1987 episode of "The New Leave It to Beaver."
Tiger Fafara (Tooey Brown)
"Leave It to Beaver" paid careful attention to round out the social life of Beaver's older brother, Wally. Luke "Tiger" Fafara appeared in the series' first three seasons as Tooey Brown, Wally's friend. While frequently sharing screentime with Wally's other prominent pal, Eddie Haskell, Tooey was a bit more levelheaded than the cocky Eddie.
It's curious that the audience saw the series through Wally and Beaver's eyes when the brothers often had a passive role in the episodes' stories. They seldom instigated things; that action usually fell to their influential friends, like Tooey and Eddie. Still, by rarely resisting peer pressure and often remaining complicit, Wally and Beaver were just as responsible for whatever mishap was at hand. Things happened to Wally and Beaver, not the other way around, and the story was thus a narrative of accepting responsibility — rather than the action that preceded the consequence, as so many other shows focus on.
Tiger was born in 1945 and appeared sporadically on a number of television shows in the '50s, including "Lassie," "My Three Sons," "The Johnny Carson Show," and "Shirley Temple's Storybook," among others. His only acting credit beyond that era was reprising Tooey's character for the TV movie "Still the Beaver" in 1983 and two episodes of "The New Leave It to Beaver" in 1985 and 1987. Tiger's younger brother, the late Stanley Fafara, was also part of the "Leave It to Beaver" cast as Whitey, a friend and classmate of Beaver's.
Rich Correll (Richard Rickover)
Out of everyone on this list, Rich Correll is probably the person whose career after "Leave It to Beaver" will surprise you the most. He played Richard, a friend of Beaver in later seasons of the show. Like many kids Beaver surrounded himself with, Richard got the Beav into some sticky situations, like convincing Beaver to take up frog-selling as a business, or asking Beaver to help him cover up for losing an expensive jacket.
Correll appeared onscreen in other shows around the same time as "Leave It to Beaver," including "Bonanza" and "Lassie." In the '80s, he reprised his role as Richard in the TV movie "Still the Beaver" and three episodes of "The New Leave It to Beaver."
In adulthood, Correll pursued projects on the other side of the camera, like writing five episodes of "Happy Days." This led to an accomplished career as a director of literally hundreds of episodes of iconic sitcoms, including "Family Matters," "Step by Step," "The Jamie Foxx Show," "That's So Raven," "The Suite Life of Zack & Cody," "Jessie," and many others. Correll also… wait for it… co-created "Hannah Montana." Writing and directing many episodes of the show, he also directed the infamous three-sitcom crossover event "That's So Suite Life of Hannah Montana." Born in 1948 and alive today, Correll still pumps out directorial credits, recently helming episodes of "Raven's Home" and "Fuller House." Who'd have thought performing as Beaver's classmate would ignite such a lasting sitcom legacy?
Pamela Baird (Mary Ellen Rogers)
Though Mary Ellen Rogers only appeared in five episodes of "Leave It to Beaver" and sparked a casual romance with Wally in the show's final seasons, she made a lasting impression. Apparently, there's more to their relationship to explore, as by the time the 1983 made-for-TV movie "Still the Beaver" debuted, Mary Ellen and Wally were wife and husband!
Pamela Baird portrayed Mary Ellen only in the original show. She was replaced by Janice Kent for the '80s revival movie and follow-up series, "The New Leave It to Beaver." Despite not reprising her role as Mary Ellen in the main cast, Baird still held an uncredited cameo in a 1987 episode of the sequel series as an unnamed woman. Most of her acting work was as a child, appearing on shows such as "My Friend Flicka" and "Father Knows Best." Baird was born in 1945 and is still living today.
Veronica Cartwright (Violet Rutherford)
Beaver often didn't make the wisest decisions. In a show all about the life lessons of growing up, inevitably its protagonist had to make mistakes for the narrative to build toward a moral. Such was the case when Beaver infamously laughed at a rude sign placed on the back of a classmate named Violet Rutherford. The sign read, "Violet Rutherford drinks gutter water." The girl had done no such thing, and in response to Beaver laughing at her, she punched him in the face. Violet was played by Veronica Cartwright, who was born in 1949 and is still active within the entertainment industry today.
While Violet's presence on "Leave It to Beaver" may have only been a brief three episodes, that was still enough to garner Cartwright a reprisal in a 1985 episode of "The New Leave It to Beaver." Oddly, in one of the final episodes of the original sitcom in 1963, Cartwright played a different girl named Penny MacIntosh.
Unlike many of her fellow child actors, Cartwright went on to have a long and storied career in film and television. She appeared in a number of thriller films, from "The Birds" and "Alien" to "The Witches of Eastwick" and "Invasion of the Body Snatchers." She later took a turn on an impressive amount of crime and medical dramas, such as "General Hospital," "Grey's Anatomy," "The Good Doctor," "Law & Order: Special Victims Unit," "Cold Case," and various incarnations of "CSI." Go, Veronica!
Patty Turner (Linda Denison)
Beaver was a bit clunky, to say the least, around girls of any kind, particularly in early seasons when he preferred to avoid them altogether. Linda Denison was a classmate of Beaver's, only appearing in six episodes, though one of her most prominent appearances brought out the worst in young Beaver. As Linda and Beaver bonded over finding a bird's nest together and admired the eggs, Beaver's friends started to make fun of him for talking to a girl. To prove to everyone Linda was the opposite of any sort of friend to Beaver, he called her a "smelly, old ape" straight to her face. Come on, Beav. He, of course, earned a stern talking-to from his father and apologized to Linda, but by then it was too late and Linda had taken an interest in Larry.
Linda was played by Patty Turner, whose first and only acting credits were her six episodes of "Leave It to Beaver" over the course of 1958 to 1961. While Turner was born in 1949 and is still alive today, it seems that acting simply wasn't for her. Not much information is readily available about Turner, so it's unclear if her departure from show business was intentional or due to circumstances beyond her control. Certainly, the pressures of being a child actor are a lot for kids to handle, and many revert right back to a more traditional childhood, and that's perfectly OK.
Tim Matheson (Mike)
Beaver had many friends at school, and one of them in the sixth season of the show — get ready to pretend to be shocked — wasn't the best influence on the Beav. Mike was a classmate introduced in the final season of "Leave It to Beaver" in 1962 who only appeared in two episodes, but that was enough to do his fair share of helping Beaver lose his privileges to go out on school nights after he and his pal stayed out late.
Mike was played by Tim Matheson, who you may recognize as Otter from 1978's "Animal House." Matheson also voiced the title character in the '60s animated series "Jonny Quest." After a full resume as a child actor, Matheson continued acting in adulthood, racking up nearly 200 acting credits, which include portraying Vice President John Hoynes on "The West Wing" and Dr. Brick Breeland on "Hart of Dixie."
Mimi Gibson (Mary Tyler)
In the sixth season of "Leave It to Beaver," a new student joined the Beav's class. Beaver and his friends were disappointed to discover the new kid is "a dopey girl," hoping instead they would add another guy to their ranks. Beaver was surprised to find himself immediately smitten with the girl, Mary Tyler, but conflict arose when Mary began crushing on Wally, Beaver's older brother.
Mary was portrayed by Mimi Gibson, whose prolific career as a child actor spanned over five dozen credits in film and television. While she only starred in one episode of "Leave It to Beaver," she made appearances in many other productions of the era, including "My Three Sons" and "The Ten Commandments." She also voiced Lucky, the Dalmatian who makes a fortuitous survival upon a problematic birth in 1961's "One Hundred and One Dalmatians." After 1968, Gibson didn't act again until 2017, when she appeared as Linnie Marie McLean in "The Forsaken Westerns."