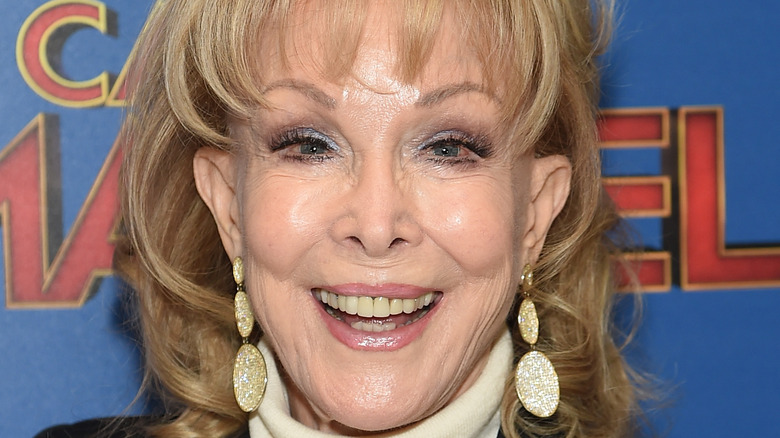 Whether you were born in 1966 or 1996, you know legendary actress Barbara Eden. While you might not know her real name, perhaps you know the name of the character she's most associated with — Jeannie in "I Dream of Jeannie." During the late 1960s, Eden portrayed the now-iconic character on the hit show "I Dream of Jeannie," which also aired in syndication. In the NBC series, she played an ancient genie trying to fit into the world of humans as an astronaut's wife. The show and character were such staples that Eden became synonymous with Jeannie (along with the character's famous lamp, costume, and head nod).
However, Eden has lived a full life with ups and downs behind the scenes. The 90-year-old star has come a long way from her days as an aspiring actress and is still working in the business today. In fact, she has even ventured into new avenues. Take a look back on her remarkable life, long career, and stunning transformation.
Barbara Eden was born in Arizona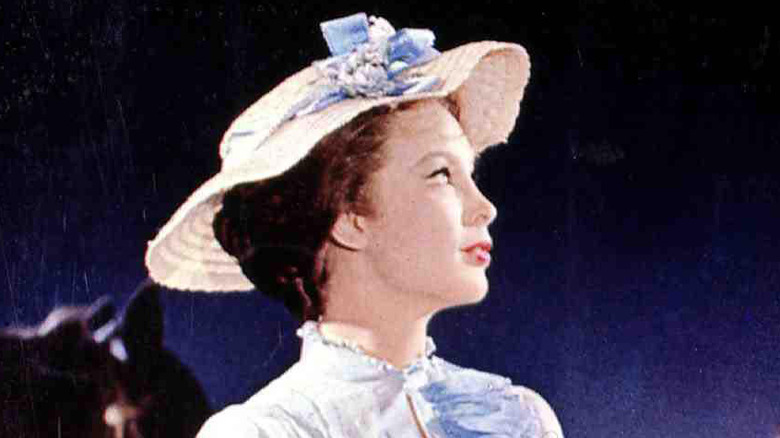 While Barbara Eden would go on to become a legendary actress, it wasn't always this way. Eden, whose birth name is Barbara Jean Morehead, was born in Tucson, Arizona, on August 23, 1931, according to Biography. Although Eden was born in Arizona, the future "I Dream of Jeannie" star primarily grew up in California, where her mother moved after her parents divorced when Eden was just 3 years old (via Hollywood Walk of Fame).
While living in San Francisco, Eden's family fell on hard times during The Great Depression. Because they couldn't afford much, Eden's mother would sing to her children, which helped foster the actress' love of singing. As a child, Eden sang in her church's choir and also competed in pageants, according to People. She also took acting classes, which she thought would help her become a better singer. The actress graduated from San Francisco's Abraham Lincoln High School.
She broke into Hollywood
Barbara Eden broke into Hollywood as an actress during her first credited role in the series "West Point" in 1956, according to IMDb. However, she made a name for herself when she booked a recurring role as a sketch performer on the legendary late-night talk show "The Johnny Carson Show" in 1955, according to People. Following these roles, the actress appeared on multiple shows throughout the 1950s, including "I Love Lucy," "The Millionaire," and "Perry Mason." She also received several movie credits that decade in films such as "The Wayward Girl" and "A Private's Affair."
From 1957 to 1959, Eden portrayed the character Loco Jones in the series "How to Marry a Millionaire," based on a movie. Eden also had a pilot in "The Barbara Eden Show." Unfortunately, the show never aired, according to Biography. Eden continued to work in film and television throughout the 1960s.
She married actor Michael Ansara
Barbara Eden's Hollywood career wasn't the only thing taking off in the 1950s. In 1958, Eden married Syria-born actor Michael Ansara, who was known for roles in films and shows such as "The Adventures of Rin Tin Tin," "Broken Arrow," and "Law of the Plainsman" (via IMDb.) Ansara is also credited as a director of a 1970 episode of his wife's sitcom "I Dream of Jeannie."
The talented couple had one child, a son named Matthew Michael Ansara, in August 1965, according to Biography. "We called him our lucky-charm baby," Eden wrote about the pair's son in her autobiography (via Closer Weekly). "We had a child at last, and we loved him more than words could say. Our joy was boundless, and our hopes that he would live a healthy and happy life were unlimited." Unfortunately, Eden and Ansara parted ways in 1974 and divorced after more than 15 years of marriage.
Barbara Eden portrayed an iconic character
Although Barbara Eden had several television, as well as movie, roles throughout the 1950s and 1960s, her breakout role would come in 1965. That year, Eden began playing the iconic role of Jeannie in the NBC series "I Dream of Jeannie," which aired until 1970, according to IMDb. The show centered around an astronaut, played by Larry Hagman, who encounters and marries Eden's character Jeannie — who just happens to be a genie.
While the show had a five-year run, it catapulted Eden into success, and her character lives on to this day. So much so that Eden has almost become synonymous with Jeannie. "I think what makes me so happy is that so many people around the world like her," Eden told People about Jeannie. "Not me. They like that character. And they like the show for what it is. It takes people out of themselves and into another world, and I appreciate that."
Barbara Eden remarried a third time
Actress Barbara Eden's first marriage to Michael Ansara may have ended in 1974, but she soon found love again. In 1977, Eden married Chicago Sun-Times executive Charles Fegert, according to Closer Weekly. Unfortunately, her second marriage also ended in divorce just five short years later.
Lucky for Eden, she would go on to find the love of her life decades after her separation from Fegert. In 1991 the former "I Dream of Jeannie" star married real estate developer Jon Eicholtz. The pair have now been married for more than 30 years and live in Los Angeles with their dog Bentley (via People). "I think you have to like each other a lot," Eden told Closer Weekly in 2021 about her current marriage. "You don't necessarily have to like the same things. I don't like to watch baseball, but I do because I love him. And he supports my working."
She suffered a devastating loss
Barbara Eden may have had a long, successful career and marriage; however, her life wasn't without tragedy. Sadly, Eden's son Matthew Ansara, whom she shared with her first husband Michael Ansara, struggled with substance abuse for years, according to People. "At first, we didn't recognize the behavior — the sleeping and the bouts of anger that would come up all of a sudden with this charming, darling boy," Eden told People about her son.
After 14 years of time in and out of rehab, Eden's son Ansara tragically passed away from an accidental overdose in 2001 at the age of 35. Although Eden said she felt "guilt and anger" losing her son, she still takes healing one day at a time. "I began to speak with parents who were going through the same thing," she told People. "I think parents should know that it's not a bad thing to be strict with your child. If you know what's going on, you have a chance to help."
If you or anyone you know is struggling with addiction issues, help is available. Visit the Substance Abuse and Mental Health Services Administration website or contact SAMHSA's National Helpline at 1-800-662-HELP (4357).
Barbara Eden became an author
With so many life stories, from growing up in the performing arts to Hollywood and family tragedy, Barbara Eden has her share of stories to tell. It makes sense that she would tell these and other stories through a book — and she did just that in her autobiography. The iconic actress released the autobiography "Barbara Eden: My Story" in 1986, according to Biography.
Decades later, she followed her autobiography up with the 2011 memoir "Jeannie Out of the Bottle." "I decided that since so much has been written about me, I would really like to write it myself," Eden told Vanity Fair about her memoir. "It was quite painful to be so revealing." Throughout the memoir, Eden shared interesting tidbits about her life, including her interactions with other celebrities like Tom Jones.
In 2021, Eden published her first children's book, "Barbara and the Djinn." In an interview with The Hollywood Reporter, the actress said the book was "all about understanding people who are different and having empathy and love for them."
Barbara Eden celebrated her 90th birthday
After a long life and career, Barbara Eden celebrated a milestone birthday. In addition to publishing her first children's book in 2021, the "I Dream of Jeannie" star also turned 90 on August 23 of that year. Despite her age, the actress still works on various projects and hasn't stopped doing what she loves. "Sometimes one is forced to slow down, but I'll do what I do until I can't," Eden told People.
Although turning 90 is a cause for significant celebration, Eden admitted to having a low-key day, and told The Hollywood Reporter it was "like any other birthday." Instead, she focused on returning to her work schedule after being slowed down by the COVID-19 pandemic.
Before her milestone birthday, Eden shared her secrets to living a fulfilling life at 90. "I think the secret to feeling great is to keep active, do things that you love, and have a good sense of humor," she told Closer Weekly.
The legendary actress looked back on her long career
From her time singing and acting as a child to playing the iconic character Jeannie, Barbara Eden has a lot to be proud of. The film and television star has a long and successful career that many in Hollywood would love to emulate — and she doesn't plan on stopping any time soon. "I like to work," Eden told The Hollywood Reporter in 2021. "I really do. It's just what I do. That's all; that's my life."
Not only does Eden love to work, but she's also been honored for her work throughout the decades. One of her most memorable honors was receiving a star on the Hollywood Walk of Fame. "It meant a great deal to me, especially since Bob Hope came to the event, and so did my son," Eden told People about the ceremony.
Although Eden continues to work, she also enjoys life in Los Angeles with her husband. Despite the ups and downs of Hollywood, as well as personal tragedies, the star remains grateful. "I'm really lucky," she also told People. "I have dear friends. I have a wonderful family, a very supportive husband, a dog who is adorable but a brat! Yes, I'm very happy."