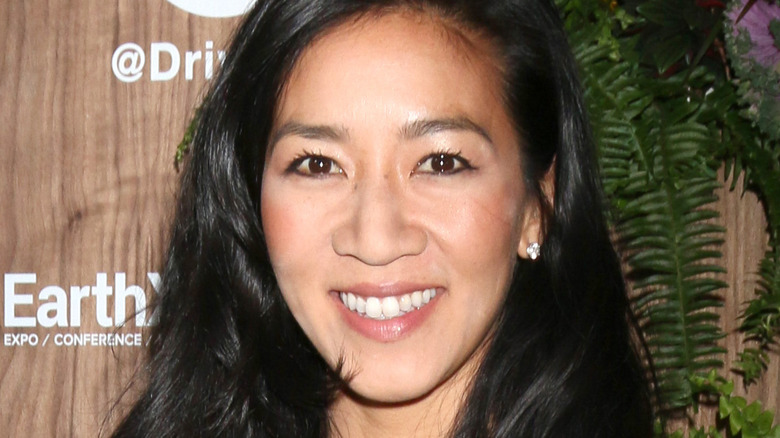 "When I was 7, I saw the 1988 Olympics on TV. Suddenly, my eyes were opened to truly great figure skating. Seeing the performances of people who were at the very top of the skating world. … Somehow, in the middle of all that fun, skating had touched my heart. Amazingly enough, I've made it to the top with my idols." Michelle Kwan wrote this inspirational account in her book, "The Winning Attitude: What It Takes to Be a Champion."
Danny and Estella Kwan immigrated to the United States from Hong Kong and had three kids, per CNN. Their eldest, Ron, is often credited for getting his little sisters to the rink because he played ice hockey. Michelle Kwan, who was born in 1980 in Torrance, California, was only five when she started skating with her older sister, Karen. Michelle "loved charging across the ice and spinning around" at the rink, and her understanding of skating developed over time. As Michelle Kwan watched Brian Boitano skate in the 1988 Olympics, "it was like a thunderbolt struck. Something sparked inside me. And when I saw him standing on the podium, that spark burst into flame," she wrote in her biography.
Ten years later, the figure skater officially became an Olympian. Michelle Kwan reached astounding heights before and after 1998 — she is a nine-time US Champion, a five-time World Champion, and a four-time Grand Prix Final silver medalist, among many other accolades. This Olympic medalist can inspire us all.
There was no doubt that Michelle Kwan loved to skate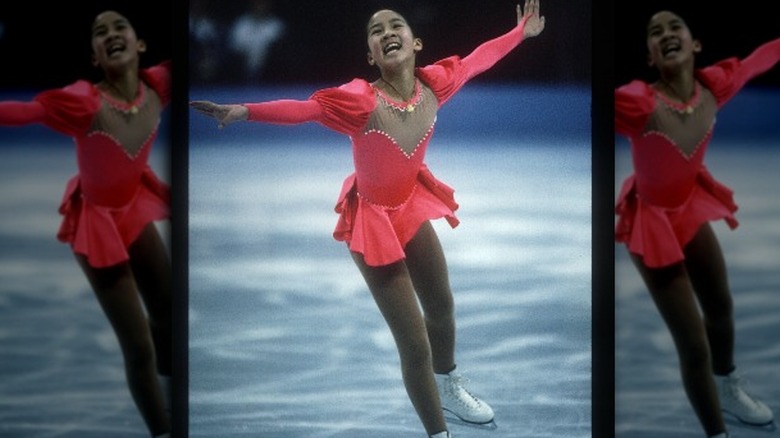 Michelle Kwan first won a skating competition at seven years of age. Per ESPN, she began working with coach Frank Carroll in 1992 and competed at the junior level. When she was 12, she competed in the 1993 US Figure Skating Championships at the senior level (unbeknownst to her coach) in Phoenix, Arizona, placing sixth overall. Kwan was the youngest to compete in that division "since Priscilla Hill in 1973," and she also became the youngest to earn a figure skating gold medal at the Olympic Festival, the Orlando Sentinel reported.
Kwan clearly loved skating and knows that it was a sacrifice for her parents. She wrote in part on Instagram, "When I reflect back on this time it makes me choke up a little — my parents struggling to make ends meet and sacrificing everything to make their little girls dream come true. I made it to nationals without a coach in both the regional and sectional competitions. There was no way my family could afford the lessons, let alone pay for a coach to travel with me to events." Kwan also shared that she wore a hand-me-down costume and used pair of skates.
Per the Orlando Sentinel, Danny and Estella Kwan were constantly commuting to keep up with their two daughters' training in Lake Arrowhead, California. Estella worked at the family's Chinese restaurant in Torrance all week, and Danny worked at Pacific Bell as a systems analyst in Los Angeles.
Michelle Kwan got through her teen years with her sister close by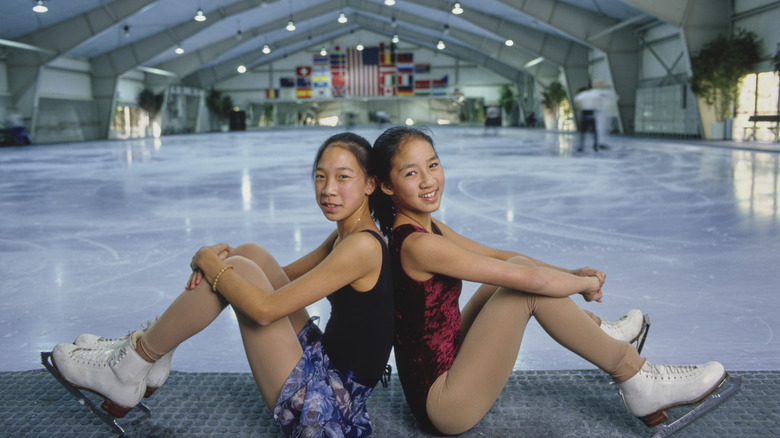 Karen and Michelle Kwan trained "at the Ice Castle International Training Center in Lake Arrowhead" on scholarship (per the Orlando Sentinel). Their parents had Michelle study with private tutors rather than continue her public school education. In 1994, 13-year-old Michelle Kwan placed second at Nationals in Detroit (again breaking a record at her age) and eighth at the World Championships.
Following the tragic attack on Nancy Kerrigan, Michelle Kwan could have taken Tonya Harding's place on the US Olympic team if Harding hadn't been permitted to compete. Kwan was ultimately an alternate at the 1994 Olympics in Lillehammer, Norway. When W magazine caught up with the figure skater decades later and asked if she would watch "I, Tonya," Kwan answered, "I'm sure I'll watch it, but I kind of lived it, so… I was very close to it." Even at a young age, Michelle Kwan skated past the drama.
When Karen Kwan competed against Michelle in the 1995 women's singles, it marked the first time for sisters to compete in that event "since Carol and Nancy Heiss in 1959," The Washington Post reported. As the Kwans trained together at Lake Arrowhead's Ice Castle, Coach Frank Carroll said, "They do not skate anything alike." Karen Kwan was very logical about going up against her sister. She told The Washington Post, "I don't feel like I'm her competitor. I'm skating for myself and she is skating for herself."